[
Return to Main Page
] [
Return to Projects Index
] [
Doc's Machine & TWB Store
] [
Contact Us
] [
The Whiteboard Webcomic
]
Building a set of Small-Parts Drawers for Extra Storage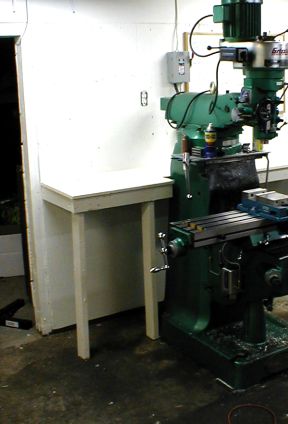 Back in 2003, shortly after adding a new Grizzly turret mill to the shop,
I decided to add a combination workbench/storage cabinet to use some
of the 'dead space' behind it. And on the narrow left side, I figured I'd
fill it with a lot of small drawers for mill tools and other part storage.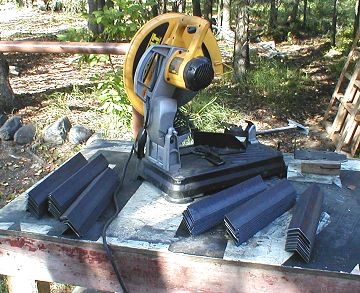 To start, I bought one hundred and ten feet of 2" x 2" x 1/8"
angle iron, and using an abrasive chop saw, cut them up
into sixty pieces, thirty each of 14" and 15-7/8" long.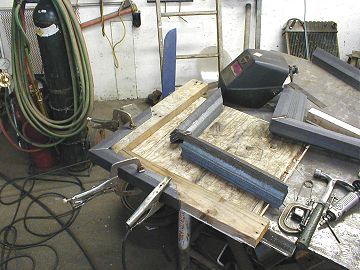 I then whipped up a quick 90-degree jig out of scrap lumber,
and using some good clamps, welded them all up into "L"
shapes first, and then into boxes.
After a few hours' work, fifteen 2" x 14" open trays.
I cleaned up each weld with a 10" Milwaukee angle
grinder. Eight welds per tray made for 120 grinds.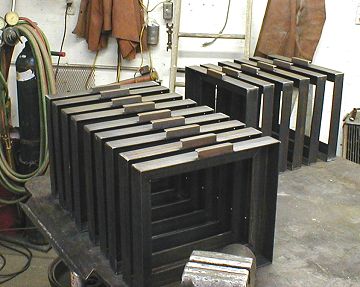 Using the same chop saw, I cut up some 3/4" angle iron into
short sections, ground the corners a but round, and tacked
them on as drawer pulls.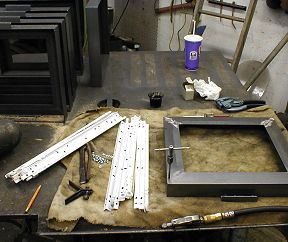 Then the fun part- Using another jig, I drilled each
tray for four holes, then tapped each and every one,
by hand, to 10-32, so I could screw on the slides.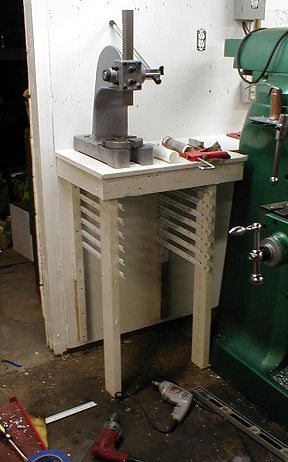 With a bit of careful measuring, and a little more
laborious screwdriving, I attached the other half
of the slides to the cabinet supports.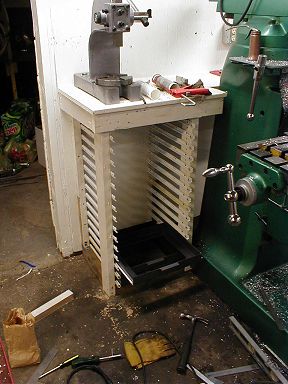 I then started sliding in each tray. Minor differences in
both the trays and the cabinet meant I had to do a little
juggling to get each drawer into a slot where it worked
best, but that just took a little patience.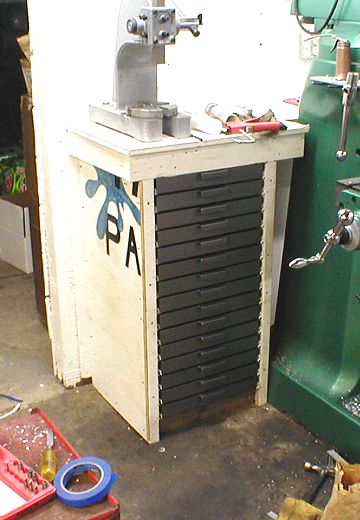 After marking each one, I then spray-painted the fronts in
Hammered grey. I finished off the cabinet with a chunk of
plywood from one of my old paintball field signs, and a
piece of 2x4 as a toe-kick at the bottom.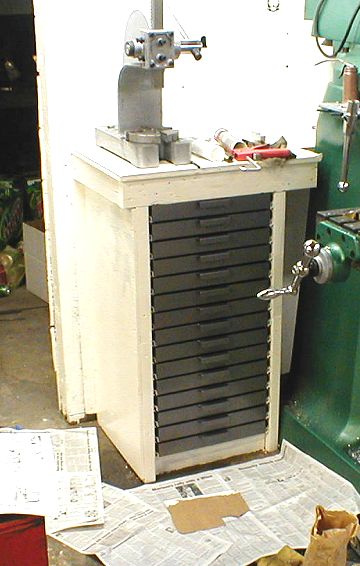 A quick coat of paint, and they're done!
>

All text, photos and graphics Copyright 1998- 2017, Doc's Machine & Airsmith Services. All Rights Reserved.
Information contained in these pages is for reference and entertainment purposes only. Our methods are not always the best,
quickest, safest, or even the correct ones. It's up to you to know how to use your own machines and tools.
Keep your fingers away from the spinny blades o' death and you should be all right.