[
Return to Main Page
] [
Return to Projects Index
] [
Doc's Machine & TWB Store
] [
Contact Us
] [
The Whiteboard Webcomic
]
Grinding a Step Drill: drill and counterbore in one operation!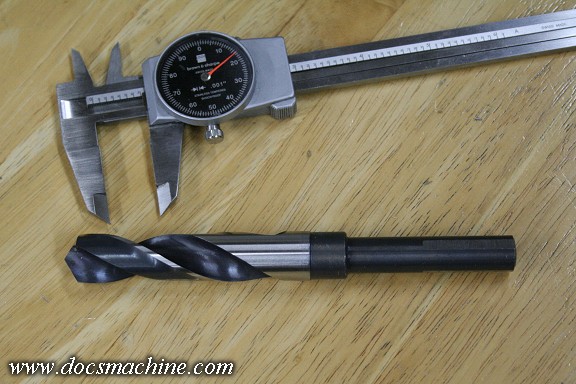 I'd had a small recurring job for several months, for a local (non-paintball) startup. It's a piece of
curved aluminum that needs four bolt mounting holes drilled- but since it's curved, I also have to
spotface a flat under each hole, so the bolt has something to properly bear against.
I'd been doing the job with endmills, but that of course meant that I had to keep swapping tools,
or swapping the part in my fixture. After I'd gotten yet another order in, I'd decided to
make my own stepped drill, do do the entire process in one operation.
Now, the idea is simple- just reduce the tip of the drill bit down to the thru-bore size
(in this case, 3/8".) Well, can't just chuck it up in the lathe- even carbide won't
cut it well, especially not with an interrupted cut like that.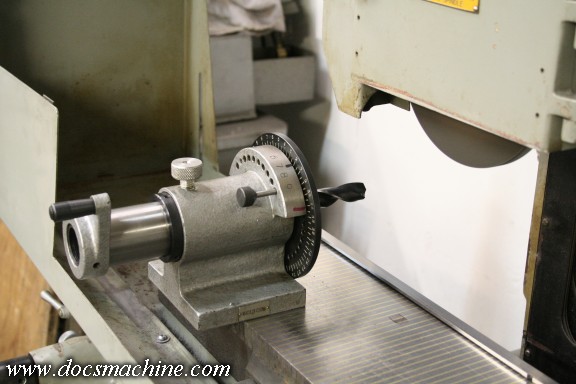 Grinding is therefore a better choice, and since it's a precision operation, we use the surface grinder.
As it's round, a cheap import "spindex" with a 5C collet holds the drill and rotates it under the wheel.
Due to the travel of the table, I had to have the spindex hanging off in the breeze a bit like that,
but the grinder doesn't put a lot of force on the workpiece, so it was sufficient.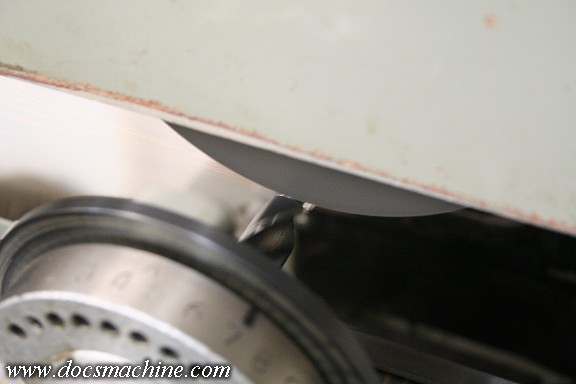 Then it was just a matter of tediously cranking, cranking and more cranking.
Then, to mix things up a bit, I cranked it some more.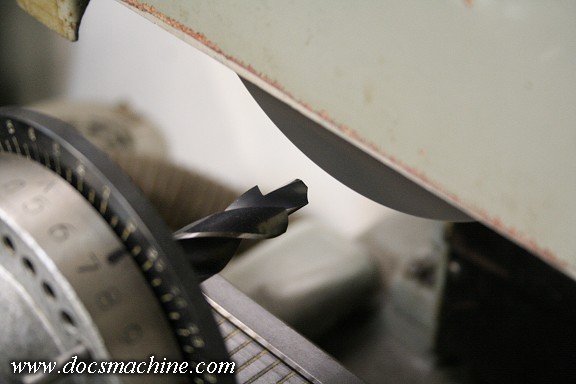 Eventually, I worried it down so I had a nice step-drill, with what's essentially a .3745" pilot drill. (I was
actually kind of annoyed I was a half-thou off. This machine makes it easy to split hairs. :) )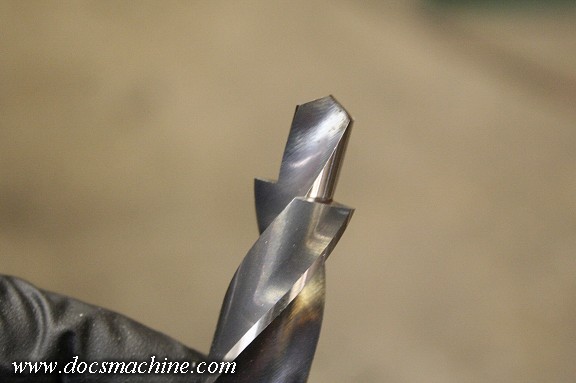 Et Voila~!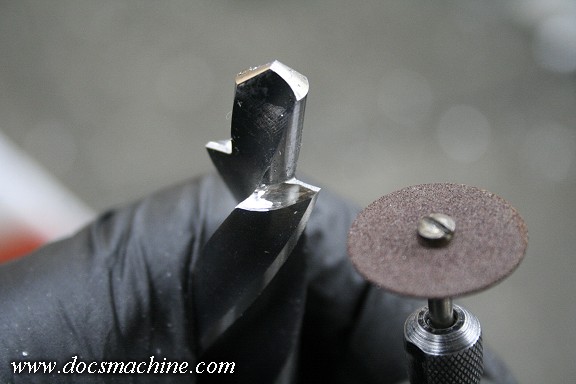 We're not done yet. The stub/pilot drill can get away without any side clearance, as the holes are
shallow and in aluminum. But the cutting edges of the counterbore
must
have clearance, else they
can't or won't cut. If I'd had a proper (and well-equipped) tool-and-cutter grinder, it would have
been a trivial exercise to give each face a back rake, but I have no such animal. So I got
out the trusty Dremel, a cutting wheel, and with care and patience, gave each one a
rough but functional clearance.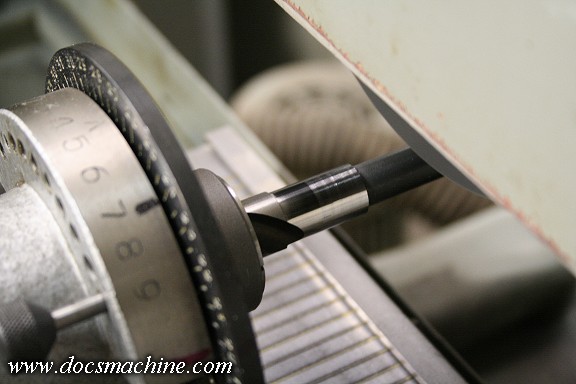 Finally, I wanted to both keep the entire tool as short as I can, and as rigid as I can, so the tip doesn't
wander when it starts cutting on the curved part. The reduced portion of the drill body between the
actual cutting OD and the drill shank proper, was .652", or plenty of meat to turn it down ever so
slightly to 5/8". Back in the spindex for another ride through the grinder.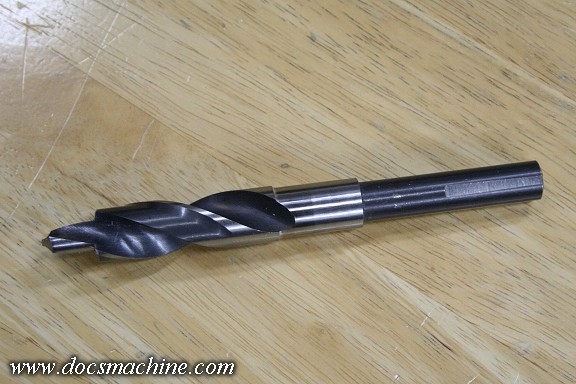 Trim about 1/8" off the end of the shank so it can seat fully into a 5/8" R8 collet, and she's done.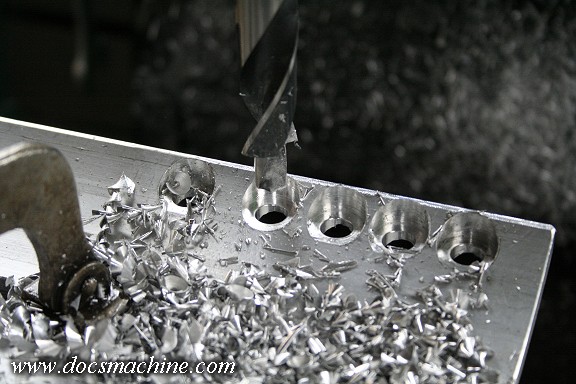 A quick test on a scrap part shows it worked... well, not great, but pretty good, and well enough to do
the job. I eventually added more rake to the counterbore faces, as it seemed to take a lot of effort to cut.
Overall, it reduced the per-part time by at least a third. (There was more to each one than just the drilling.)

All text, photos and graphics Copyright 1998- 2018, Doc's Machine & Airsmith Services. All Rights Reserved.
Information contained in these pages is for reference and entertainment purposes only. Our methods are not always the best,
quickest, safest, or even the correct ones. It's up to you to know how to use your own machines and tools.
Keep your fingers away from the spinny blades o' death and you should be all right.