[
Return to Main Page
] [
Return to Projects Index
] [
Doc's Machine & TWB Store
] [
Contact Us
] [
The Whiteboard Webcomic
]
Saving a 1943 Springfield Engine Lathe, Part 14: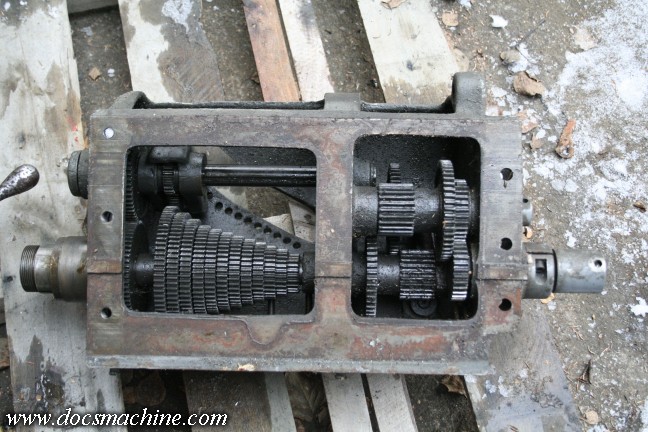 It's now time to dismantle the quick-change gearbox, partly for repair, but mostly for cleaning.
Shown here from the back and upside-down.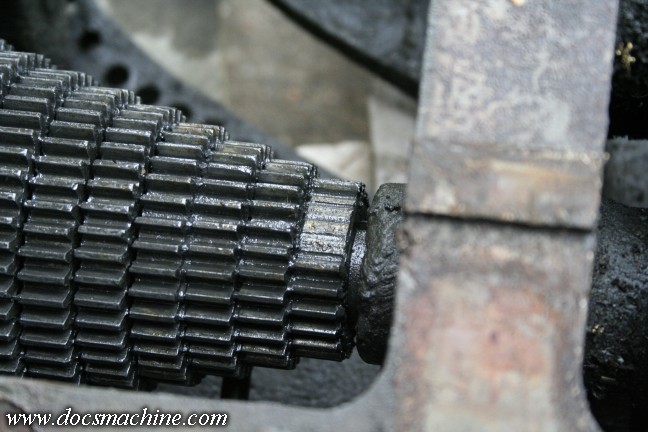 As I pointed out earlier, the #1 position on the tumbler had been marked in paint "Do Not Use, Oil Only".
This is why: As I found out later, the idler gear on the tumbler lever had also been damaged, and had been
repaired by piling on weld and grinding new teeth. As in, with a thin-wheel angle grinder.
Serviceable, and it appeared to work, but only had a vague suggestion of the proper tooth shape.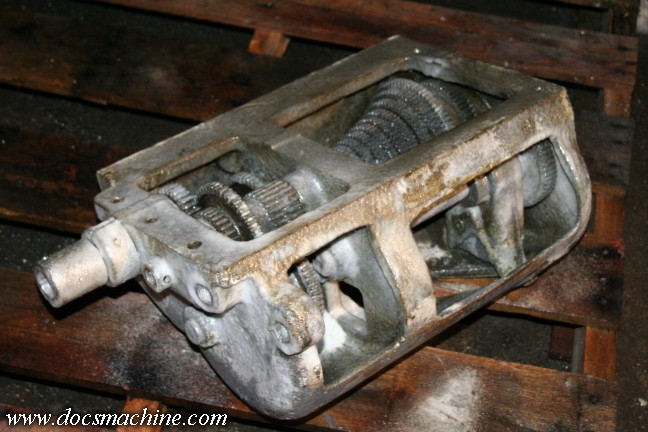 I began by giving it a good cleaning, by the brute-force method of some Easy-Off oven cleaner
and a Hotsy hot-water pressure washer. I was going to be dismantling it in a matter of hours,
so I wasn't worried about water intrusion.
Now, I have no manual for this machine, and no exploded view of the gearbox, so disassembly was somewhat
haphazard. Also, bear with me if I get some bit of terminology wrong.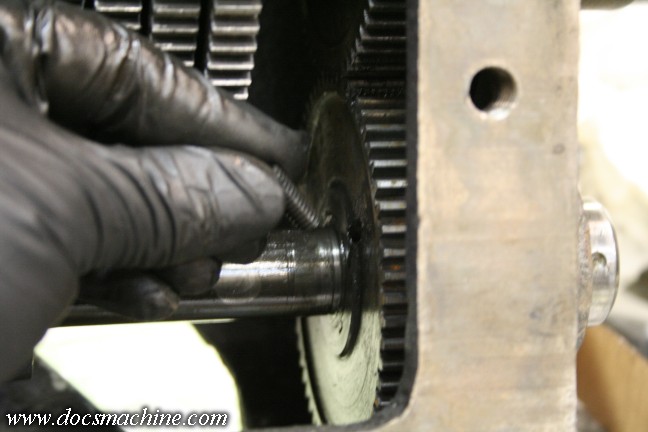 This gear was held on to the shaft by a setscrew drilled and tapped into the seam at an angle. From the factory.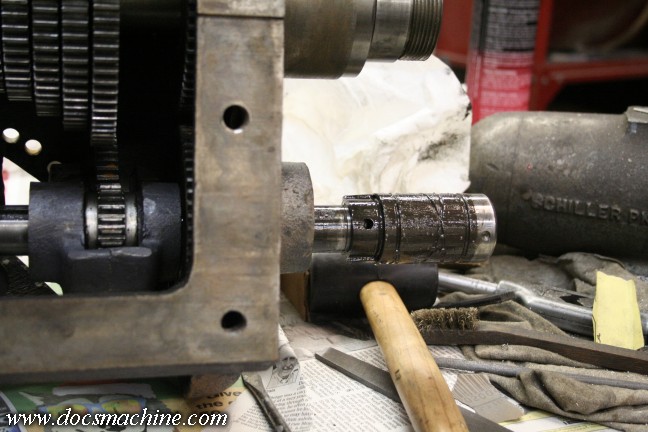 Tumbler drive shaft.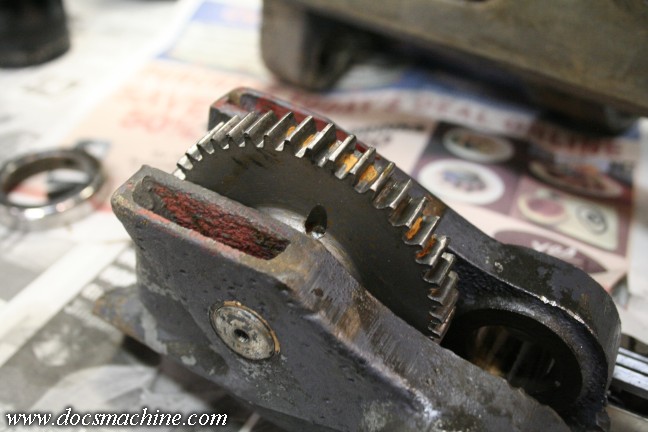 The damaged/repaired idler wheel is the lower of these two (barely seen) and you can see the cast-in
"oil cups" at the top. As with many machines like this, there's a position for the selector lever/tumbler for oiling-
you put the lever there, squirt some oil into the Gits cups on the outside, and inside, the oil drips down
into these recesses, keeping the idler gear lubed.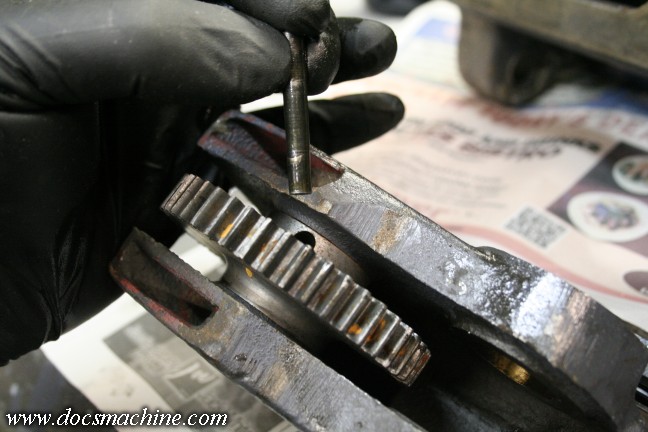 Pinned to the axle shaft.
More taper pins.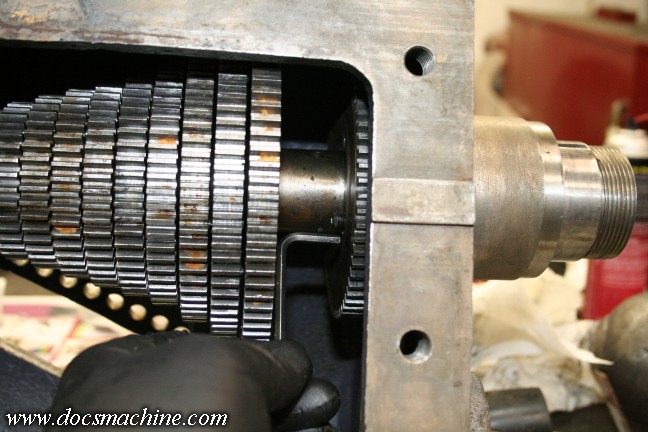 And a couple of barely-accessible allen-head bolts.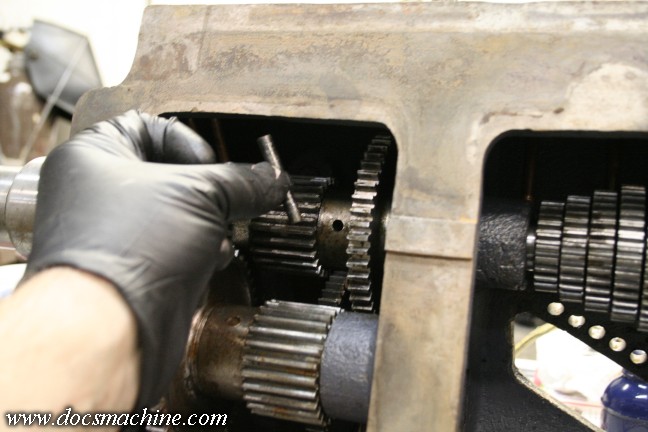 Taper pins...
The input shaft. The larger 'collar' in the foreground drives a primary gear inside, while the hollow "axle"
for the step-gear stack rides inside- and apparently regularly turns the opposite direction.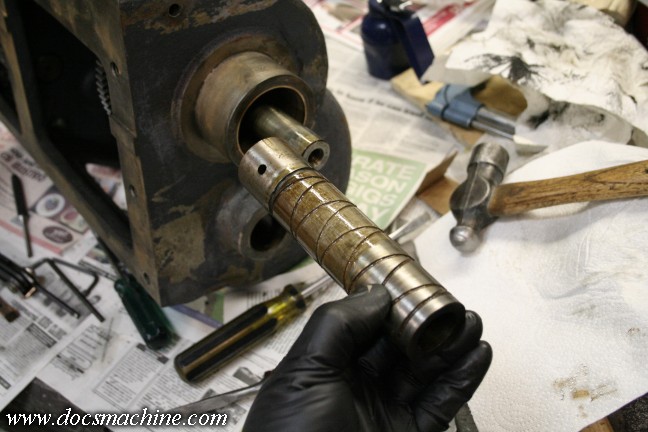 That "axle" slides out next.

All text, photos and graphics Copyright 1998- 2017, Doc's Machine & Airsmith Services. All Rights Reserved.
Information contained in these pages is for reference and entertainment purposes only. Our methods are not always the best,
quickest, safest, or even the correct ones. It's up to you to know how to use your own machines and tools.
Keep your fingers away from the spinny blades o' death and you should be all right.