The sci-fi film
Moon
(Sam Rockwell, 2009) has one vague use of a paintball gun implied as a weapon.
Warning: Spoiler! Possible

Major

Spoiler!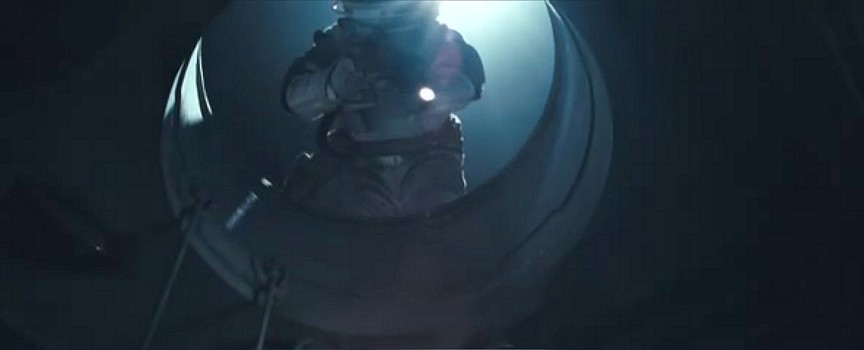 At the end of the film (
Spoiler!
) the "Rescue Team" finds Sam Bell (Sam Rockwell) in the crashed transport. Since their 'rescue' is more of a
'clean up', the team member (VFX Supervisor Gavin Rothery) wields an assault rifle of some type as he investigates. This is the only time
the 'team' or the weapon is seen.
It's hard to tell, but the gun is believed to be a variant of the Tippmann A5 or X7, given the obvious Cyclone loader assembly seen on the
right side of the body. (On the left of it in the image, just ahead of the users' right hand.)
The top rail suggests the Smart Parts SP-8 to some viewers, but the length and placement is off. It's likely an AR-15 style 'carry handle'.
The movies'
IMDB Trivia Page
confirms it was a paintball gun, and notes it was the personal property of the actor/VFX supervisor.
All movie-related images are owned and/or copyrighted by their respective studios. Information contained in these pages is for reference
and entertainment purposes only. We make no claim to ownership of any image or screencap. If you have any questions, comments or