Betcha' never saw one of these before!
Doc's 4X4 Corvair
---
Yes, that's a 1965 Chevy Corvair. GM's answer to the Volkswagen, and bane to Ralph Nader. Yep, it's 4-wheel drive, and yes, I did everything. All the work except for spraying the paint. Why did I do it? Well, because I could.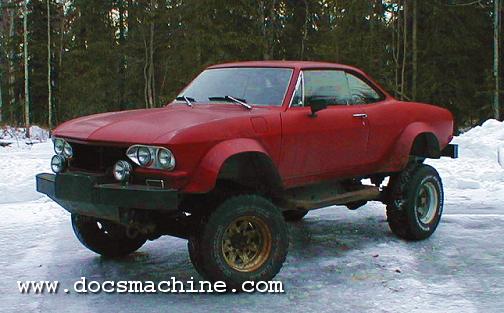 I started on it in the summer of 1990, and completed most of the work by late '93, with some long breaks in between. The running gear is primarily '77 Blazer, with a few modifications. Originally, the Blazer came with a small block 350, an SM465 three-speed manual with a granny-low, and an NP-205 part-time transfer case. The axles were a Dana44 front and a 12-bolt rear with a mostly-broken Gov-Lok, both of which were 1/2-ton six-lug.

When it came time to start work on the conversion, I preferred an automatic trans over the manual, and anyway, the 465 was broken- it would occasionally spontaneously jam in both first and reverse. Besides, I wasn't looking forward to having to fabricate a clutch linkage.So while the body was off, I pulled the trans and T-case and replaced 'em with a $50 junkyard THM350 auto and an NP-203 full-time 'case. Other than some minor servicing, that was the last of the drivetrain work done until the conversion was completed.
The conversion took a great deal of time and a handful of money (though less than you might think.) All in all, I built an entirely new dashboard with modular aluminum panels, rebuilt the entire firewall and engine compartment, built both front and rear bumpers, wired the entire car stem-to-stern, rebuilt sections of the rusted-out floor, moved the Blazer gas tank, fabbed most of a custom fuel system, built the exhaust system, made body mounts, built the custom "nerf" bars on the side, new bucket seat mounts, fabricated the steel fender flares, built a Class 3 trailer hitch, moved the gas-filler to behind the license plate, added new lights, guages and a stereo, installed a tilt column and a B&M shifter... the list is almost endless.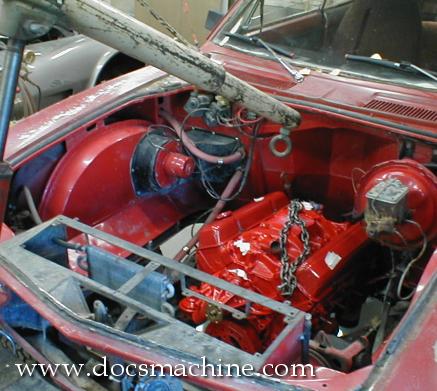 Now, you have to remember that a Corvair had a rear-mounted air-cooled flat-six. In the photo above, the new engine is being mounted in what used to be the trunk. Meaning I had to trim the wheelwells, fabricate the entire radiator support, mount a full size GM brake booster, fab an entire heater assembly including fan, core and ducting, rebuild the firewall, etcetera and so on. The new engine shown is a 320+hp '70 four-bolt 350 with a healthy cam. Add a Q-jet and some headers and we're ready to go.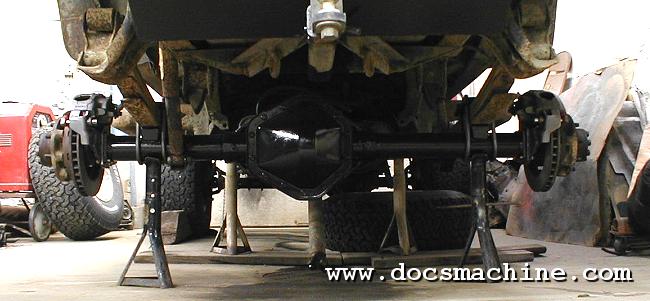 After the majority of the work was done, and it was street-drivable, I put around 14,000 miles on it before the old 350 coughed up the #5 piston. It then sat for a couple of years before I found a replacement motor. At that point, I opted to replace the rear axle since the old 12-bolt had a bad pinion bearing and, as I said, a smoked Gov-Lok. The axle seals had also died sometime back, and diff oil had ruined the rear drum brake pads.

With a little judicious scrounging, I located this mid-'70s Corp. 14-bolt axle, widely regarded as one of the strongest axles you can get for a GM. The axle shafts themselves are a full 1-1/2" in diameter, and it's a full-floater, meaning the hubs are supported on their own spindles and bearings, so the axle shafts are not helping to support part of the vehicle's weight.

The diff turned out to have a Detroit Locker inside, and was in excellent shape. Even better, I dumped the huge and heavy drum brakes, replacing 'em with the disc brake setup shown above. It was pretty easy, they're factory 3/4-ton 12-1/4" diameter front rotors grafted to the 14-bolt hubs, with some heavy-duty fabricated caliper mounts. I topped it off with a new brake booster and a Corvette 4-wheel-disc master cylinder, and now it'll stop on a dime and give you change.
More Photos:
---
All text, graphics and photos, Copyright 2001, Doc's Machine & Airsmith Services. All rights reserved. Unauthorized use or duplication prohibited.
Do not attempt this at home. Professional driver, closed course.