[
Return to Main Page
] [
Return to Projects Index
] [
Doc's Machine & TWB Store
] [
Contact Us
] [
The Whiteboard Webcomic
]
Converting a Grizzly G8689 Mini Mill to 3-axis CNC, Part 4: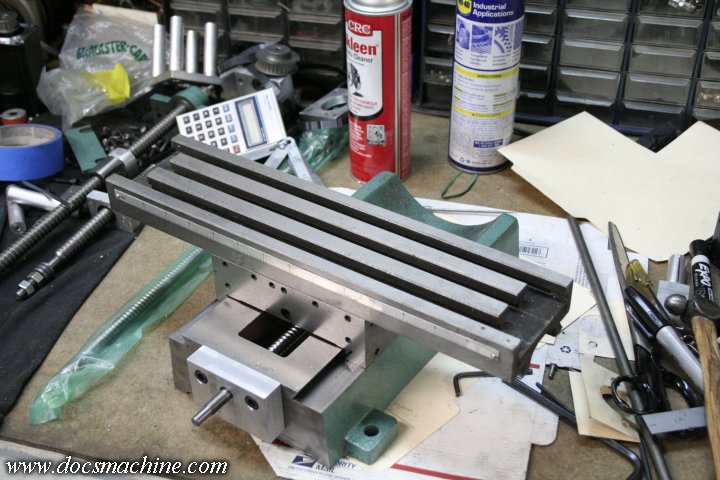 Next up, the table itself!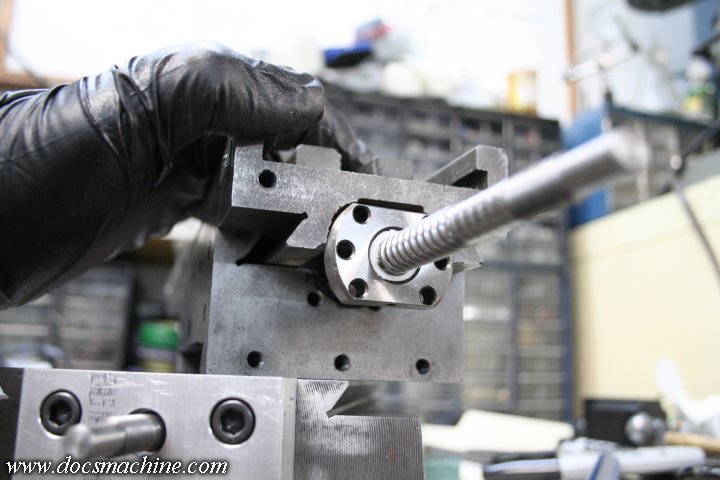 Turns out there's just barely enough room under there to clear the ballnut, so now I just have to figure out how to mount it.
Looks like I can put it right about there, that should clear with minimal interference.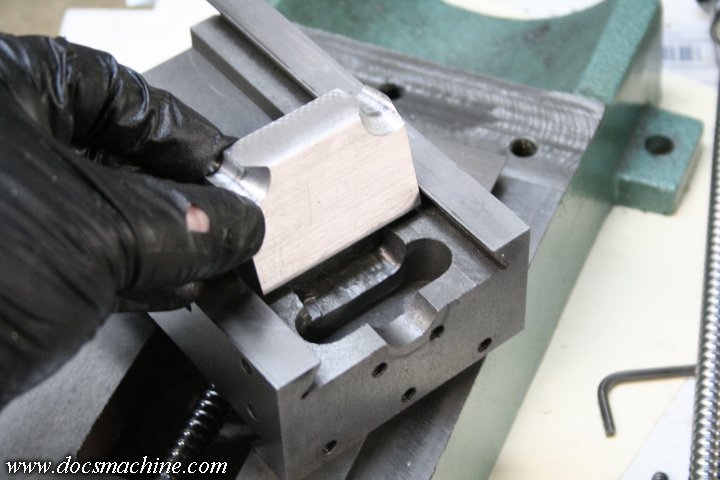 Now, the previous owner, whoever originally converted this thing, had milled a couple slots in the saddle,
attaching simple slab mounts via nothing more than setscrews. I didn't really want to mill too much more off,
so I tried to figure out a way to utilize the existing slot. After some thought and a couple of corn dogs-
they're brain food, trust me- I came up with a plan of attack.
I began by bandsawing a likely-looking size of 3/4" aluminum, and squaring it up a bit in the mill.
The notches at the corners are leftovers from the scrap I bandsawed it out of.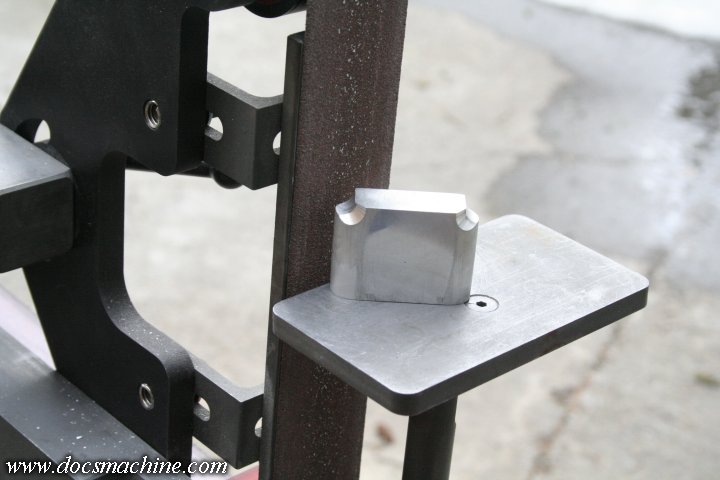 To fit it and use as much room in the slot as I could, I needed to round the ends to match.
I have plenty of corner-rounding cutters, but not one for a 5/16" radius, as the PO had used a 5/8" endmill.
Fortunately I have a machine that, with a little care, can generate nearly any radius I desire.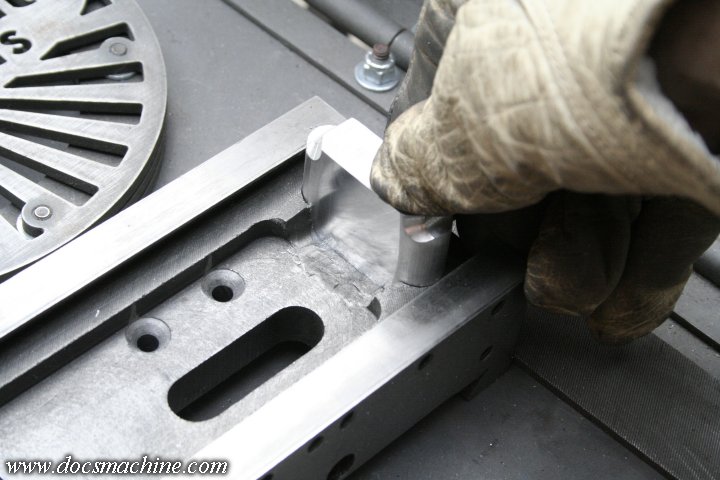 And with just a few minutes and a fine belt for fine-tuning, I got a good snug fit.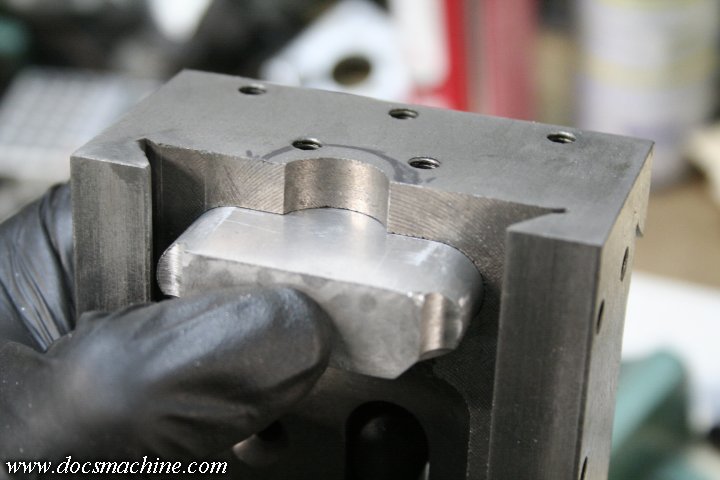 I was able to fine-tune the fit even more with a couple hand files, to make sure it seated solidly at the bottom of the slot-
and you can see here how it will line up with the proposed new ballnut location.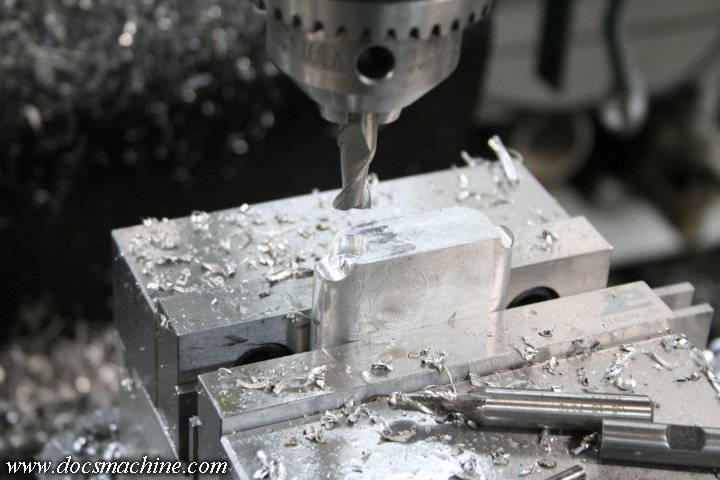 I knew I'd have plenty of room on one side, but wasn't sure about the other, so I drilled and countersunk one hole to start with.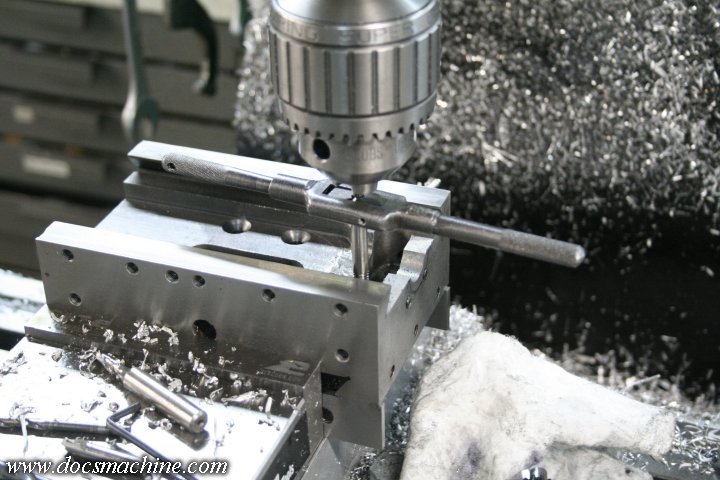 And then drilled and tapped the "long" side of the slot in the saddle to accept a 1/4"-20 bolt.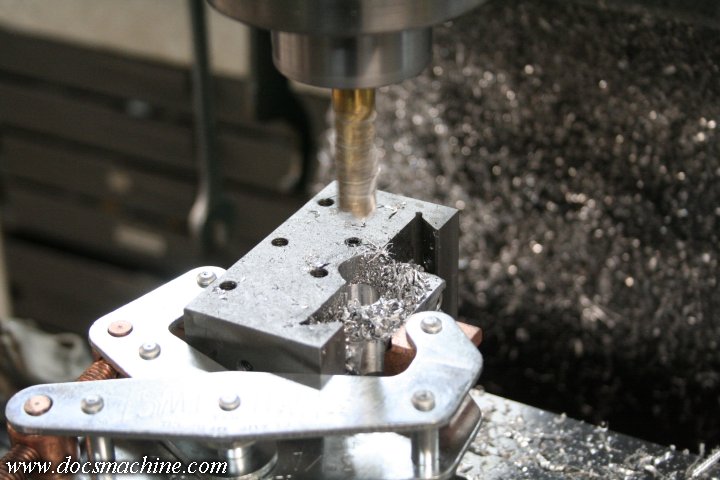 Setting the saddle upright in the mill, and helping hold the mount in place with a clamp, I eyeballed
a good "right about 'thar" location and started out by boring through with several sizes of endmill-
as the 'step' of the edge of the casting would not be conducive to proper drilling.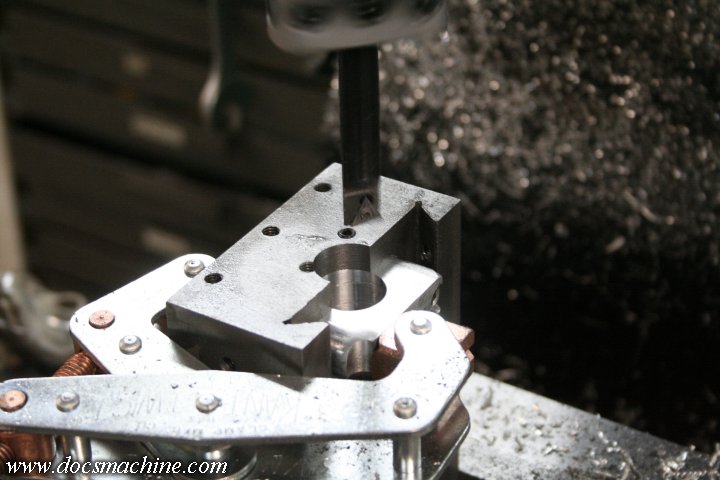 After that, it was simply a matter of applying the boring head until, probably by blind luck,
I managed a 0.0015" slip fit to the ballnut.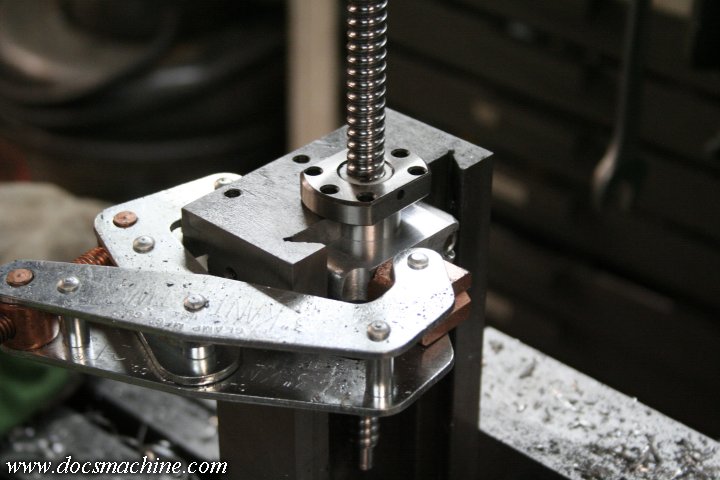 Voila`!

All text, photos and graphics Copyright 1998- 2019, Doc's Machine & Airsmith Services. All Rights Reserved.
Information contained in these pages is for reference and entertainment purposes only. Our methods are not always the best,
quickest, safest, or even the correct ones. It's up to you to know how to use your own machines and tools.
Keep your fingers away from the spinny blades o' death and you should be all right.