[
Return to Main Page
] [
Return to Projects Index
] [
Doc's Machine & TWB Store
] [
Contact Us
] [
The Whiteboard Webcomic
]
Converting a Grizzly G8689 Mini Mill to 3-axis CNC, Part 7: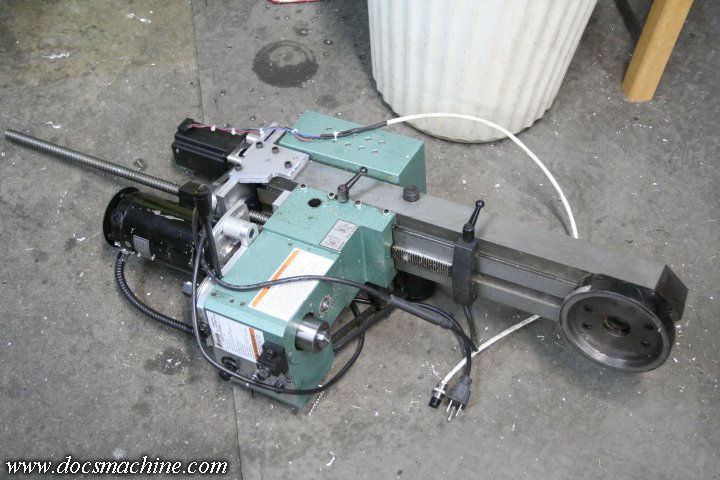 While I was waiting for some parts to arrive, there was another major part of this build I thought I'd get to.
Whatever idiot designed these small mills added a "pivot" at the base of the column, so that it could be tilted left
or right in order to mill angles and chamfers. The problem with it was, that the pivot is
very
poorly designed,
and comprises a serious weak point in the structure of the machine. So much so that after a few years, the
manufacturers of these small mills ditched the pivot entirely, making a much stronger fixed connection
between the base and column.
Well, I don't have one of those later models, so I had to figure out a way to reinforce what I already had.
I am not, as some may have noticed, an engineer, and I have no software for performing finite
element analysis of stresses and strains, but on the other hand, neither am I trying to design an
ultralight aircraft or space vehicle. Therefore, I can overbuild the piss out of it and
throw a pile of heavy steel at the problem. :)
First thing I needed to do was dismantle the head assembly and get just the column itself.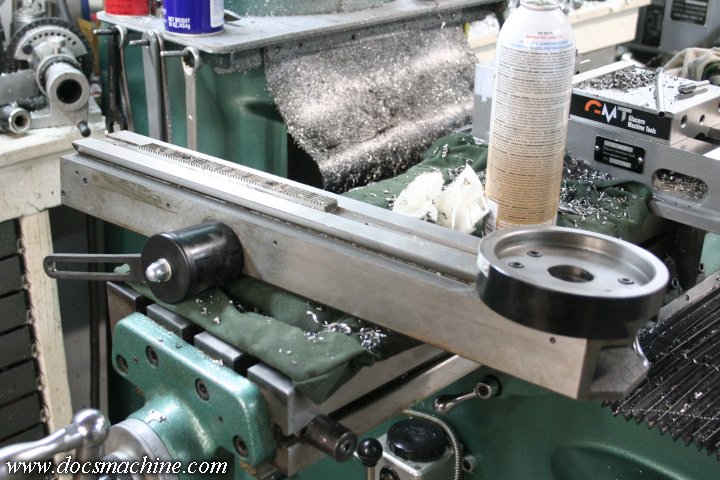 The column is actually a fairly thin-walled cast-iron box section- if the rest of the machine weren't so wimpy,
a quick fix for this might be to buy a section of solid Dura-bar and mill an entire new column.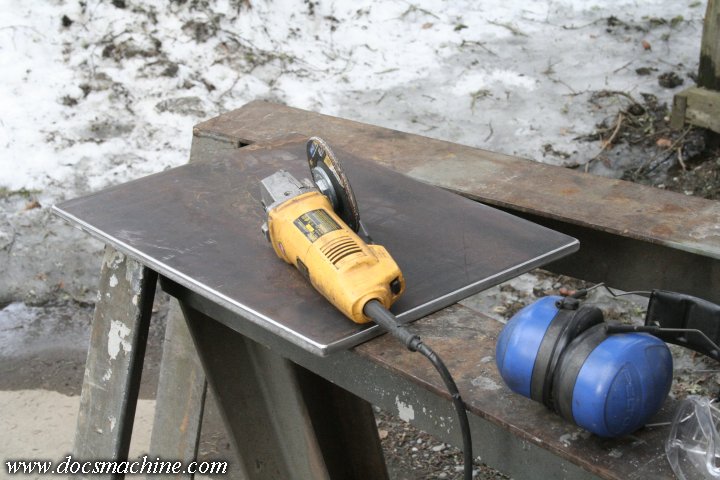 But, any benefit to the solid column would be lost to the wimp pivot anyway, so that's the part we need to focus on.
I went and chatted with the guys at my local metal supplier and came home with a couple pieces if 1/2" hot-roll steel plate.
The larger of the two I took a flap wheel to to break the corners and smooth up the sharp edges...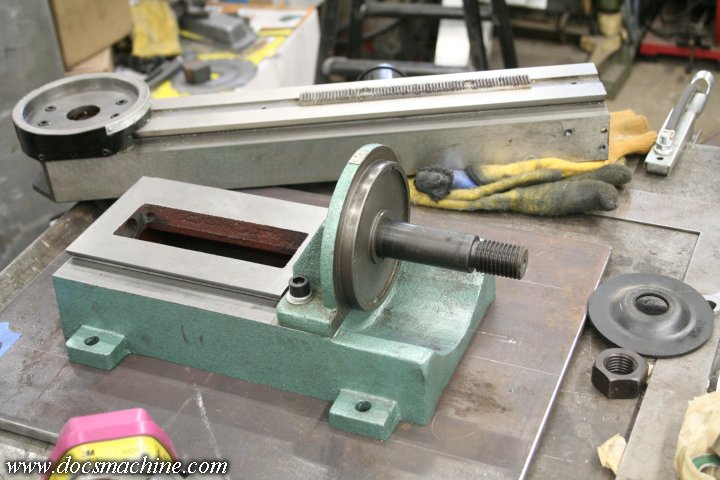 That piece will form essentially a new base plate.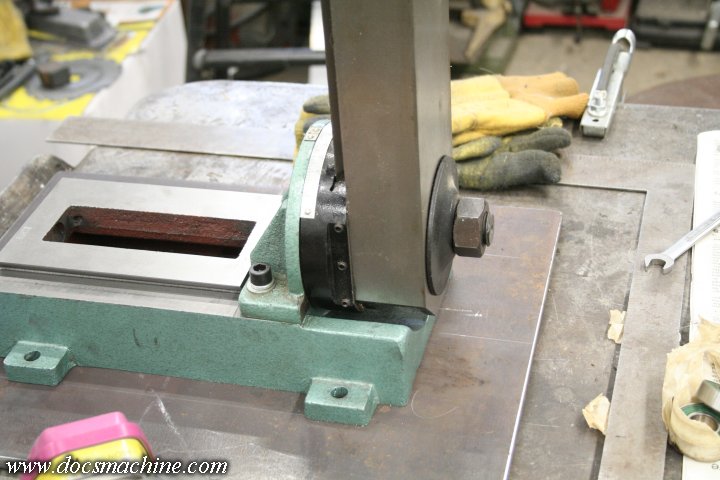 That's the pivot in question. The whole thing. The column simply slips over that shaft and is secured with a wide washer
and a big nut. But that thin little bracket then has to support all the weight and cutting forces of the headstock and column.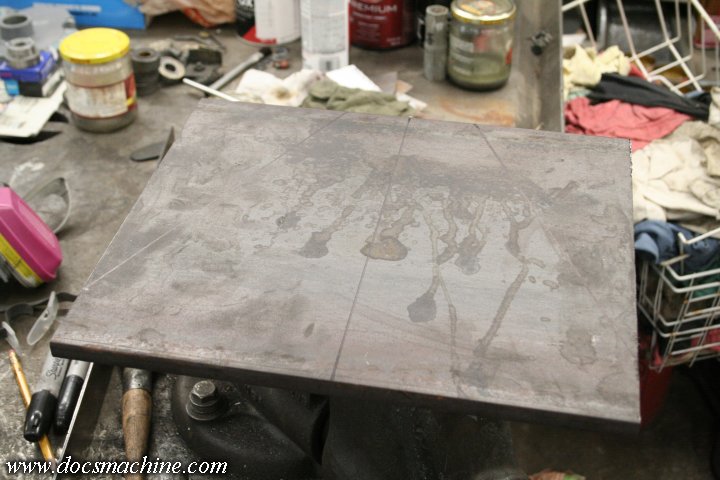 To remedy this, the other piece of plate was marked...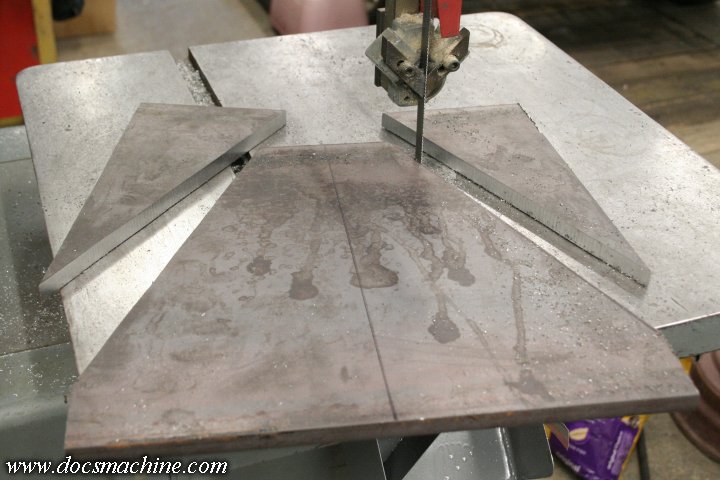 Bandsawed....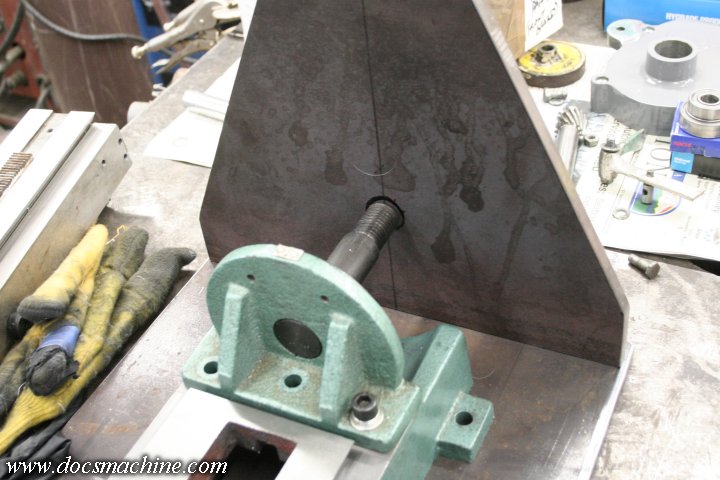 Marked again...
Drilled...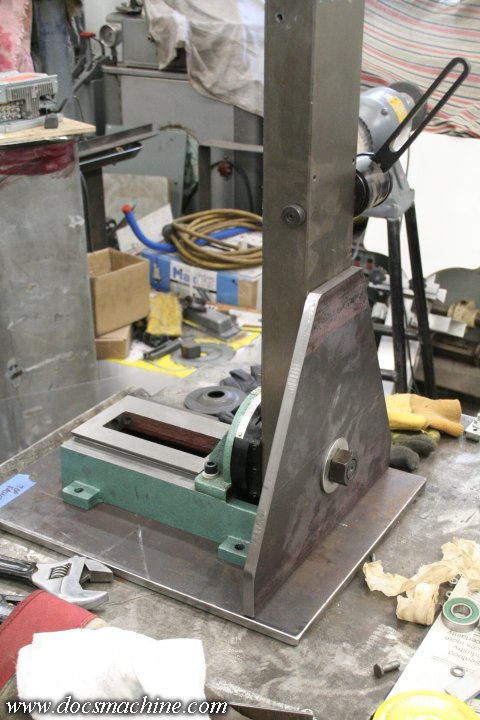 And test-fitted in place.

All text, photos and graphics Copyright 1998- 2019, Doc's Machine & Airsmith Services. All Rights Reserved.
Information contained in these pages is for reference and entertainment purposes only. Our methods are not always the best,
quickest, safest, or even the correct ones. It's up to you to know how to use your own machines and tools.
Keep your fingers away from the spinny blades o' death and you should be all right.