An episode of
Dilbert
, "The Off-Site Meeting" (season 2, episode 9) has Dilbert and his coworkers gathering at his house for a meeting
with an environmentalist who is suing their company. Alice sets up a game of paintball as an 'ice breaker' activity.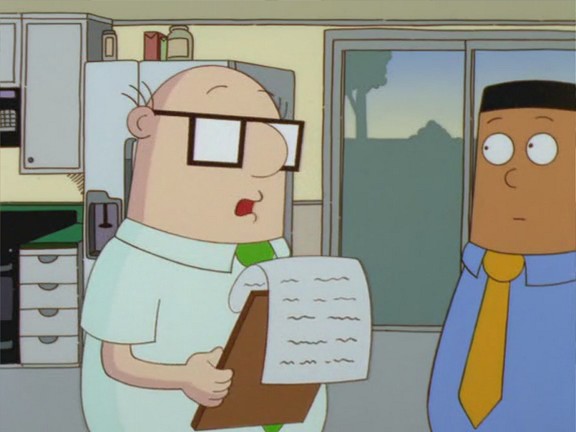 In this episode, an environmentalist, Elmer Oakley, is suing the company for "raping" a forest. The Pointy-haired boss
(voiced by Larry Miller) eventually has an idea to talk with Oakley to settle the issue, and in typical PHB fashion,
volunteers Dilberts' house for an off-site meeting. As the meeting starts, we hear from Wally, (voiced by Gordon Hunt)
who was in charge of the food and snacks. In "phase 1" of his analysis, he reports that his survey indicated that everyone
wanted hot dogs. When asked where they are, he states that aquisition was "phase 2", and he hoped to get to that
sometime in the next quarter.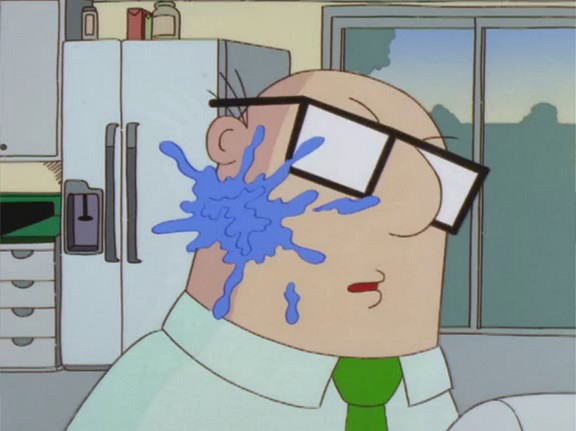 In reply, he's immediately shot in the face with a paintball...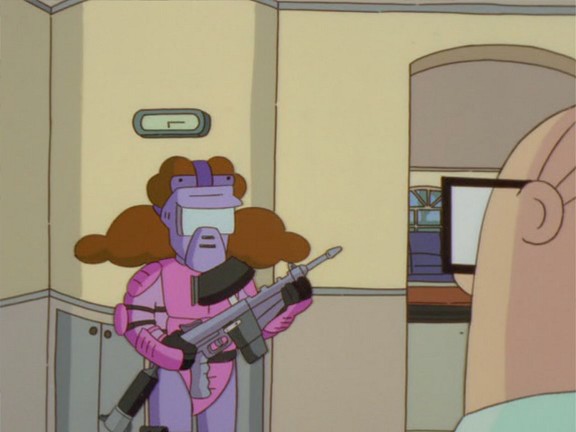 ... By a now fully-outfitted Alice (voiced by Kathy Griffin.) "I guess we can go directly to the icebreaker
phase of the meeting. Everyone grab a paintgun, we're playing
street rules!
" (I have no idea what that means.

)
Her marker looks somewhat like an
ATS AT-85
, an early magazine-fed mechanical full-auto.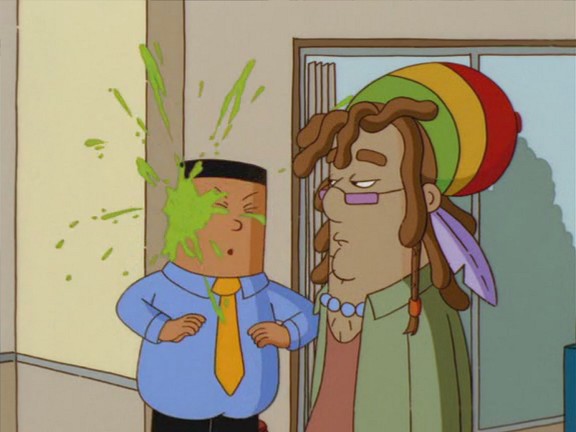 "Are your meetings always like this?" "Not always. One time, we
had
hotdogs! Ow!"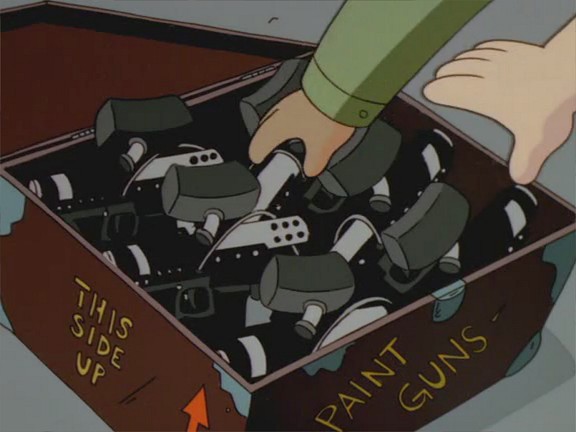 At which point everyone grabs a marker out of a crate full of them.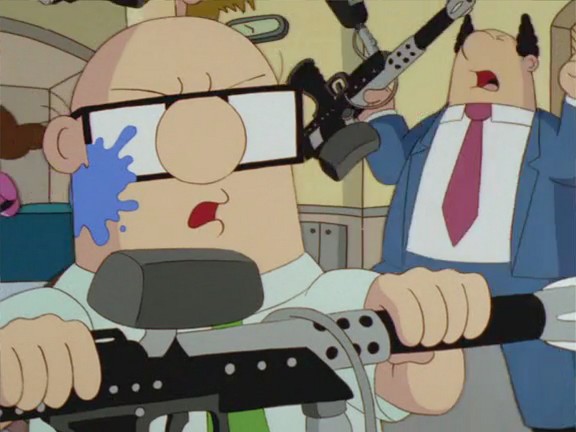 With, of course, the obligatory war cries.

The other markers look quite a bit like
Airgun Designs AutoMag RT
, albeit with the tank mounted
vertically at the bottom of the foregrip.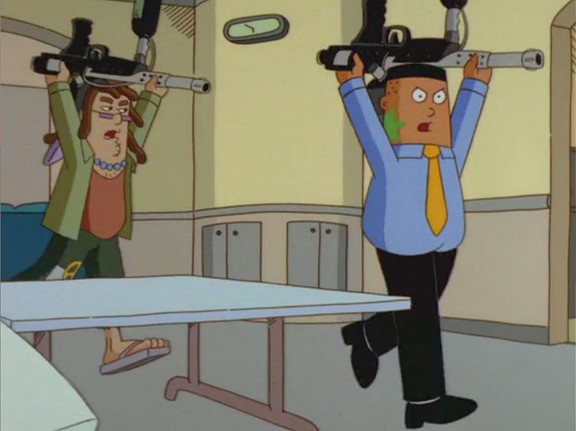 They also seem to have a slight problem with scale.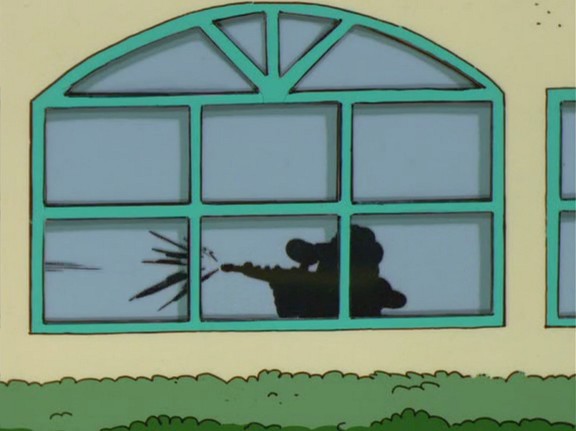 The game gets underway, basically as a free-for-all. No one except Alice wears any sort of
protective gear.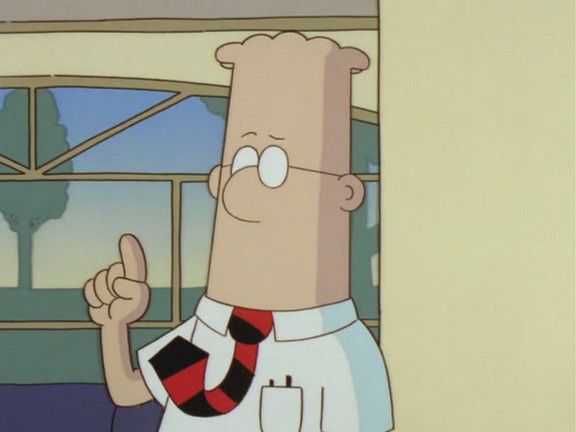 "That paint washes off, right?"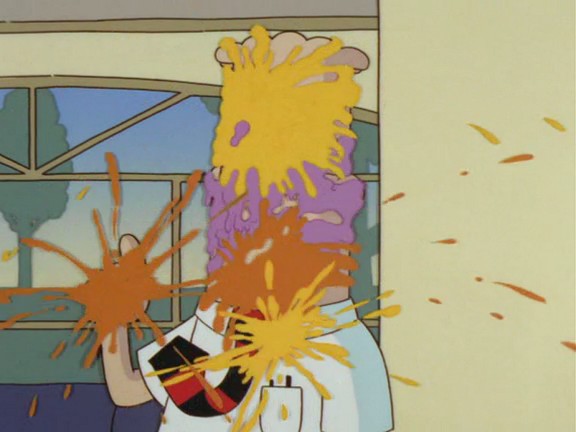 SPLAT, SPLACK, SPLAFFITY-SPLORK!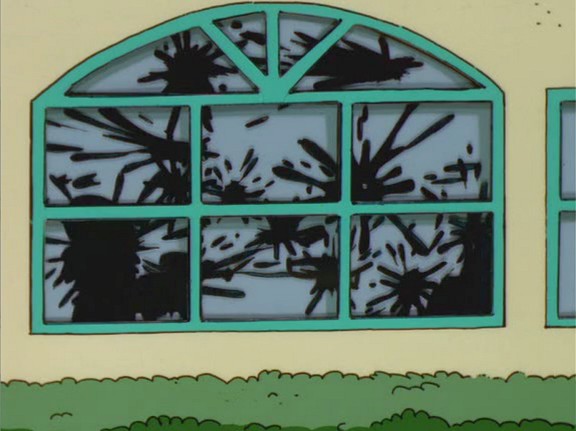 Within moments, Dilbert's entire house is covered in colored paint.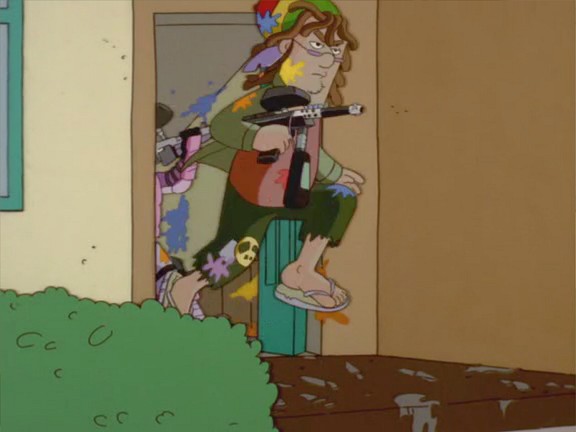 And moments later, Oakley runs from the house, pursuied by Alice, Wally and Asok.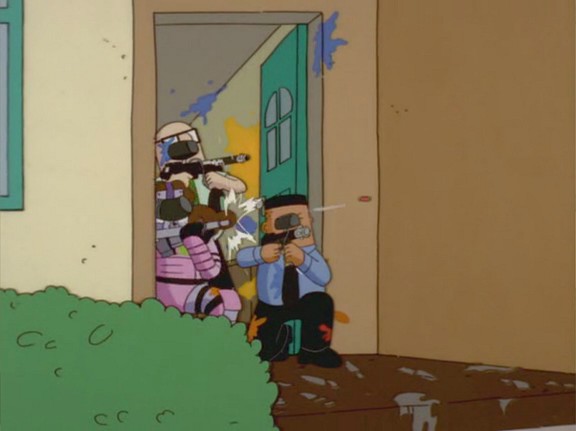 "There's your consensus you tree-loving freak!"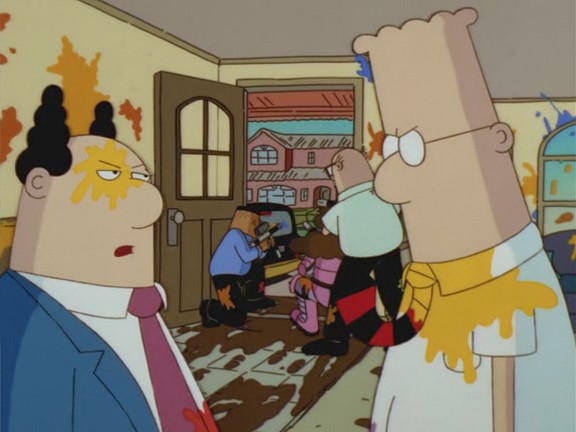 "Nice going Dilbert. This is the last time I let you talk me into having an off-site meeting at your house!"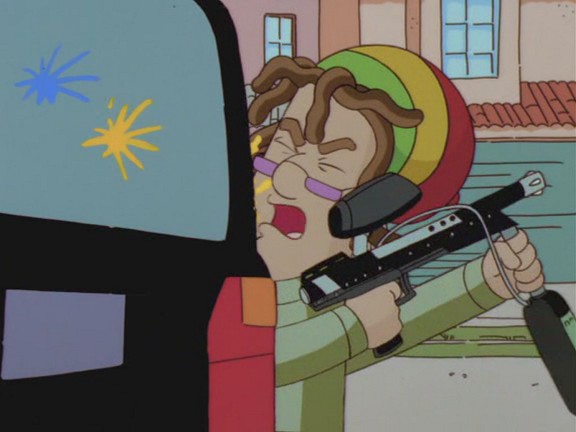 "I'll sue your tree-killing company into sawdust! But not before I win this icebreaker game!"
Oakley 'cocks' his RT for emphasis- by 'pumping' the foregrip
forward
and then back.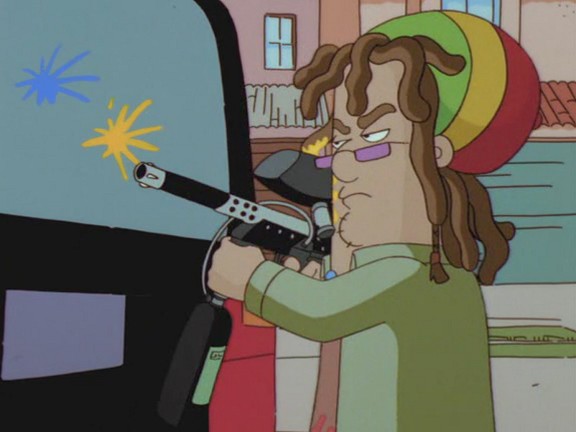 Oakley then takes aim at the neighbors' elephant on his roof (it makes sense in context

).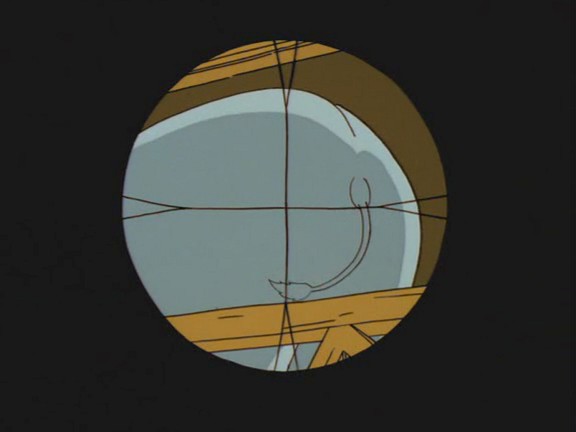 Oakley lines up the crosshairs, despite the fact his marker doesn't have a telescope...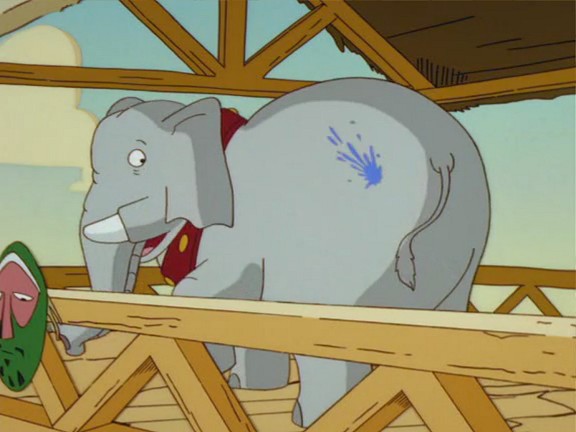 And fires, striking the already-distrubed elephant on the rump. The elephant gets angry and stomps the
treehouse into rubble...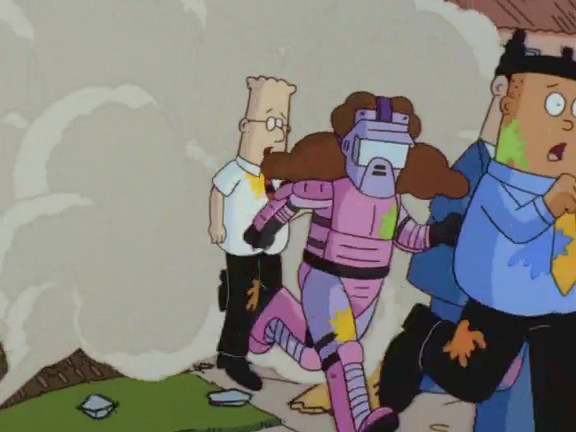 Which collapses onto Dilbert's house, destroying it.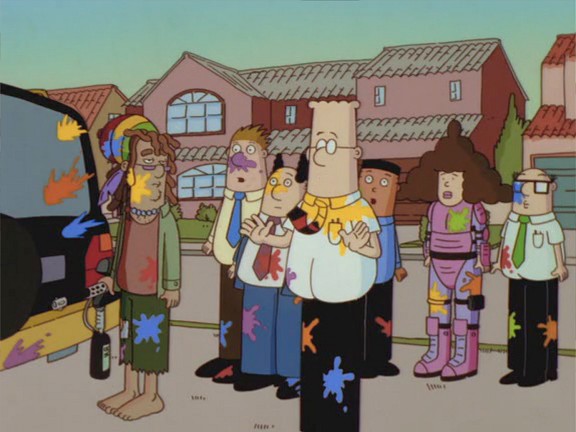 "My house! You destroyed my fortress of solitude!"
(Alice remarks it wasn't much of a fortress...)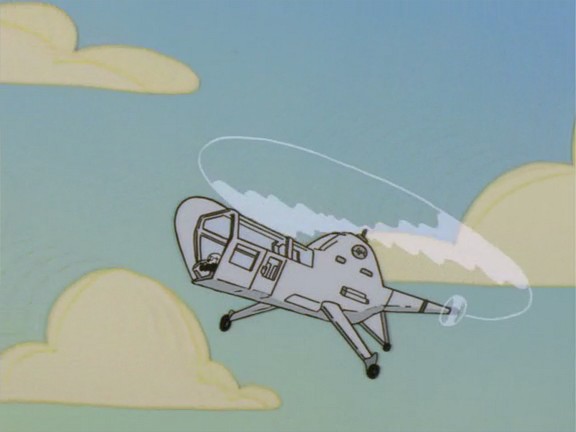 Just then, Dogbert shows up in a helicopter, back from a mission 'looting national treasures'.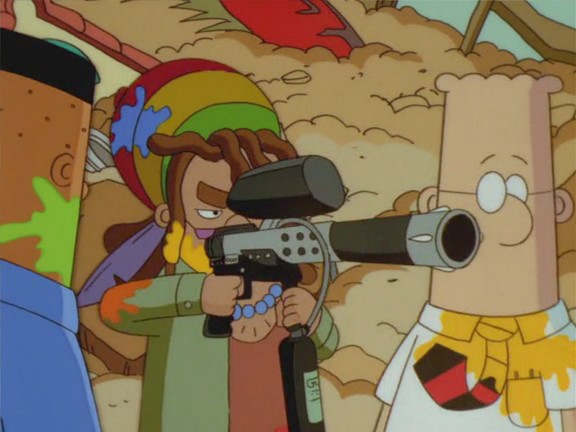 "I'm not afraid of some little dog!"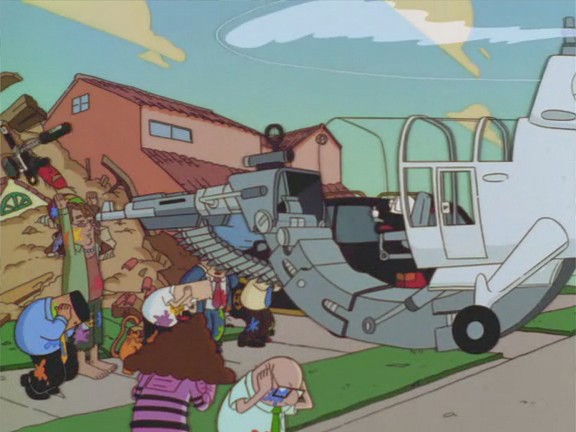 Dogbert, however, gives him a reason to be.

Note Okaley's marker flying away as he flung up his hands.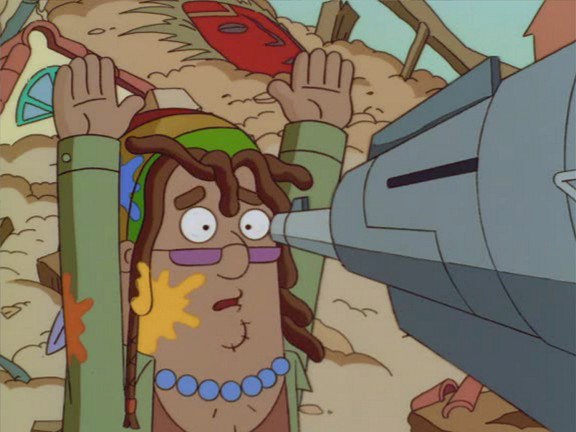 "Never mind".
All movie-related images are owned and/or copyrighted by their respective studios. Information contained in these pages is for reference
and entertainment purposes only. We make no claim to ownership of any image or screencap. If you have any questions, comments or