[
Return to Main Page
] [
Return to Projects Index
] [
Doc's Machine & TWB Store
] [
Contact Us
] [
The Whiteboard Webcomic
]
Building- slowly- a Classic KMG-Style 2" x 72" Belt Grinder, Part 4: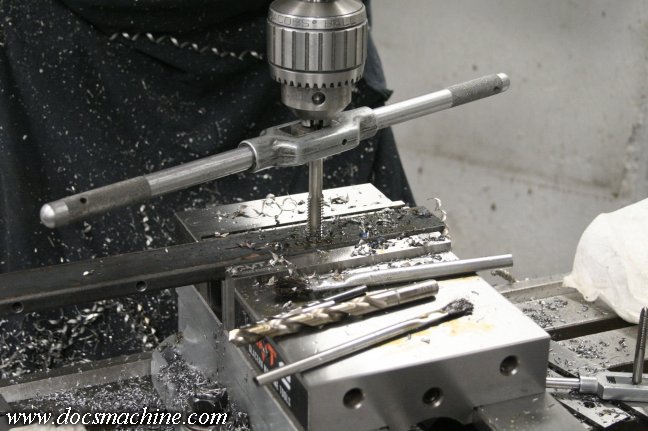 Next up, I needed a way to lock the tool arm in position. The plans call for a simple
pair of locking bolts, so I drilled and tapped the left panel of the arm support.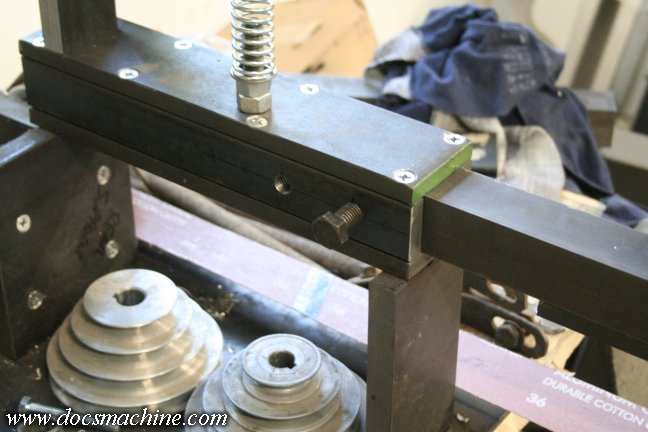 Fit back in place, a spare bolt from the bin now holds the tool arm nice and snugly.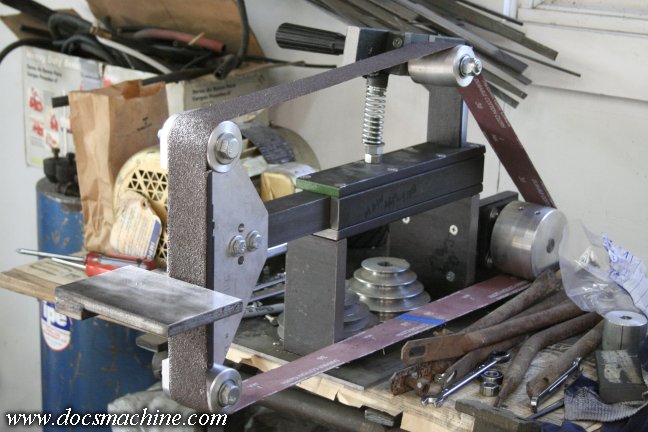 Which finally allows us to properly mount and tension a belt for the first time!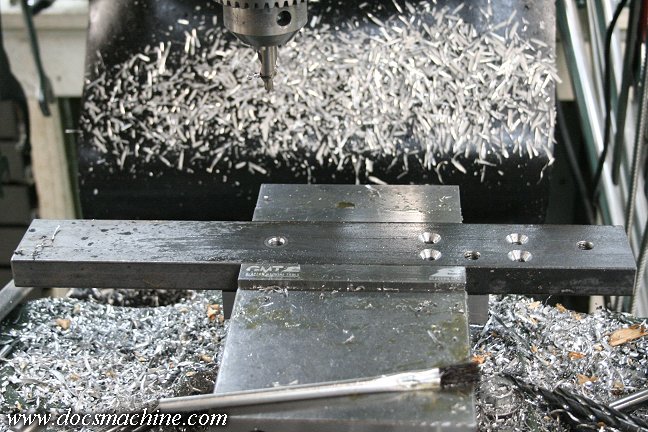 However, I just did
not
like that spring arrangement, and decided to redo it.
I got a new, longer section of bar and drilled it to fit in place of the old one.
Then, just 'cause I can, I milled the handle end round using the rotary table.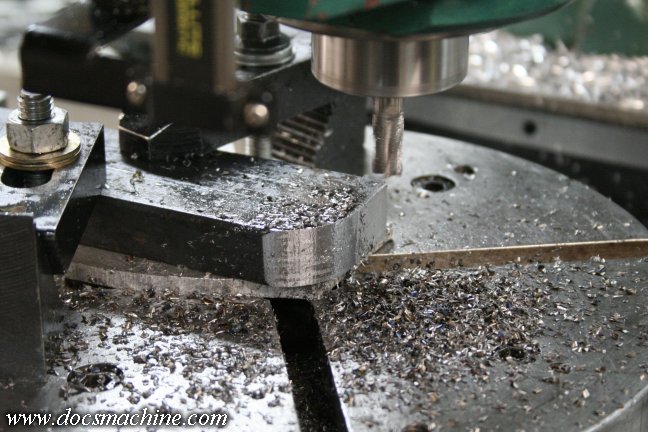 Flipping over to the other end, I milled
one
corner round to the same radius.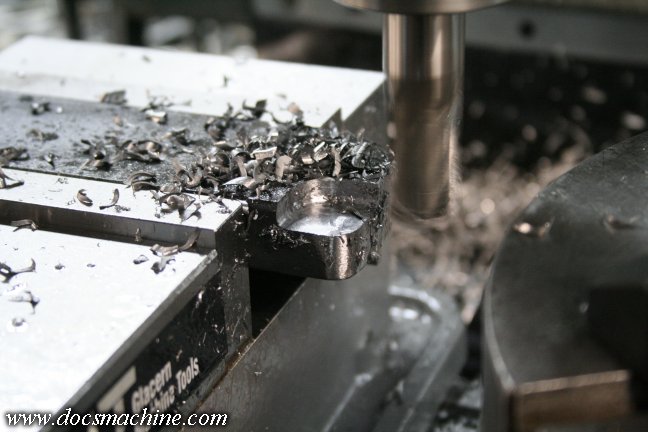 Moving over to the mill vise, I milled two "pockets" into the remaining corner...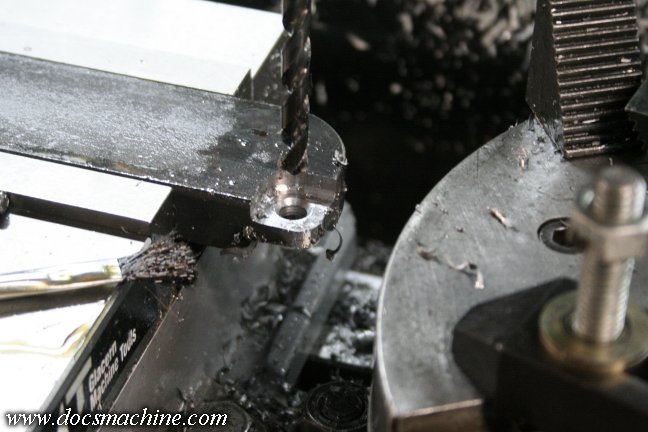 Then drilled and countersunk a hole in the middle of the pocket.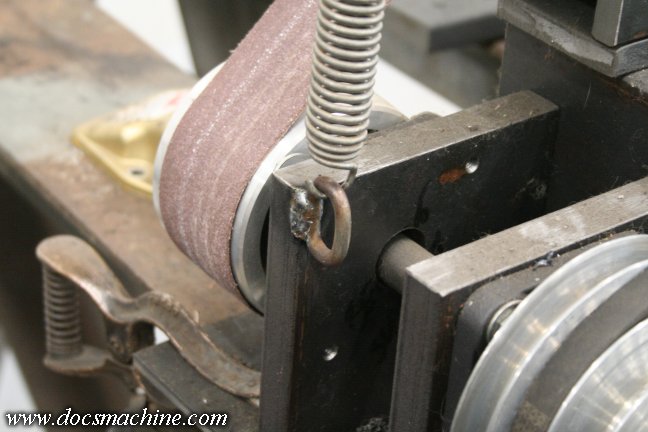 Finally, I clipped a link from an old scrap of chain, and MIG welded it to the rear bearing support.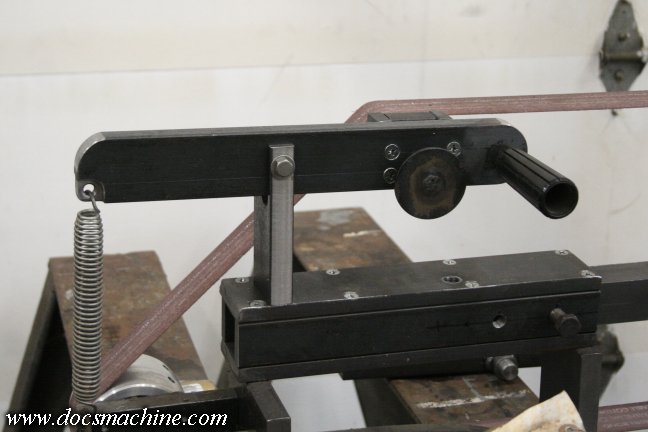 With a short extension spring from my junk boxes, the newly-installed arm looks, to me, a LOT
better than the original setup. I thought later that putting a ring that would let me use a small
turnbuckle would have been a better idea. That would have allowed both a wider range of
tension adjustment, and easier replacement of the spring, in case this one ever broke.

All text, photos and graphics Copyright 1998- 2018, Doc's Machine & Airsmith Services. All Rights Reserved.
Information contained in these pages is for reference and entertainment purposes only. Our methods are not always the best,
quickest, safest, or even the correct ones. It's up to you to know how to use your own machines and tools.
Keep your fingers away from the spinny blades o' death and you should be all right.