[
Return to Main Page
] [
Return to Projects Index
] [
Doc's Machine & TWB Store
] [
Contact Us
] [
The Whiteboard Webcomic
]
Building- slowly- a Classic KMG-Style 2" x 72" Belt Grinder, Part 5:
And finally, the motor. I'd been playing around with a big Baldor motor for this build, but it was too big
for the mounting plate. I eventually settled on an import 2HP motor with slots on the mounting foot.
That simplified belt tension adjustment quite a bit, so all I needed to do was drill the base for
four holes, and TIG weld a set of 5/16" studs in place.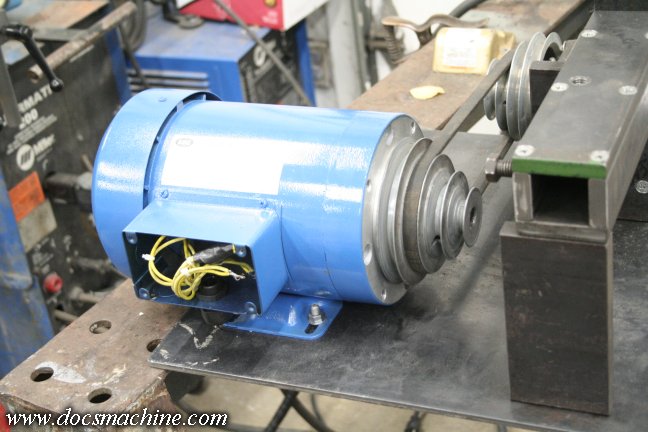 After that, mounting and installation was easy. Turns out all that time I'd spent on the custom pulley was
more or less wasted at this point, but sometimes that's just the way things work out. :)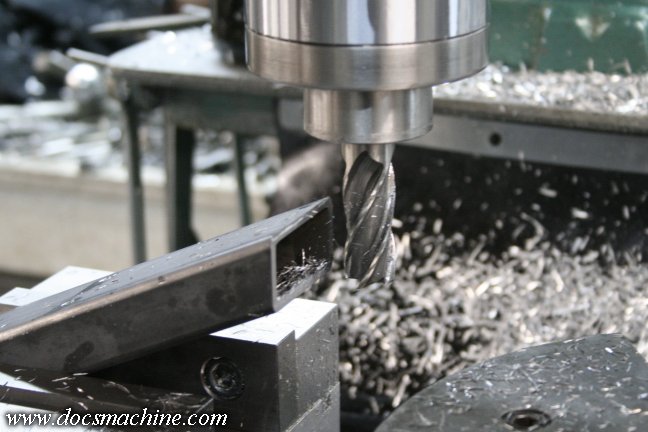 Finally, we're down to mounting the VFD. Like most grinder builds, I went with a KB Electronics unit,
that's sealed against grinding dust. That has a nice easy mounting flange, so I found a hunk of rectangular
tubing that would work, and milled off the end at about whatever that angle is. :)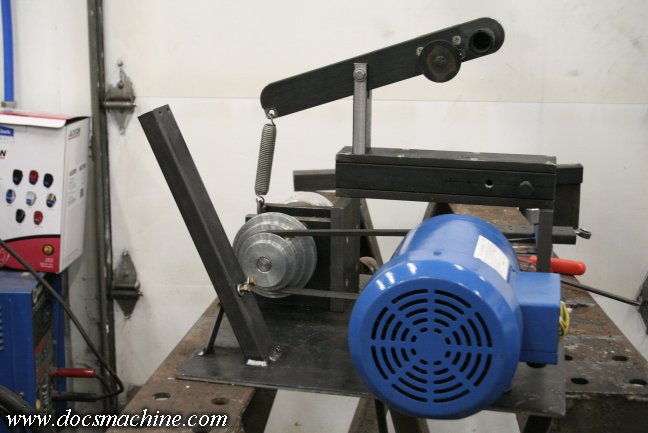 That got mocked up and MIG welded in place, with a little extra bar at the back for bracing.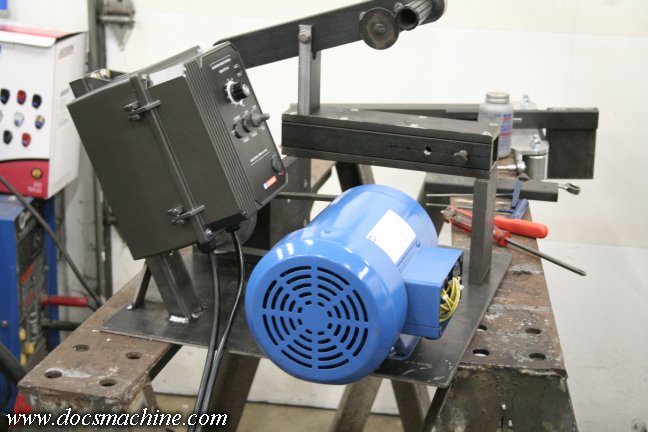 The VFD gets bolted on...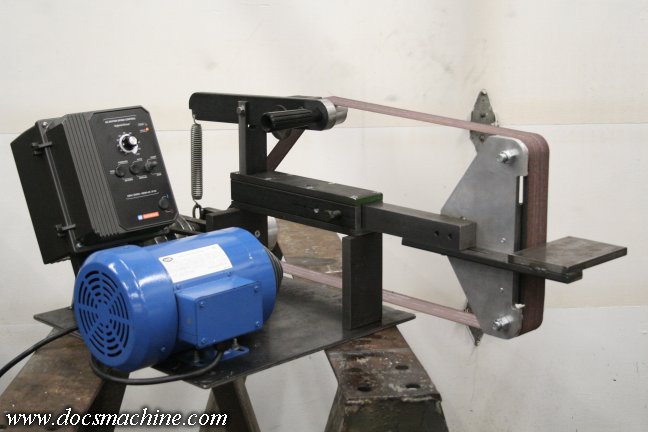 Wired up and tested. She's almost complete!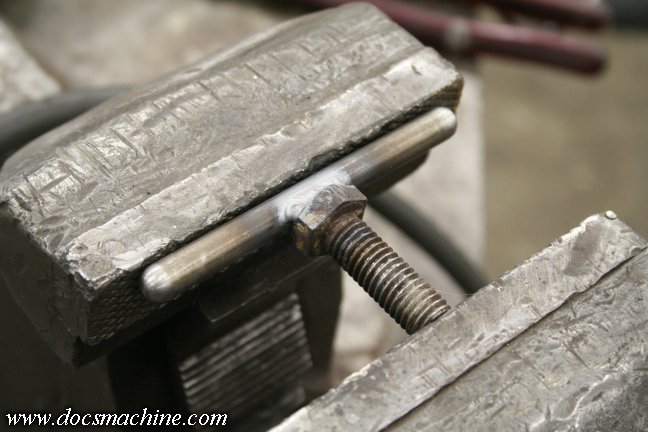 The locking bolt for the tool arm needs to be usable without a wrench, so I lopped off a 4" chunk
of 5/16" bar, turned the ends round, and TIG welded it to the bolt.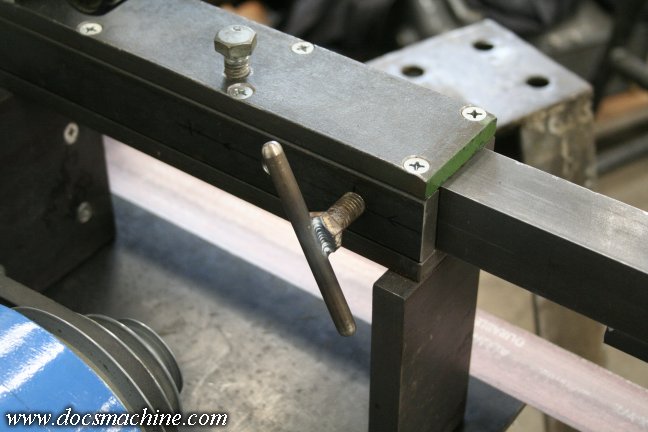 Not the most elegant solution, but it works.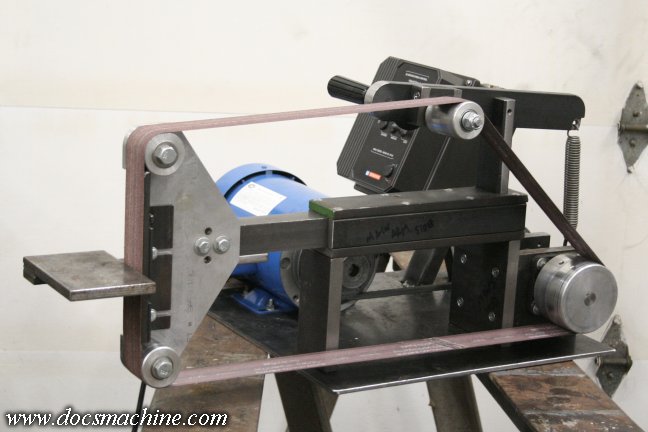 And that's it! She's done! Not the prettiest thing out there, and I can't say it's been
some of my finest work, but it's functional, durable and reliable.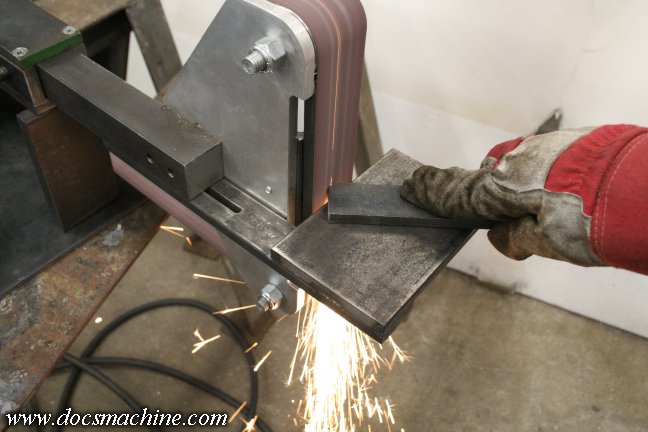 And here's proof it's functional! Turns smoothly, runs quietly, the belt tracks well,
the tensioner works nicely, belt replacement is quick, and it grinds great!
What more could you ask? :)

All text, photos and graphics Copyright 1998- 2018, Doc's Machine & Airsmith Services. All Rights Reserved.
Information contained in these pages is for reference and entertainment purposes only. Our methods are not always the best,
quickest, safest, or even the correct ones. It's up to you to know how to use your own machines and tools.
Keep your fingers away from the spinny blades o' death and you should be all right.