[
Return to Main Page
] [
Return to Projects Index
] [
Doc's Machine & TWB Store
] [
Contact Us
] [
The Whiteboard Webcomic
]
The DoAll 16" LHF Bandsaw, Part 3: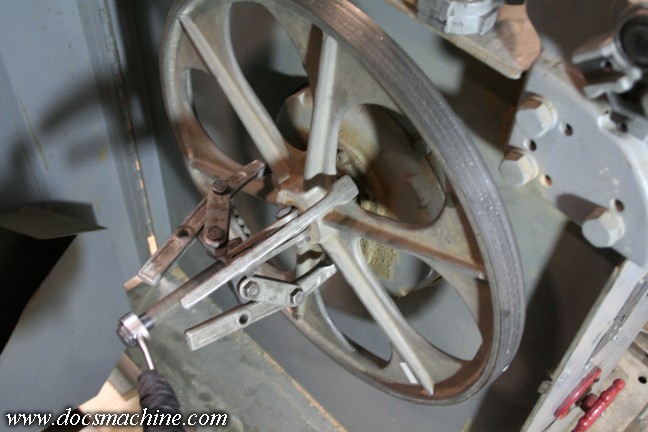 I'd speculated that this saw has been refurbished before, and I now have strong evidence thereof. Closer inspection
of the gearbox mounting bolts revealed signs they'd been removed, and at least one of the tin cover gaskets had clearly
been hand-cut. Not that it really mattered. With the worrisome slop and the fact it was empty of oil- and I had no idea
how long it had been run in that condition- my only choice was to remove the gearbox and open it up. Fortunately it's
fairly easy to remove, the drive side pulley slid right off, and the band pulley came of with a light tug from a gear puller.
That left the gearbox by itself, bolted to the chassis "firewall". The upper shaft is the high/low
selector lever, and will have to come off next.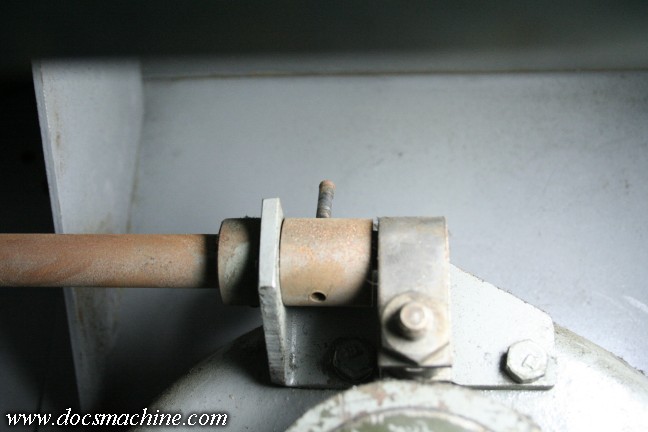 The eccentric link on the end is held in place with an old-fashioned taper pin, which drove out easily.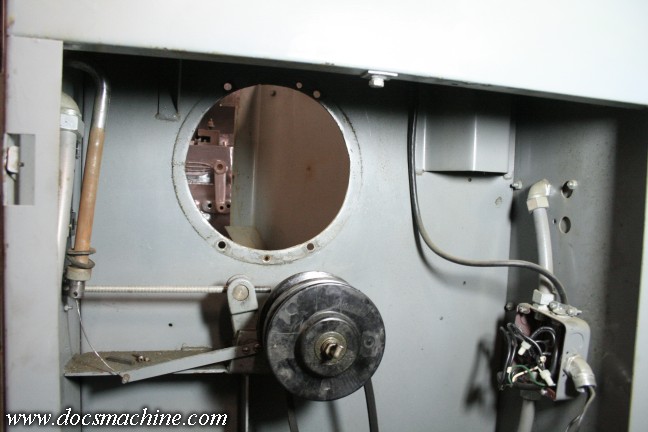 And then four bolts, and the gearbox pops right out. Note there's no streaking or sprays where oil may have been
leaking out of the box- and note the box itself was clean, with no traces of dust or dirt stuck to wet, oily areas.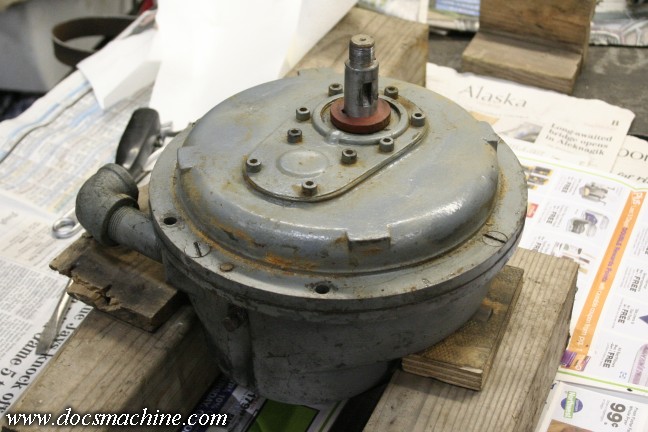 On the table, I blocked it up. I laid papers down because I had, in fact, tried putting oil in it, to see if that
changed/helped anything- it actually didn't seem to make any difference at all- but I eventually decided
that no matter what, it was going to have to come apart.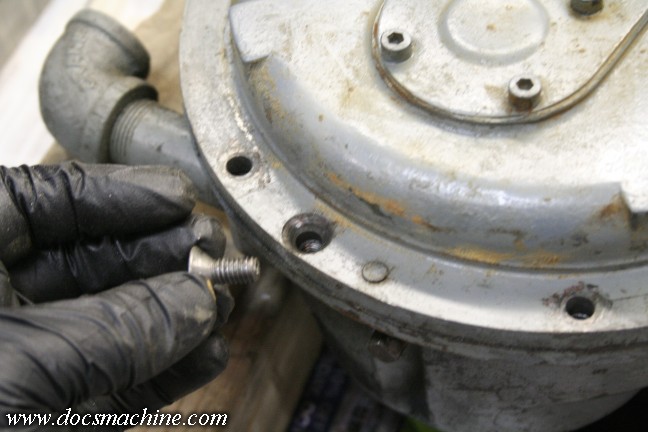 The two halves are held together with just four countersunk screws, each with clear signs somebody with an
undersized screwdriver had already been there. They were also all only a little more than just finger tight.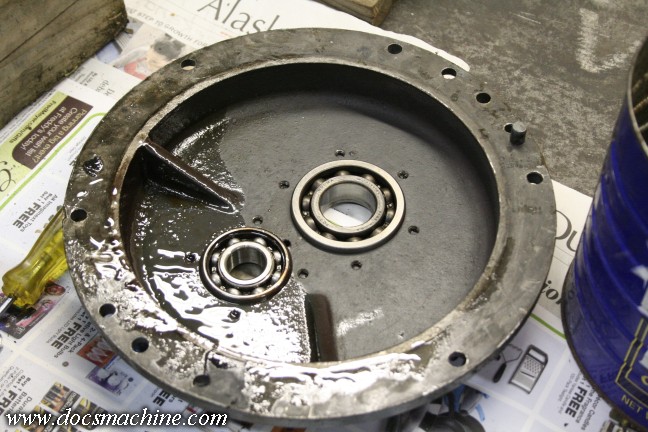 Inside, note how dry the top half was. Even with the half a pint of oil (the recommended amount) I put in and
being run at high speed for a few moments, the upper bearing and top half of the housing were still bone dry.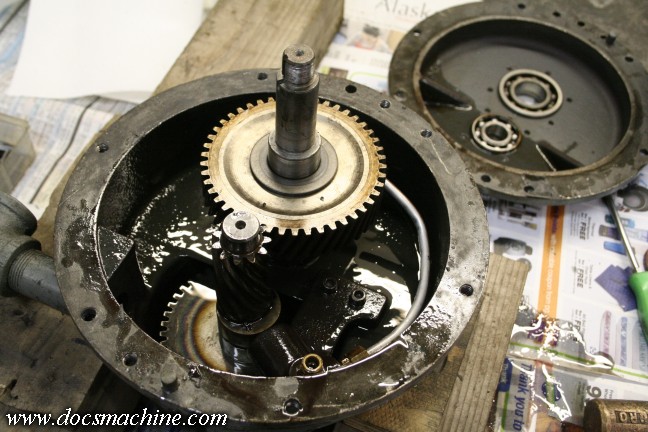 The rest of the gearbox was reasonably easy to dismantle. And, I was surprised- and considerably
relieved- to see the gears were all still in fine shape.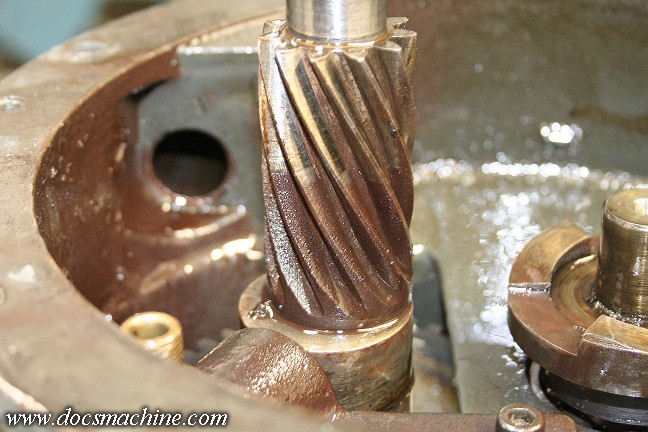 Certain parts were, however,
rusty
.
Rusty.
Fortunately, as it turned out, it was a fine, light surface rust, that brushed right off with some solvent and a toothbrush,
but still,
rusty
. The gearbox had, in fact, been dismantled, degreased, reassembled and installed, but never filled with oil.
Even more fortunately, however, it seems it hadn't been run long in that condition. It may, in fact, not been run much at all
before being surplused and sold, and I know it's only been run less than five minutes in total since then. So while I was
hoping not to have to do it, I'm glad I did. No, I couldn't have just filled it with oil and called it good- the rust would
have come loose into the oil and formed an abrasive, and even multiple flushings wouldn't keep it from doing damage.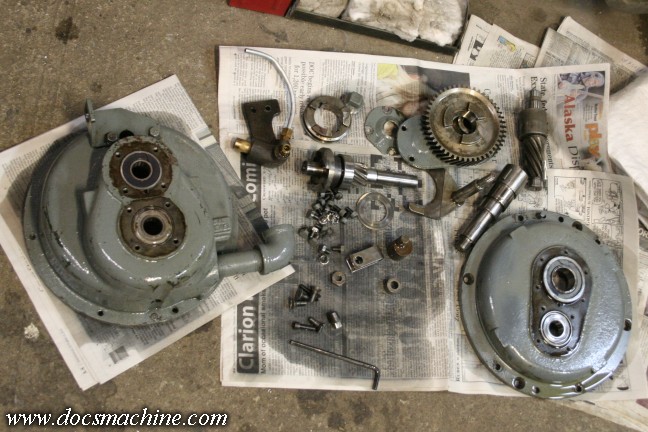 Unfortunately, there was some damage- I can feel slight roughness in a couple of the bearings, and at least one
had surface rust on the inner cage. I could flush everything and throw it back together, but the bearings would
only last a few years before they started making noise- and the debris of
those
wearing could cause damage
to the gears too. So I'll have to order up a set of bearings- they're all fairly conventional items- and do a fairly
proper rebuild. And what caused the slop? I can only guess it was the dog clutch- that selects high or low
range, and I can only assume that the slop was just the dog teeth engaging.

All text, photos and graphics Copyright 1998- 2016, Doc's Machine & Airsmith Services. All Rights Reserved.
Information contained in these pages is for reference and entertainment purposes only. Our methods are not always the best,
quickest, safest, or even the correct ones. It's up to you to know how to use your own machines and tools.
Keep your fingers away from the spinny blades o' death and you should be all right.