[
Return to Main Page
] [
Return to Projects Index
] [
Doc's Machine & TWB Store
] [
Contact Us
] [
The Whiteboard Webcomic
]
The DoAll 16" LHF Bandsaw, Part 8: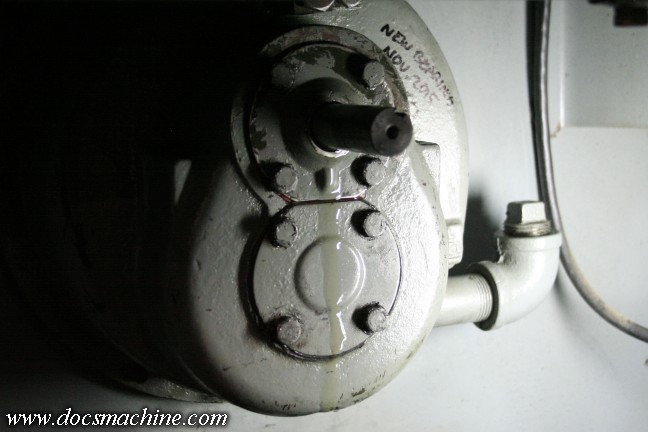 I only made a few cuts before the saw started bogging down. If I put any pressure on it at all, I could slow
it down- though not quite stop it- and it basically stopped cutting. Turns out, after running for a few moments,
oil started dripping out of the input shaft bearing, which ran down the gearbox and dripped directly onto the
variable speed pulleys and belts. And not just a little either, the belts were already covered. My mistake? The
upper input shaft bearing was shielded, not sealed. A shield isn't a seal- it's basically just a dust cover.
I'd replaced that bearing with exactly the same kind and style of bearing that was in there when I took it apart.
Which was shielded, not sealed. I should have thought about it more, but I guess I'd expected the shield to
be sufficient because it was well above the oil fill level. With all the oil whirling around in there, clearly it's not.
My choice now is to either open the entire gearbox back up in order to replace that bearing with a sealed one...
or make a new round cover to hold an actual lip-type oil seal.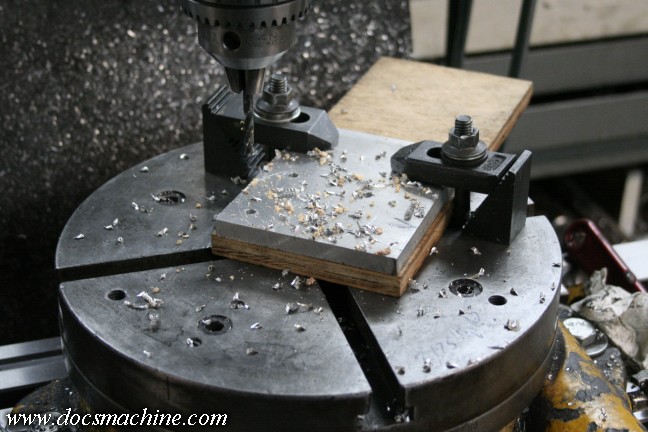 Rather than cracking the whole gearbox open again just to replace that bearing, I opted to add a proper oil seal.
The aforementioned seal shop helped me find a good one (I think it fits GM power steering pumps) so the rest
was just making an adapter plate. The stock cover plate is just a pressed steel thing, but there was plenty of room
room to put in whatever I wanted. So, out comes the rotary table again, and a chunk of 3/8" aluminum scrap...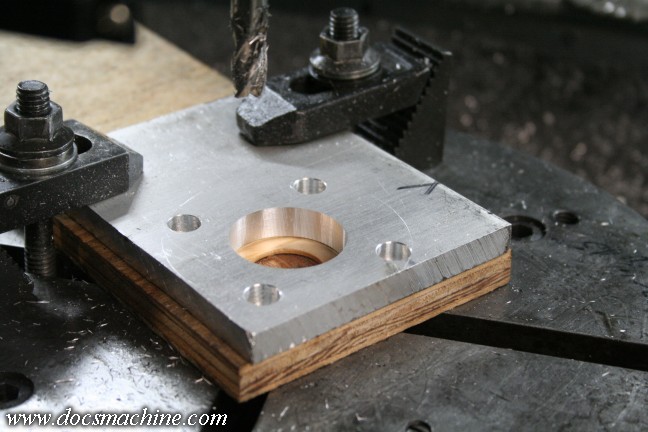 A couple counterbored holes, a large center through hole...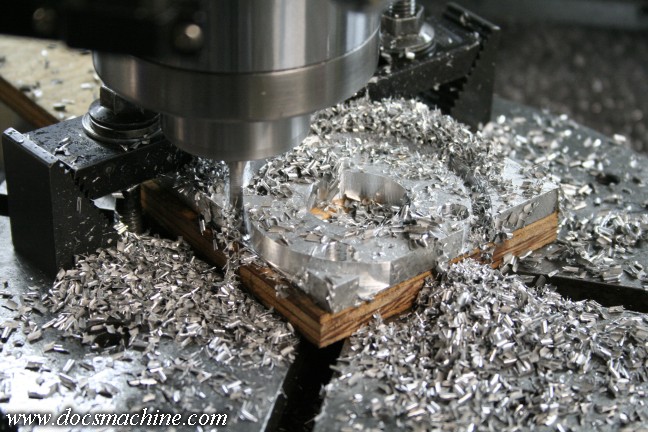 And then mill the OD.
A little deburring, and that's it, easy. I did flub the flat spot- the flat is needed to clear the adjacent bearing cap,
but I didn't get it quite lined up on the rotary table, so the flat isn't quite "square" to the bolt pattern. No biggie.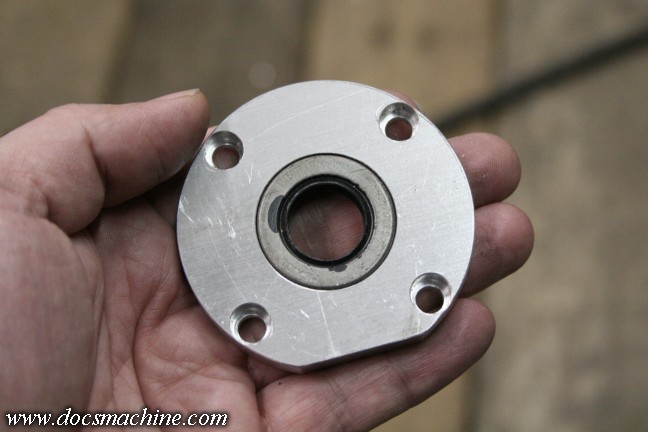 Press the new seal into place...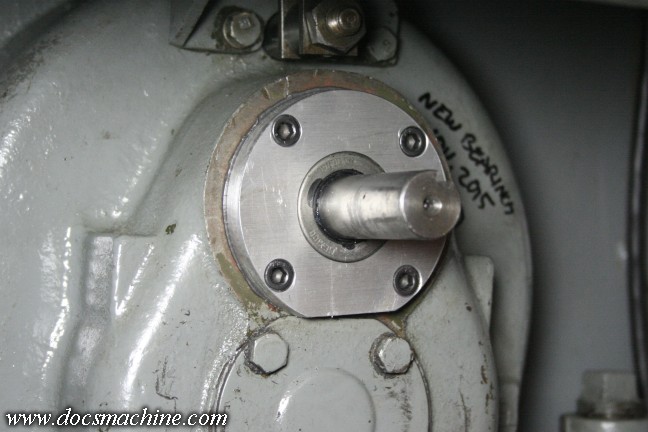 And install.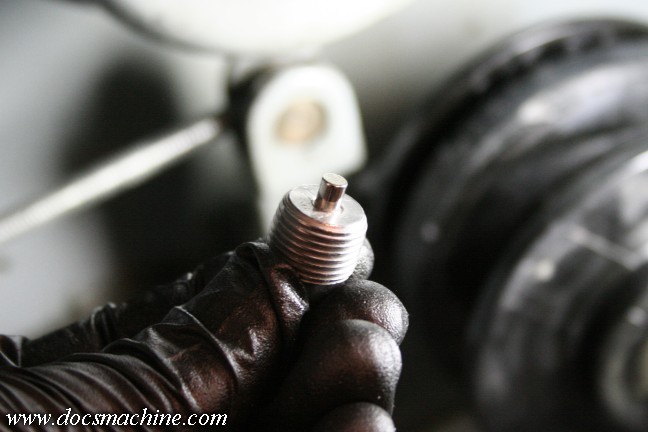 I also picked up two eBay goodies: First, a magnetic drain plug, just for that little bit of extra protection...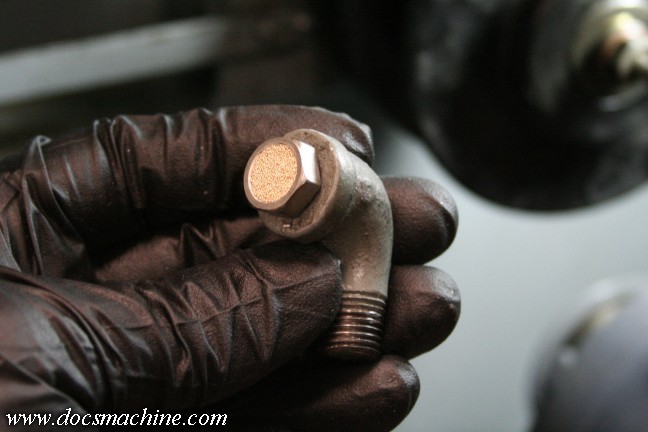 And a bronze-filtered air vent. The old vent was just this elbow with another short fitting screwed in.
The bronze filter will still let it breathe but will keep any gunk out.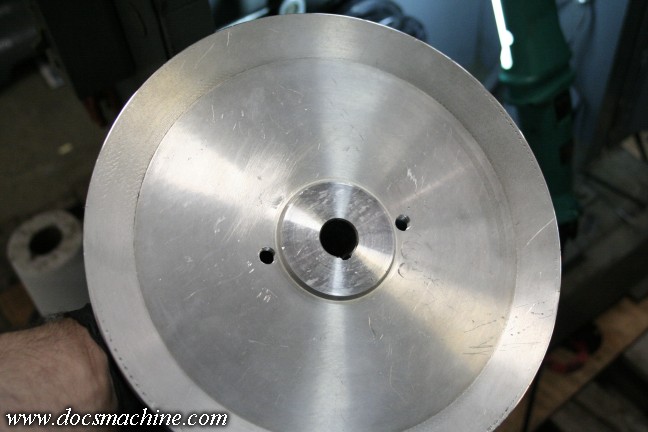 And last- I believe the main drive pulley was shop made. It's nicely done, but doesn't look like
factory
done.
And there's no way to grab it to pull it off the shaft, so removing it has been a bit of a hassle. So I just drilled
and tapped a pair of holes- if I have to take it off again, a simple puller and two bolts will pop it right off.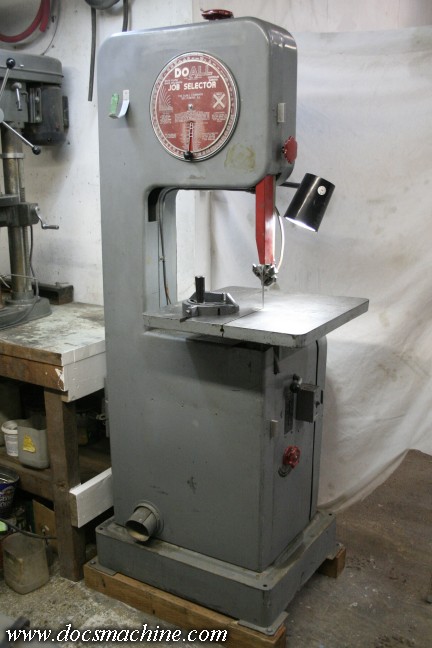 And finally, with a bit of help, I got it down off the pallet and properly situated in the shop.
I shortened and reinforced that rickety old bench to make room for it- the drop cloth is just
to hide some of the squalor, since I had to move a bunch of junk to get it shifted over there.
Once the thing was down off the pallet, just like my Nichols mill and Rockford drill,
I realized how short it was. So I added two sections of 4x4 timber to the feet and
lag-screwed them to the base to raise it up. Anyway, she's pretty much up and running.
The gearbox is nice and quiet, the blade tracks nicely and stays solid and straight,
and as a nice little bonus, I threw a new LED bulb in the lamp and was happy
to see it worked just fine. (The saw is running in the picture.)
I still need to tweak the speed control- it had been 'repaired' at some point in its past,
and needs re-repairing, but at least it works for the moment.

All text, photos and graphics Copyright 1998- 2016, Doc's Machine & Airsmith Services. All Rights Reserved.
Information contained in these pages is for reference and entertainment purposes only. Our methods are not always the best,
quickest, safest, or even the correct ones. It's up to you to know how to use your own machines and tools.
Keep your fingers away from the spinny blades o' death and you should be all right.