[
Return to Main Page
] [
Return to Projects Index
] [
Doc's Machine & TWB Store
] [
Contact Us
] [
The Whiteboard Webcomic
]
Cleaning up an old Wellsaw M1000 Horizontal Bandsaw, Part 5: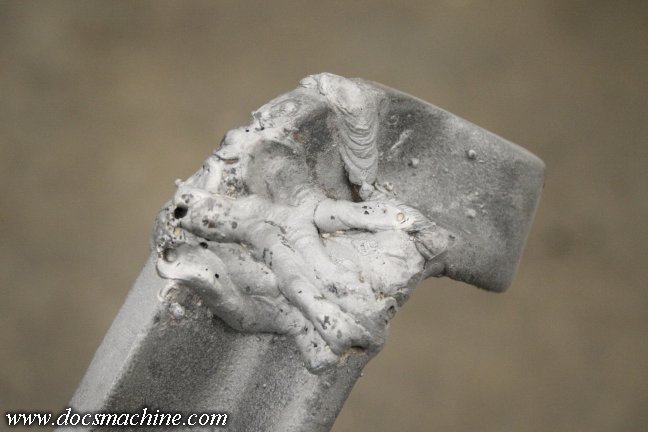 At some point in this beasts' storied history, some knucklehead somehow managed to snap off one of
the blade guide arms, breaking the casting at the top bend behind the clamping screw. They then
tried to weld it back together, with what appears to be a combination of MIG and stick.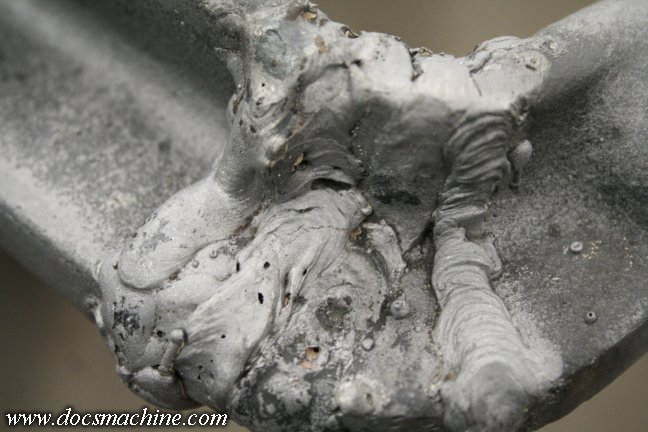 Either that or the repair weld broke, and they rewelded it with a different process, whatever. Whichever
the order of blasphemy, the upshot is that, while it held, and worked, to a degree, it was a terrible
welding job and godawful ugly. Well, I've kept an ear out for a replacement for many years now,
and have never run across one, so I guess I gotta fix this one.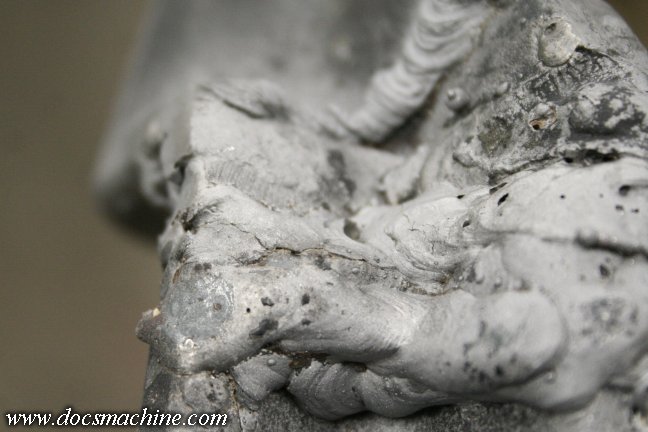 Now, while the arm held, and appeared to clamp fairly firmly, after sandblasting the layers
of old paint off, several cracks were revealed.
So I got the grinder out to see how deep this particular rabbit hole goes,
little realizing that "hole" in this case was not metaphorical.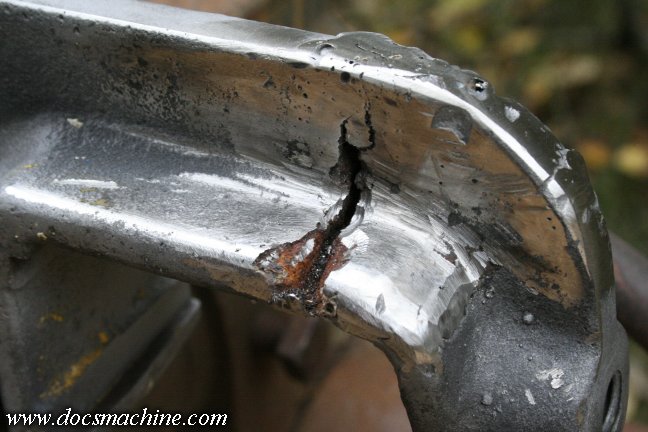 Yep, clearly some of the original metal was lost in the breakage, and subsequent attempts to reweld
likely didn't even bother to grind off the old welds, leaving gaping holes inside. And digging in with the
die grinder just spalled even more off- metal that had clearly been long-since cracked,
and only held in place by plastered layers of weld on top.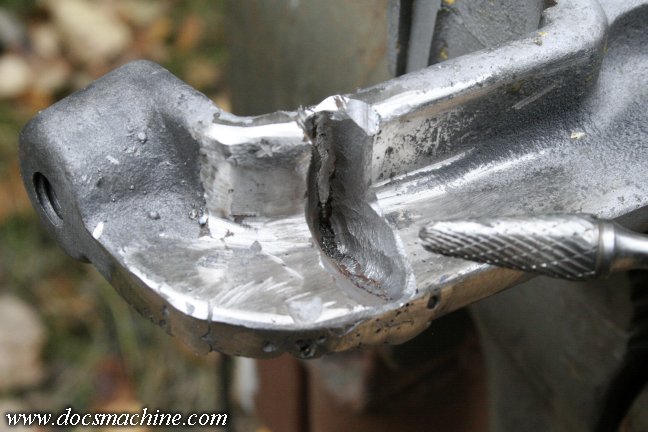 I dug out as much of the rift as I dared with the die grinder, and never did find the bottom.
But in this case, as I'll soon be digging in from the opposite side, as long as I could get it
filled with clean weld, I could attack the rest of the crack later.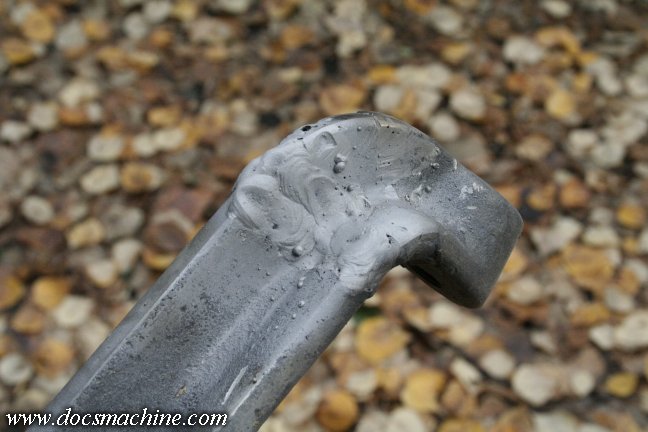 Piling in about a stick and a half of the rather expensive Muggy rod, managed to seal the rift nicely.
There was the occasional porosity, which I ground back out and rewelded, but I was able to
get what I thought was a fairly decent weld in there.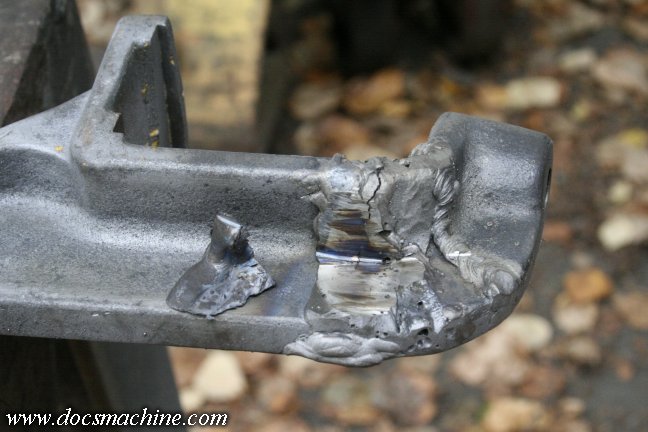 On the opposite side, the piled weld was so thick I was able to use a thin wheel and cut much of it off in a single lump.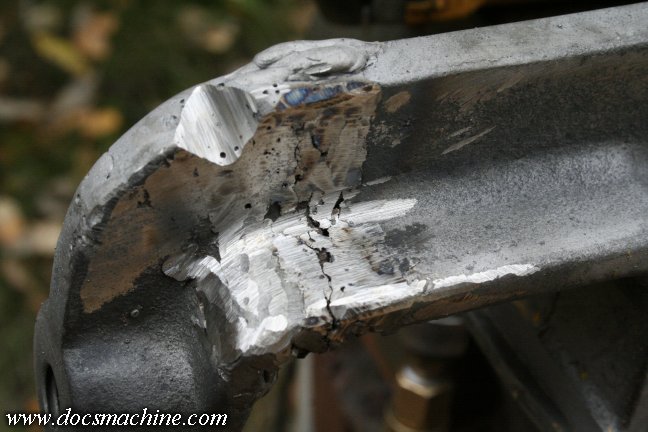 After which, it was the same game. Grind down the excess...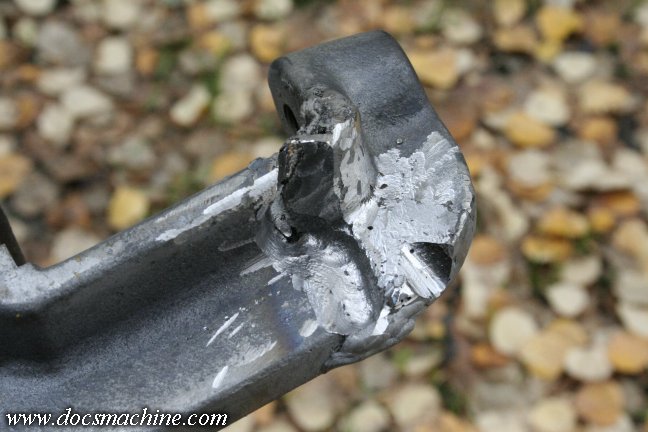 Gouge the crack out with the die grinder...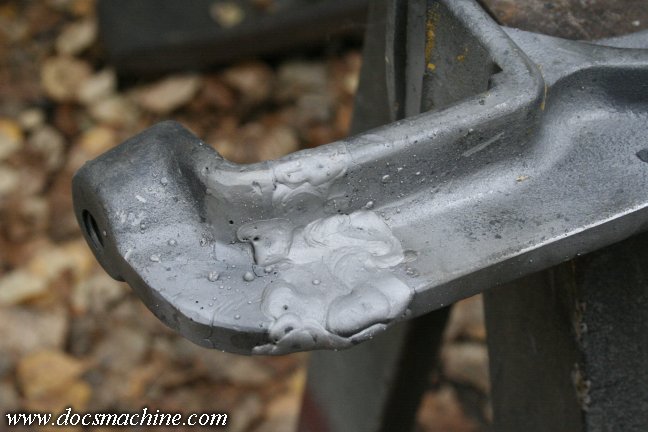 And butter it back over with the Muggy.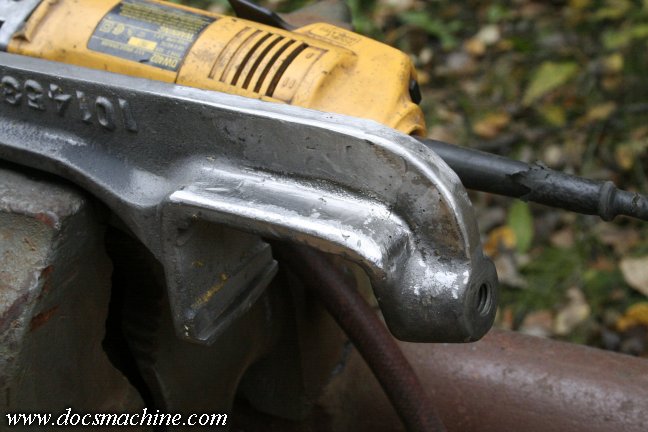 After that, it was back to the grinding station to smooth it all back down to something resembling
the original contours. Looks good so far, right? Well, we're not
quite
done just yet...!

All text, photos and graphics Copyright 1998- 2019, Doc's Machine & Airsmith Services. All Rights Reserved.
Information contained in these pages is for reference and entertainment purposes only. Our methods are not always the best,
quickest, safest, or even the correct ones. It's up to you to know how to use your own machines and tools.
Keep your fingers away from the spinny blades o' death and you should be all right.