[
Return to Main Page
] [
Return to Projects Index
] [
Doc's Machine & TWB Store
] [
Contact Us
] [
The Whiteboard Webcomic
]
Cleaning up an old Wellsaw M1000 Horizontal Bandsaw, Part 6: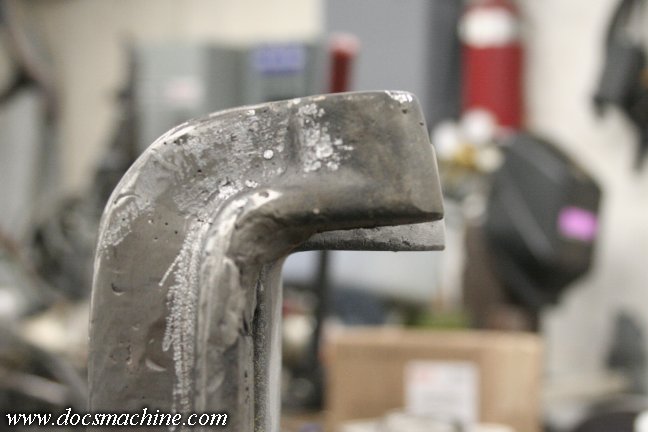 Okay,
why
weren't we done? because the previous gorilla had rewelded the piece back together at an angle.
I'm sure it moved a tad more when I did my own welding, but it was already pretty badly tweaked even
before I started. Why didn't I take care of that right at the beginning? Because I didn't know what was in
the welds- I suspected I'd find buried cracks and voids, and was not disappointed.
I basically had to rebuild enough good metal just to have enough to fix!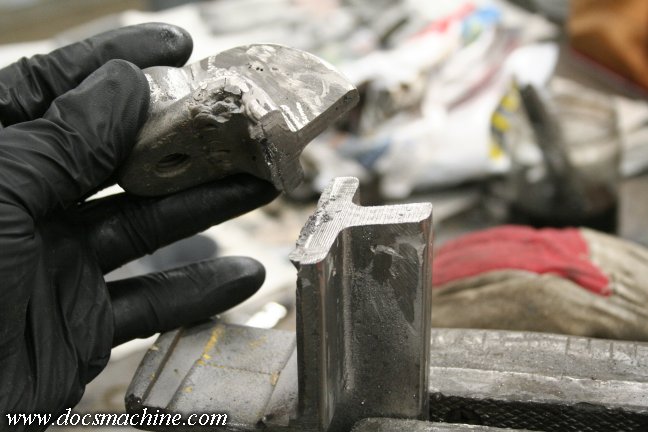 Anyway, now that it was mostly welded back together... I bandsawed it back apart.
Speaking of "expensive", that cut cost me a bandsaw blade. Thankfully it was an older one that had a lot of use already,
but as I was getting through to the inside of the "C" opening, where a lot of the original weld was left, I ran into a
hard spot. Not surprising, as cast iron has a lot of carbon, and the mild steel welding rod soaks up a lot of it
during the weld, then cools and hardens into a low grade of high-carbon tool steel. So, once the blade
hit it, I basically wiped the teeth smooth.
Cost of doing business, I guess, but on the plus side, note how the cut, which when more or less right
down the center of my freshly-welded area, has almost no porosity until it gets to the inner
edge where I hadn't ground out the old weld.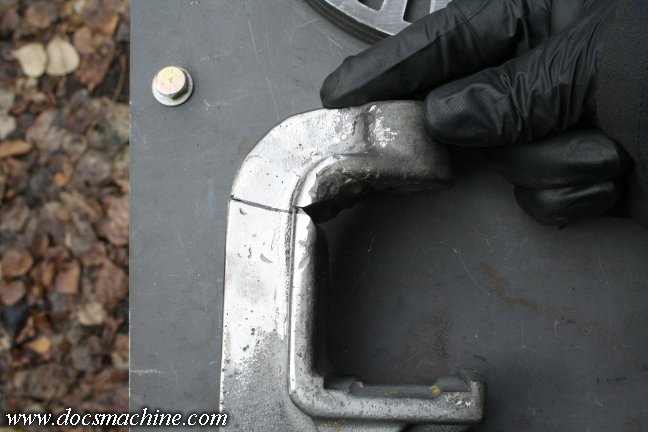 A few seconds with a coarse belt on the belt grinder shaved the cut down to let the pieces line up more
correctly, and started on a nice deep vee-groove in preparation for welding.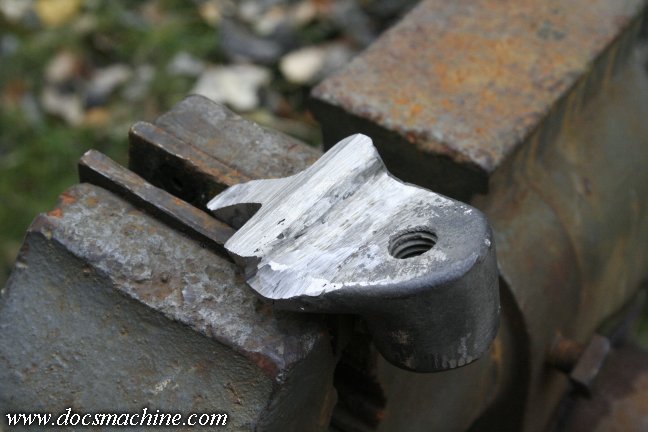 The smaller part I took the little 4" grinder to and hogged off most of the old weld, and the start of a crack on the
left edge. I didn't try to grind out all the old weld, I just got below any porosity and cracks and called it good.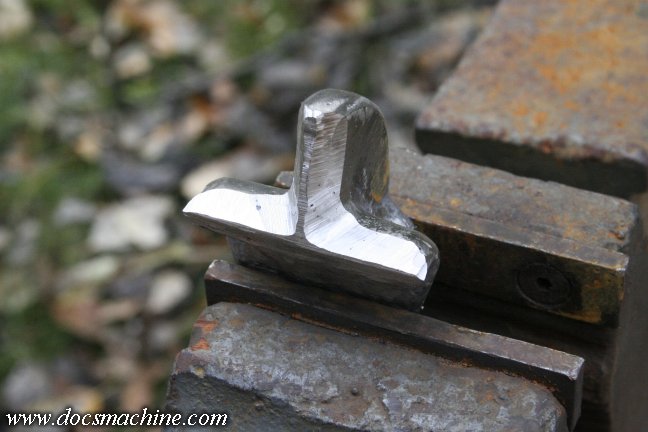 Once the weld itself was ground down, I grooved off the rest of the edge for better weld penetration.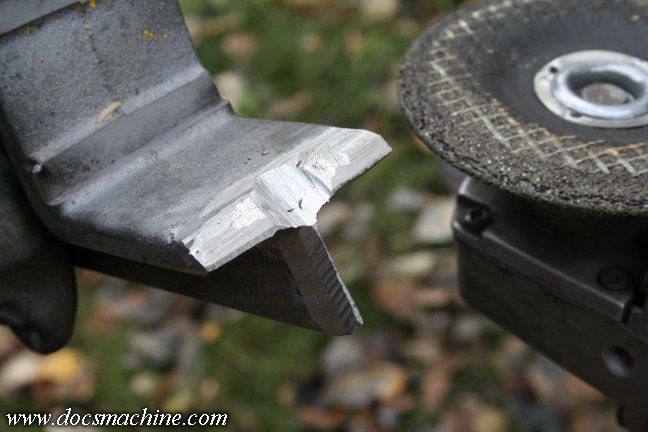 The larger half got the same treatment, leaving just enough of the sawn/ground surface
to let the two parts "index" back together reasonably well.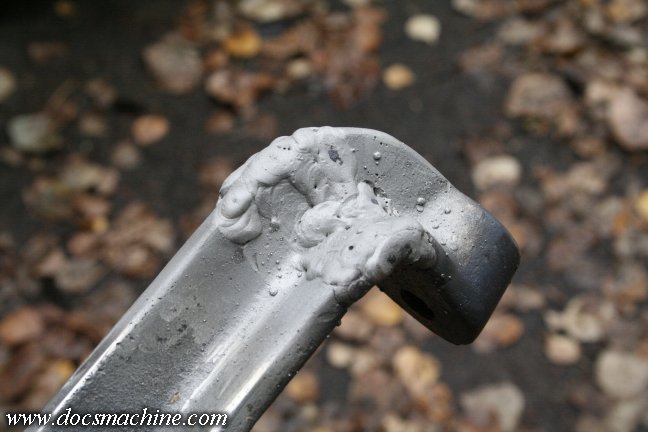 After that, it was a good 30-40 minutes of piling on some Muggy rod, letting it cool a skosh, chipping and
sandblasting off the slag, piling more weld on, lather, rinse, repeat. I did get- or opened up- some small
additional cracks, so I had to grind those out and reweld, plus I had to build up edges so I'd have enough
meat to grind down to shape, and of course the occasional gas bubble hole, etc. But I finally got it sorted.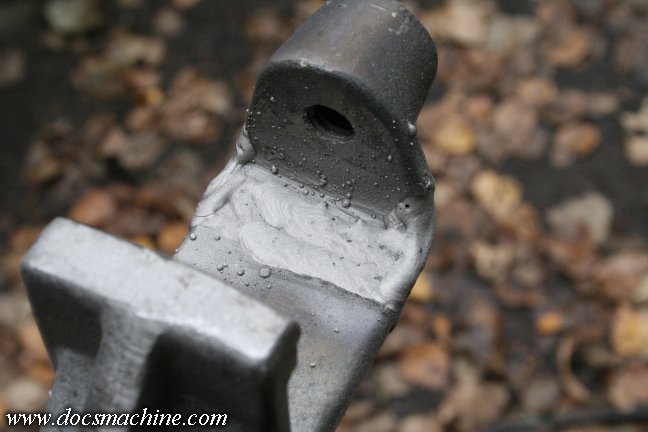 Both welding cycles cost me something like eight Muggy rods- at something like $9 each.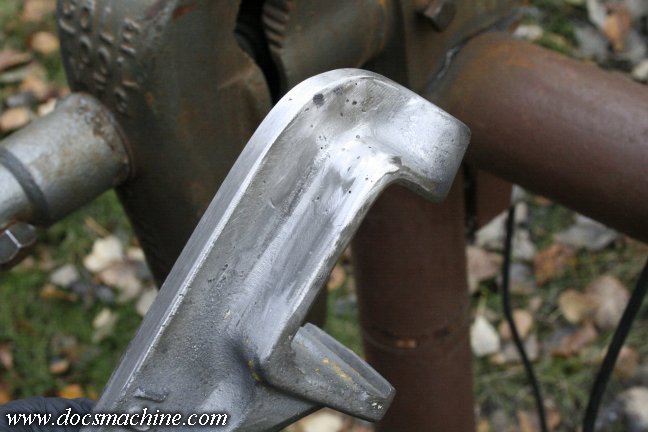 Once it was reasonably cool and sandblasted again, I spent a jaunty hour or so with two electric grinders,
four air grinders and the belt grinder to get it looking reasonably close to factory profile again.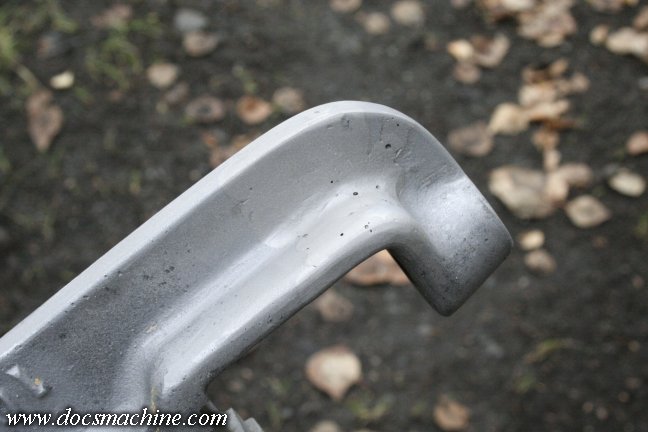 Sandblasted again and it's looking pretty smooth. There was still a bit of porosity here and there, but I was starting
to chase my tail trying to get it all filled in- and as it is, I was down to two-thirds of one stick of Muggy left.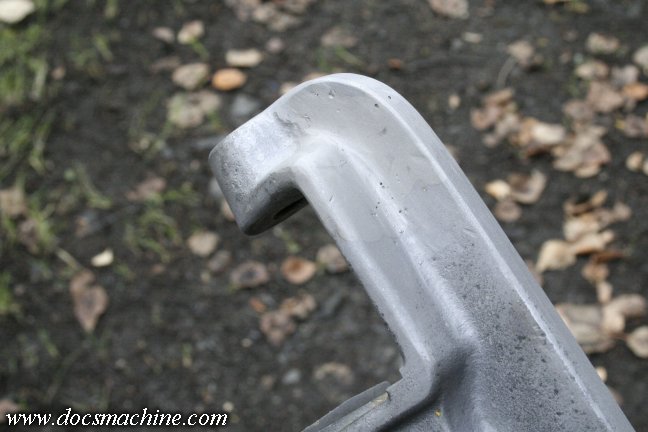 Note how when it's sandblasted, there's a slight change in color of the welded area.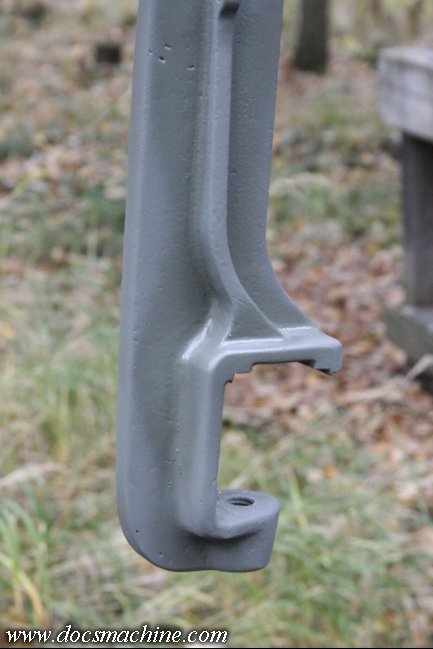 Aaand finally, given a quick coat of self-etching primer.

All text, photos and graphics Copyright 1998- 2019, Doc's Machine & Airsmith Services. All Rights Reserved.
Information contained in these pages is for reference and entertainment purposes only. Our methods are not always the best,
quickest, safest, or even the correct ones. It's up to you to know how to use your own machines and tools.
Keep your fingers away from the spinny blades o' death and you should be all right.