[
Return to Main Page
] [
Return to Projects Index
] [
Doc's Machine & TWB Store
] [
Contact Us
] [
The Whiteboard Webcomic
]
Cleaning up an old Wellsaw M1000 Horizontal Bandsaw, Part 10: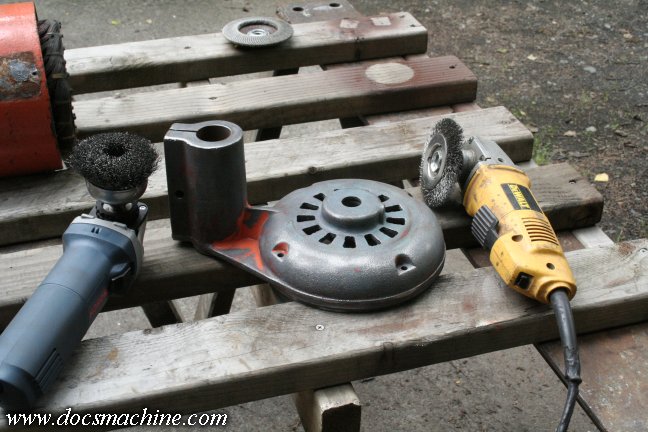 After that, a couple wire brushes and a portable sandblaster gun took care of the paint...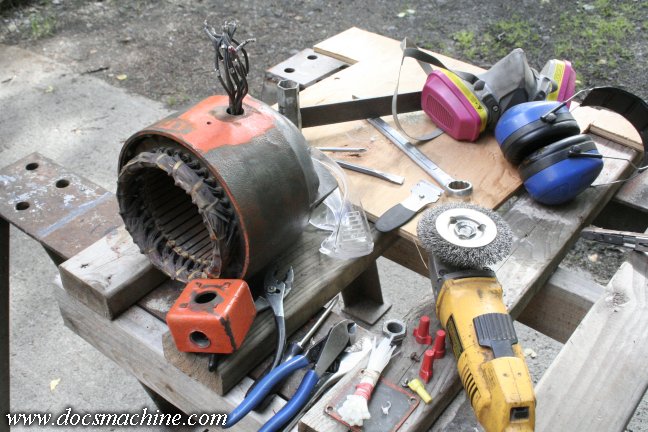 And two hours fabricating a custom wrench finally got the junction box off the side
of the stator housing so I could clean it, too.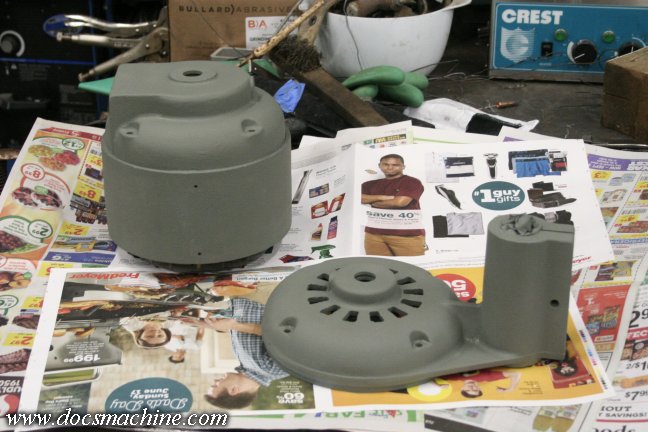 After that, the usual self-etching primer...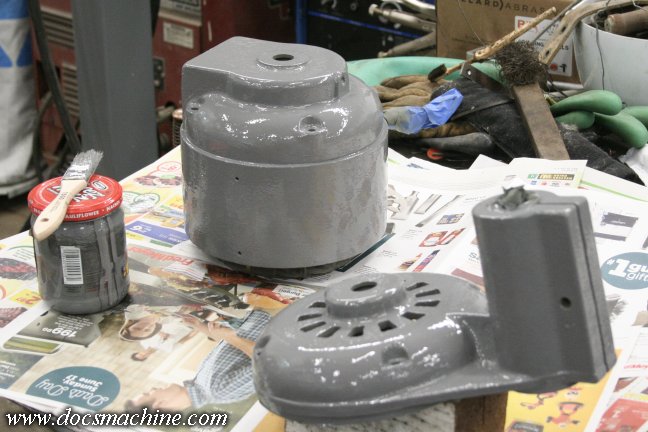 And two coats of my patented Boring Grey Machine Enamel. And while that's drying...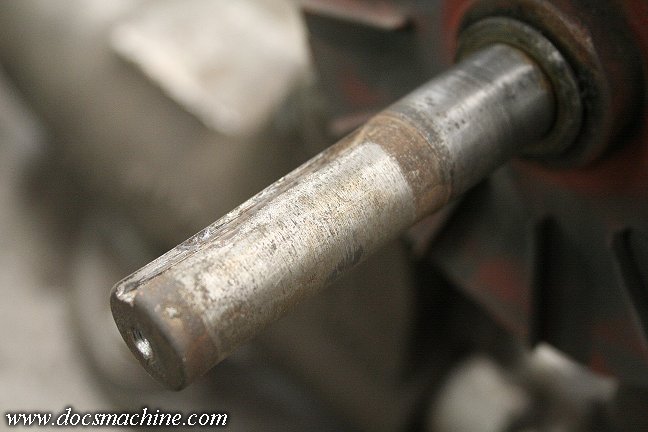 I noted that the output shaft of the motor looked a bit wonky, like somebody might have
literally run a file on it while it was turning.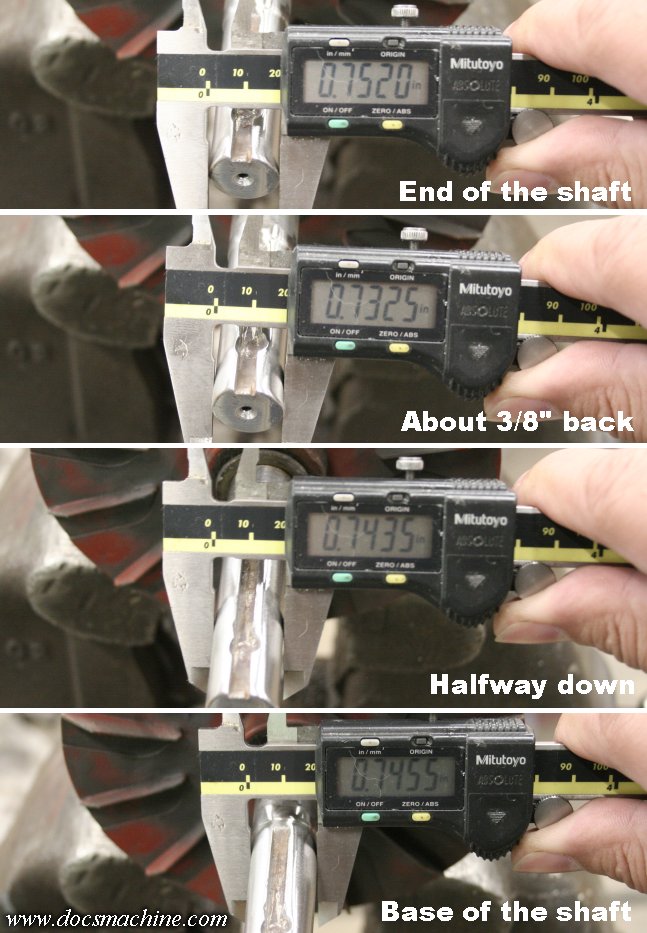 Today, I got out the calipers and gave it a closer look. Sure enough, it's in bad shape. It's supposed to be
nominally a 3/4" shaft, but the end was two thou oversize, likely from being dropped or being hit by something,
while just behind that was almost 20 thou small.
Now there's two ways to fix this. I could have simply chucked it up in the lathe and turned it slightly
undersize 'til it was straight, but I'd either have to turn it all the way down to 1/2", or custom-turn
a new pulley from scratch. (The typical pulleys being die-cast, don't have enough 'meat' to properly
sleeve for an insert- and you'd have to sleeve it pretty large to make room for the keyway.)
The other way, of course, is to weld it up and turn it back down. This, as they say, is not for the faint of heart.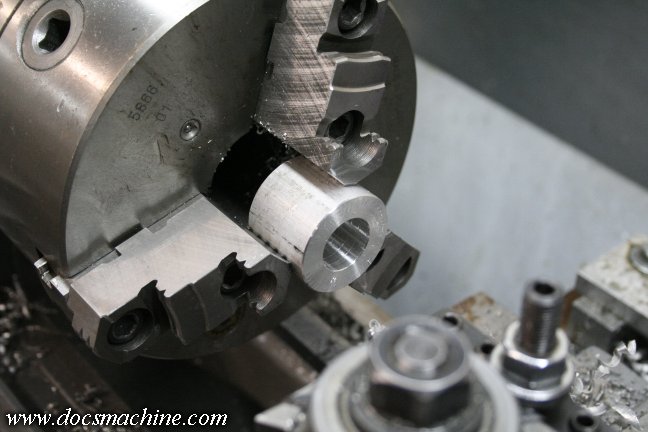 First, we turn up a nice thick aluminum collar with the same bore as the OD of the part of the shaft where the front bearing went.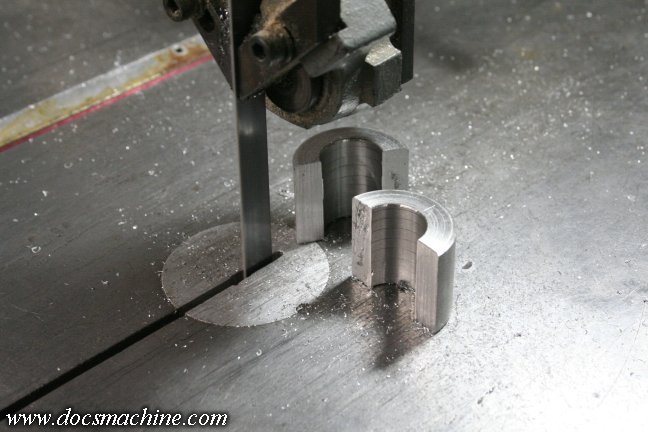 Bandsaw that puppy in half...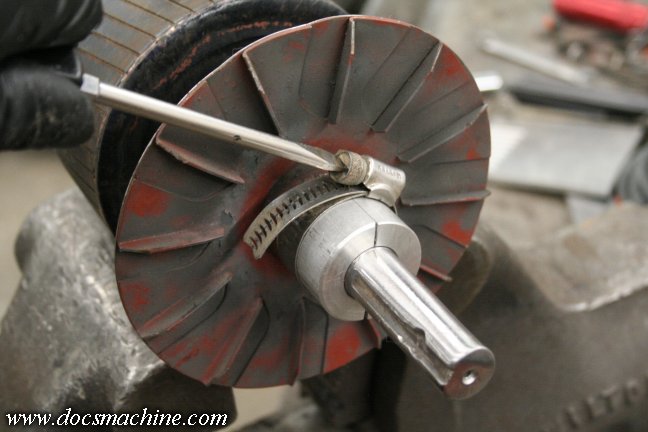 And clamp it to the shaft wheret will both protect the bearing surface, act somewhat like a heat sink,
and keep me from welding too far up the shaft.

All text, photos and graphics Copyright 1998- 2019, Doc's Machine & Airsmith Services. All Rights Reserved.
Information contained in these pages is for reference and entertainment purposes only. Our methods are not always the best,
quickest, safest, or even the correct ones. It's up to you to know how to use your own machines and tools.
Keep your fingers away from the spinny blades o' death and you should be all right.