[
Return to Main Page
] [
Return to Projects Index
] [
Doc's Machine & TWB Store
] [
Contact Us
] [
The Whiteboard Webcomic
]
Nichols Horizontal Mill, 2008 Rebuild, Part 11: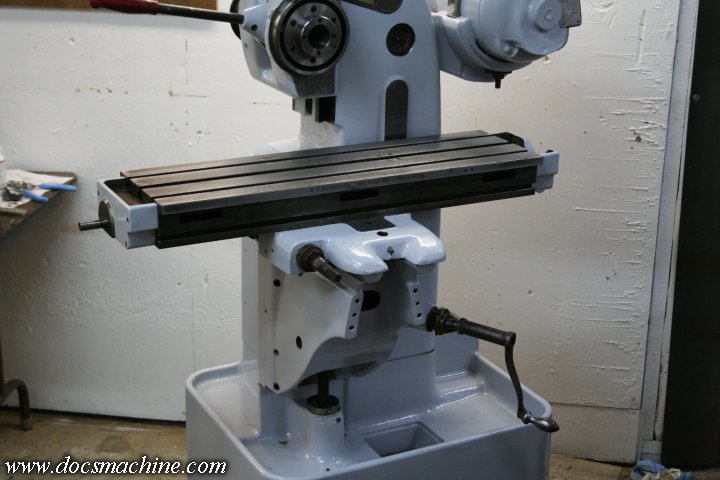 ... Get bolted on along with the X-axis leadscrew. It's all comin' together.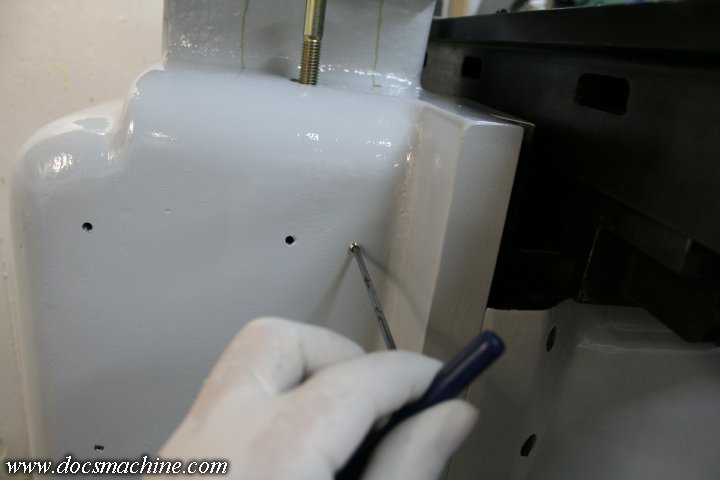 I'd left a few of the 'extra' threaded holes open when I filled most of them in, specifically for things
like a tool rack or a small shelf or something. In the meantime, I filled them in with setscrews.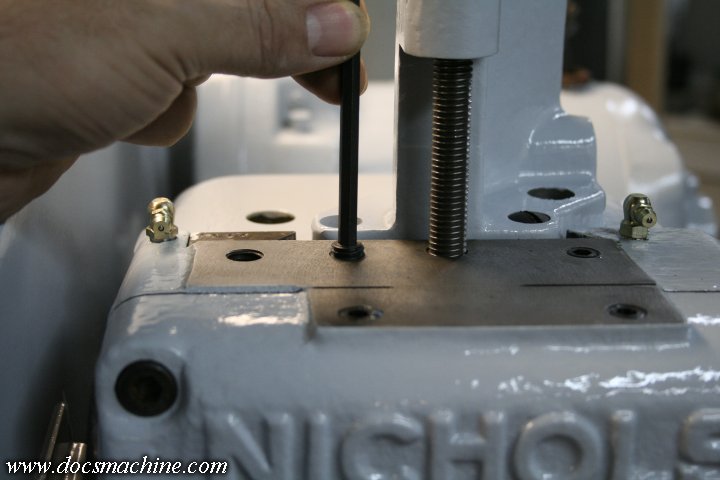 I did the same with some of the 'spare' threaded holes in the head casting,
just to keep gunk and swarf from falling in and building up.
Then the front table stop block gets bolted in place..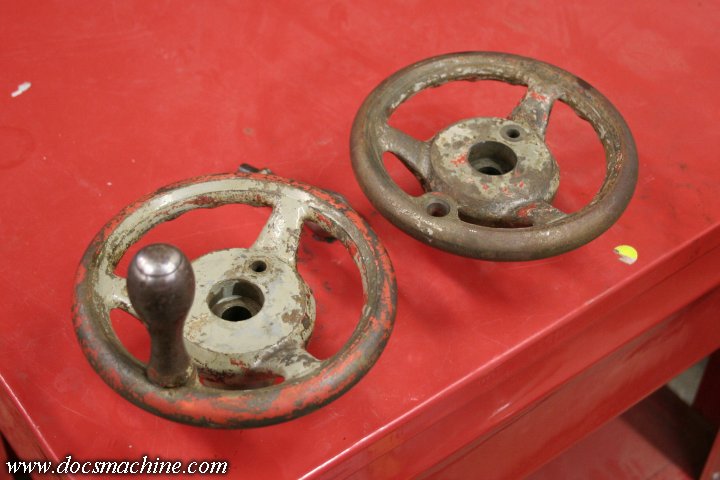 Having run out of pre-cleaned and pre-painted parts, I'm left with the rusty and crusty handwheels.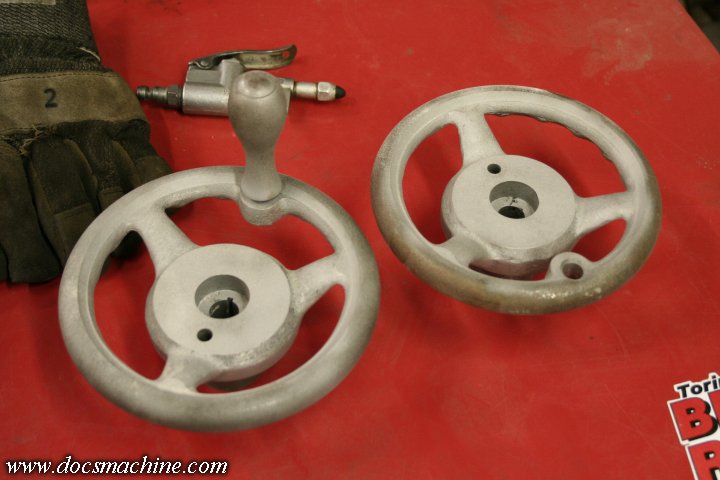 First a trip through the beadblaster gets rid of most of the crust and old paint...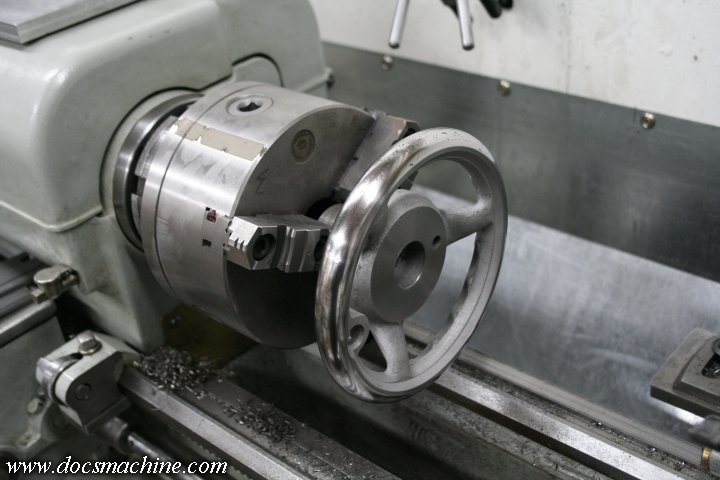 And then I take 'em for a ride on the lathe, just using it to spin the wheels
while I sand and polish the outer rims back to smooth and shiny.
And
then
given a coat of paint. I was able to give the center face of the left one a skim cut on the lathe
thanks to the detached handle, but couldn't on the right, so it got painted.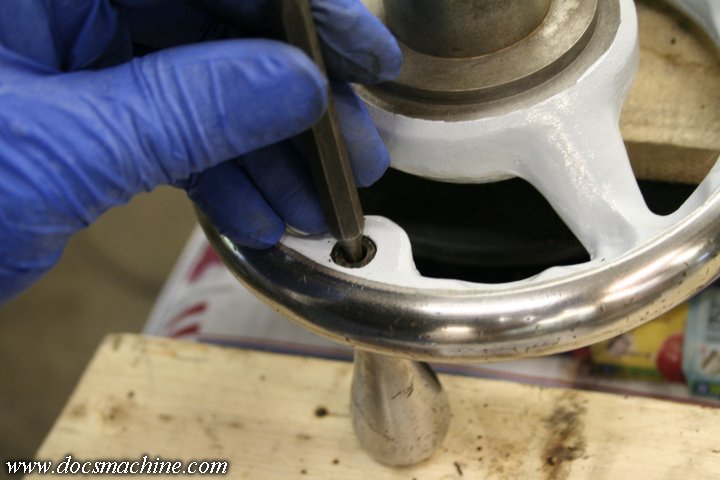 The handle had originally simply been peened, so I tapped it back in, and used
the tapered portion of a pin broken punch to spread and lock the shank in place.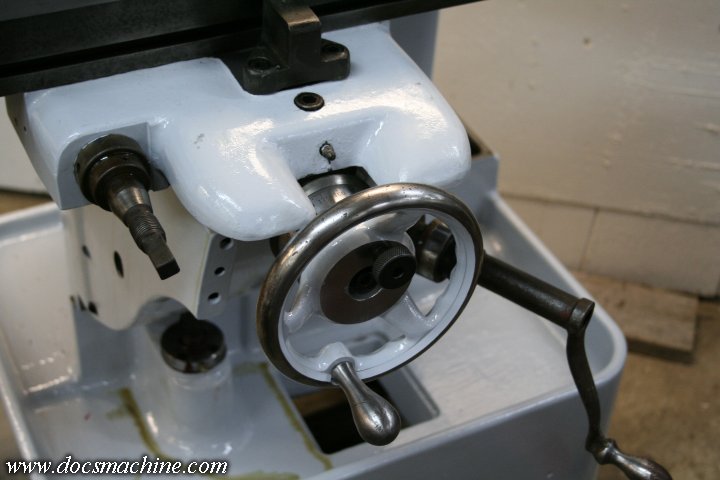 And installed, along with the freshly-cleaned zero-settable dial, and locking knob and screw.

All text, photos and graphics Copyright 1998- 2020, Doc's Machine & Airsmith Services. All Rights Reserved.
Information contained in these pages is for reference and entertainment purposes only. Our methods are not always the best,
quickest, safest, or even the correct ones. It's up to you to know how to use your own machines and tools.
Keep your fingers away from the spinny blades o' death and you should be all right.