[
Return to Main Page
] [
Return to Projects Index
] [
Doc's Machine & TWB Store
] [
Contact Us
] [
The Whiteboard Webcomic
]
1972 Oldsmobile Cutlass Front Suspension Upgrade, Part 1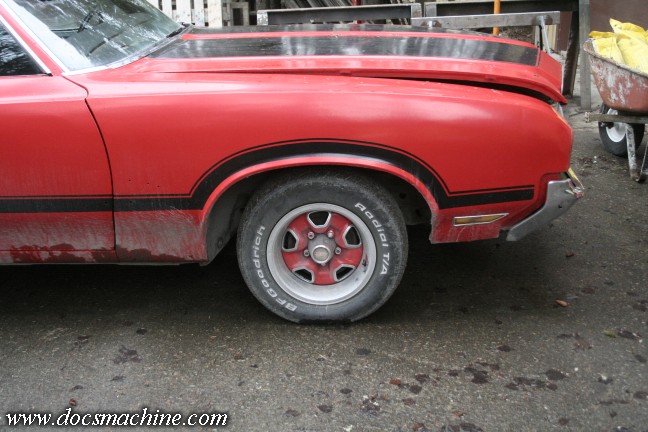 I'd had the Cutlass up and running, and driven daily for a couple of years by this point, and it was proving a blast to drive. However, as surprisingly good as it was, the brakes, steering and suspension were still over forty years old. The brakes were good, but they're still old drums. The steering was... maybe a little less good, though tolerable- but it sure felt a little... squishy I guess. I'd checked it a couple of times, and nothing was wildly bad (with one or two actually minor exceptions, as we'll get into in a moment) but I figured a combination of minor wear everywhere- and poor tires- just all added up to a bit more slop than I liked. Stone stock suspension, original 14-inch (!) "Super Stock II" rims, with tires a bit undersized by a series up front, and more or less factory sized in back.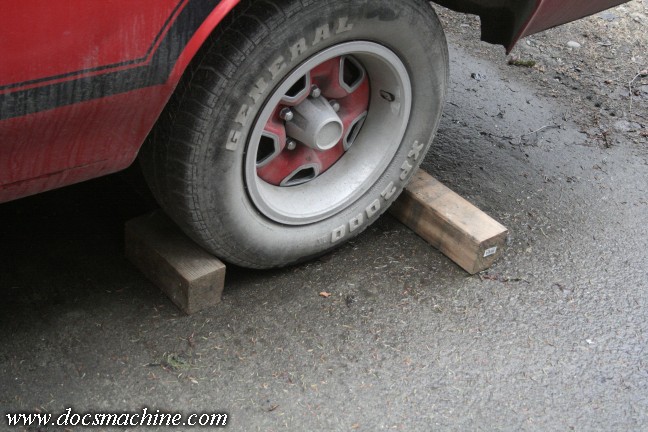 One of the big changes I decided to do is to also replace the spindles with some "tall" aftermarket versions. The "tall" refers to the spacing between the upper and lower ball joint- the upper is 1-3/4" higher in relation to the lower. That changes the geometery so the car gains positive camber as it corners, rather than negative camber. That keeps the tire better planted on the road, naturally improving grip. However, the only good aftermarket tall spindles are also drop spindles- the spindle nose is mounted 2" higher on the body, which lowers the car by 2". Not as huge a fan of that- this is Alaska, with frost heaves, potholes and speed bumps- but I didn't have a lot of choice. Now for the usual rites before one starts on a project of this caliber; block the rear wheels...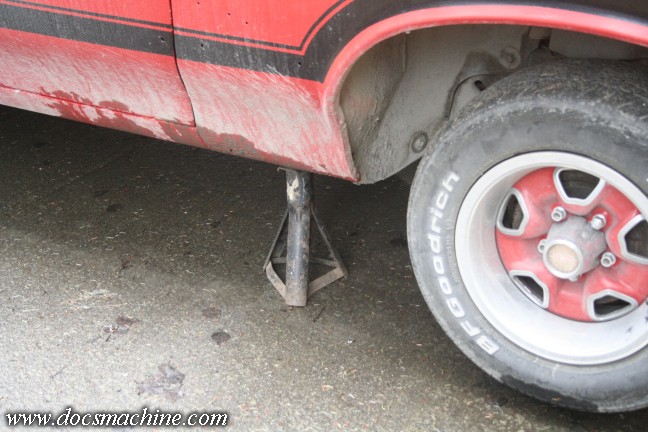 Jack 'er up and get 'er on a good solid jackstand- and of course, since this is a whole-front-end job,
the stands need to be on the frame behind the wheels.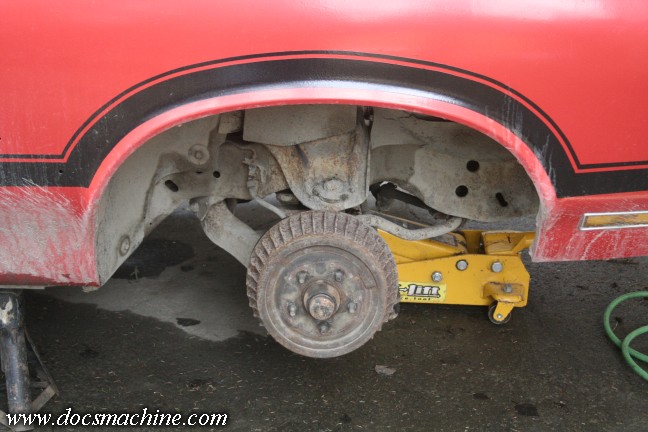 And once we pop the wheels off, we're ready to start. (Ew, drums!) Admittedly, they worked quite well,
giving a reasonably solid pedal and good, straight stopping. However, as I'd said, I'd been under there a
couple of times, and there were a few things to worry about, so I could never really bring myself to trust it.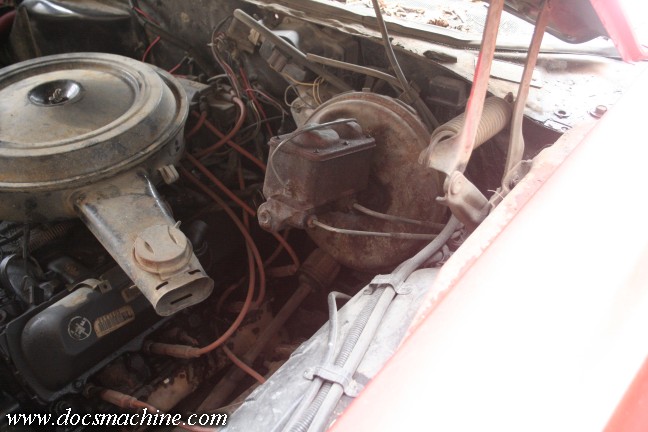 First thing we do is attend the master cylinder. Since we're going from drum/drum, it has to be replaced
with a correct disc/drum cylinder- the volumes of fluid used per stroke is different.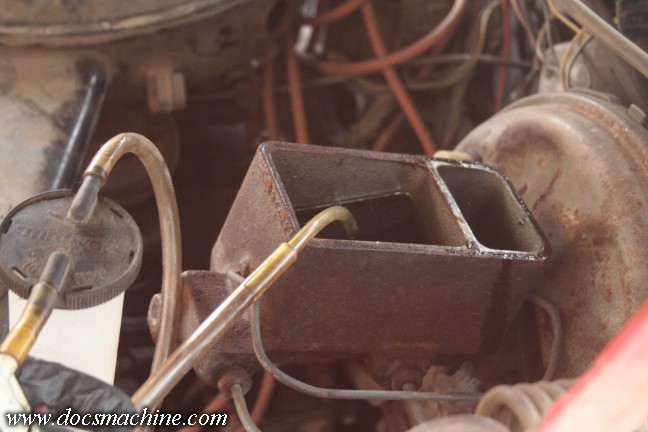 And so, rather than letting everything dribble out all over the concrete, I pulled as much of the
old fluid as I could out of the master, using a MityVac pump.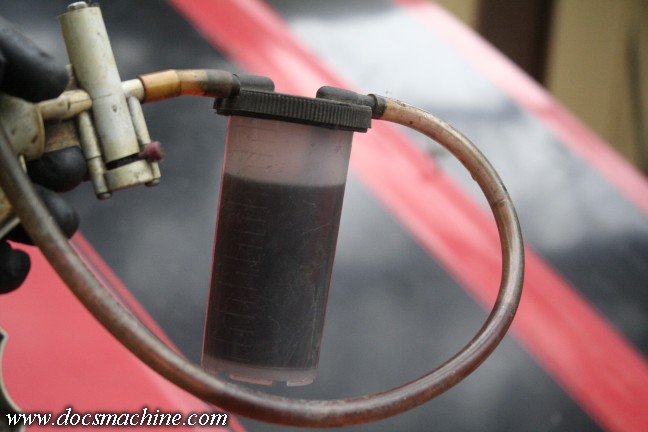 Quick tip: Brake fluid is not supposed to be that color.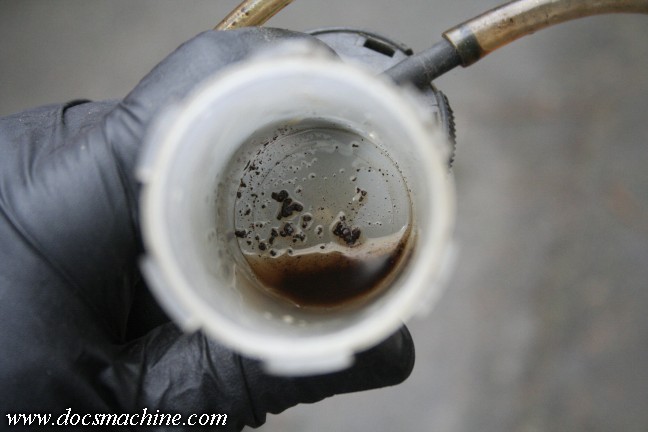 Nor is it supposed to contain this sort of debris.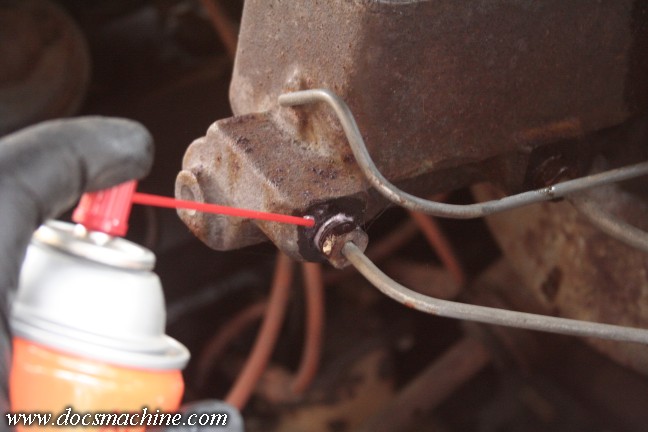 After that, a quick blast of Kroil- which will be a running theme- on the fittings...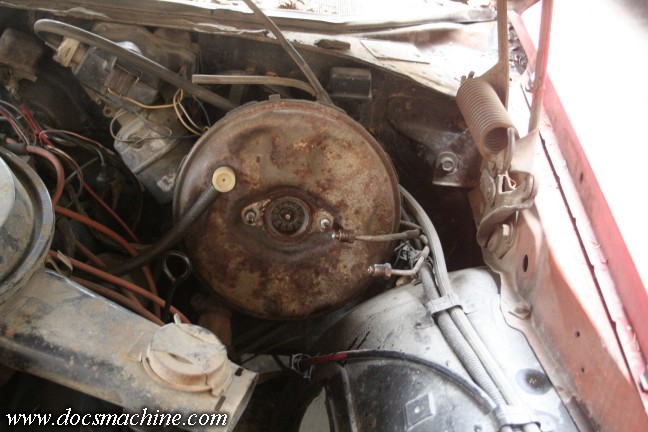 And with surprisingly little effort, off and gone.





All text, photos and graphics Copyright 1998- 2018, Doc's Machine & Airsmith Services. All Rights Reserved.
Information contained in these pages is for reference and entertainment purposes only. Our methods are not always the best,
quickest, safest, or even the correct ones. It's up to you to know how to use your own machines and tools.
Keep your fingers away from the spinny blades o' death and you should be all right.