[
Return to Main Page
] [
Return to Projects Index
] [
Doc's Machine & TWB Store
] [
Contact Us
] [
The Whiteboard Webcomic
]
1972 Oldsmobile Cutlass Front Suspension Upgrade, Part 3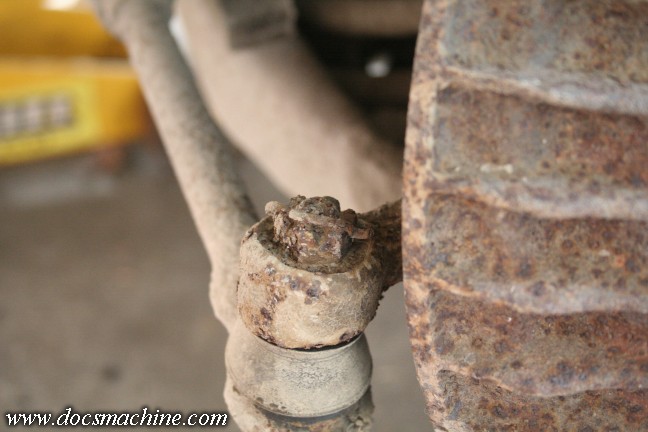 On the tie rods, one side is clean- okay, rusty but clean...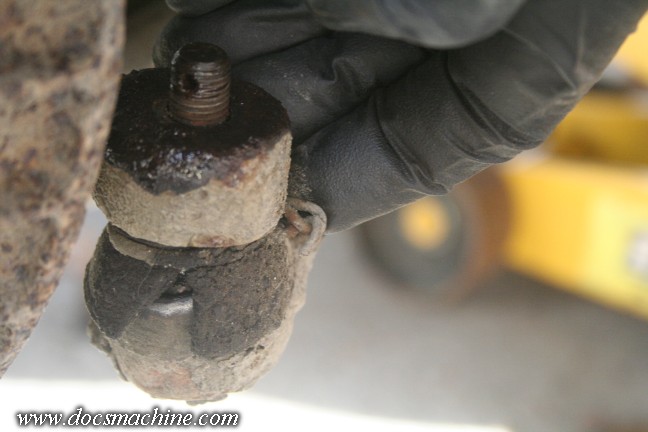 But the passenger side has this interesting bit of baling wire holding the dust cap on. The joint itself seems
surprisingly clean inside, though a little low on grease. But it's all gettin' replaced anyway.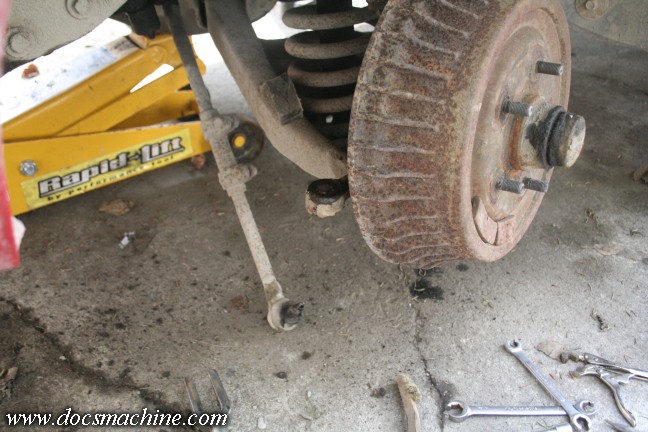 Get out the pickle fork (as I said, it's all getting replaced) and give 'er a few whacks.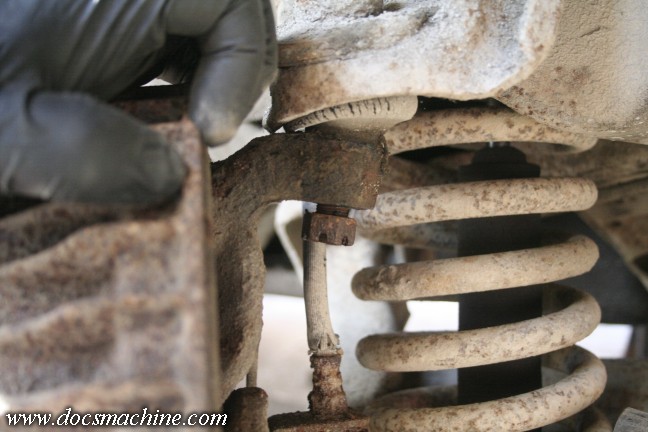 Now, the main ball joints. One could use the same pickle fork, but there's a better way. Pop the
cotter pins and break the nuts loose- then set the top one flush with the end of the threads, like so.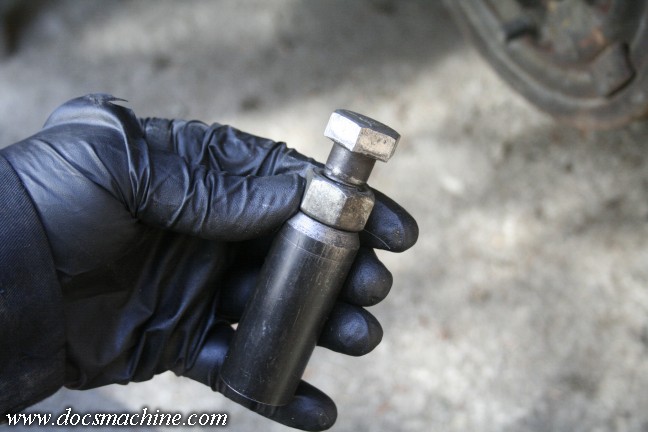 Then take a big bolt and nut, and a chunk of heavy tubing like so.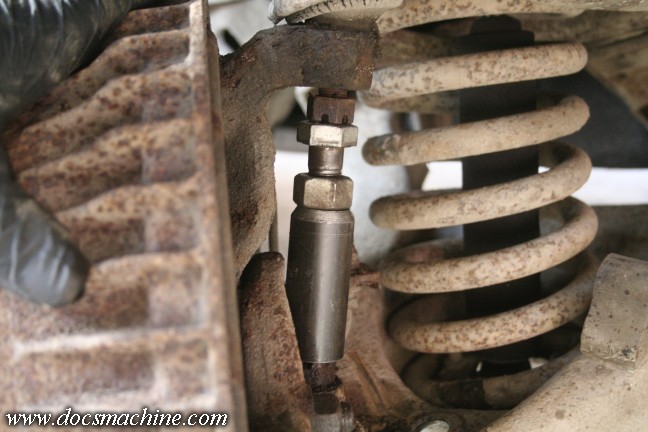 And that "jack" goes in between the two ball joints like this: In this case, instead of using a spring compressor,
I've put some pressure on the lower A-arm with the floor jack. So one the spindle pops loose, nothing goes
flying out and inconveniencing the passersby. (Or, say, sticking a big coil spring through your neck. :) )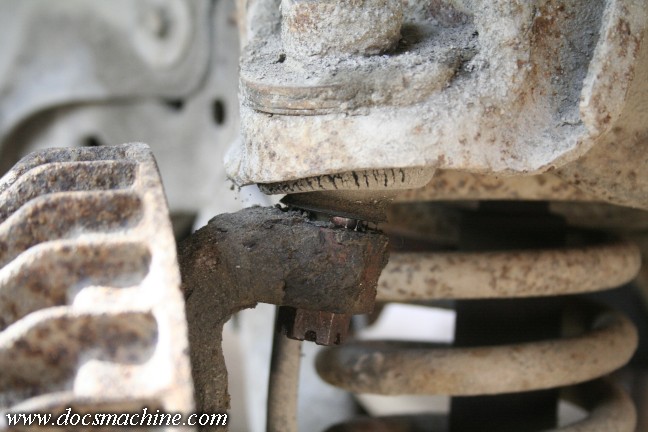 With the jack in place, one just holds the bolt still and turns the nut- it takes a fair amount of force,
but eventually she'll pop out, but with the nut holding things together for a bit of safety.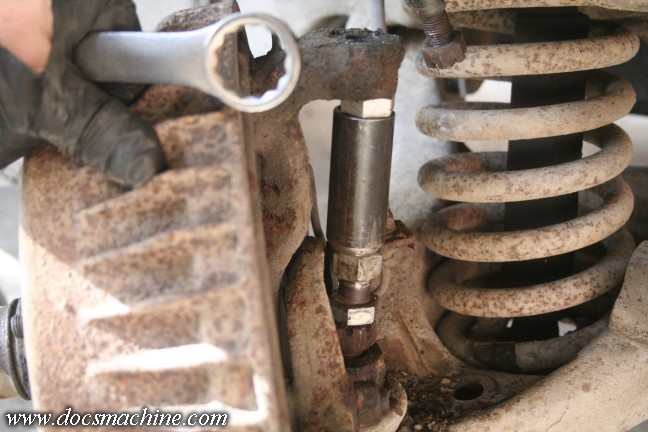 With the top one broken loose, and the jack still supporting the lower arm, flip the jack over,
add a nut for spacing, and winch the bottom ball joint out.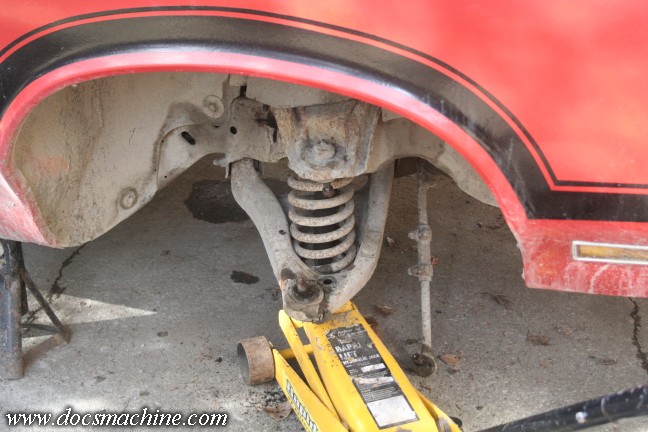 Remove the castle nuts, and lift out the entire spindle, drum and all, and set it aside.
Or heave it aside if you want, we won't be needing it anymore.





All text, photos and graphics Copyright 1998- 2018, Doc's Machine & Airsmith Services. All Rights Reserved.
Information contained in these pages is for reference and entertainment purposes only. Our methods are not always the best,
quickest, safest, or even the correct ones. It's up to you to know how to use your own machines and tools.
Keep your fingers away from the spinny blades o' death and you should be all right.