[
Return to Main Page
] [
Return to Projects Index
] [
Doc's Machine & TWB Store
] [
Contact Us
] [
The Whiteboard Webcomic
]
Removing a Jammed 'Cocker Valve Locknut, Part 1: Making the Tool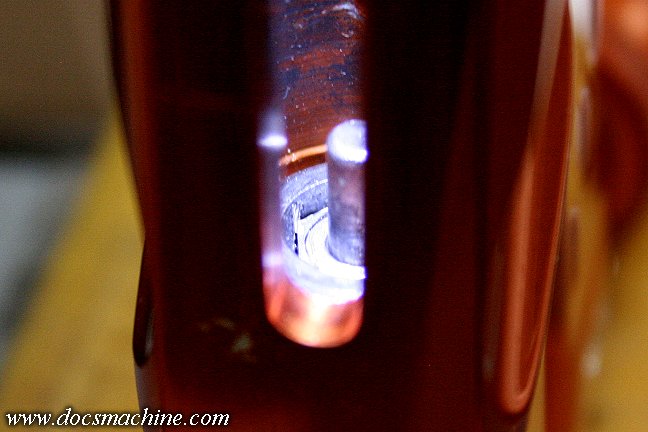 For this project, we had a customer with a nice Autococker body, with a problem- the valve tool had snapped
off inside the lock nut. The fragment had wedged itself in place, and could not be removed with a pick or
tweezers, and there was not enough exposed hex of the nut to use another valve tool.
A tricky problem that will require a tricky solution.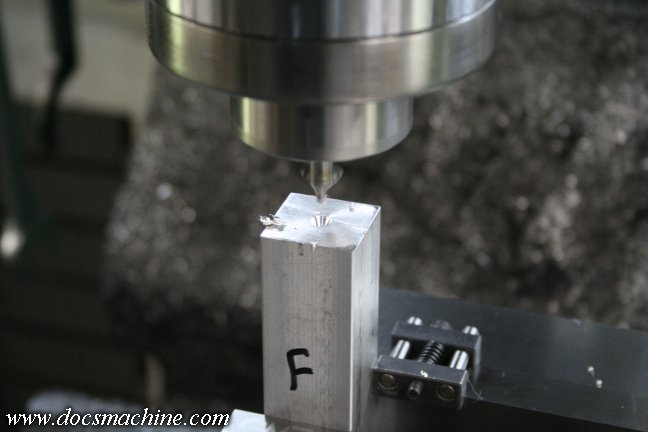 To start with, I picked a chunk of 1" square aluminum bar stock off the rack, and set it up in the mill
with a stop in the vise. I found center in both dimensions and drilled a center hole.
I moved the table to the left, drilled another center, and then carefully drilled
about halfway through with an .060" drill.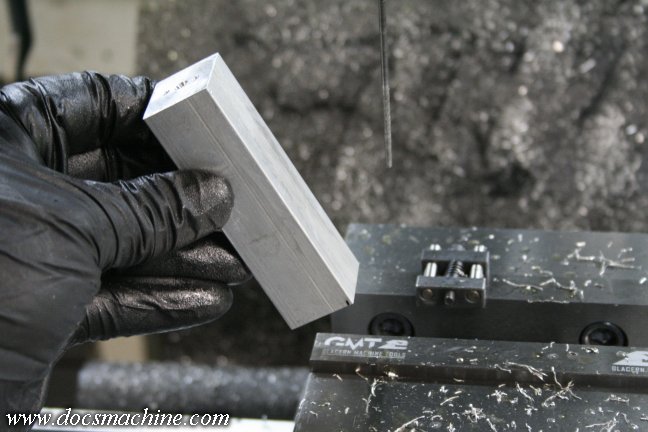 Thanks to the vise stop, I could simply flip the piece to drill through from the opposite end,
and then rotate the piece on its vertical axis to do the second hole.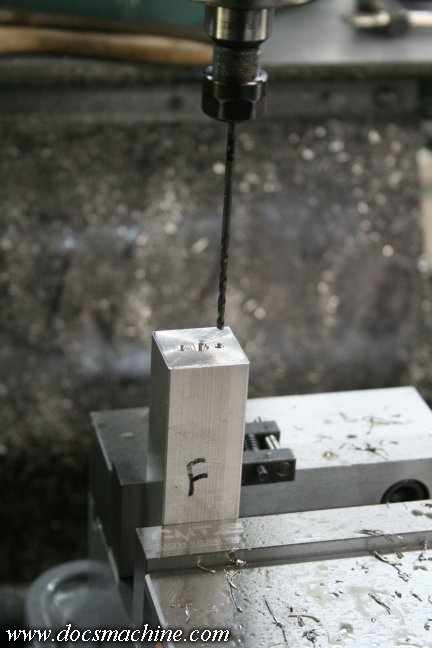 Once the holes were drilled through end-to-end, I followed it up with
an .093" drill. Doing it in two stages like this tends to "even out" any
error between the two ends.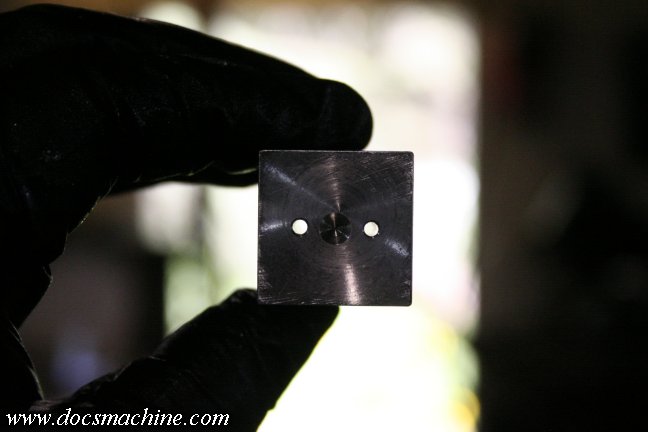 Et voila`
. Straight and true.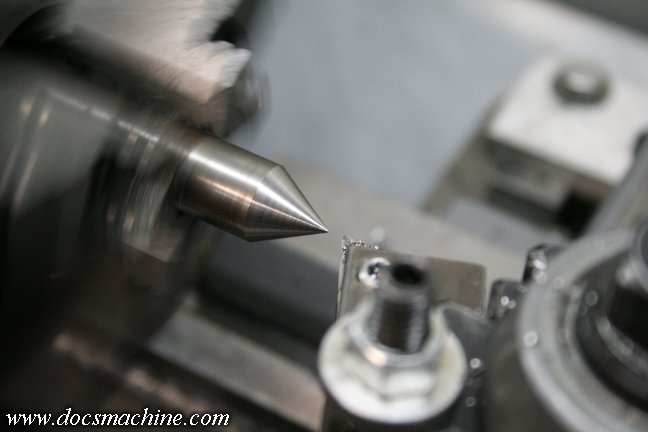 Now, we need to turn it round. To do this, I chucked up a chunk of mild steel and turned
a sharp 60-degree point on it.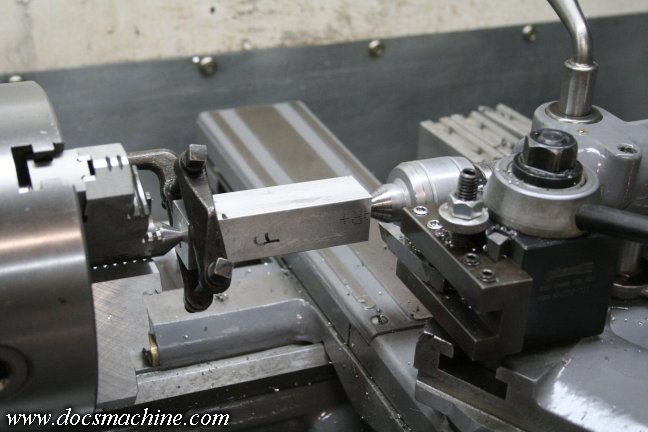 The tailstock supports the other end, and the part is driven by a standard lathe dog, resting
against one of the vise jaws. This is, of course, known as "turning between centers".
Why didn't I just start with a piece of round stock? The square stock made drilling the holes
considerably easier. Using round stock would have made turning it easier, but lining up
the holes a great deal harder.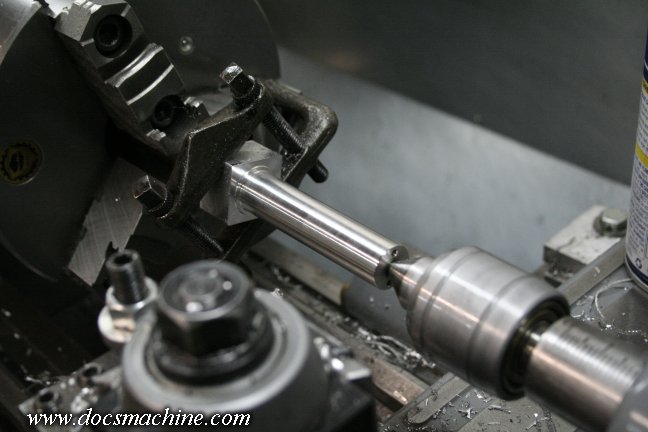 The body of the new tool gets turned down 'til it fits into the hammer tube of the 'Cocker body,
and long enough to basically rest on the valve face.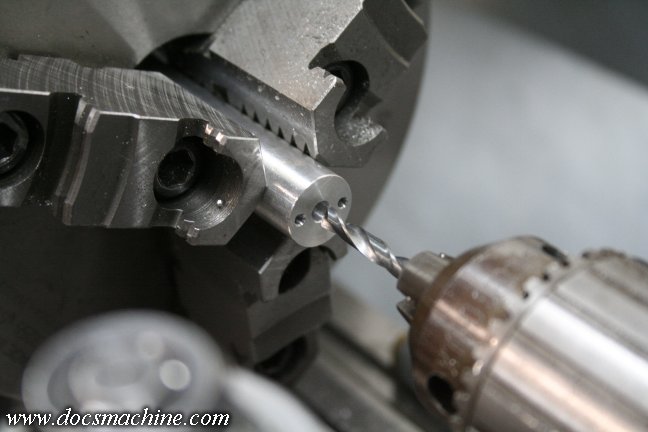 The final step is to drill the small end center out to clear the stem of the valve.
Next, how to use our new tool!

All text, photos and graphics Copyright 1998- 2017, Doc's Machine & Airsmith Services. All Rights Reserved.
Information contained in these pages is for reference and entertainment purposes only. Our methods are not always the best,
quickest, safest, or even the correct ones. It's up to you to know how to use your own machines and tools.
Keep your fingers away from the spinny blades o' death and you should be all right.