[
Return to Main Page
] [
Return to Projects Index
] [
Doc's Machine & TWB Store
] [
Contact Us
] [
The Whiteboard Webcomic
]
Dragon's Designs Wraith Autococker Backblock Recreation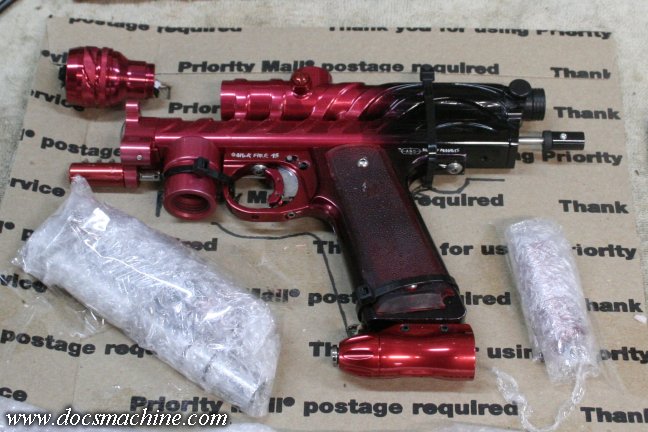 Not too long ago, a client brought me this: A rare, fairly complete, one-of-seven-made Wraith Autococker,
number one
, no less, originally made by the short-lived Dragon's Designs back in 2003.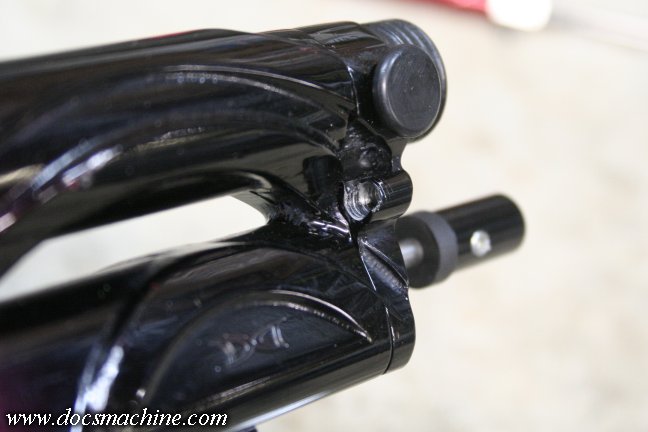 Overall the 'Cocker was in pretty good shape, with thankfully few nicks or dings, but it had one
small problem. The CNC milling had thinned the pump rod boss to the point where portions of
the threads were actually breaking through the surface. When I received it, as you can see,
a section of the threads had actually broken away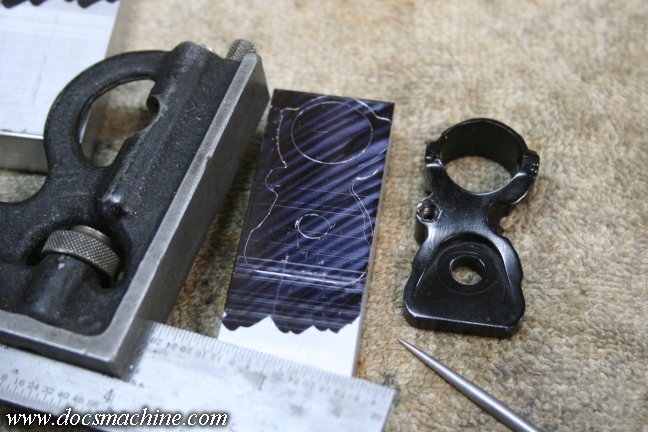 My customer wanted to restore the marker to full, usable condition, which meant a new back-block
with a reinforced boss to withstand many thousands of cycles. He had gotten at least one estimate
from a CNC shop to CAD and duplicate it- to the tune of over a grand. Instead he brought it
to me- I'm not cheap, but I don't charge $100 an hour for CAD time either. :)
I started by cutting out a couple of blanks, darkening them with a Sharpie,
and giving a quick scribe of the overall shape.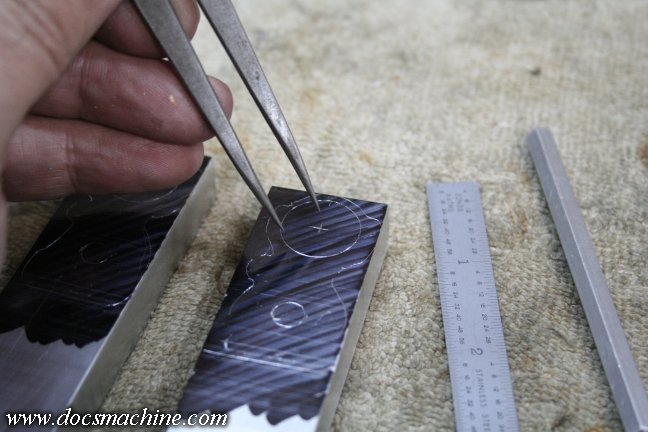 Find the rough center of the bolt hole...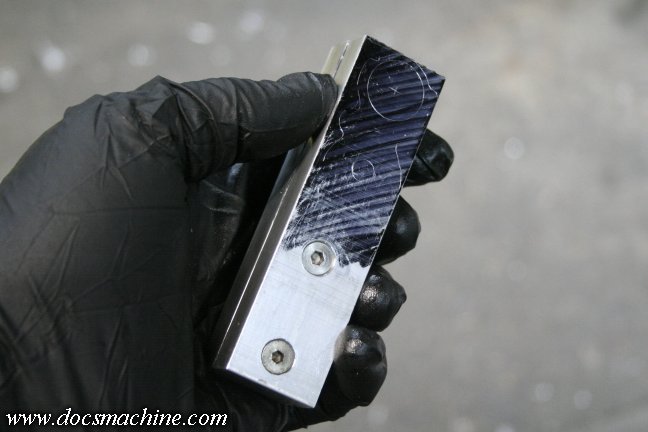 Then drill, tap, countersink and bolt the two blocks together. I'm making two, partly to have a spare piece
in case of an 'accident' at some point in the process, and partly because the client had word of another
Wraith owner whose back-block was missing completely.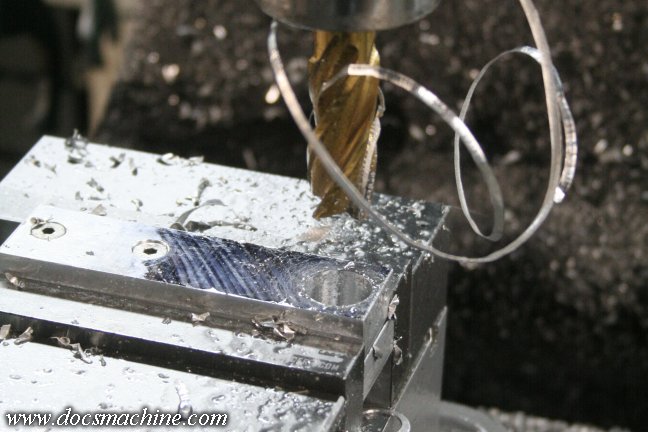 Once in the vise, the marked center is found, and bored out to .6875"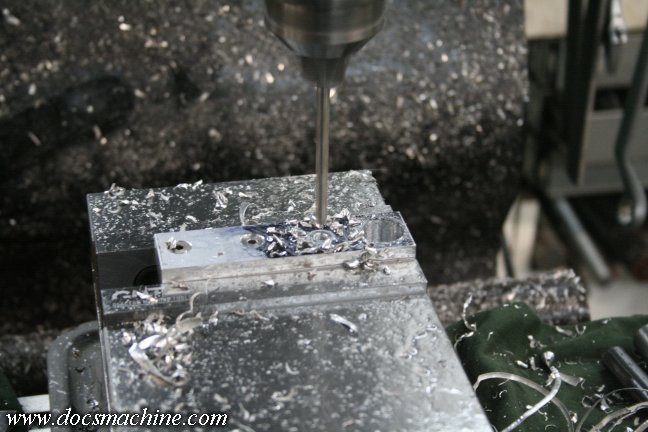 Move over an inch and drill a .250" hole for the cocking rod.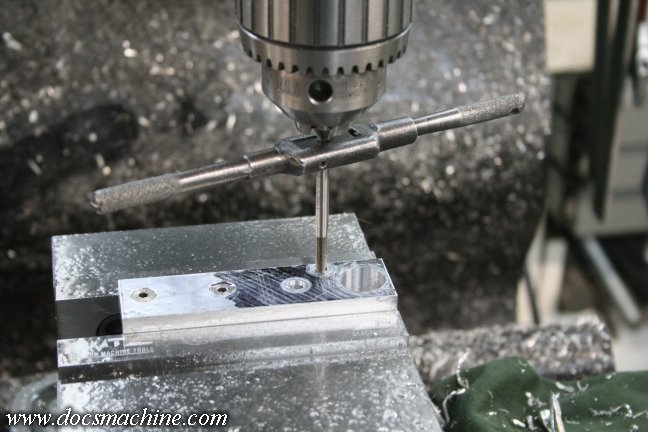 Up and over, and drill and tap for the pump rod.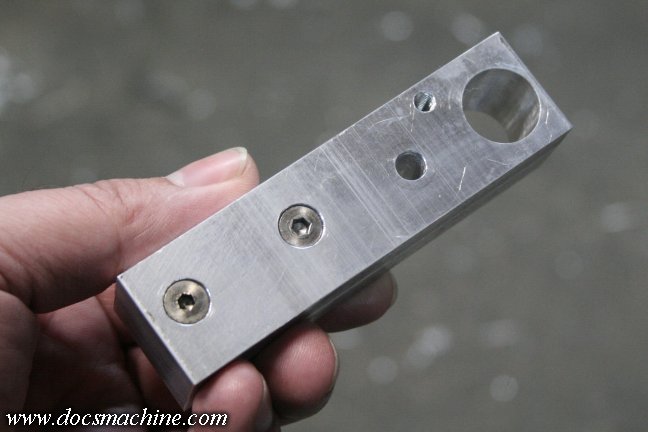 Clean off the swarf and there's our blanks.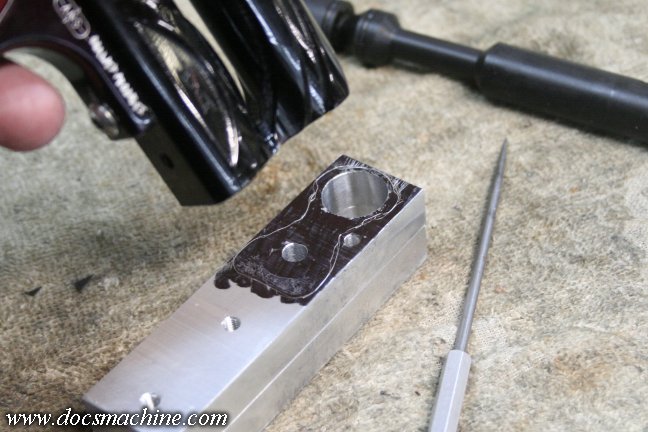 Now, using the bolt as a sort of "key" to hold the blanks in alignment, we scribe the outline of the body again.

All text, photos and graphics Copyright 1998- 2017, Doc's Machine & Airsmith Services. All Rights Reserved.
Information contained in these pages is for reference and entertainment purposes only. Our methods are not always the best,
quickest, safest, or even the correct ones. It's up to you to know how to use your own machines and tools.
Keep your fingers away from the spinny blades o' death and you should be all right.