[
Return to Main Page
] [
Return to Projects Index
] [
Doc's Machine & TWB Store
] [
Contact Us
] [
The Whiteboard Webcomic
]
Saving a 1943 Springfield Engine Lathe, Part 1:
Back in 2013, I saw a Craigslist ad that said "Metal Lave. 16 inch. Spring sealed" and gave a phone number.
No photos, no further description, no nothing. Being a naturally curious sort, I gave a call, got some details (his wife
had taken the info down over the phone to put the ad up) and, being vaguely interested, got some directions and went
out to have a look. This is what I found. Turned out to be a 16" Spring
field
gearhead lathe sitting out in the yard.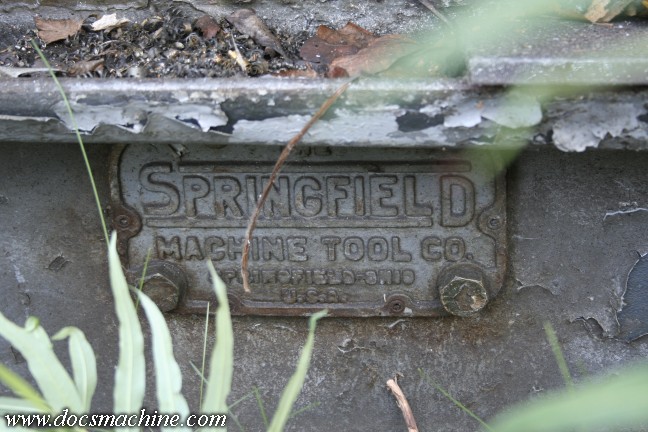 It had obviously had a hard life, and had been repainted at least three times, but seemed otherwise solid,
reasonably complete, and salvageable. The owner said it had been outside and tarped for "about a year and
a half", but the deteriorated tarp, condition of the paint, and general rust suggested much longer than that.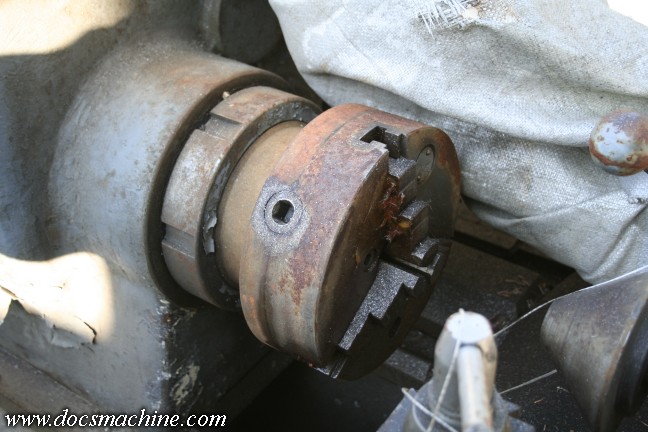 A few days later, armed with better information and some tools, I gave it another, somewhat closer inspection.
The 3-jaw chuck, at 8", is ludicruously undersized for this monster, but appeared in decent shape, and showed
signs that somebody had at least made a cursory attempt to protect it against the weather with a little grease.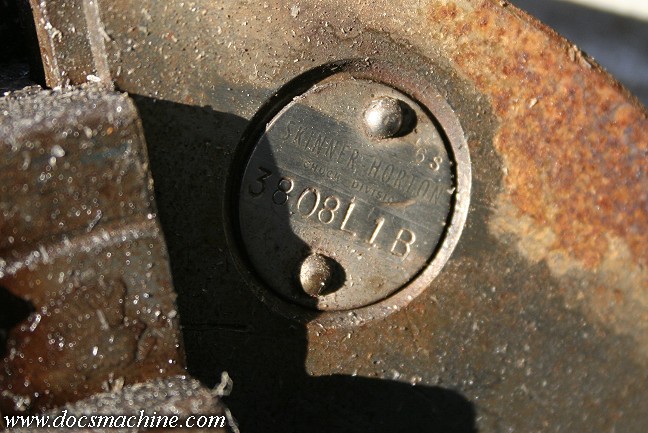 The chuck turned out to be a Skinner-Horton, a good US brand from back in the day, and if the stamping at
the upper right of the tag can be believed, it appears it was made in 1968. I was stunned to find that, despite this
machine having gone through at least four hands since then, the owner actually still had the reverse jaws for the
chuck- in almost unused shape and even serial-numbered to the chuck.
The old girl was weathered but only relatively mildly- handles still moved smoothly and controls still
seemed to engage firmly. The cross-slide crank was one of several damaged handles, having been bent
almost straight. I didn't immediately realize it 'til later, but the compound had also been replaced with
a later model import piece about half the size of the original.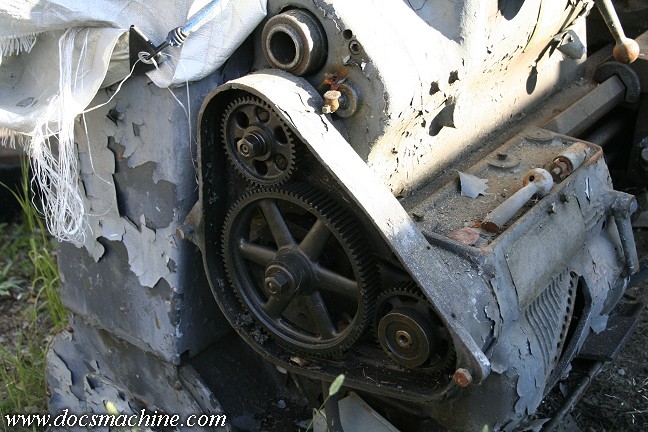 Looking under covers and inside housings showed that most of the gears were still in fine shape, oily and dirty,
but almost no rust. Note the parts laying in the tool tray- two more damaged levers, although thankfully the
broken parts themselves hadn't been lost.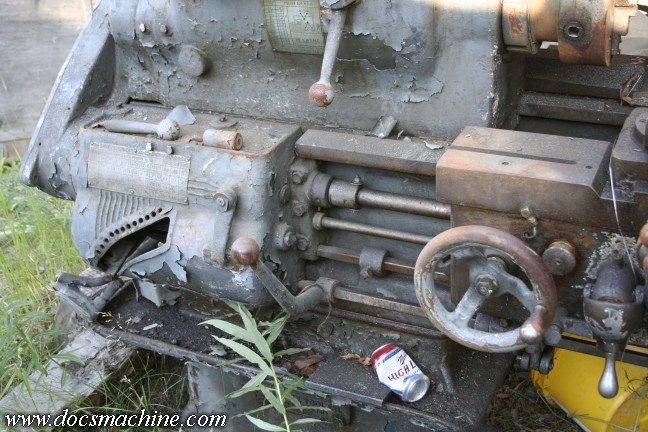 It eventually turned out that all three headstock gear-change levers were either damaged or broken and required
repair, along with both selector levers on the quick-change gearbox. Again, fortunately, all the parts had been
kept, making repairs considerably easier. The start/stop buttons had also taken a hit- the box at the lower left
was supposet to mount to the gearcase on the far left- note the two small mounting holes.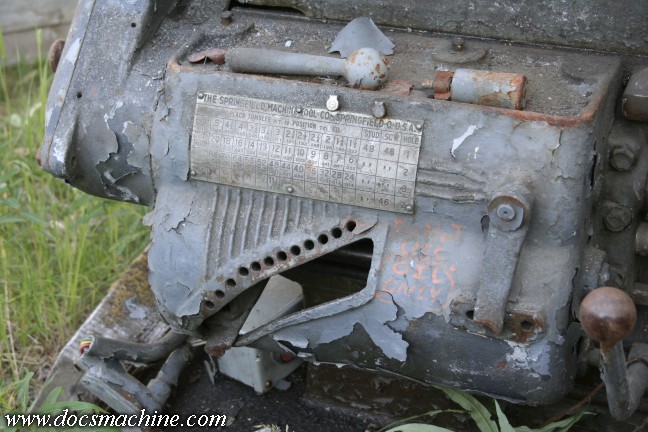 On top of all that, someone had painted the legend "Do Not Use, Oil Only" on the right-hand position on the
QCGB selector. I later discovered that this was because several teeth had been sheared off that gear inside.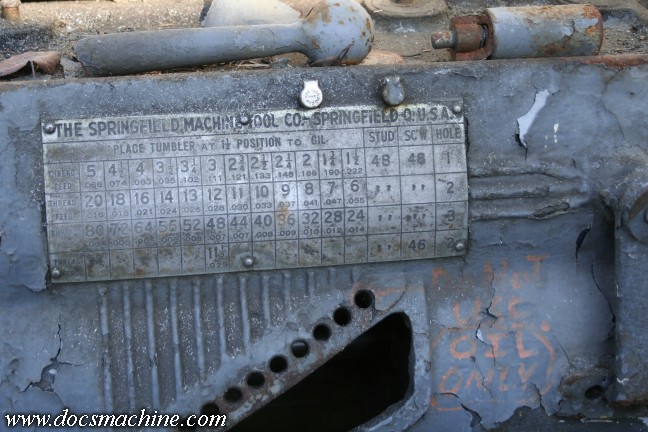 Said gearbox had an interesting array of selections- such as 1-3/4 tpi, 2-1/2 tpi, and 3-1/4 tpi.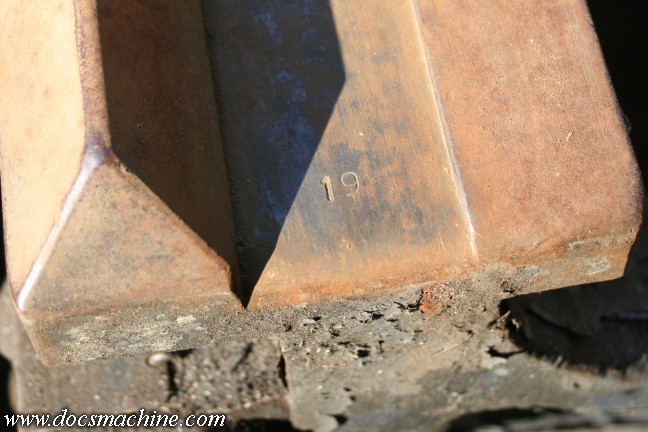 Looking around for the serial number (typically stamped on the bed at the tailstock end) I spotted this number
stamped on the front flat way. Doesn't appear to mean anything, though I found similar stampings elsewhere
on the machine during the rebuild.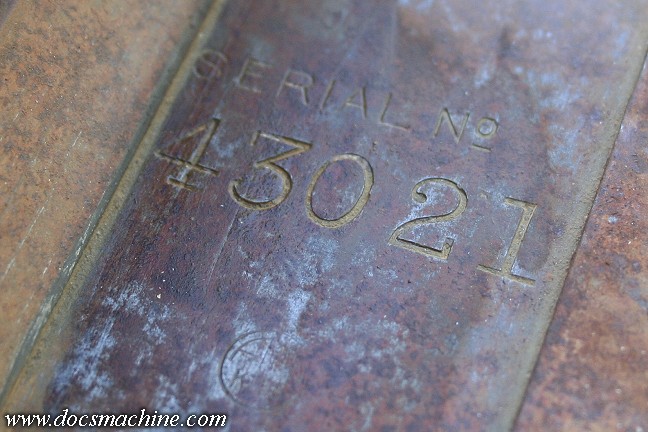 The actual serial number was on the back way, and appeared to have been engraved rather than stamped.
According to online sources, it's most likely that the first two digits are the year of manufacture, suggesting
this particular machine is the 21st made in 1943. No way of knowing if it was the 21st lathe, 21st 16" lathe,
21st machine in general the company made, or 21st of this specific model.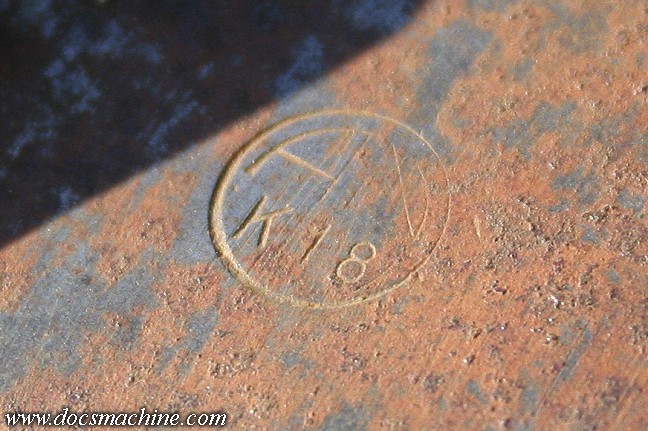 Below that was this little cartouche, a stylized AN over K18. Best guess is it was the stamp of one of the
manufacturers' inspectors, although it could be a stamp from a later plant is was sold to.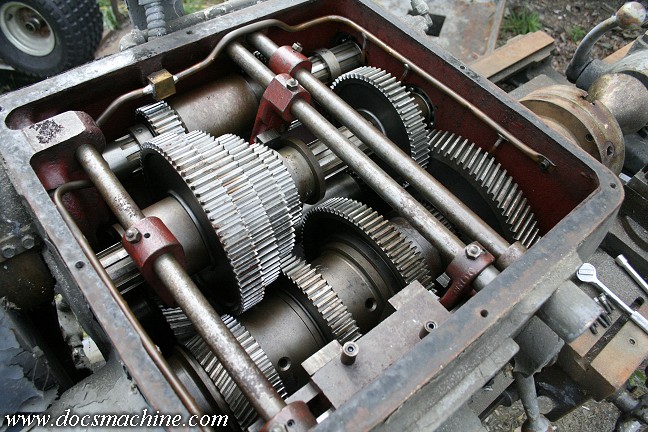 Now it's time to dig deep. While much of the external damage would be easy to fix, if any of the headstock
gears or shift dogs were broken or damaged, something like that could easily turn an already questionable
rebuild into a true money and time sink. Fortunately, upon opening the headstock cap, it appeared that
everything was in fine shape. The corners of some gears showed a touch of wear where some user had
clearly tried to shift it while everything was still rolling, there were no missing teeth, cracked gears, or
damaged shifting mechanisms. Better still, there was no sign of previous damage that had been repaired.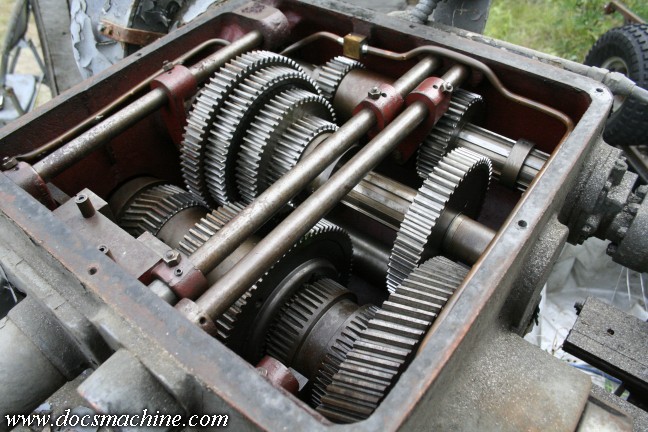 Better still, there was virtually no rust or corrosion, the shift dogs slid smoothly, and turning the chuck
by hand revealed no odd noises, knocks or potential bearing problems.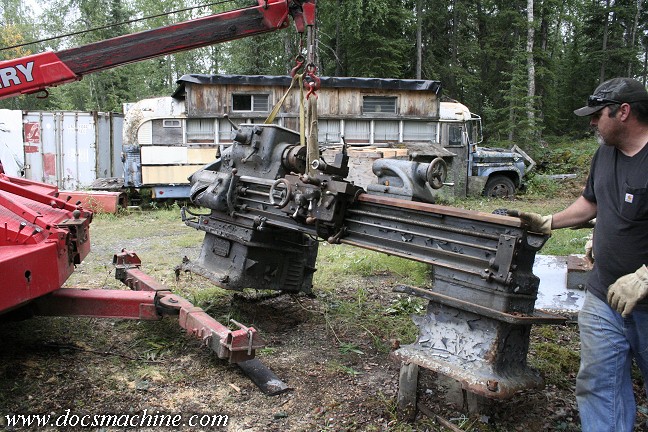 I finally decided that the price and the project weren't unworkable, and bought it. I had a truck and trailer
to carry it, but had to hire a wrecker to come out to lift it up out of the mud, and put it on the trailer.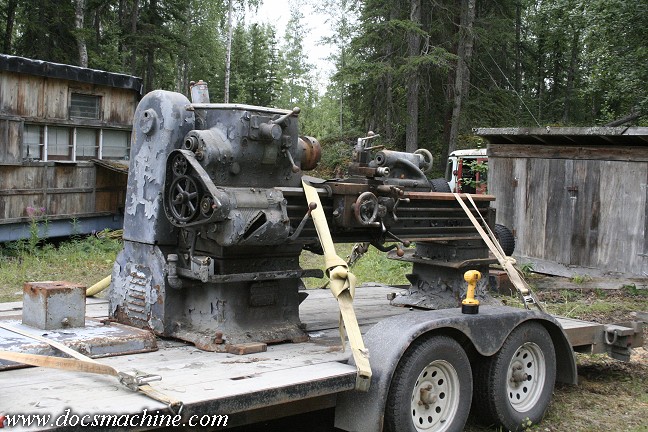 Ready to head home! The gearcover on the end is normally just set in place, so I removed it to keep it from possibly
bouncing off. The drip tray is strapped down to the left, and note the blocks of wood screwed to the deck in order
to help keep anything from possibly sliding. There was just a little tooling that went with it- a whole three tool blocks
for the tool post (each very rusty and missing parts) a few Armstrong style tool holders, a pretty decent Burnerd 12"
4-jaw chuck, a way-undersized steady rest, some old brazed carbide cutters, and a few other small bits.
Next section: Getting it off the trailer, doing some quick fixes, and firing it up!



All text, photos and graphics Copyright 1998- 2017, Doc's Machine & Airsmith Services. All Rights Reserved.
Information contained in these pages is for reference and entertainment purposes only. Our methods are not always the best,
quickest, safest, or even the correct ones. It's up to you to know how to use your own machines and tools.
Keep your fingers away from the spinny blades o' death and you should be all right.