[
Return to Main Page
] [
Return to Projects Index
] [
Doc's Machine & TWB Store
] [
Contact Us
] [
The Whiteboard Webcomic
]
Saving a 1943 Springfield Engine Lathe, Part 10: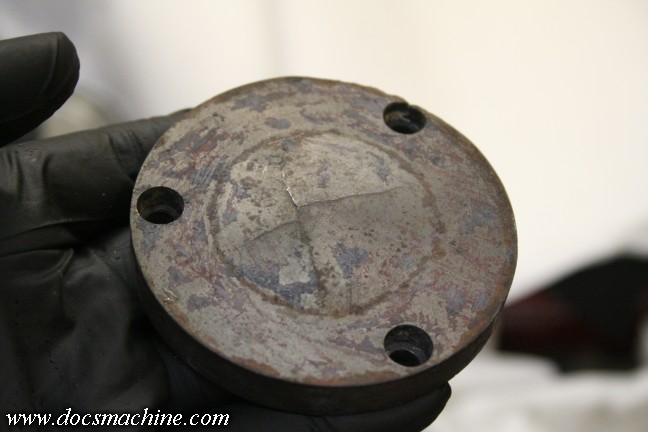 To finish the shifter install, I needed a cover. The original cast iron piece had been cracked, probably at
the same time the first lever breakage occurred. The circular 'ring' is where rust is seeping out from the crack,
and marks the clearance recess on the inside. The pieces were still wedged into place, and I'd considered
trying a quick fix like sandblasting the inside and smearing it with something like JB Weld, then scuffing
and sanding the outside smooth. It was much too thin to weld...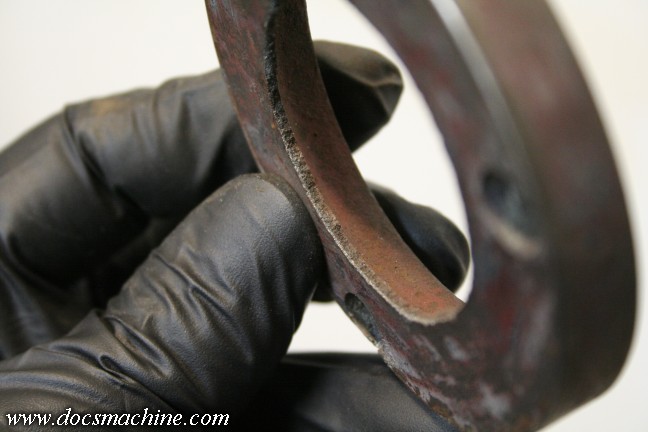 ... And I was leery of brazing or even silver-soldering as well. Another idea was to get one of the old-style disc
type engine freeze plugs, and solder it into a recess, but nobody locally had one that size. I could have made
a plain flat disc of steel, too, and soldered that in, but I finally decided I'd just make a complete
new cap. It's really just a dust cover, so no reason I couldn't make it from aluminum.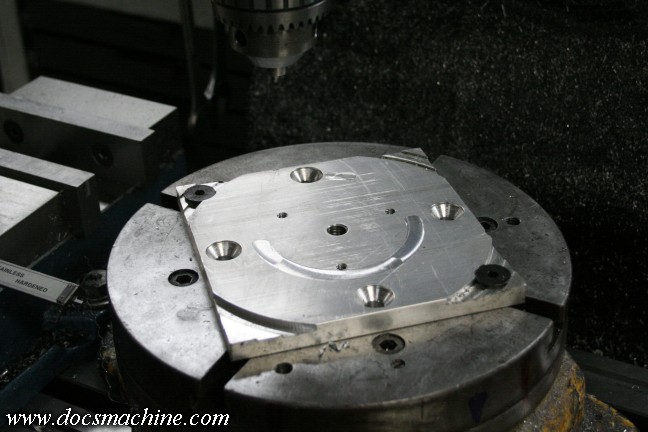 To do so, I put an old fixture plate on my rotary table, centered everything,
and drilled a bolt pattern that matched the cap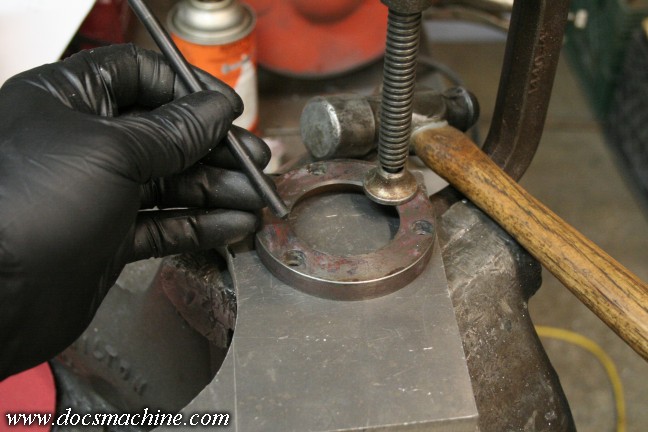 Then I found a chunk of some 1/2" scrap, clamped the old cap down and stamped a bolt circle with a transfer punch.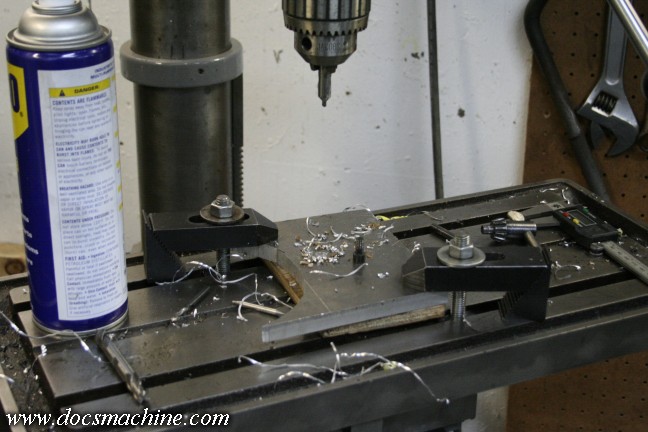 I carefully located and drilled each hole in turn, using the X/Y table on the Arboga drill.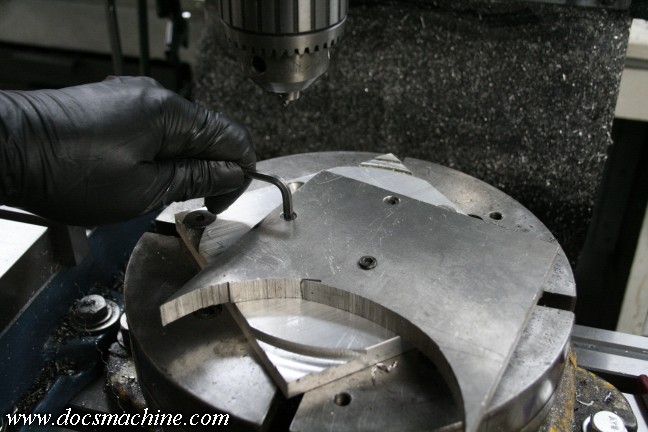 Bolted it down to the fixture plate...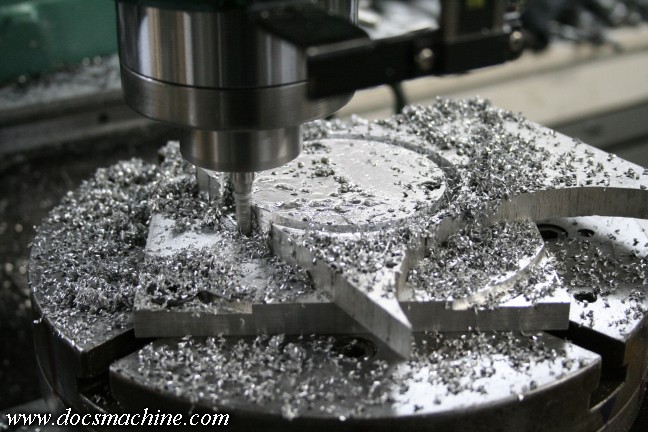 ... and milled the disc out using a 1/4" 4-flute and lots of WD-40.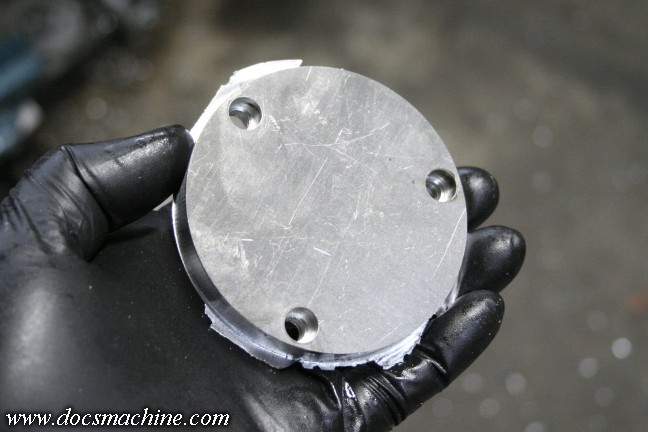 And it's just that easy. :)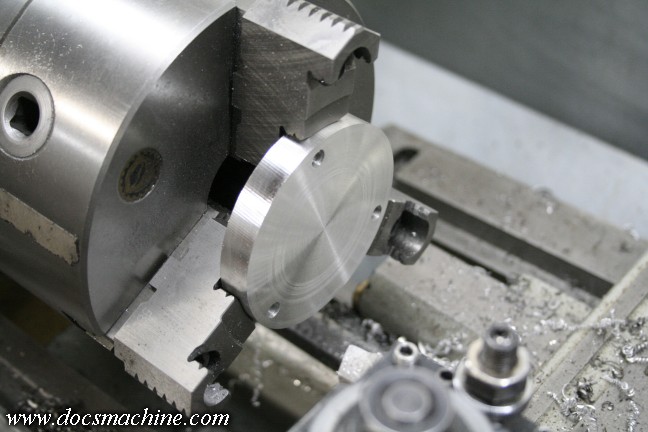 Then I faced it flat...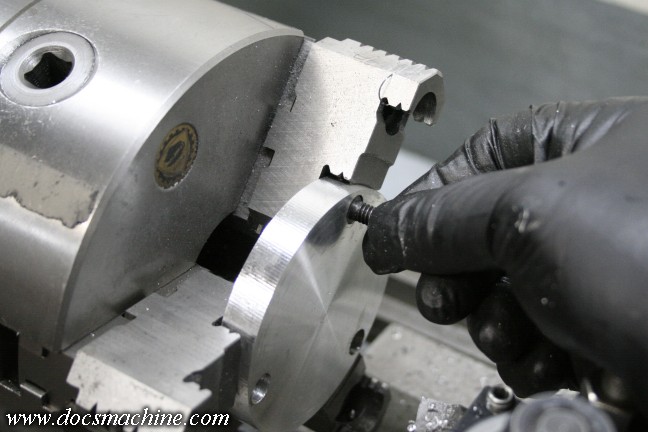 And got it down to the thickness of the original cap.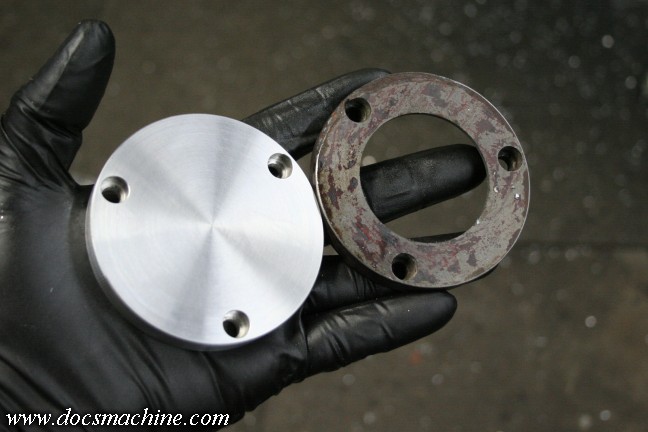 Not shown, I recessed the back of the new cap for shifter clearance.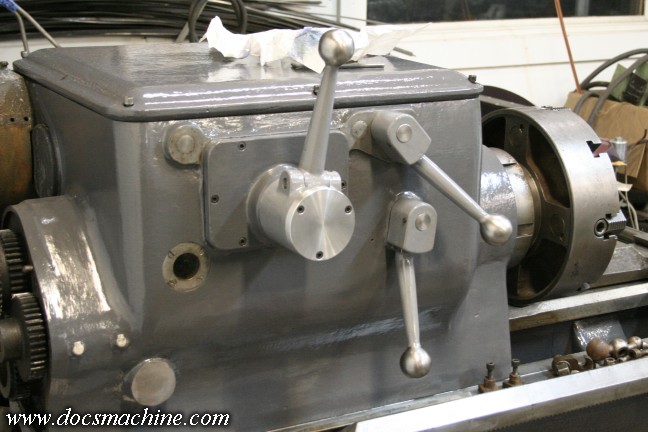 And it fits perfectly! The turned aluminum kind of stood out a bit, so I eventually painted
it the same light grey to make it blend in a little better.

All text, photos and graphics Copyright 1998- 2017, Doc's Machine & Airsmith Services. All Rights Reserved.
Information contained in these pages is for reference and entertainment purposes only. Our methods are not always the best,
quickest, safest, or even the correct ones. It's up to you to know how to use your own machines and tools.
Keep your fingers away from the spinny blades o' death and you should be all right.