[
Return to Main Page
] [
Return to Projects Index
] [
Doc's Machine & TWB Store
] [
Contact Us
] [
The Whiteboard Webcomic
]
Saving a 1943 Springfield Engine Lathe, Part 16: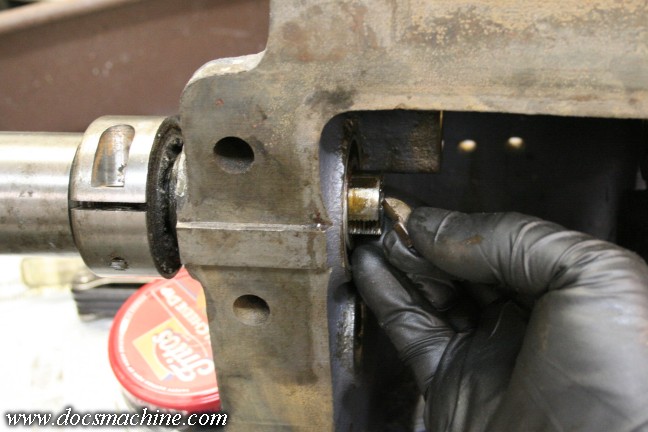 Interestingly enough, the key to that drive gear had a "step" milled in it- from the factory- to clear the bushing.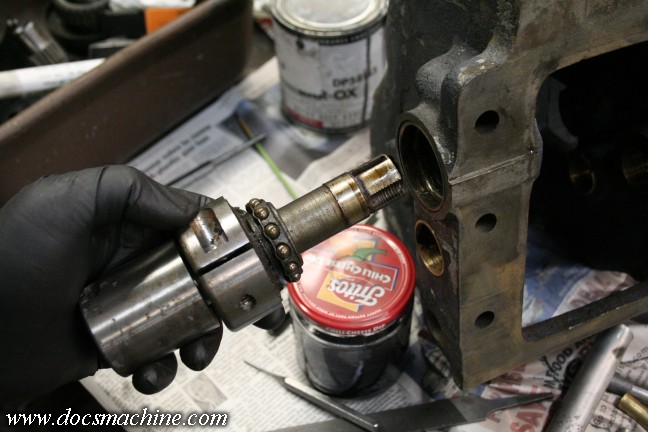 The only roller bearings in the entire gearbox were here on the output shaft. They're an angular contact
bearing, and being old and worn, the inner races came out with the shaft.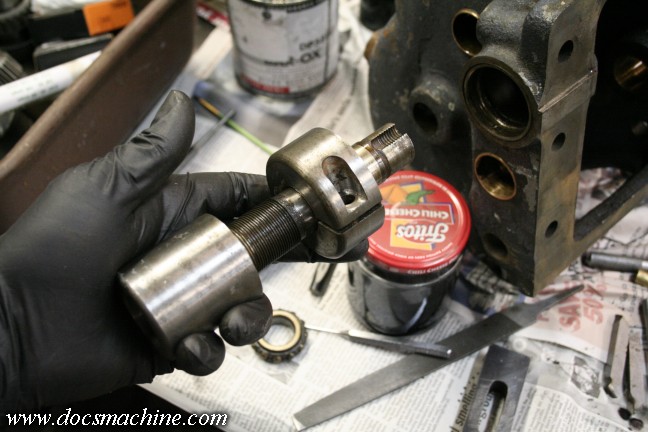 Bearing preload collar.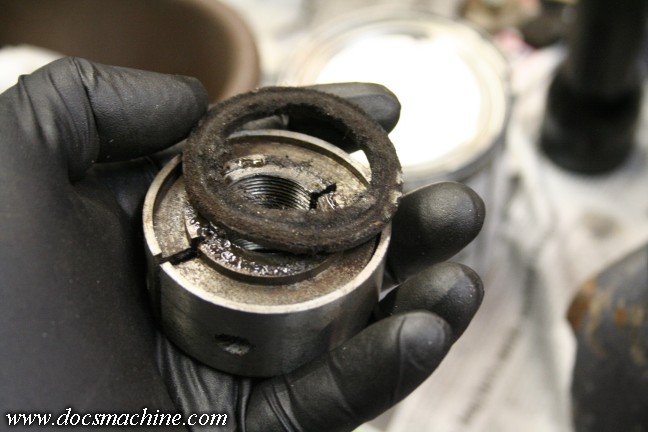 This felt ring was apparently the dust seal for those bearings.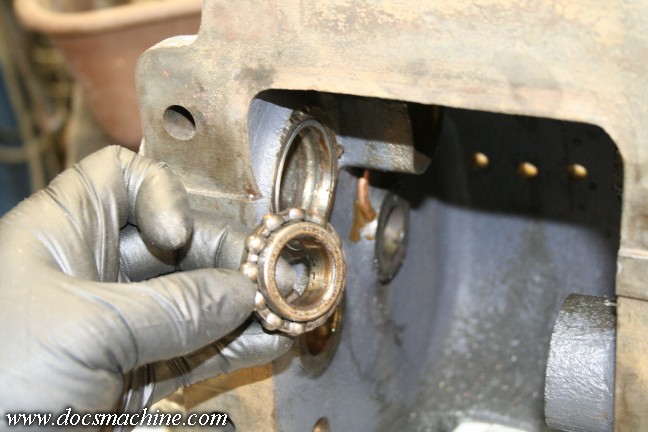 Inner race fell out too.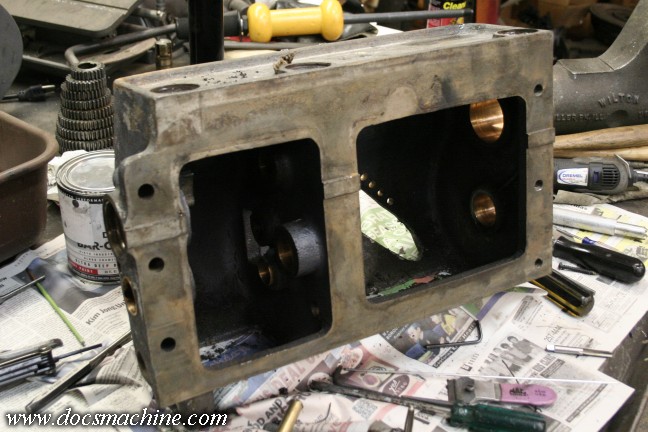 Aaaand ... empty!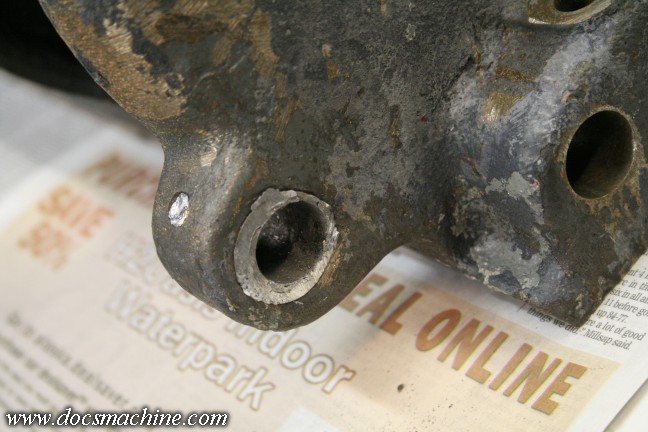 The clutch control shaft pivots on this babbit bearing at the lower corner of the QCGB.
t's pretty badly ovalled, and so will need to be repaired. Not sure how I'm going to do that just yet,
though I'm thinking I may just coat the rod with some kind of mold release, and when everything's
installed, inject a dab of Moglice or even just JB weld in there. Or I could bush it with Oillite,
or even a caged needle bearing. I'll figure something out.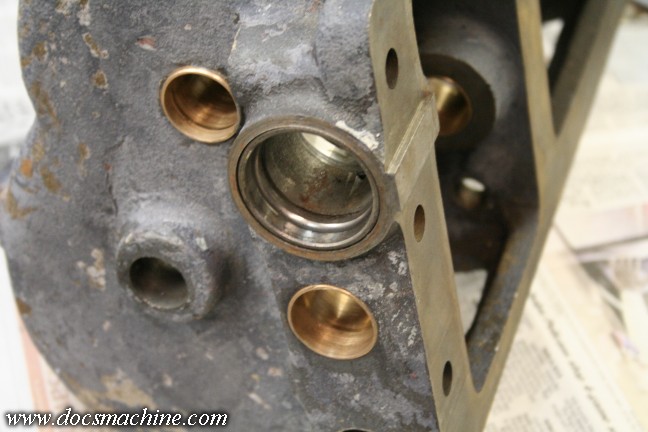 On the other hand, the leftover bearing races were proving to be a bit of a riddle; They were
up against a shoulder so there was no way to push them out from the inside.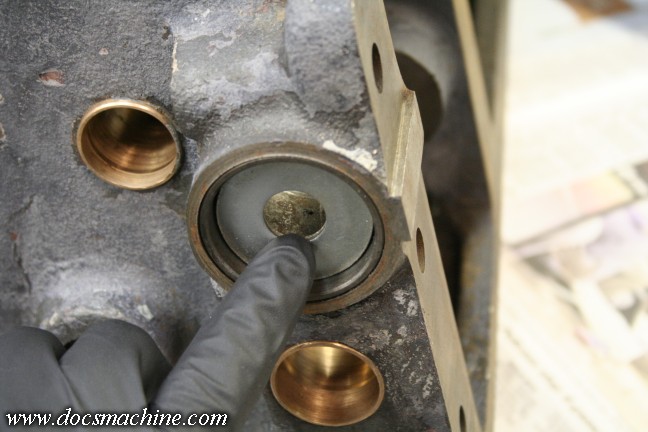 So, I found a washer about the right size...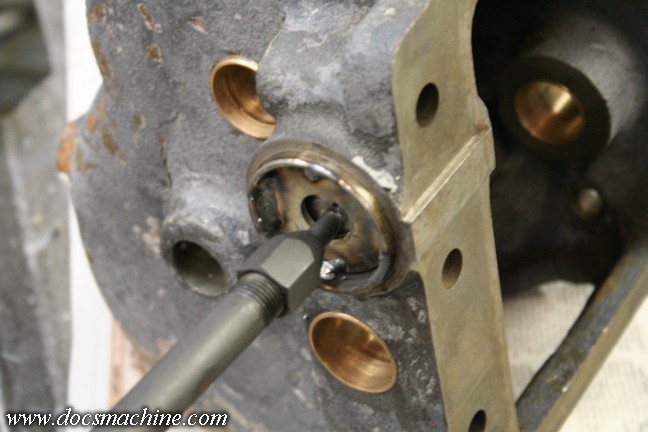 Tacked it in place with a MIG, and used the slide-hammer to yank 'em out.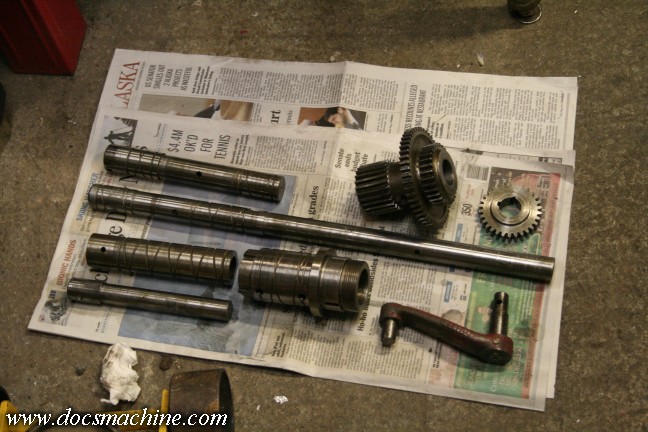 After that, it was another rinse with the Hotsy, and about a week of running each shaft, gear and key
through the parts washer. Most of the gears had aeons of lube and grease and crud, which often had to
be scraped out with razor blades and toothpicks. But, luckily enough, although there's some minor
scoring of some of the bushings, they're all in remarkably good shape. I'll need to make the two gears,
of course, but at least it's
only
two. :)

All text, photos and graphics Copyright 1998- 2017, Doc's Machine & Airsmith Services. All Rights Reserved.
Information contained in these pages is for reference and entertainment purposes only. Our methods are not always the best,
quickest, safest, or even the correct ones. It's up to you to know how to use your own machines and tools.
Keep your fingers away from the spinny blades o' death and you should be all right.