[
Return to Main Page
] [
Return to Projects Index
] [
Doc's Machine & TWB Store
] [
Contact Us
] [
The Whiteboard Webcomic
]
Warner & Swasey All Geared Head Turret Lathe, Part 6: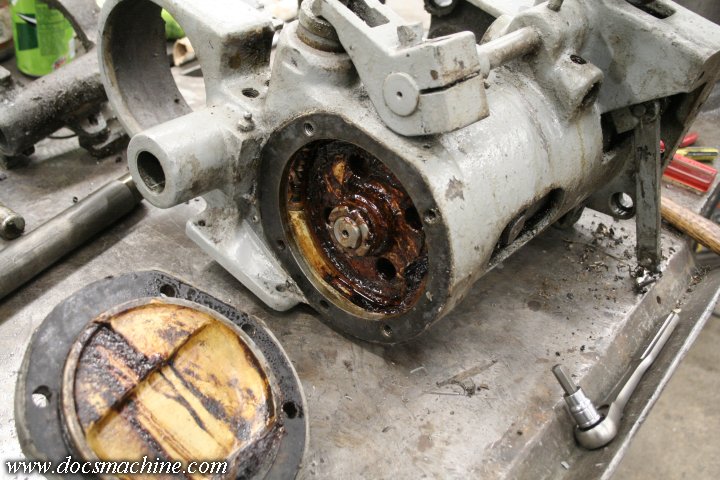 With that, we're down to the main section of the mechanism. The end cover comes off, revealing a worm-drive
arrangement, and some old dried... I dunno, maybe Ecuadoran bat guano lubricant or something.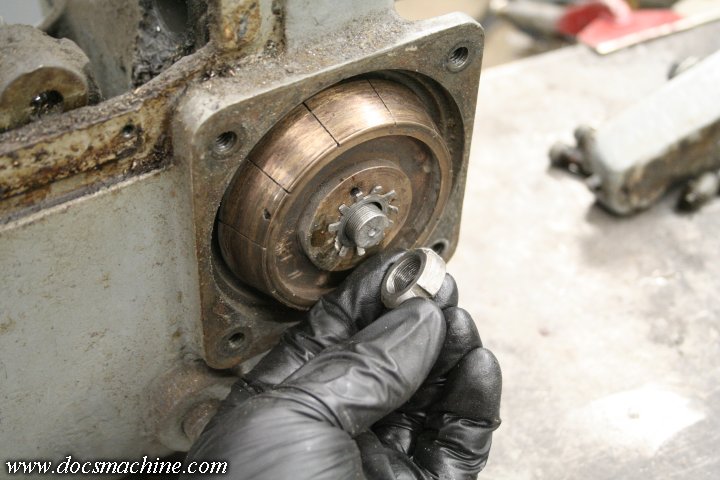 Since it was a worm drive, obviously the worm itself was going to have to come out first.
Do I removed the nut holding the cone clutch section on...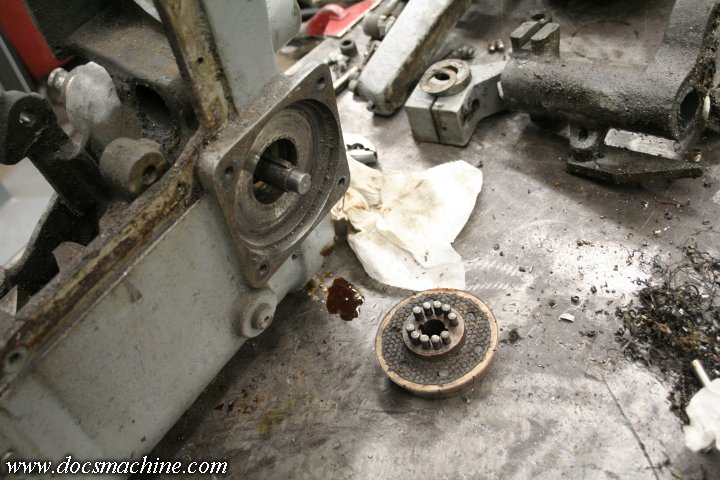 Which, with a little persuasion, slid right out. The backside is lined with something
that looks like friction-plate material, and had ten spring-loaded pegs.
Up front, the half-cycle lever is just held in with a setscrew, and also a spring and ball detent.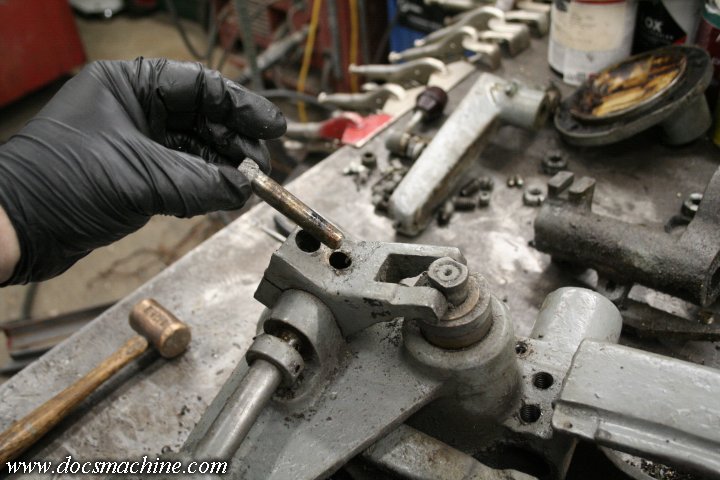 And on the other end of that shaft, the clutch-actuating fork is retained with a pinch bolt
(long since missing on this example) and another heavy taper pin.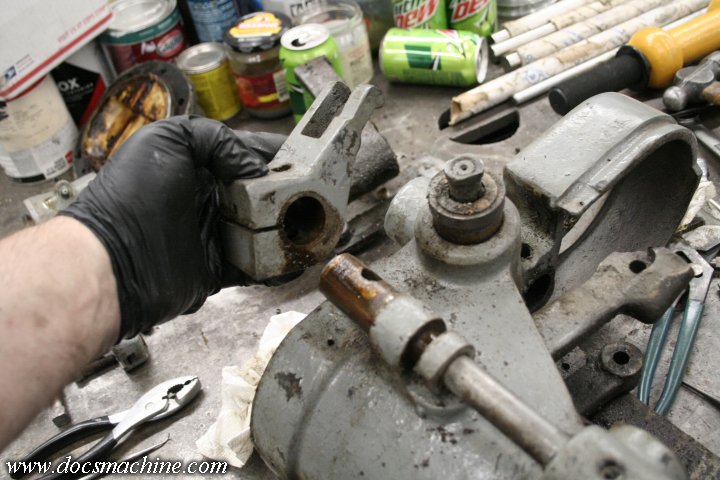 With that pin out, it slides, with some persuasion, off the shaft. It also shows signs of
having been "persuaded" off before, at some point prior to it's last paintjob.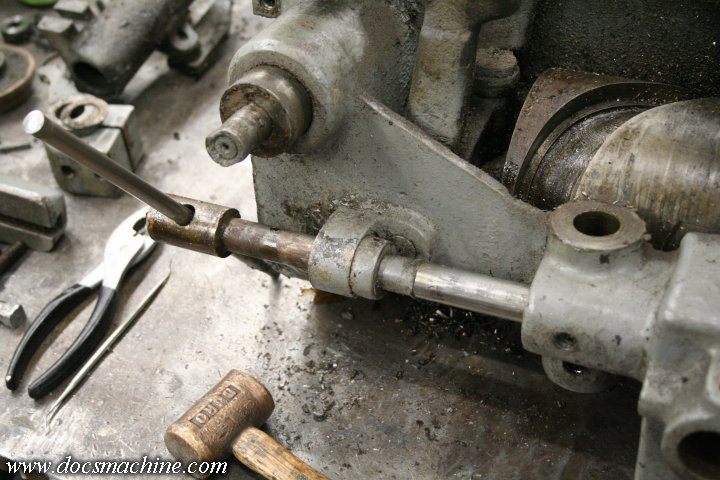 The shaft has to slide through a somewhat tight-fitting collar, and since it'd been
painted recently, I had to... well,
persuade
it through, too.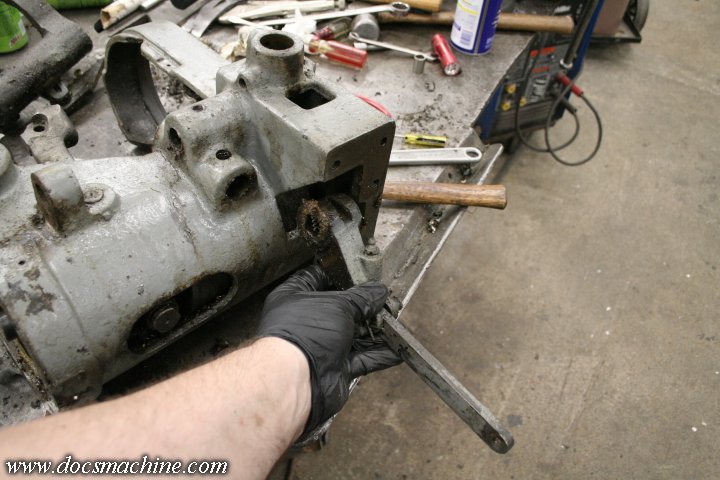 That released the linkage, seen earlier, which is part of the whole cycle-activating mechanism.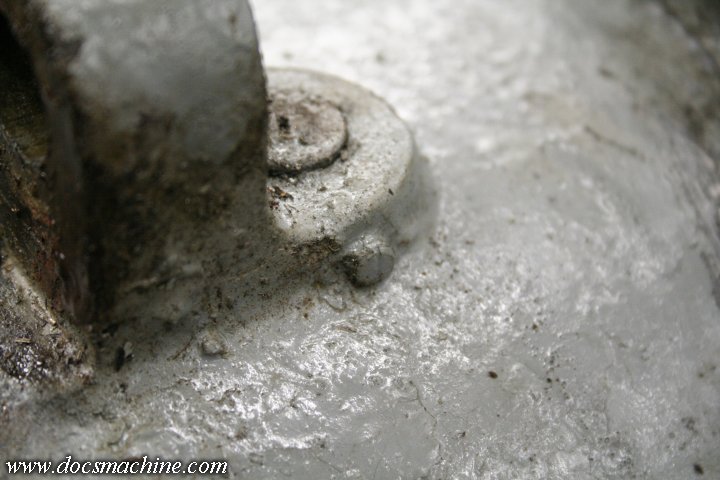 The yoke I'm after, which naturally happens to be very close to one of the very last pieces that can be
removed from this assembly, pivots on two short stub axles, each retained by setscrews,
which have been helpfully locked in place by a coat of paint. An eXacto
got the goop scraped out so I could get a screwdriver in there.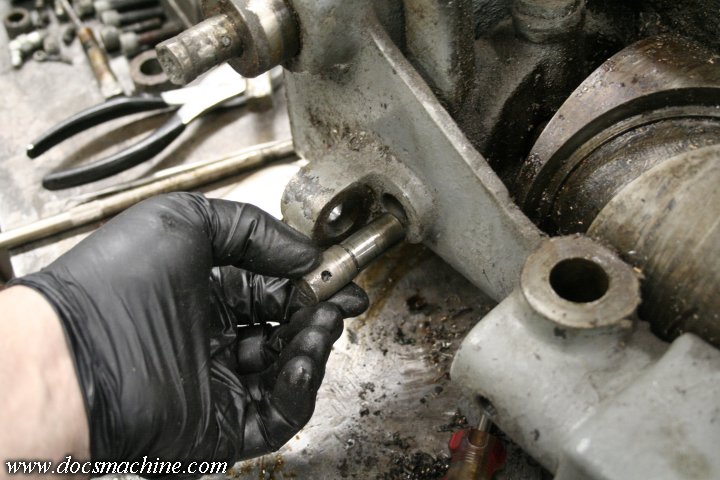 After that, with a little enticement, the pins themselves came out.

All text, photos and graphics Copyright 1998- 2020, Doc's Machine & Airsmith Services. All Rights Reserved.
Information contained in these pages is for reference and entertainment purposes only. Our methods are not always the best,
quickest, safest, or even the correct ones. It's up to you to know how to use your own machines and tools.
Keep your fingers away from the spinny blades o' death and you should be all right.