[
Return to Main Page
] [
Return to Photos Index
] [
Doc's Machine & TWB Store
] [
Contact Us
] [
The Whiteboard Webcomic
]

Peninsula Paintball weekend game, Ninilchik Alaska, June 2004
Peninsula Paintball was a very-well built field located out in the boonies of a wintertime recreational area
called Caribou Hills. A haven for snowmachiners in the winter, but slow in the summer. The owner of a lodge
called the Straight Inn tried to draw some summer crowds by building this field- very well done, but badly
located. 30 minutes in from the highway, on madly maintained gravel roads. It only lasted two summers.
Here's a pic looking out from the far-side ref's tower towards the upper and of the field and the lodge itself: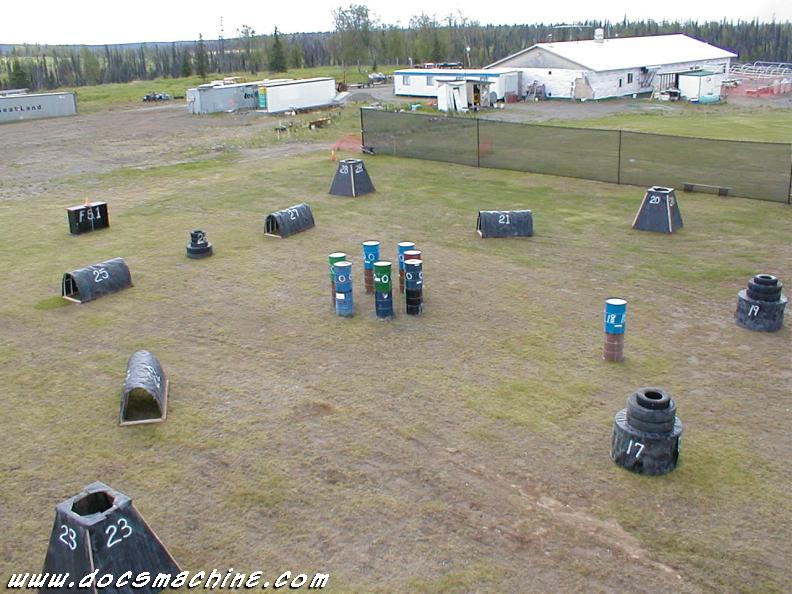 Yes, ref tower. There were two 20+ foot steel towers, one on either side of the field.
A ref could sit up there with binoculars and see damn enar everything.
Here's the same end but from ground level and the other side of the field.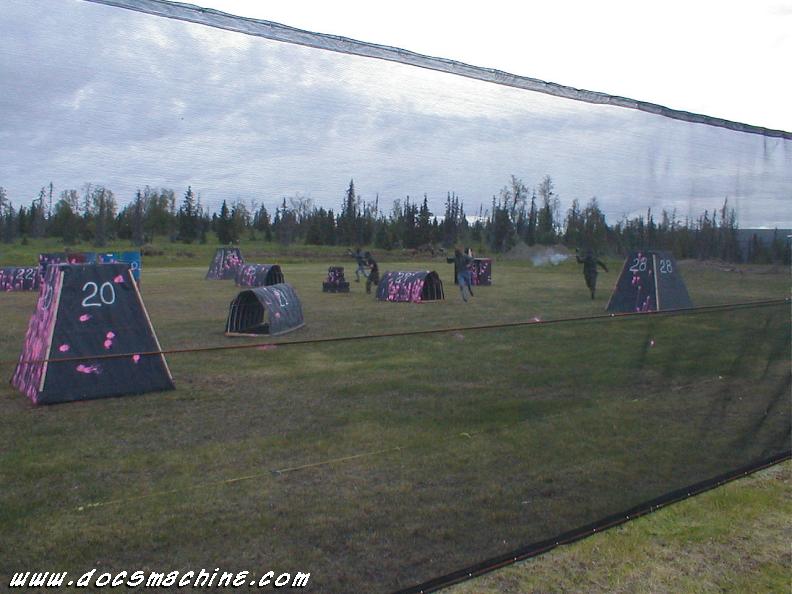 (Zeb, far right, just blew a 'Mag seal with liquid from a 3.5 ounce. )
The near-side ref's tower: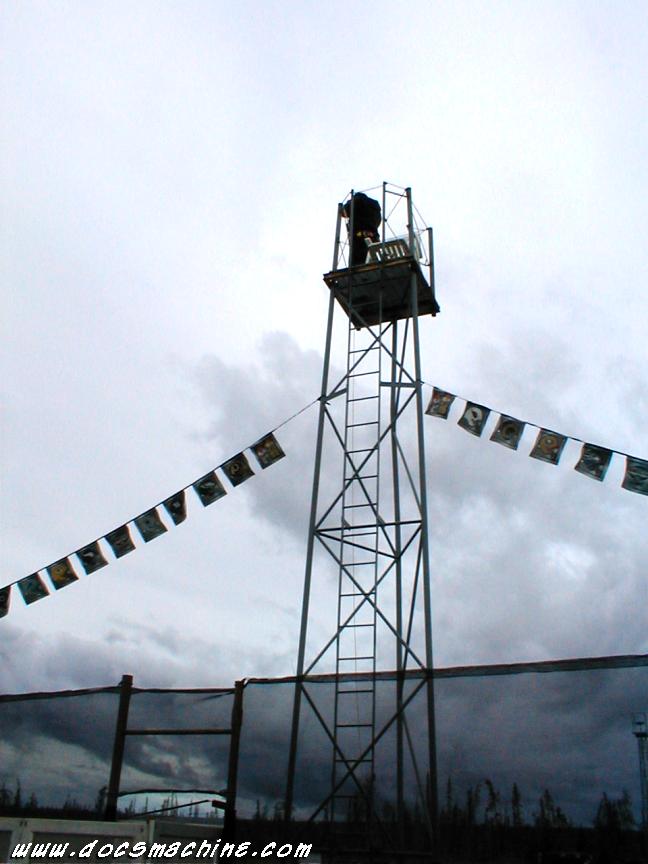 The Doc, wearing his pink badges of courage and holding his HALOed first-gen Fastback. (Bet you guys didn't know I was Asian, eh? )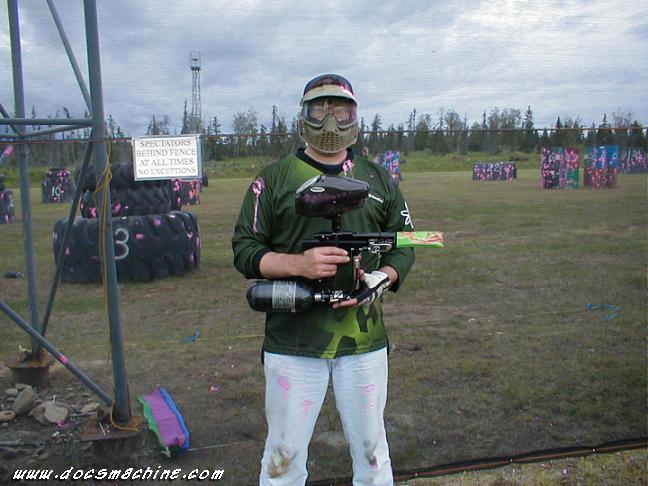 The lower end (the slope is very gradual, perhaps a couple of feet over the whole length- it's very flat) with the chrono alley, away from both players and spectators:

Most of the field: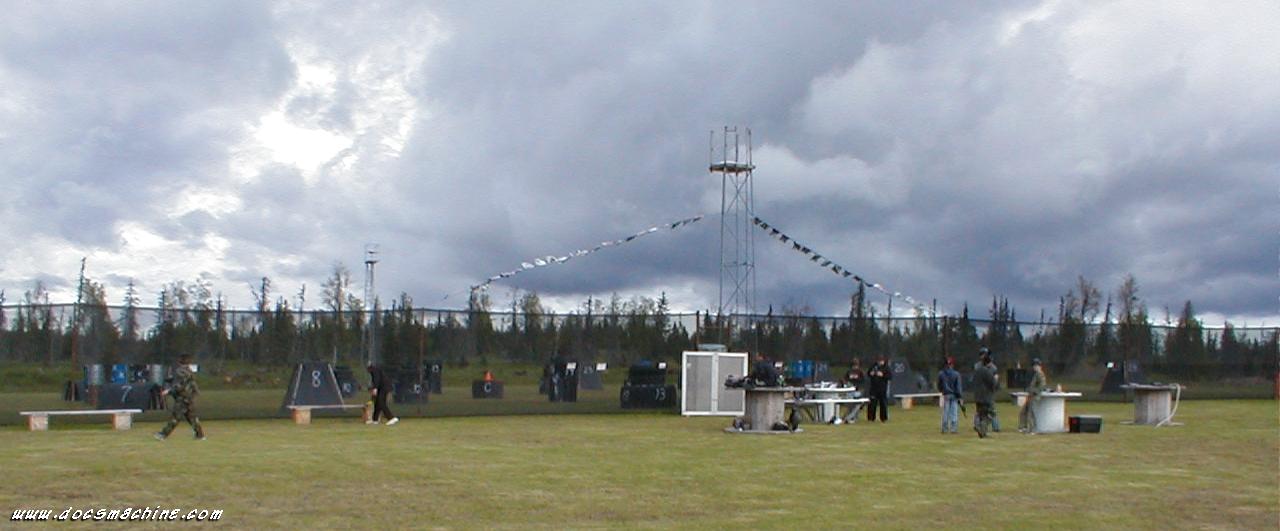 The silver things in the middle are screened panels that make a little "dogleg" entry, with a screened door to go between the play side and safe side of the net.
Also seen are the spectator benches, spool-tables for the players (they have more, but only had those out at the time) and how smooth and flat it all is.
Players on the field: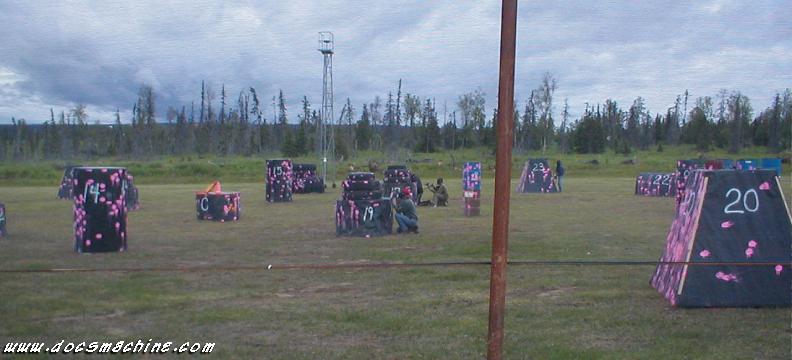 There's something like thirty seperate barricades on the field, which is a near-perfect mirror image across the center.
There was room for 20 to 30 players easy. Bunkers consisted of the usual heavy equipment tires, oil drums, and some
wooden frames covered with a thick, heavy plastic sheeting. The owner also had a then-brand-new Max Air HPA system,
Model 98s for rentals, a small selection of new gear for sale, and being a lodge, a full kitchen that made great hot burgers,
and even a bar for those that might have wanted a postgame drink.
It was an awesome field, just too much of a hassle for the local players. It was 90 minutes either way from two small
towns (Kenai or Homer) with the last 30 minutes being on a narrow, twisty and poorly-maintained gravel road.


All text, photos and graphics Copyright 1998- 2015, Doc's Machine & Airsmith Services. All Rights Reserved.
Farcical names, jokes about players and jokes about players' mothers are all in good fun. No harm intended.