[
Return to Main Page
] [
Return to Projects Index
] [
Doc's Machine & TWB Store
] [
Contact Us
] [
The Whiteboard Webcomic
]
How to do CNC milling, without a CNC. Or, how sausage is made. :)
A client had an unusual request; to replicate a rare custom Angel, one that had been hand-made by a player in Germany.
(Part Three of Three.)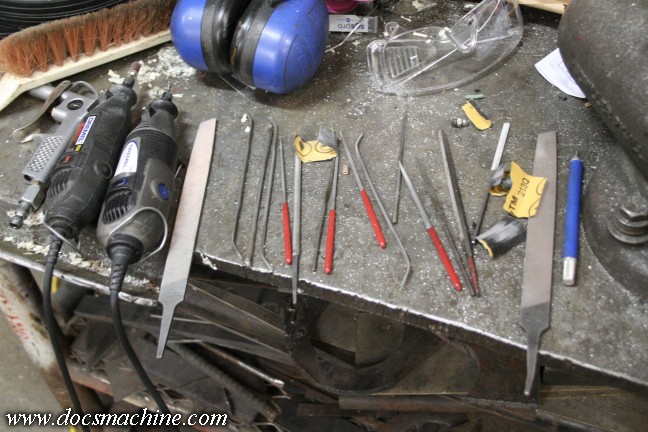 Again, the machines could only rough in the features, so I had to flesh them out by hand. The 'corner' between
the top of each slot and the bottom point, had to be carefully roughed with yet another custom cutter I made for the
air grinder, and several more Dremel bits, and then gently smoothed down with hand files.
That's only part of the collection- there's twice as many to the right of the vise.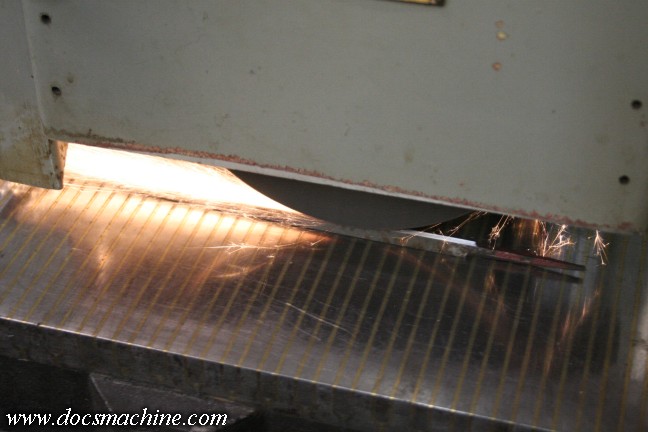 And here, again, I modified another file. Thanks to the compound curve, I needed to be able to file at an angle,
but I also needed a "safe edge", so I'd only be filing one side at a time, to make it easier to retain the shape of the part.
Luckily the angle of the "gills" had turned out to be 30 degrees, so I took an old but still sharp triangular file, and
ground one face and one peak smooth with the surface grinder, forming a trapezoidal file with two working edges.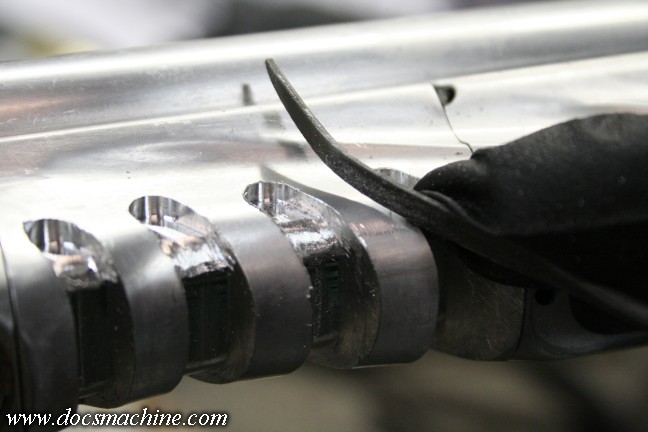 So with literally over two dozen small files at hand, I very carefully dressed down each 'corner'.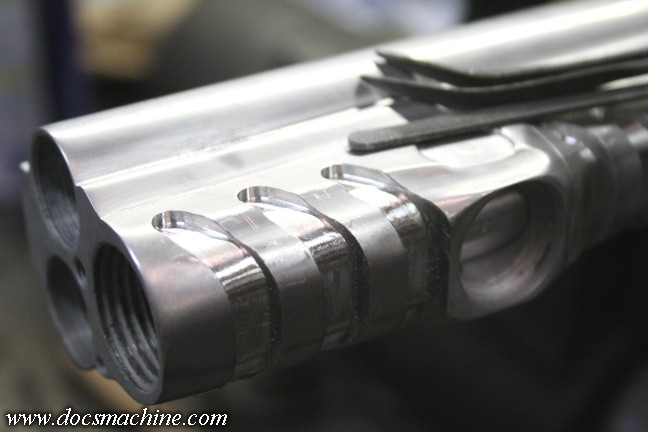 It doesn't look like it, but believe me- that's a surprisingly complex compound curve at those corners.
I needed three different shapes of file just to do the
forward
edge of each 'gill'.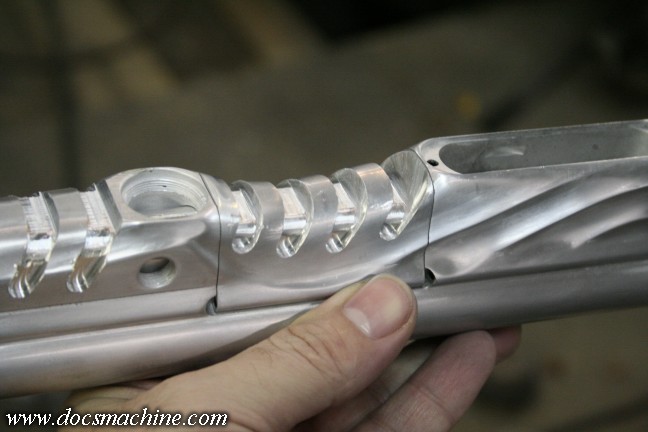 And again, once the filing was done, it was time to dress those cuts too, with successively finer grits of sandpaper.
In this case, with the additional trick of not only the compound curve, but also not wanting the paper to wear
and round the corners of the grooves. How many more hours have passed? Too many.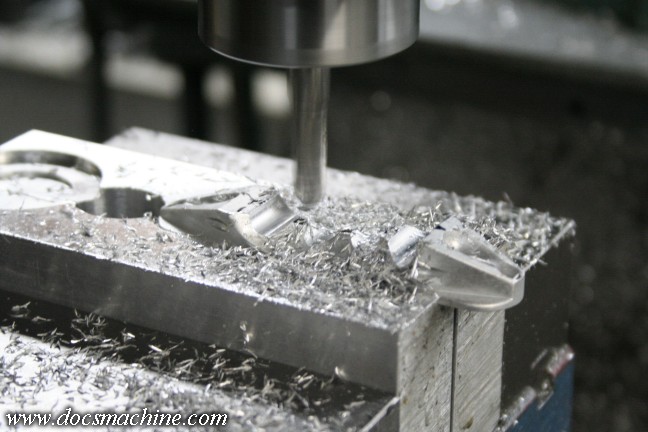 But finally we're down to the solenoid cover. It was an odd shape, but held easily enough in a shallow groove milled
into the top of a pair of aluminum soft jaws. And, after close study of the original photos, it turned out there was actually
not that much milled off the original DYE part, so the only tricky aspect was getting the spacing and depths right.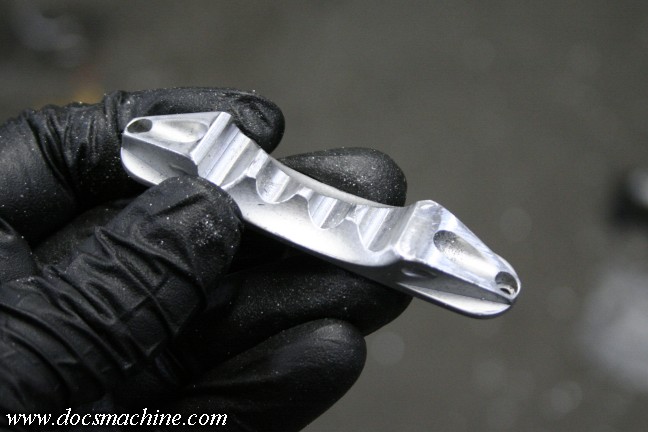 After that, a little handwork with some files is all it needed.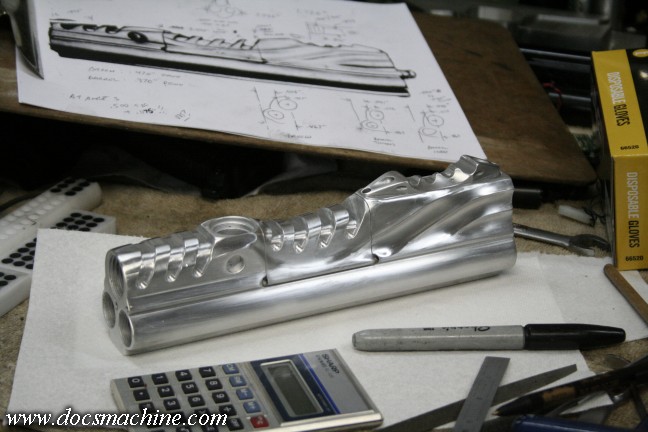 And finally, after entirely too long, she's done. The Nymph Angel 2.0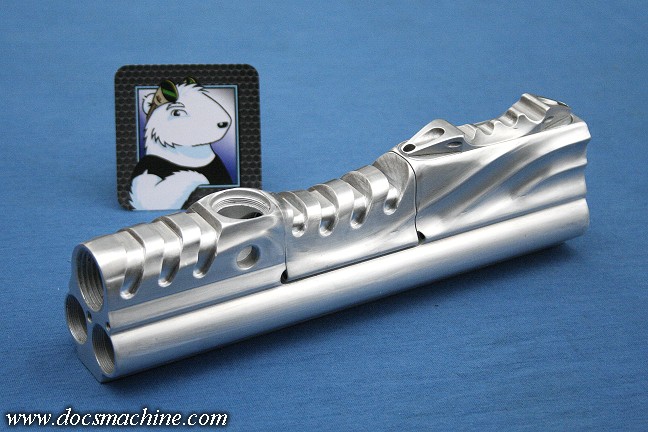 Cleaned, rinsed and dried, ready to pack up and ship off to the client.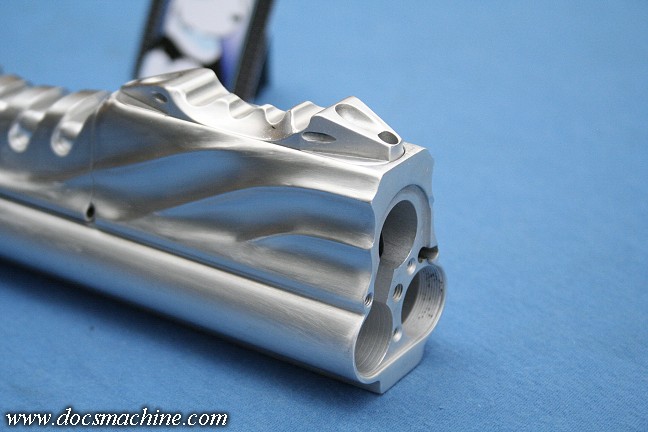 I certainly hope he likes it. :)

All text, photos and graphics Copyright 1998- 2015, Doc's Machine & Airsmith Services. All Rights Reserved.
Information contained in these pages is for reference and entertainment purposes only. Our methods are not always the best,
quickest, safest, or even the correct ones. It's up to you to know how to use your own machines and tools.
Keep your fingers away from the spinny blades o' death and you should be all right.