[
Return to Main Page
] [
Return to Projects Index
] [
Doc's Machine & TWB Store
] [
Contact Us
] [
The Whiteboard Webcomic
]
Anayak "Exacto" Vertical Mill Rebuild, Part 6: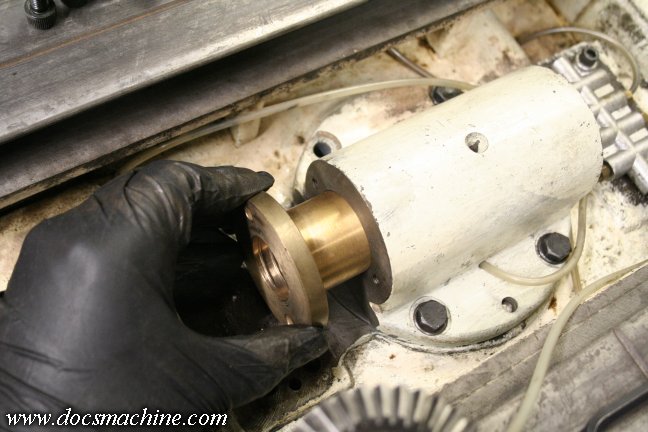 On this particular project, the one main problem was that all three X-axis leadscrew nuts were badly worn,
if not stripped out entirely. Considering that the screw itself appeared in good shape, with relatively little wear,
I'm assuming that the nuts were stripped, more than actually worn. The power feed for this machine is huge
and powerful- 3/4 HP with a massive cast-iron gearbox- and I suspect some inattentive operator let it run
past its stops, and continued on to try and pull the screw through the nuts.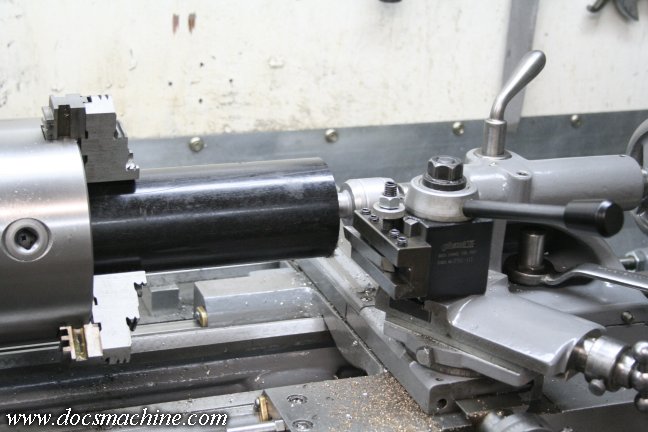 So, as kind of an experiment, believe it or not, we'll be making new nuts out of black Delrin.
People have tried it before, and a common repair even for big industrial machines uses an
injected epoxy like Moglice. If my Delrin ones wear out right away, I'll make up a set in bronze.
Anyway, I started with a handy 3" diamter bar of black Delrin.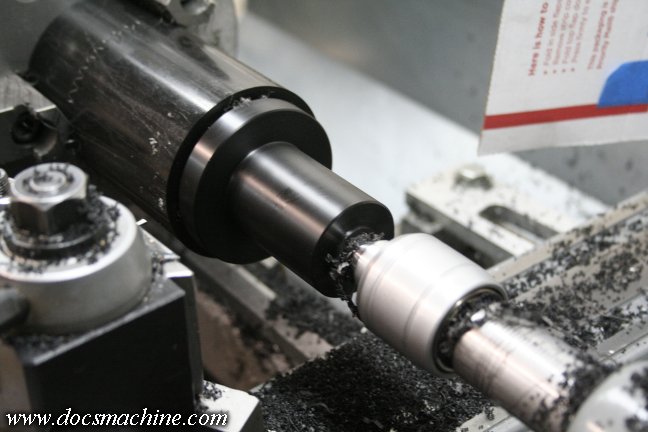 After a few minutes of messy turning, I had a nice blank.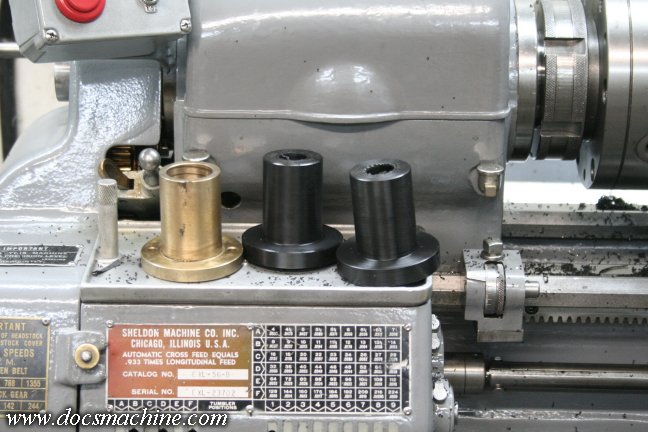 A few minutes later, I had a second. I'd have made a third as a spare, but I didn't have enough material left.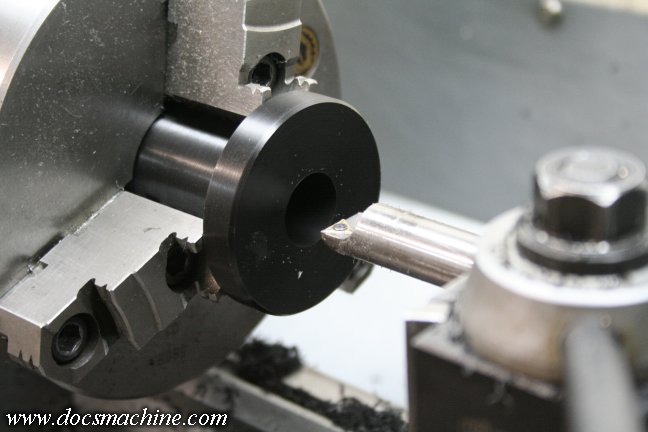 The blanks were then bored to size...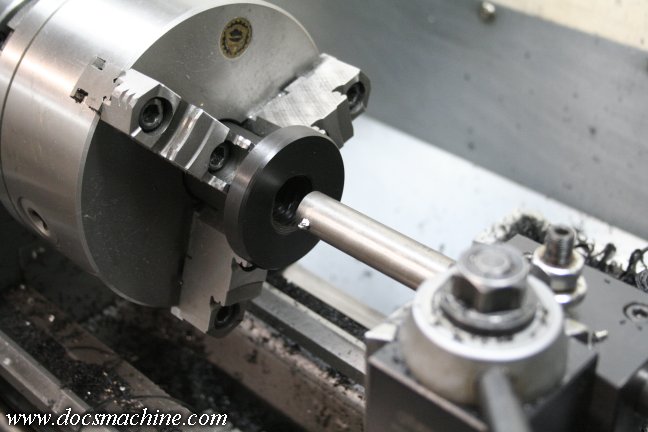 And then, with some difficulty, threaded.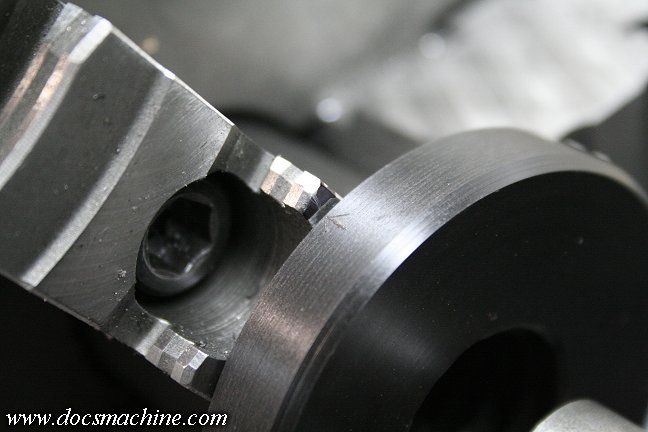 Now, the leadscrew was too long and unweildy to try and do a test-fit with the nut still in the lathe, so I made
a witness mark on the chuck and workpiece. That way, the part could be removed, tested, and reinserted
into the chuck, without losing position. The arrow gives the circular position, and the flange hard up against
the chuck jaws gives the left-right position.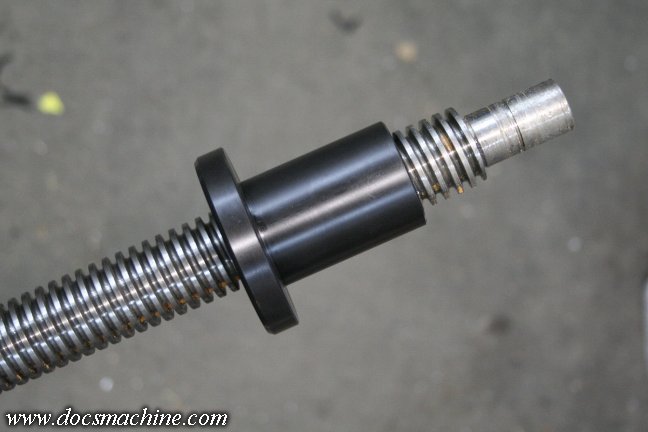 After a few cut-and-try cycles, I got a good snug fit, without it being too tight. And, since the
nuts are adjustable for lash, I didn't have to worry too much about getting a precision fit.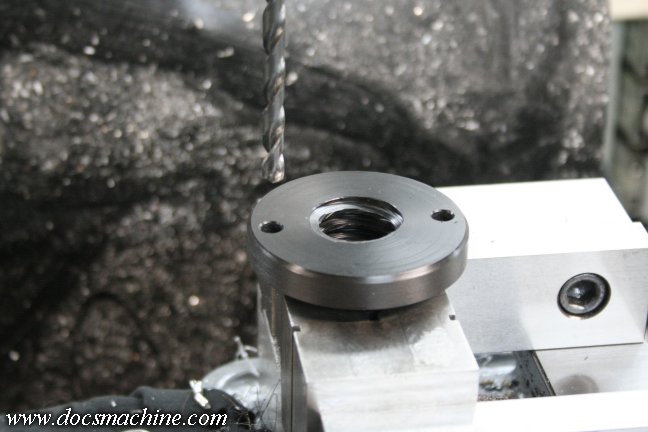 Once both the nuts were threaded, the first one got marked and drilled.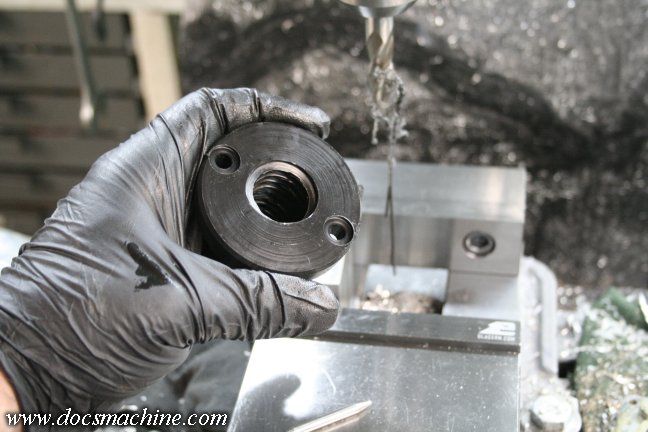 And, after a trial fit, a minor clearance issue required a minor, shallow counterbore.
On to part two!

All text, photos and graphics Copyright 1998- 2016, Doc's Machine & Airsmith Services. All Rights Reserved.
Information contained in these pages is for reference and entertainment purposes only. Our methods are not always the best,
quickest, safest, or even the correct ones. It's up to you to know how to use your own machines and tools.
Keep your fingers away from the spinny blades o' death and you should be all right.