[
Return to Main Page
] [
Return to Projects Index
] [
Doc's Machine & TWB Store
] [
Contact Us
] [
The Whiteboard Webcomic
]
Anayak "Exacto" Vertical Mill Rebuild, Part 9: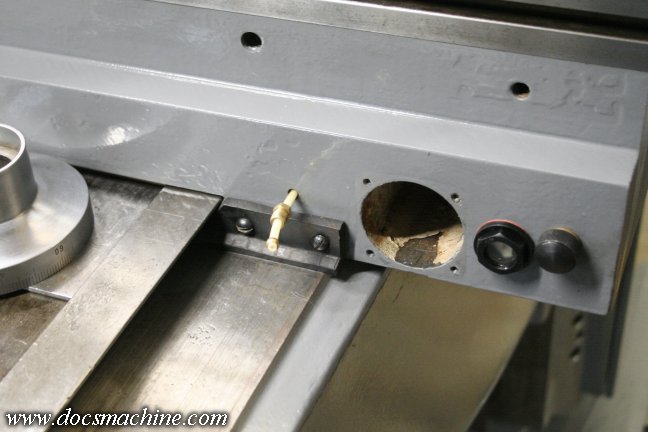 As we're rapildy closing in on the finish line, we're down to a short list of details to take care of.
The oil manifold needed a bit of attention and a new chunk of line, and I cleaned up and installed the
oil reservoir fill plug (on the right) and the sight glass window (second from right.)
Also note I cleaned up and reinstalled the saddle way wipers.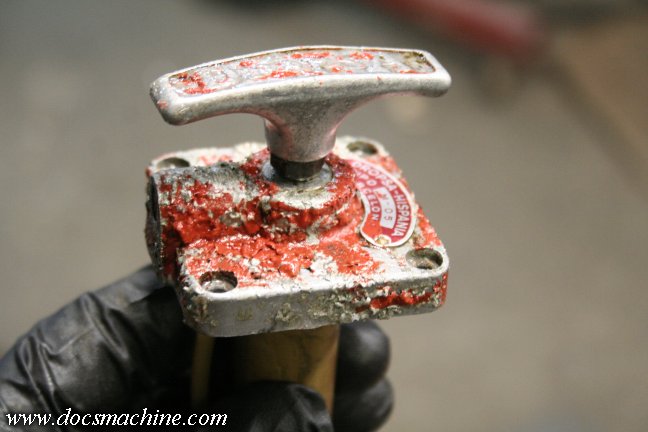 The oil pump had traces of two colors of paint left on it, so I hit that with some paint stripper.
Albeit gently, as I wanted to preserve the markings on the stamped ID tag.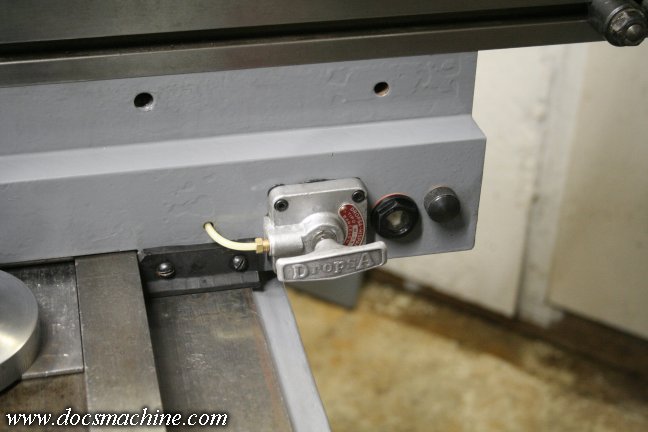 Once that was cleaned and flushed, the flange was sealed with some oil-resistant
RTV, and installed with some new capscrews.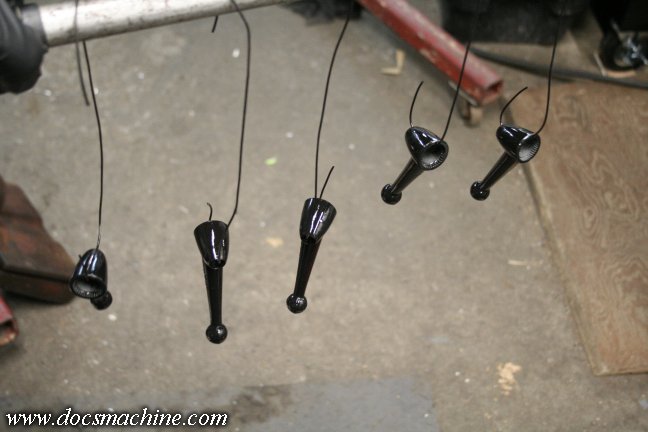 While the RTV was curing, I also stripped, degreased and painted the way lock handles.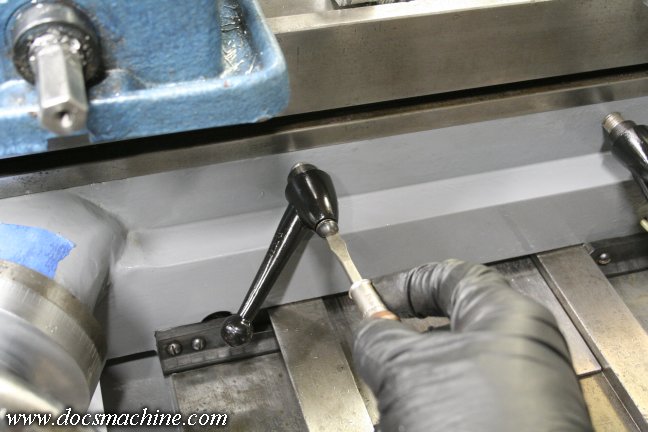 Once those were dry and the other parts cleaned, it was a simple matter to install 'em.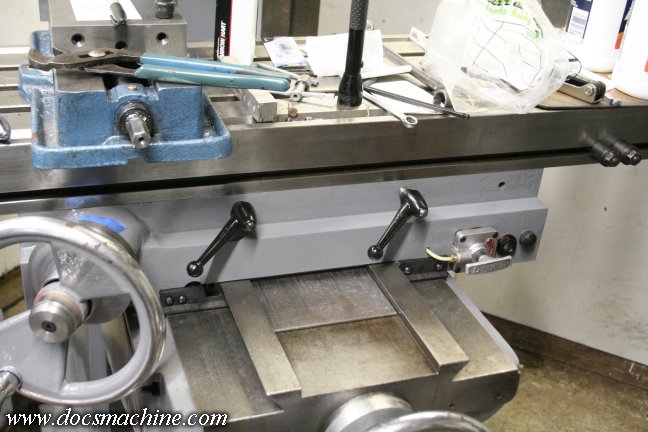 And there you have it. All shiny and clean and almost ready to use.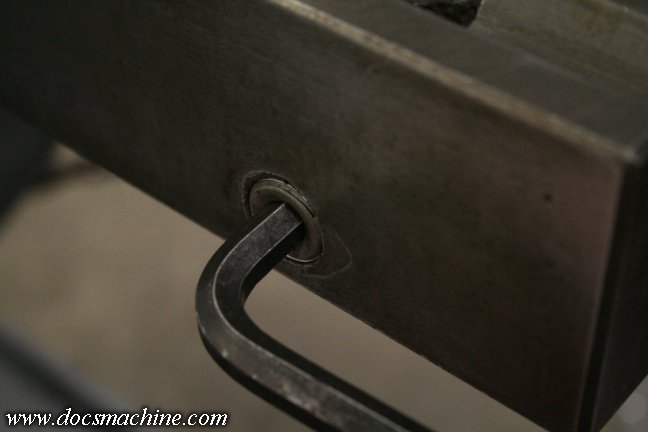 A few of the last bits were the installation of some pipe plugs at the table drains. I doubt I'll
be using flood coolant any time soon on this machine, but I do use hand-applied cutting oils,
so I plugged these ports to keep stray oils from dripping on the floor.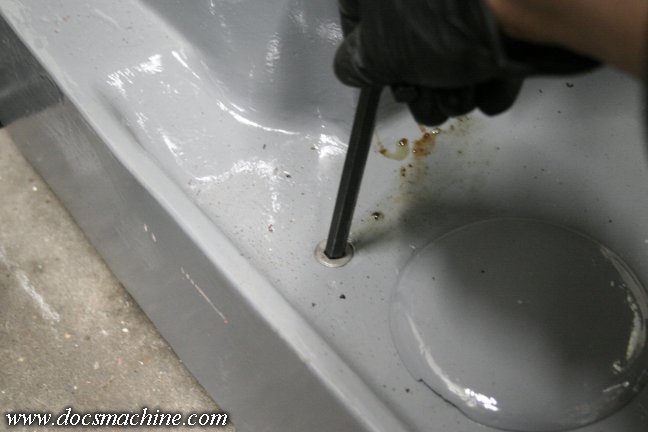 Similarly I capped the two drain ports in the base- these originally had hose nipples with hoses connecting
to the table drains, but as I won't be using those, in order to keep chips out of the sump, I plugged them.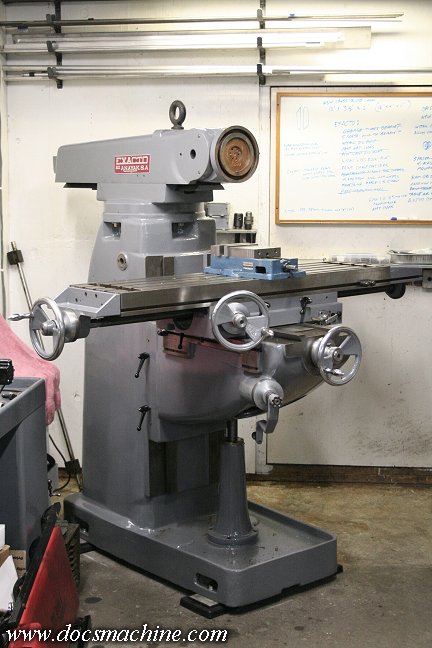 And there she is. There's still a few minor bits on the list to take care of, but apart
from those, the machine is essentially finished and ready to use!
Well, except, of course, for the head... :)

All text, photos and graphics Copyright 1998- 2016, Doc's Machine & Airsmith Services. All Rights Reserved.
Information contained in these pages is for reference and entertainment purposes only. Our methods are not always the best,
quickest, safest, or even the correct ones. It's up to you to know how to use your own machines and tools.
Keep your fingers away from the spinny blades o' death and you should be all right.