[
Return to Main Page
] [
Return to Projects Index
] [
Doc's Machine & TWB Store
] [
Contact Us
] [
The Whiteboard Webcomic
]
Anayak "Exacto" Vertical Mill Rebuild, part 14: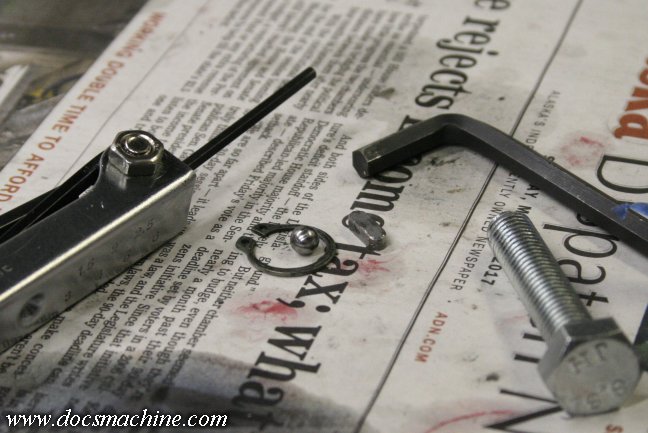 Uh-oh! The bane of the machine rebuilder: Leftover Parts! :)
Fortunately, I was able to figure out where they went, thanks to the extensive photos I'd taken during
the disassembly. The snap ring went on the feed drive shaft under the clutch, the key went to the
fine-feed handwheel collar, and the detent ball goes to the backgear-engagement lever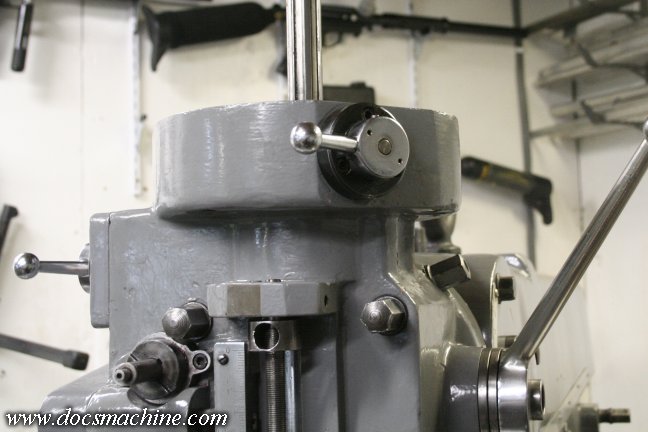 Now that the feed drive system is in place, the last piece was to install the drive engagement lever.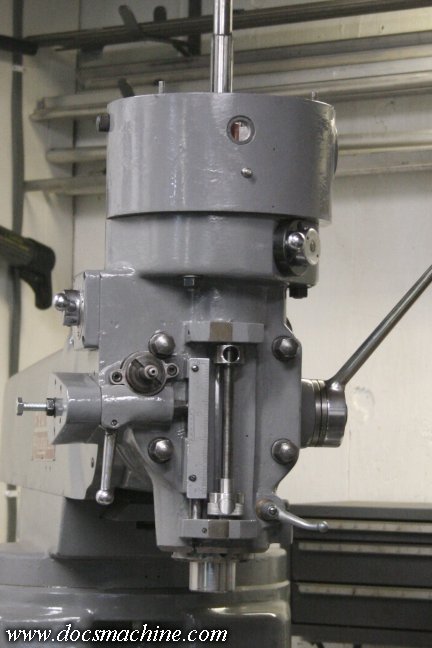 After that, I was able to cap off the assembly with the backgear section.
The backgear is just two simple assemblies, the spindle drive gear with its shifter shoe,
and the matching two-gear idler cluster at the back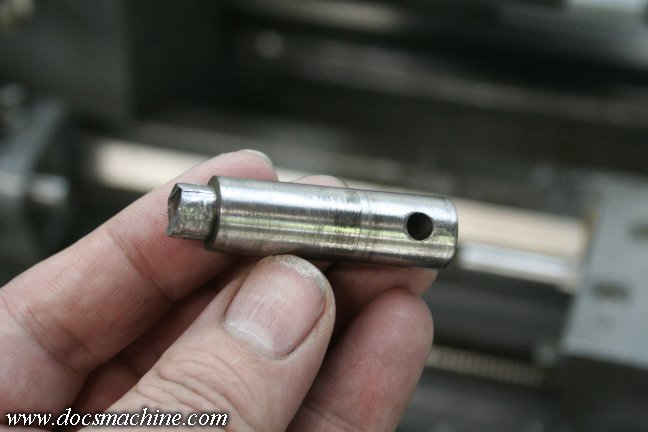 Now, the next big problem with the build so far: The back-gear engagement lever had been snapped
completely off the shaft. Fortunately the loose lever was included with the machine- losing that would
have made this little problem just that much worse.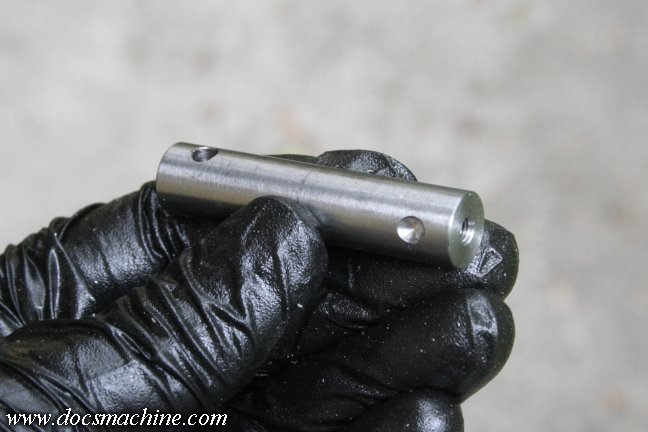 After some thought, and an unsatisfactory attempt to simply duplicate the original shaft,
I made a new one, without the step where it passes through the lever body.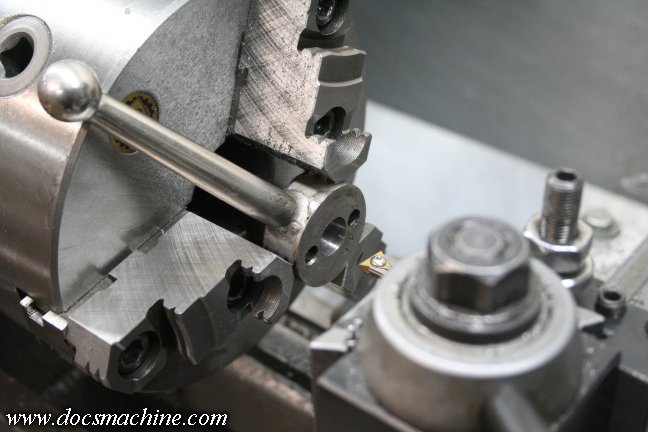 The lever was then bored out to accept the larger shaft...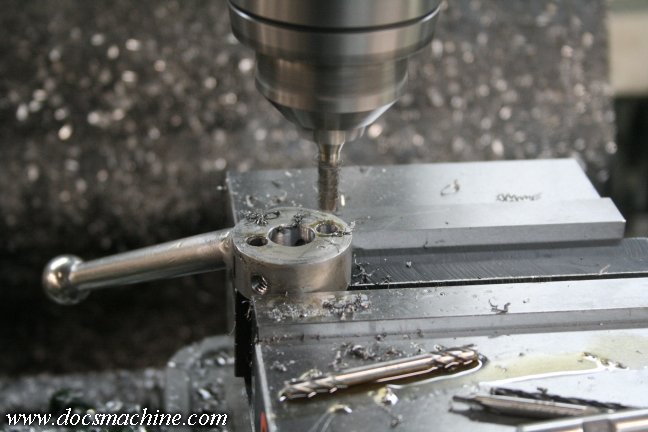 And then I slightly reamed out the detent-ball holes, to accept .250" balls, rather than the original
.239" (or thereabouts) balls, which had, of course, long since been lost.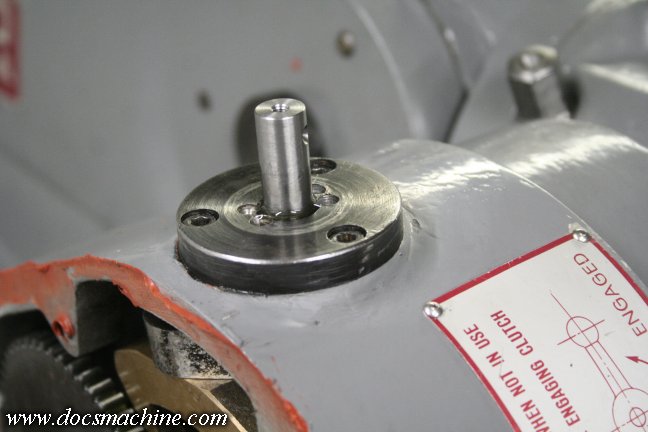 Since the back gear runs in oil, the shaft mounting collar and screws have to be sealed
against leakage. There's also a seal inside, for the shaft which is then slipped into place.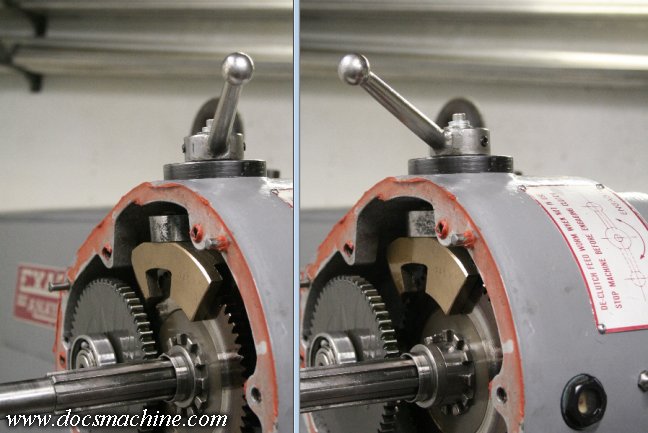 Now, here's the trick, which screwed up my first attempt at this: The back gear drive plate has to move a fixed,
predetermined distance, and have the detent balls "lock" the handle into the exactly right place. When the
gear is up (on the left) the center dog splines engage matching drive splines in the top plate's stub shaft.
If the detents don't hold it properly, it'll "fall" and disengage the spindle drive.
After a surprising amount of finagling, I was finally able to get it set properly and snugged into place.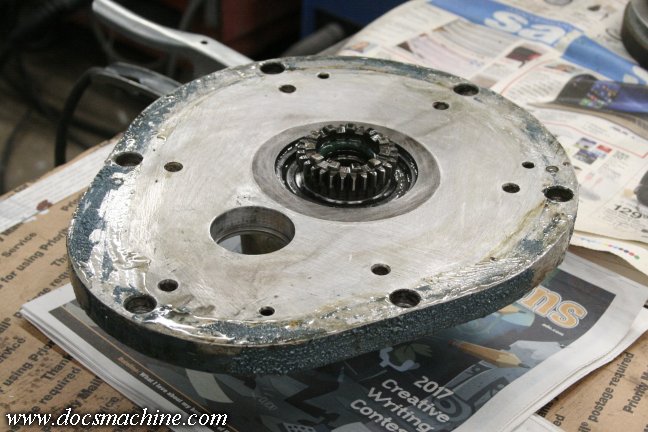 The top cover was in fine shape with good bearings, so I just stripped the last of the old paint and cleaned it.
And sealed, set into place, and torqued down. The backgear lever is tested
triple checked, and appears to work perfectly. We'll see as soon as
we can install and wire the motor.

All text, photos and graphics Copyright 1998- 2017, Doc's Machine & Airsmith Services. All Rights Reserved.
Information contained in these pages is for reference and entertainment purposes only. Our methods are not always the best,
quickest, safest, or even the correct ones. It's up to you to know how to use your own machines and tools.
Keep your fingers away from the spinny blades o' death and you should be all right.