[
Return to Main Page
] [
Return to Projects Index
] [
Doc's Machine & TWB Store
] [
Contact Us
] [
The Whiteboard Webcomic
]
Anayak "Exacto" Vertical Mill Rebuild, part 16: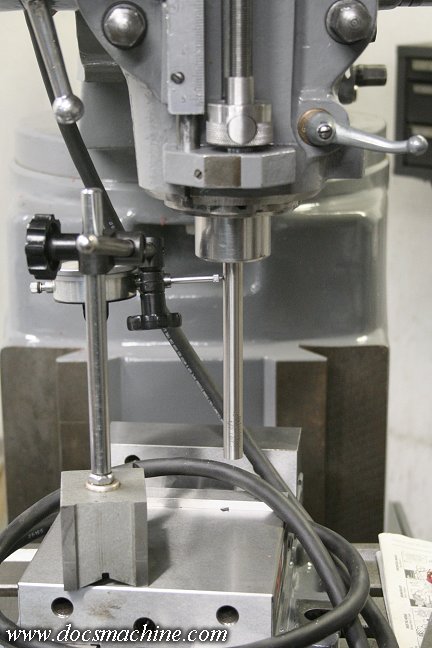 As soon as it started rotating, it was obvious the spindle was bent.
As in see-it-with-the-naked-eye bent. An indicator on the OD of the collet
bell showed about 8 thou TIR, and on a ground rod in a collet maybe
as much as 12 thou. Might not sound like much, but that's a
huge
error for a machine tool.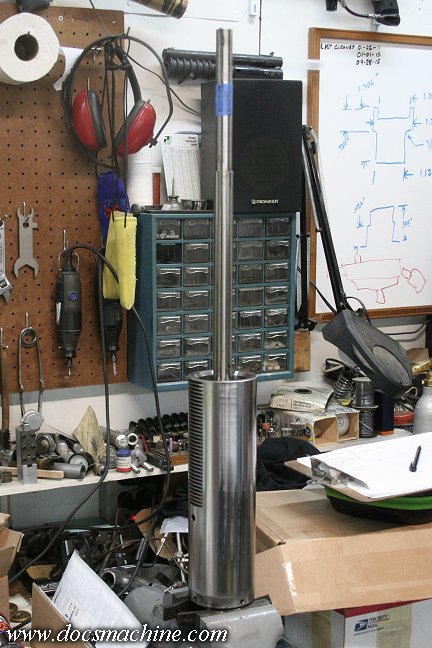 So I pulled the spindle and set about disassembling it.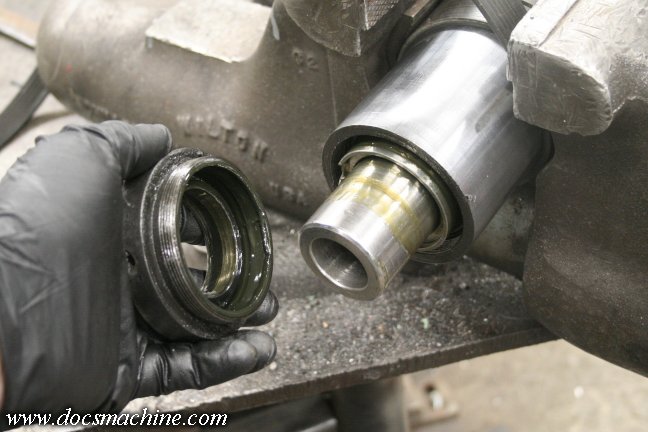 Disassembly, as it turns out, was easy. Basically the nose cap unscrews...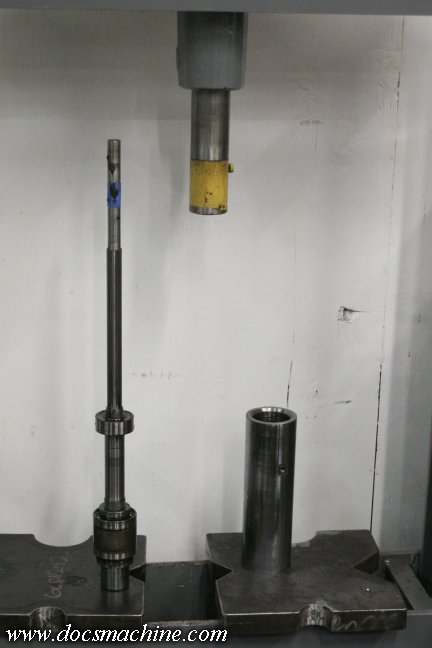 And then the entire spindle is (gently) pressed out of the quill.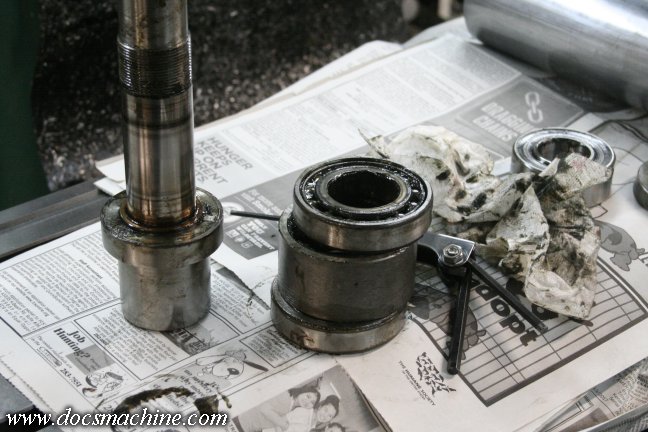 There's a locking ring above the bearings, removed that and pressed the pair and ther spacer off.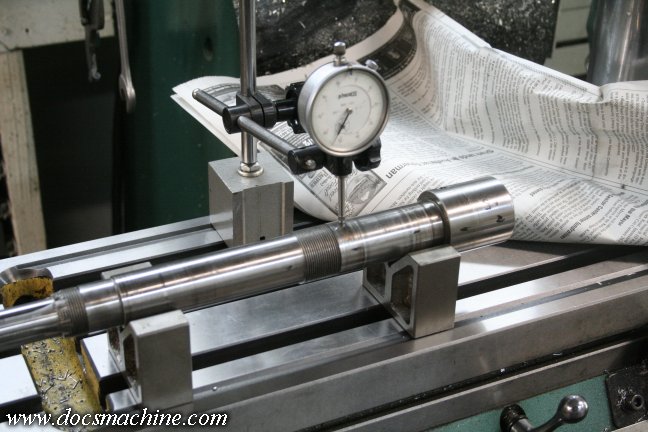 Once cleaned and scrubbed, it was time to survey the damage. First up, V-blocks and an indicator...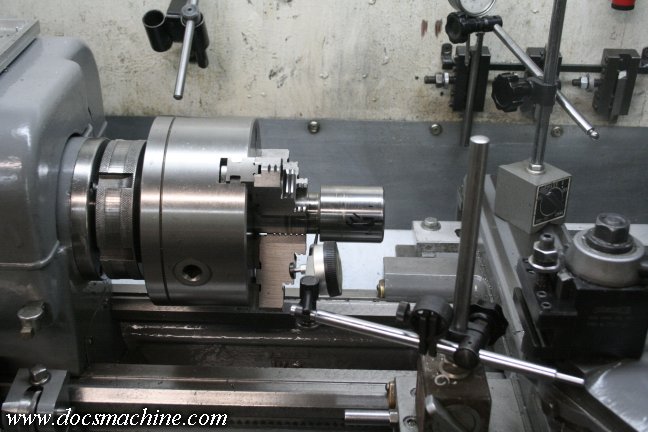 Then chuck it up in the lathe just to spin it for an indicator. Fortunately, almost all of the damage was
confined to the "step" where the collet bell meets the bearing boss. Total indicated runout, 0.008".
The question then, was do I try to press most of the bend out, then machine back to true,
or just go ahead and machine it? Being just eight thou out, I ultimately decided to
go ahead and machine it back to round.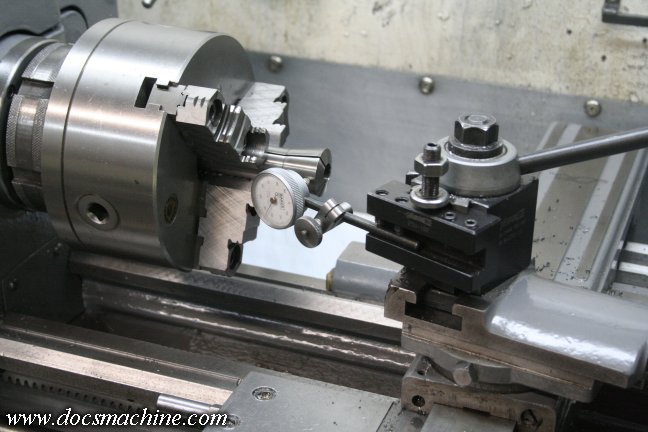 The only tricky part of that is the collet taper needs to be absolutely spot on. So I gently chucked up
an R-8 collet in the lathe (the jaws are holding the step at the threaded end, and aren't collapsing the
collet) and used an indicator to get the travel of the compound to exactly the same angle.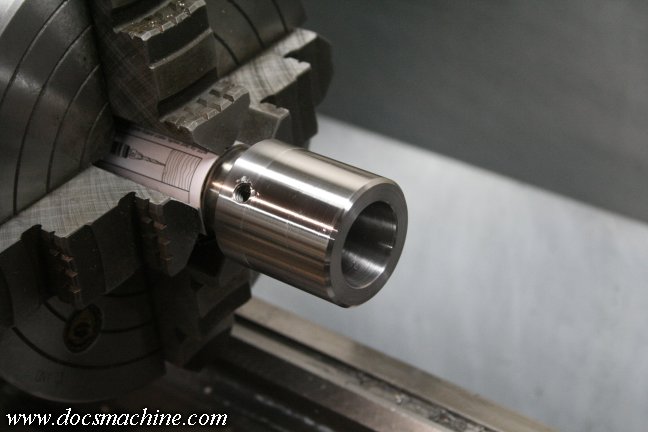 After that, it was a fairly simple turning exercise, using a sharp carbide insert with a small nose radius.
The OD cleaned up nicely at .009", plus I faced the end, and lightly recut the edge taper. The collet
taper was bored carefully with the compound only, and I left a bit because it will be finish-ground
once the spindle is reassembled. Grinding it as it spins in its own bearings helps assure it turns
as absolutely concentrically as possible.

All text, photos and graphics Copyright 1998- 2017, Doc's Machine & Airsmith Services. All Rights Reserved.
Information contained in these pages is for reference and entertainment purposes only. Our methods are not always the best,
quickest, safest, or even the correct ones. It's up to you to know how to use your own machines and tools.
Keep your fingers away from the spinny blades o' death and you should be all right.