[
Return to Main Page
] [
Return to Projects Index
] [
Doc's Machine & TWB Store
] [
Contact Us
] [
The Whiteboard Webcomic
]
Rebuilding an Arboga E-825-L Gear-Head Drill Press, Part 6: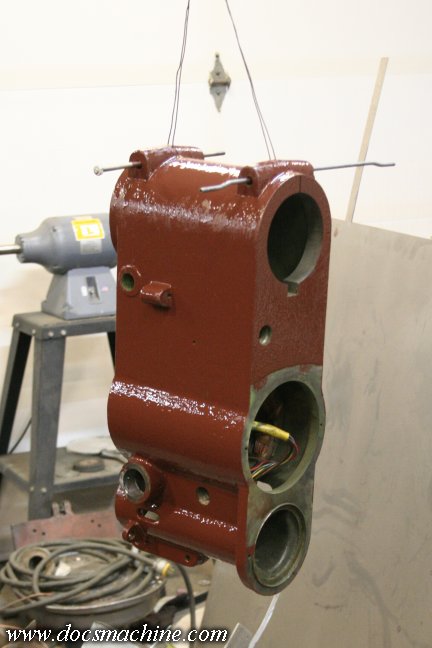 Finally, paint. A coat of brown primer, then more machine grey.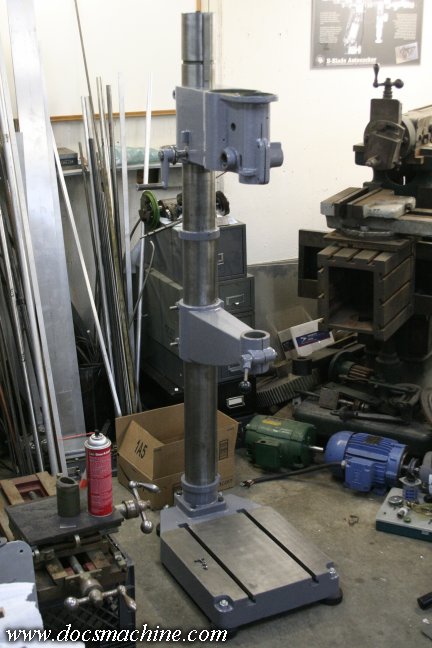 Once the paint had dried enough to handle, I slipped it onto the column and held it in place with one
of the pinch bolts at the back. I was then free to start reinstalling the freshly-cleaned rack and gears.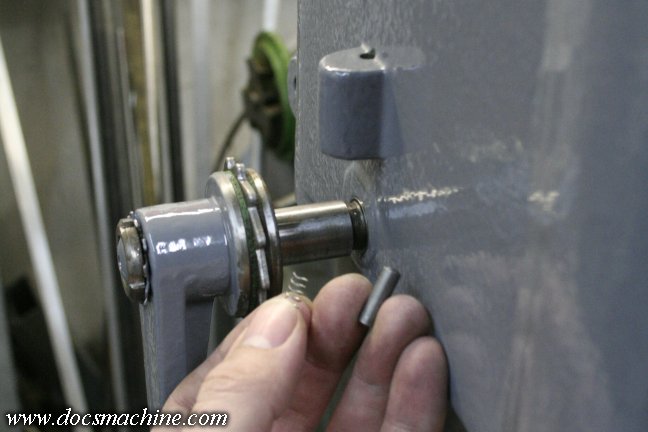 The head rack handle has an interesting arrangement with a one-way sprag. It ratchets going up, against this
spring-loaded detent, but is eased down by the gear sliding past those fiber "clutch" pads on either side.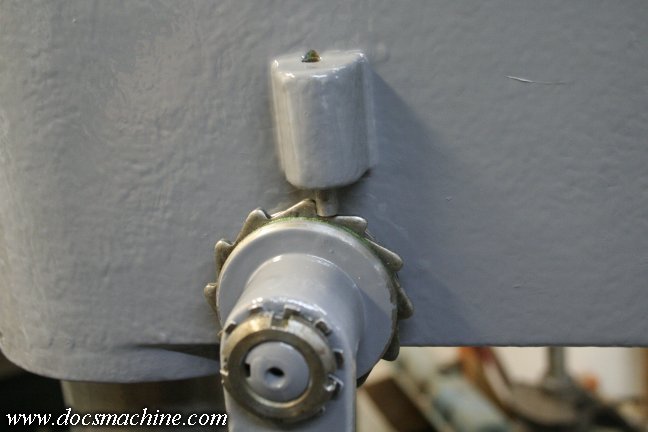 The nut on the end of the handle allows a sort of preload against the 'clutch' pads. It's an interesting way to
do it without the benefit of a self-locking worm gear. Next up, we start tossing the gears back in.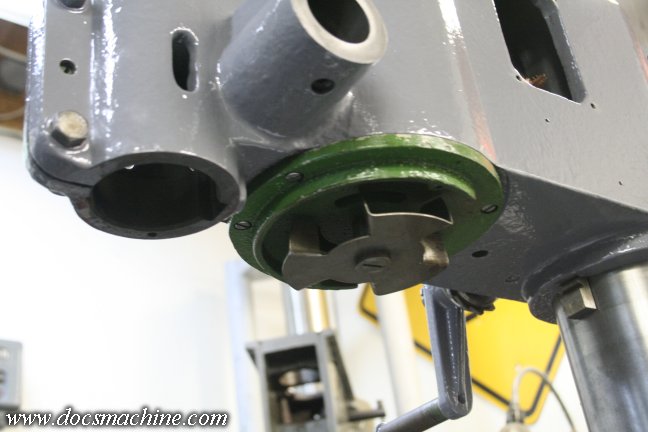 Once the head casting was secure to the column, it was time to drop in the internals.
First up was the motor shaft and rotor- the bearings were in good shape, so I just cleaned it
a bit, slid it into place from underneath, and bolted the end plate into place.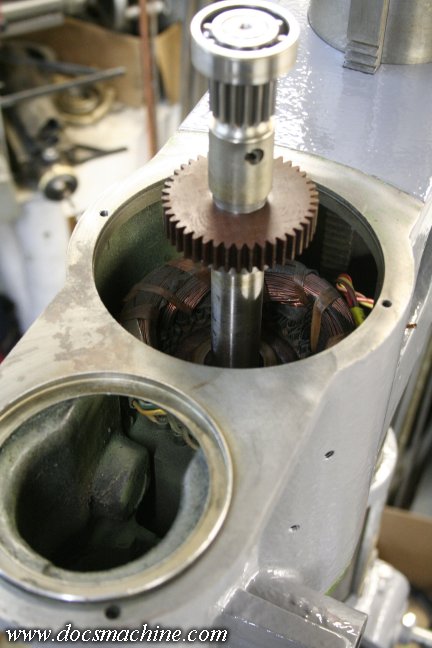 Up top, you can see the rotor, its two drive gears, and the upper bearing.
The larger gear is phenolic, a kind of fiberous plastic.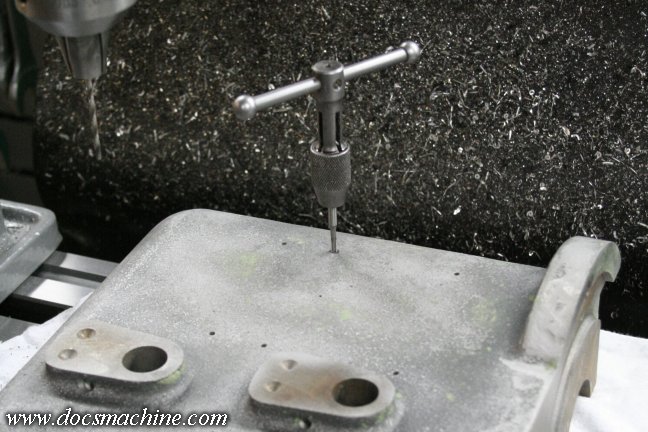 I'd removed the riveted-on data plates from the gearbox housing, in order to strip the old paint and
degrease everything. Rather than replace the rivets, I generally drill and tap the original holes to 4-40,
and use tiny button-head stainless screws to reattach the plates.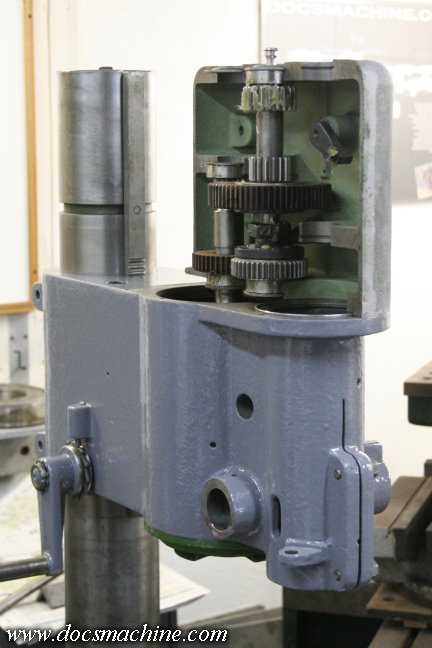 With that done, I slid the lever-side of the gearbox case into place. The lower lever
has to mate up to the shift dog on the idler shaft.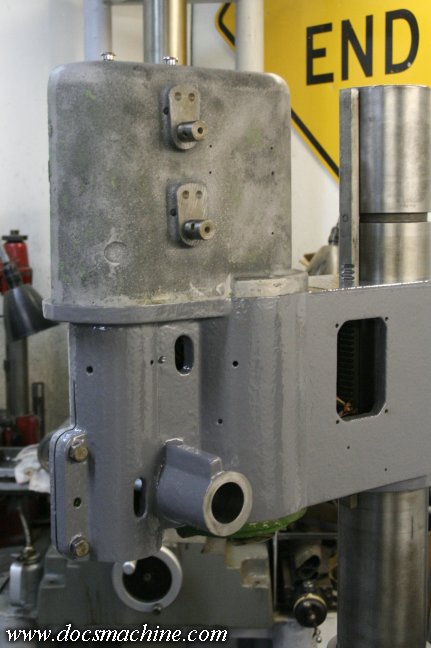 The case half slips over the base casting, and "indexes" on a lip around the spindle opening.
Then it's just held in place by several screws from underneath the front edge.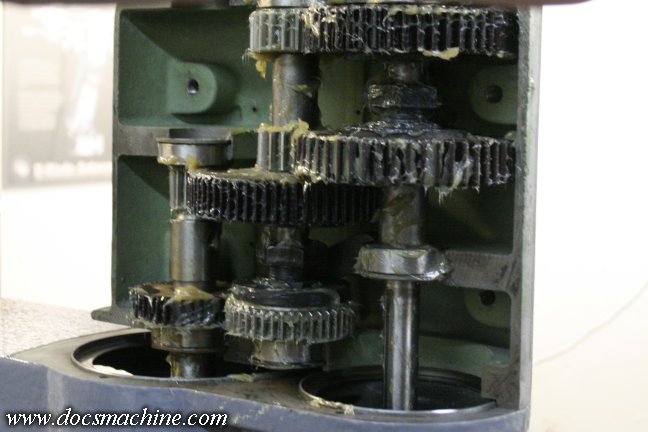 The old lube appeared to be mostly dried grease, despite the fact the two taller shafts have Gits-type oil
cups at the top. I smeared fresh axle grease on everything before adding the other half of the gearcase.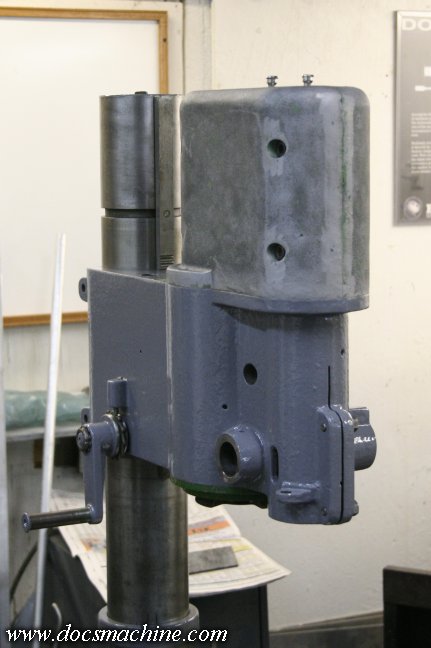 The left half slips into place, and the two are held together with four heavy Allen-head
bolts, plus more screws from under the front lip.




All text, photos and graphics Copyright 1998- 2017, Doc's Machine & Airsmith Services. All Rights Reserved.
Information contained in these pages is for reference and entertainment purposes only. Our methods are not always the best,
quickest, safest, or even the correct ones. It's up to you to know how to use your own machines and tools.
Keep your fingers away from the spinny blades o' death and you should be all right.