[
Return to Main Page
] [
Return to Projects Index
] [
Doc's Machine & TWB Store
] [
Contact Us
] [
The Whiteboard Webcomic
]
Rebuilding an early Covel Type 15 Surface Grinder
Part 7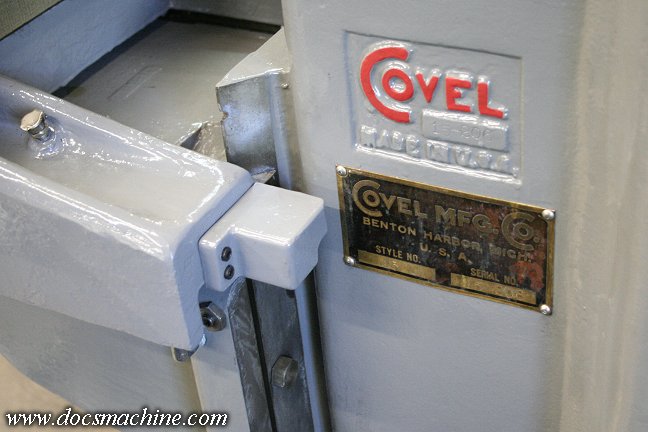 A couple of those detail bits were adding the table way extension covers, and reinstalling the
etched-brass machine ID tag, using small stainless 4-40 buttonhead screws.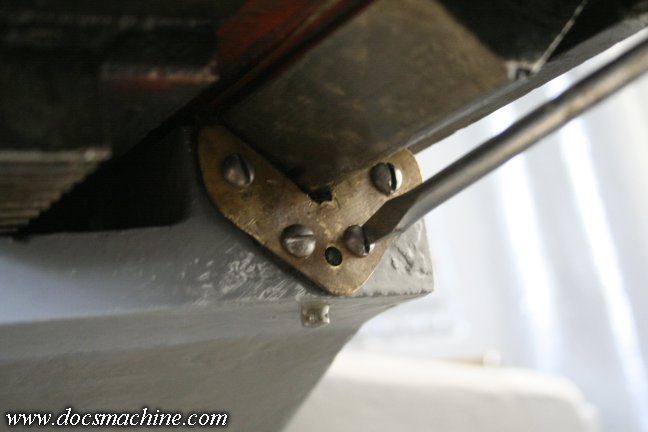 Then all four way wipers got cleaned up, lightly straightened, and reinstalled.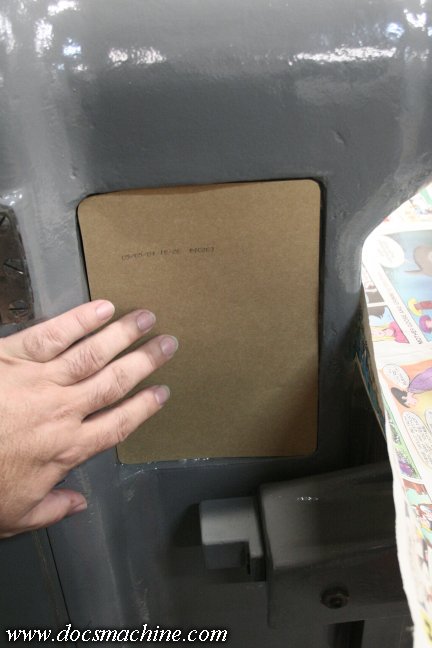 Then it was time to start working on the power supply. I'm not sure what was
originally in this hole in the left side of the main casting, but it was ideally sized
to accept a VFD. I started by making a cardboard template of the opening.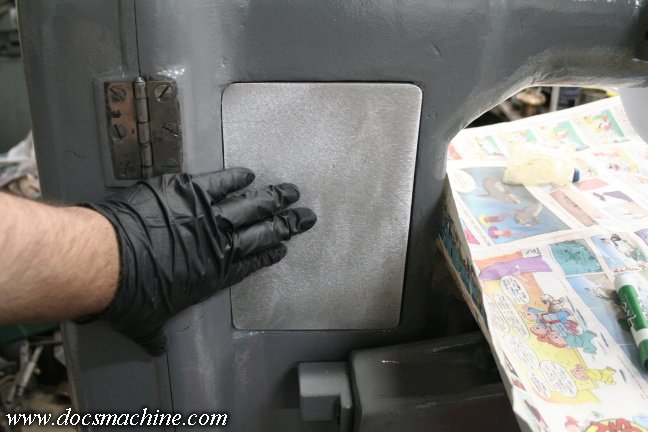 The template was easily transferred over to a chunk of 3/16" aluminum sheet, bandsawed out, and trimmed to fit.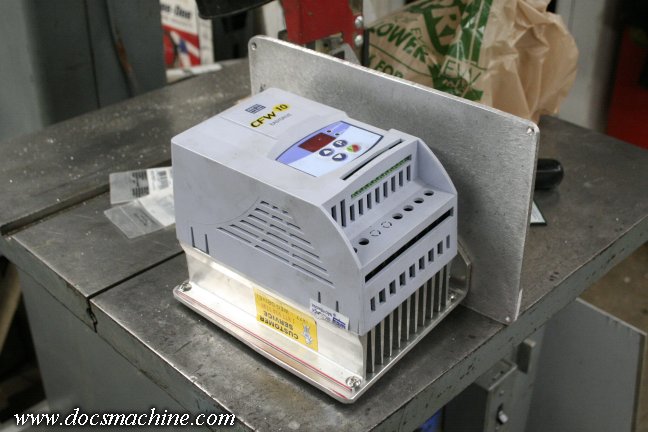 Once drilled and countersinked for mounting screws, a second piece was cut, bent,
drilled and tapped to go in the inside, in order to hold the VFD.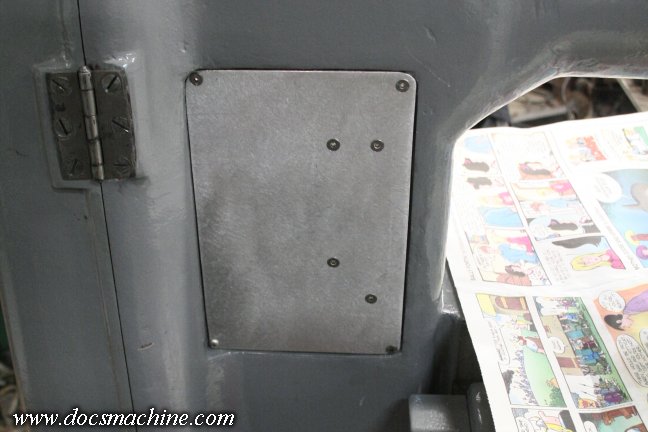 Installed, from the outside...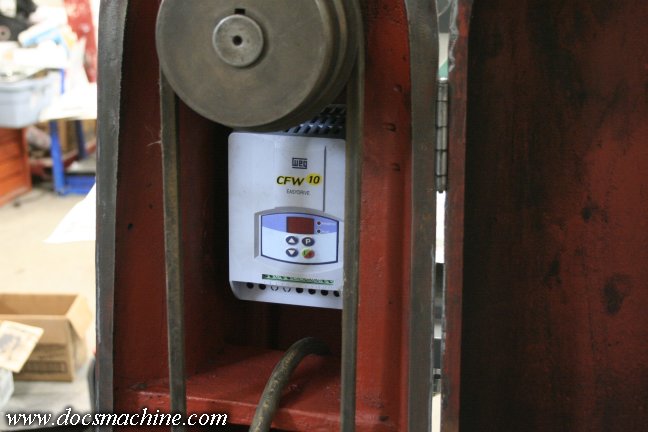 And installed, from the inside. There should be very little grit and dust in there,
so the VFD should be fairly well protected.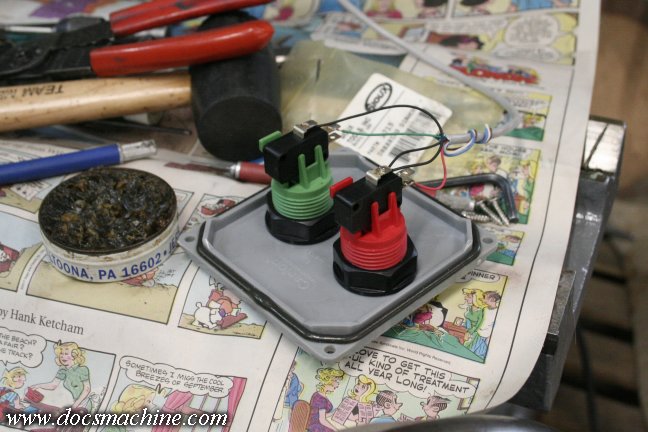 Another pair of my classic arcade-style pushbuttons for the low-voltage VFD control signals..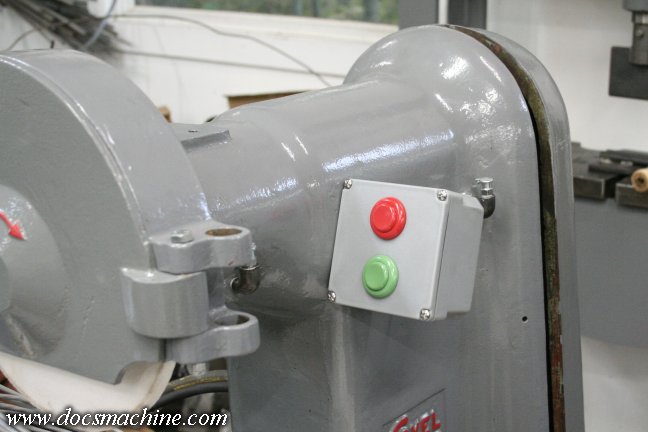 And a weatherproof PVC junction box from the local Home Depot, and we
have a nice, functional set of controls. Why is it angled? The machine is actually
surprisingly short, so I angled the box to face up towards the operator a bit more.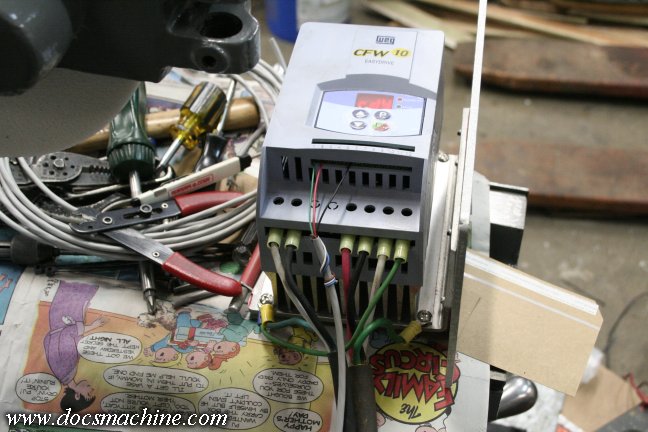 After that, we run all the wiring, and get ready for the first powered test.

All text, photos and graphics Copyright 1998- 2017, Doc's Machine & Airsmith Services. All Rights Reserved.
Information contained in these pages is for reference and entertainment purposes only. Our methods are not always the best,
quickest, safest, or even the correct ones. It's up to you to know how to use your own machines and tools.
Keep your fingers away from the spinny blades o' death and you should be all right.