[
Return to Main Page
] [
Return to Projects Index
] [
Doc's Machine & TWB Store
] [
Contact Us
] [
The Whiteboard Webcomic
]
Rebuilding and Upgrading a Jet JMD-20VS Mill-Drill, Part 8: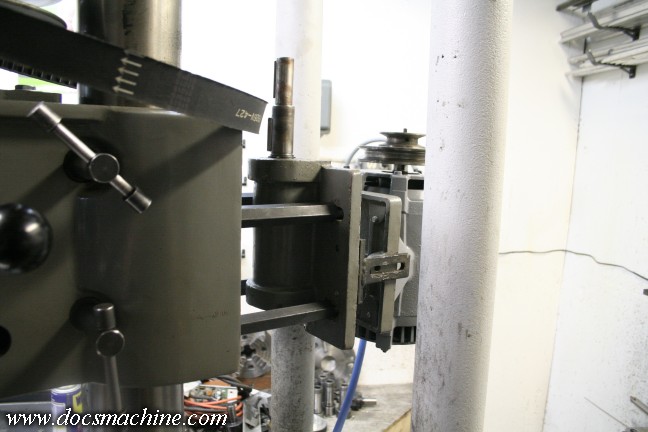 As I said in the previous entry, the motor-to-jackshaft pulley was mismachined, and there was no easy way
to fix that, so I just ordered a new one. The reason for the jackshaft is to give the machine two speed ranges-
high and low. That might be necessary for a drill press (which is what this was based off of) but it's not all that
necessary for a milling machine- and besides, I'm putting a VFD on this thing, so I'll have a wide range
of electronic variable speeds, in addition to the mechanical ranges.
So I didn't bother trying to find a dual pulley, and just got a single. AND... I decided to get a different size.
The factory pulley was underdriven- the original setup was a 5" pulley on the motor, and a 6" on the jackshaft,
so the machine started out underdriven by something like 20%. Again, not a problem for a drill press, but that
would limit the top speed when used with small endmills. So I got a 5" pulley for the jackshaft, to run it 1:1.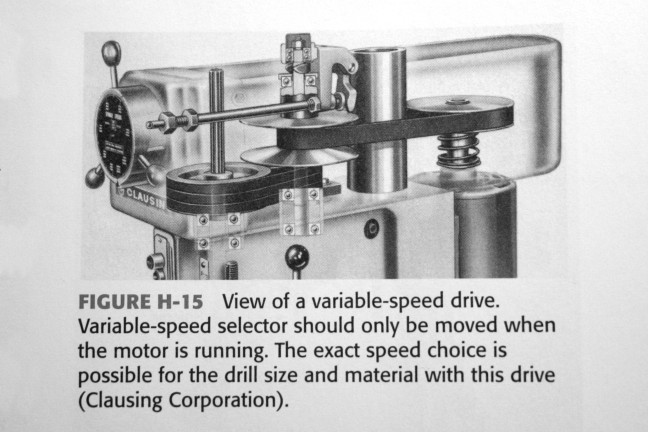 Now, you might ask, why not eliminate the jackshaft entirely, and mount the variable pulleys directly to the motor,
like the factory did on the original drill presses? (As shown in this Clausing-supplied photo from an old machine
shop textbook.) I almost did. It would simplify things a bit, and eliminate the parasitic drag of one belt and two
extra bearings. But, that would mean the motor bearings would be taking the load from the variable pulley.

Which would probably be fine, but was still a legitimate concern. I liked the idea of a heavier shaft
(thicker than the motor shaft) and considerably heavier bearings (almost twice the diameter of the
motor's bearings) supporting the pulley. And, I can always change it later.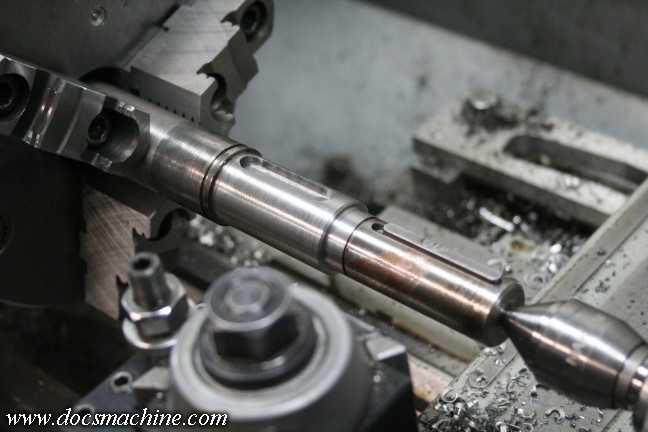 Anyway, in my earlier testing, I'd discovered two things about the jackshaft arrangement- first was that it, too,
had been machined to a metric spec. The shaft was 1.102", that is, 28mm instead of an Imperial 1",
or 1-1/16" (1.062".) So I ordered a taper-lock pulley assembly to fit a 1-1/16" shaft, and when it arrived,
I turned the shaft down to match it. One of the other things I noticed- as did a couple of viewers from the
last entry- was that the two variable pulleys were not aligned. The rear pulley was high by over a quarter
of an inch. So as you can see in the shaft photo above, I also pushed the shoulder of the
shaft down, by just over .300", to let the variable pulley sit that much lower.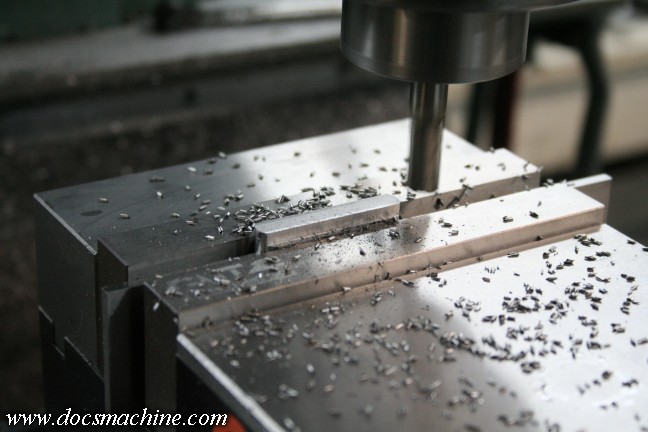 And, due to the new taper-lock pulley arrangement, I had to cut the new key again- this time down from 5/16" to 1/4".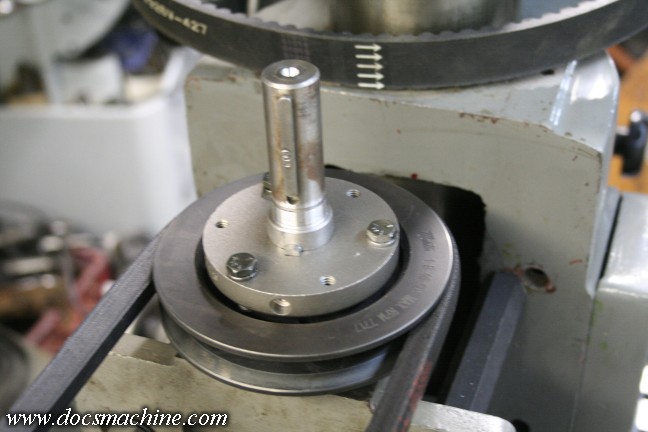 A taper-lock is just that- there's a tapered section that goes in the hub, that is pulled into the pulley by screws.
The tapered rim tightens it into place quite firmly. I like 'em better than the usual key-and-setscrew,
but they are, of course, more expensive.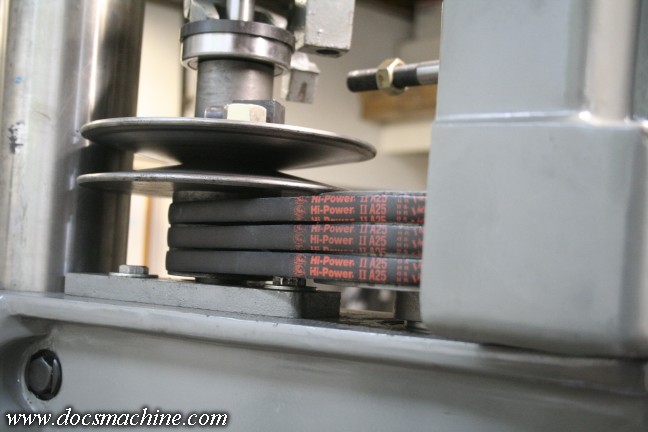 Then, since the rest of my new belts came in with the same order, I replaced the badly-matched set
of "matched" original spindle belts as well.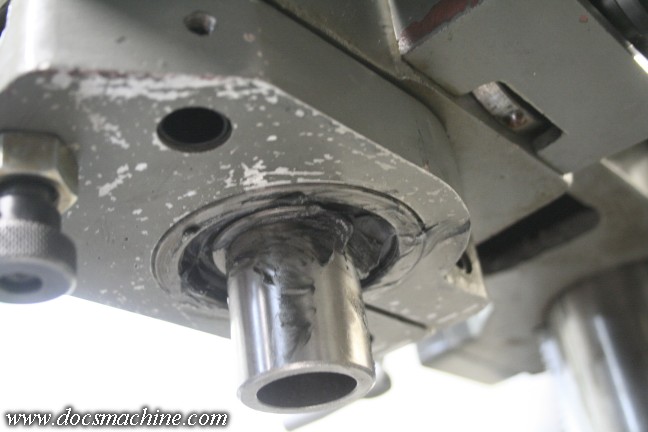 When I'd tested the drive earlier, I'd lightly lubed the new spindle bearings with oil, just to keep 'em good for
a few moments of testing. But this setup isn't really designed to keep oil in, so since most of it had dripped
out days earlier, I went ahead and greased them well with a high-pressure molybdenum grease.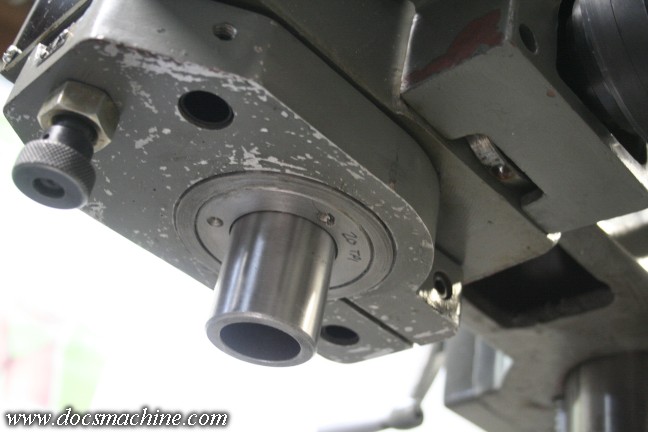 And installed the bearing cover. Note how this part, too, just has a couple of very shallow drilled divots-
all you can do is use a small drift punch and hammer to tighten or loosen it. At some point I'll probably
make a better one. Note the markered reminder to myself from a few years ago-
the threads, surprisingly enough, are 20 TPI.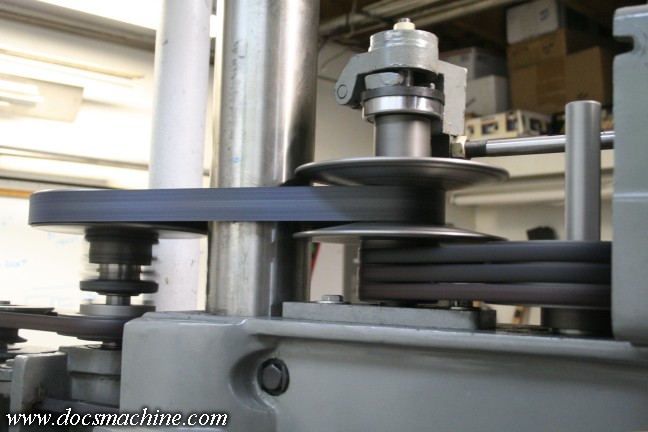 So finally, time for a fresh test! Success! Still not as smooth and quiet as the big Grizzly mill, but
a LOT smoother and quieter than it was. The variable drive functions smoother as well, running
through the full range easier than I ever remember it from before.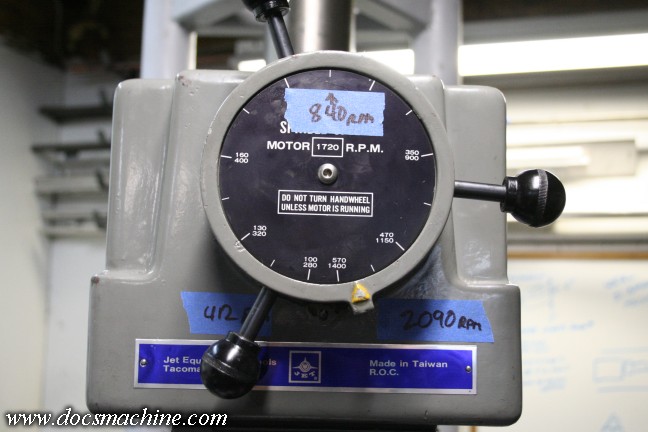 The one drawback being that, thanks to the change in pulley sizes at the motor, the front setting dial
is no longer accurate. Low speed was originally 280 RPM, and high was 1400. Now low is 412 RPM,
as measured with a handheld phototachometer, with top speed now a whopping 2,090 RPM!
I may have to make a new dial face.




All text, photos and graphics Copyright 1998- 2018, Doc's Machine & Airsmith Services. All Rights Reserved.
Information contained in these pages is for reference and entertainment purposes only. Our methods are not always the best,
quickest, safest, or even the correct ones. It's up to you to know how to use your own machines and tools.
Keep your fingers away from the spinny blades o' death and you should be all right.