[
Return to Main Page
] [
Return to Projects Index
] [
Doc's Machine & TWB Store
] [
Contact Us
] [
The Whiteboard Webcomic
]
Cleaning up an old Wellsaw M1000 Horizontal Bandsaw, Part 2:
While I didn't necessarily need to get it all the way down to bare steel, in the case of the legs, I wanted to
because both castings needed attention. The first one because it had this crack just below the cross bar.
It had been cracked for at least two coats of paint, and so it was time to fix it right.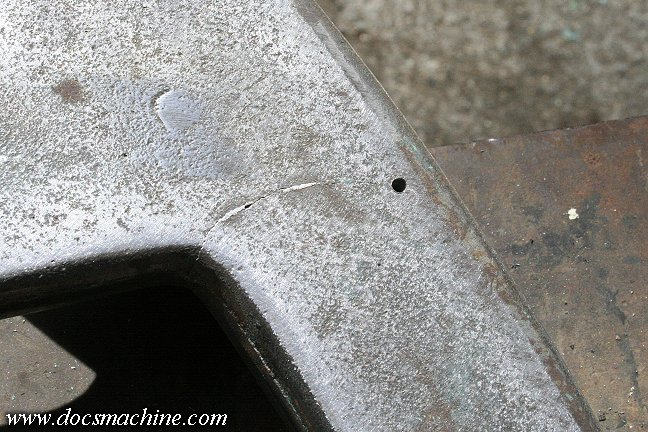 First, as always, I stop-drilled the end of the crack so it wouldn't spread further.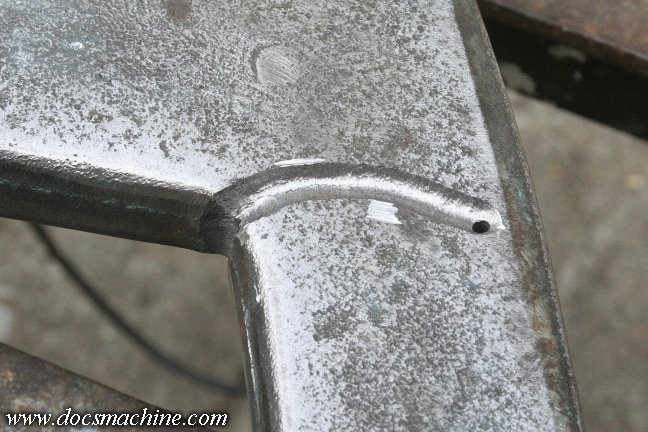 Then, with a cut-off wheel and a die grinder with a rotary file, I "veed" out the crack on
both sides to allow for better weld penetration.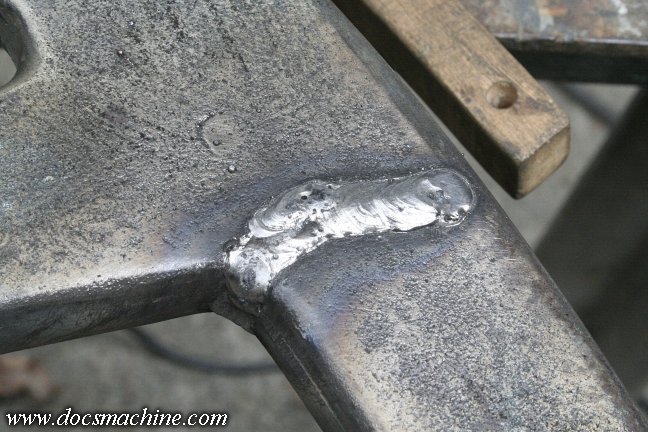 Then it was a simple matter of stick-welding it up, gently and carefully, with "Muggy" rod,
which is specifically designed for welding cast iron.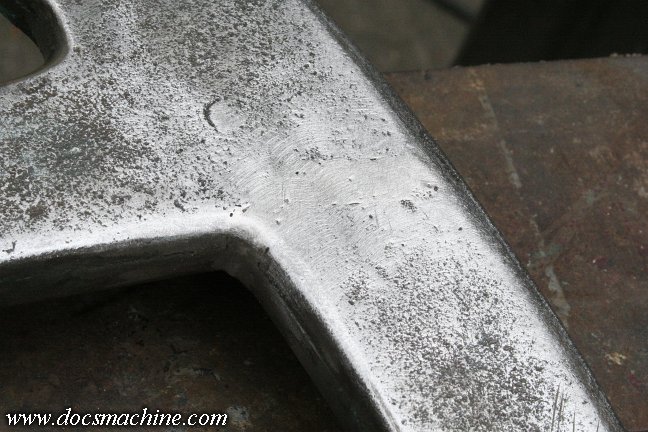 Once it had cooled, I carefully dressed the weld down with the same grinders and a DA sander,
and smoothed it up to be almost invisible.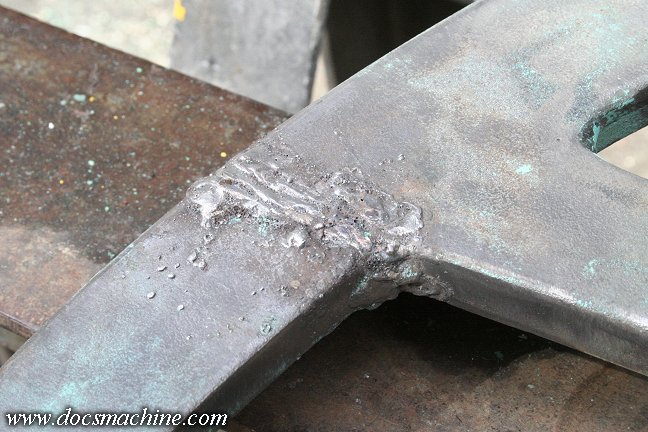 On the other casting, one of the legs had been broken entirely off, and badly welded back on, probably
with regular E6011 rod. The weld was ugly, but appeared strong and free of cracks, so rather than trying
to grind it all out and reweld, I simply dressed it down and smoothed it up for paint.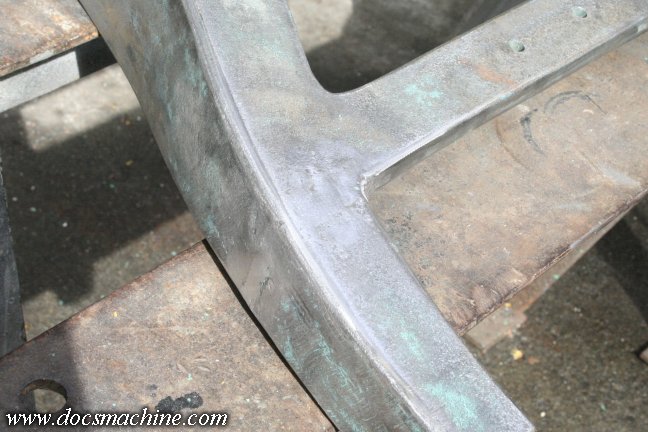 Fortunately no cracks or major porosity appeared, so it should be fine for now.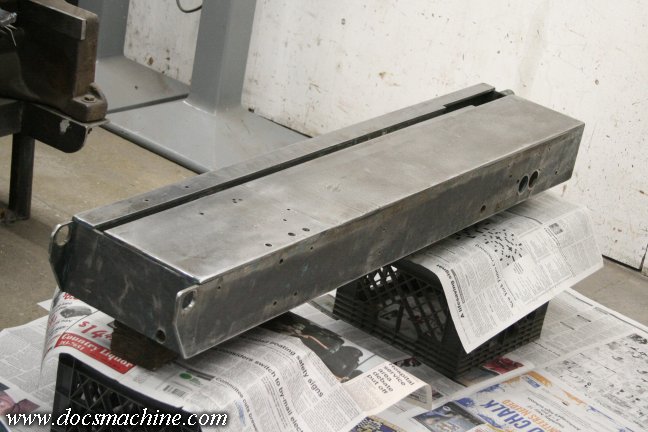 After that, it was time for paint. I'd managed to strip several parts and painted them all as a lot.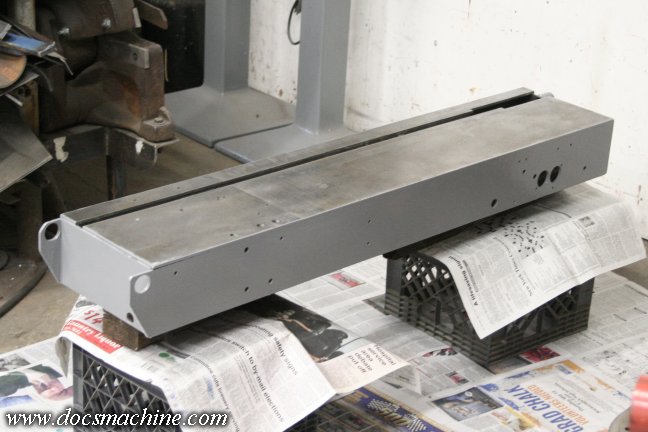 After two coats of my standard machine-grey alkyd enamel, I was ready to start assembling the frame.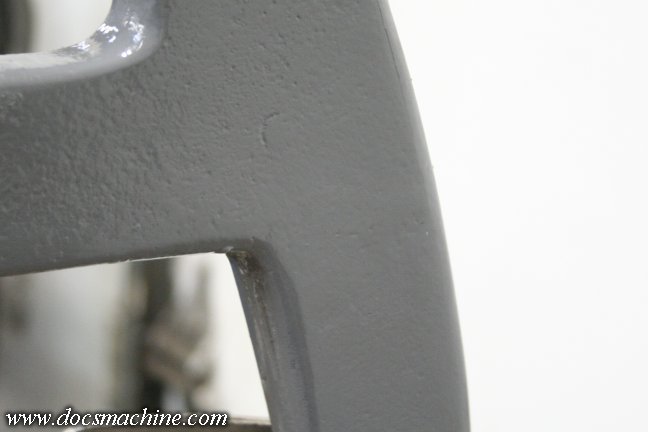 And once painted, the weld is almost invisible.
>

All text, photos and graphics Copyright 1998- 2018, Doc's Machine & Airsmith Services. All Rights Reserved.
Information contained in these pages is for reference and entertainment purposes only. Our methods are not always the best,
quickest, safest, or even the correct ones. It's up to you to know how to use your own machines and tools.
Keep your fingers away from the spinny blades o' death and you should be all right.