[
Return to Main Page
] [
Return to Projects Index
] [
Doc's Machine & TWB Store
] [
Contact Us
] [
The Whiteboard Webcomic
]
1962 Nichols Horizontal Milling Machine Rebuild, Part 1: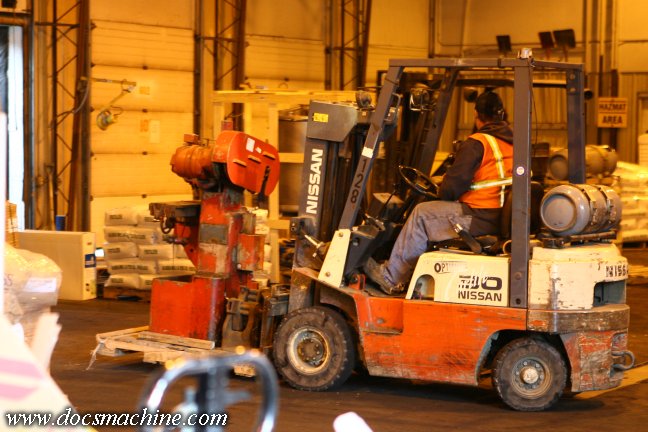 Back in 2008, I spotted a small horizontal mill on Craigslist. I'd been thinking of getting a horizontal, as they
can be useful for certain processes- and the Nichols is more useful still as it has a sliding head that can be
used in a "chop saw" like manner. I wasn't overly familiar with the brand at the time, but the price was
right, and it was a small machine, ideal for my limited-space shop.
I had to have it shipped down from Fairbanks, but the cost
was reasonable and the wait was short.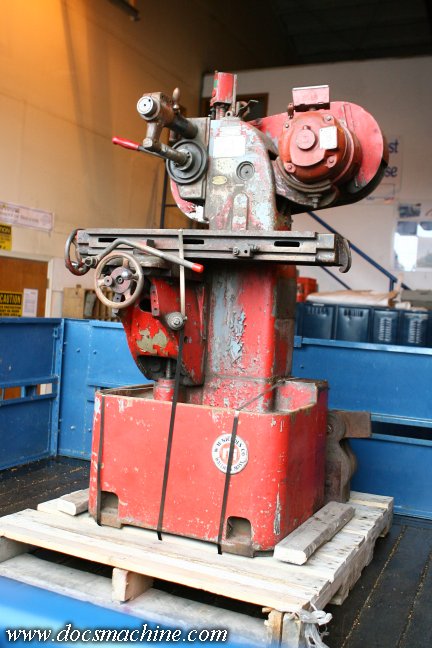 Loaded up into a borrowed truck and ready to head home. The machine
was
very
top-heavy, and the pallet was weak and tippy, but a few ropes
stabilized it, and I only had a few miles to go.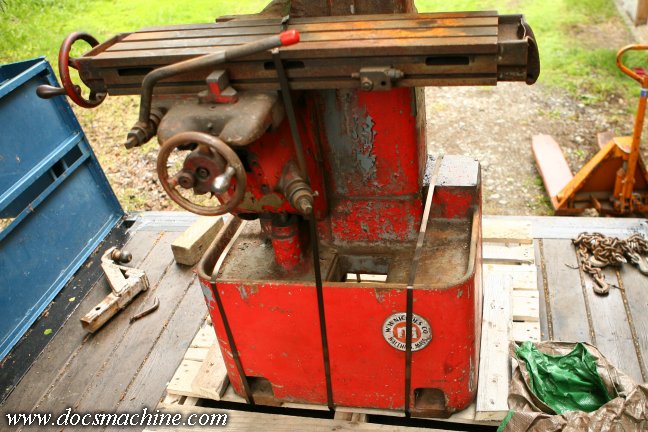 Once home, I was able to unload the big alligator shear I'd bought along with it, but the mill itself was too tall
and heavy for my engine crane. While I waited for a neighbor to bring some heavy equipment over to help
unload it, I took stock of my new aquisition.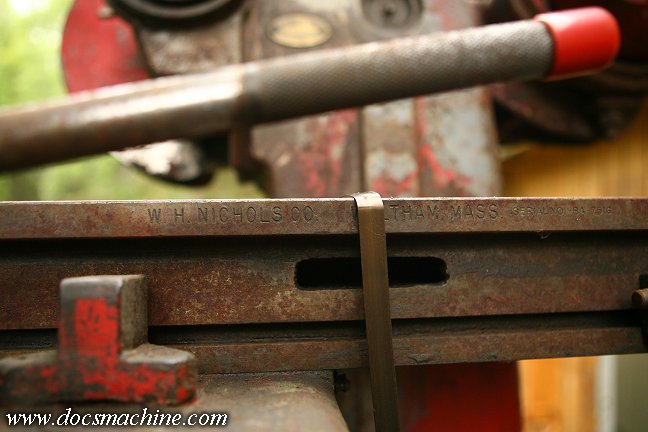 Most notably, it was well-used, rusty, and had been badly painted at least twice.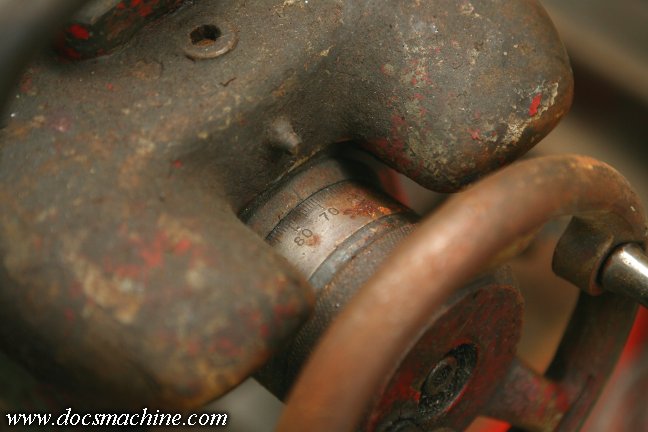 Almost all the bare metal had a light coat of surface rust, and some had some slightly more flaky rust.
Thankfully, many of the precision way surfaces had layers of dried coolant, old grease, and other
gunk that minimized the damage from rust, although they all had some degree of wear.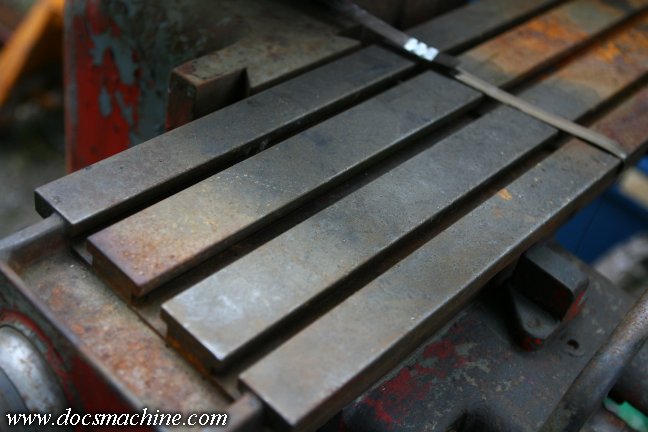 The table in particular showed evidence of many,
many
years of use.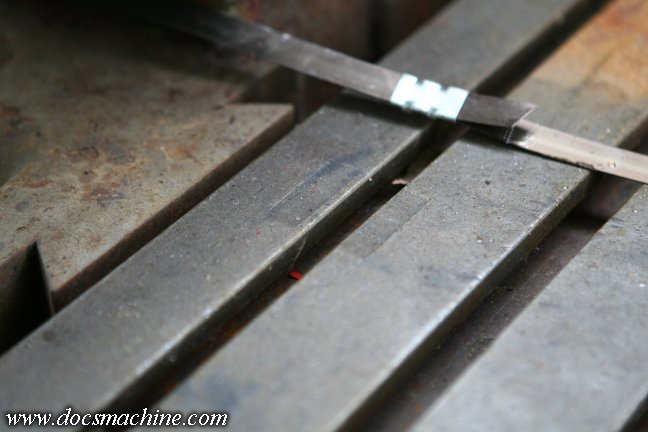 Thankfully, unlike as is usual on a typical indifferently-utilized vertical mill, there was only
this one mark on the table where a careless operator had 'touched down' with a cutter.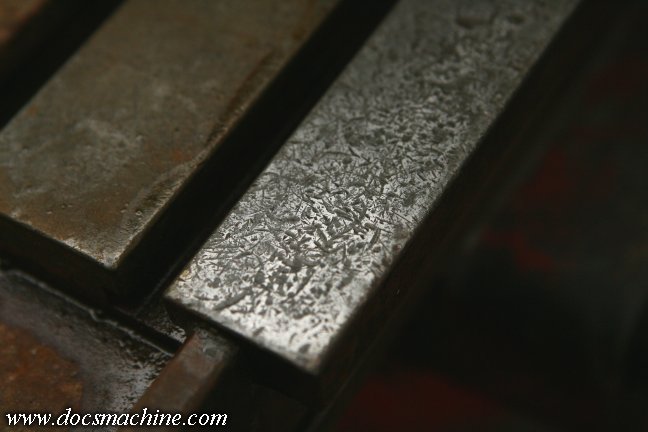 However, nearly the entire surface of the table, especially at the left-hand end, was well-covered in
countless small nicks, dings and scrapes, from many decades of careless operators dropping
wrenches, fixtures, tools, bolts, arbors, cutters and workpieces.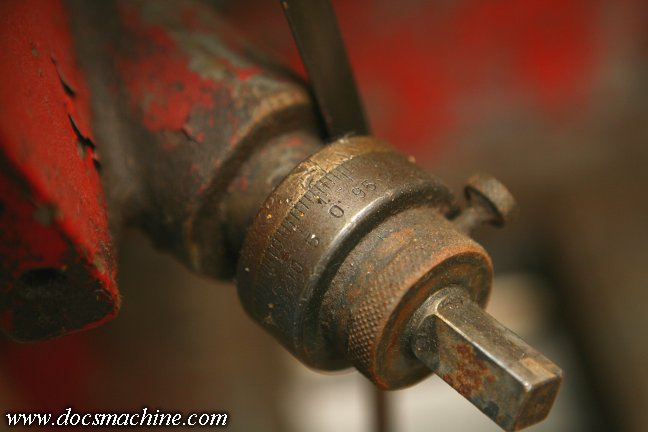 Fortunately, despite those obvious decades of hard use, much of the machine proved to be in
surprisingly good shape- grungy, rusty and nicked, but functional, readable and operable.

All text, photos and graphics Copyright 1998- 2017, Doc's Machine & Airsmith Services. All Rights Reserved.
Information contained in these pages is for reference and entertainment purposes only. Our methods are not always the best,
quickest, safest, or even the correct ones. It's up to you to know how to use your own machines and tools.
Keep your fingers away from the spinny blades o' death and you should be all right.