[
Return to Main Page
] [
Return to Projects Index
] [
Doc's Machine & TWB Store
] [
Contact Us
] [
The Whiteboard Webcomic
]
1962 Nichols Horizontal Milling Machine Rebuild, Part 2: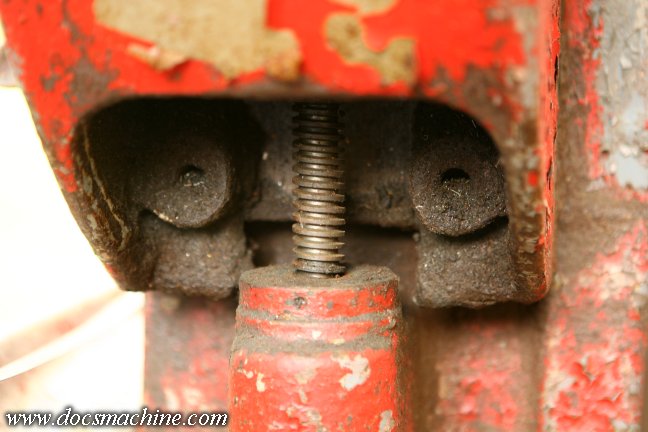 Being that this was a production machine- set up and then used to make a single cut on many thousands
of identical parts- some aspects, like the knee ways and screw, had virtually no wear at all.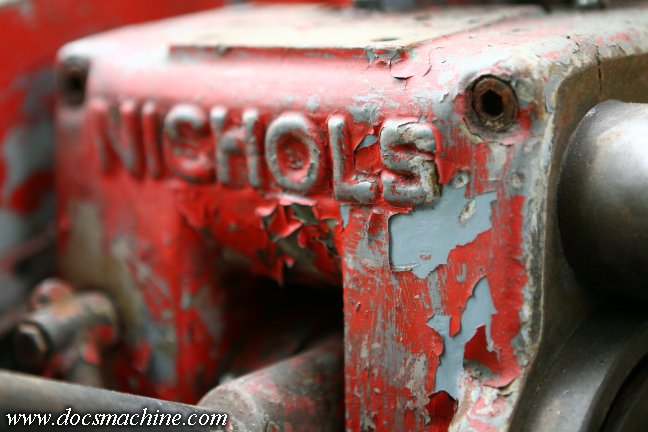 But, as noted, it had been painted- badly- at least twice, and possibly three times, for a total of
four coats of paint. Most of which, when I got it, was flaking off.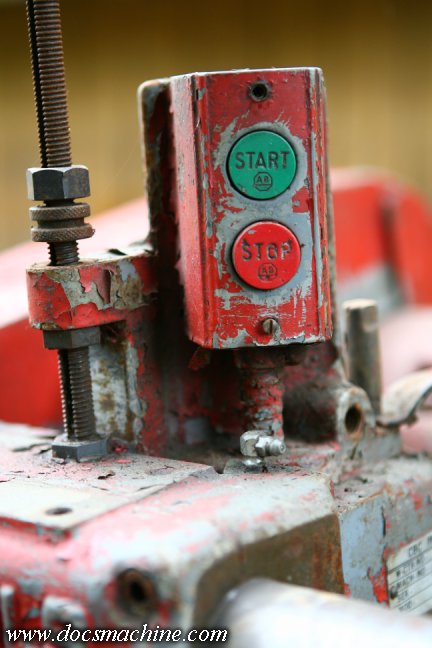 I unltimately decided the mill would require a complete teardown,
a full deep cleaning, and careful reassembly.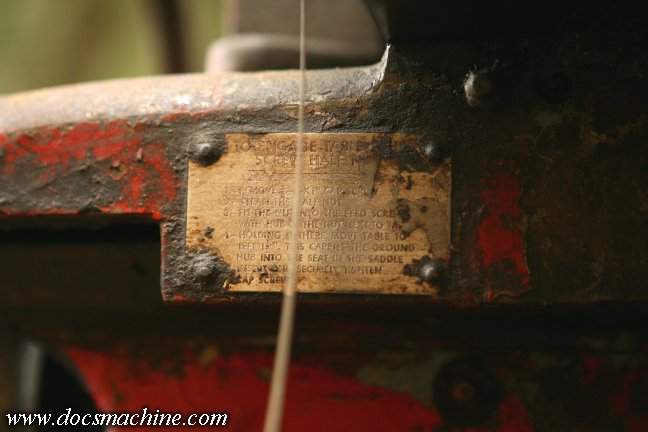 The machine could, theoretically, have simply been lightly cleaned, thoroughly lubed, and used more
or less as-is, but it would have been difficult to completely clean many of the precision ways, and
residual grit and dirt would have caused additional unnecessary wear.
Besides, certain parts were in need of proper repair, like the
X-axis leadscrew half-nut, which was missing entirely.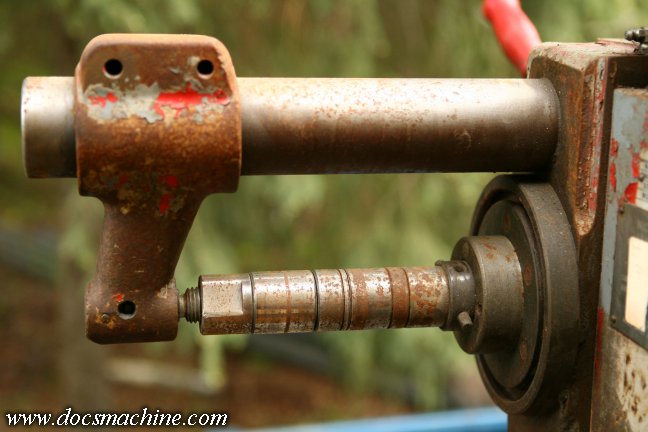 Thankfully, the mill came with a mounted arbor, not only because it's useful tooling,
but also the shank protected the spindle taper, preventing it from rusting.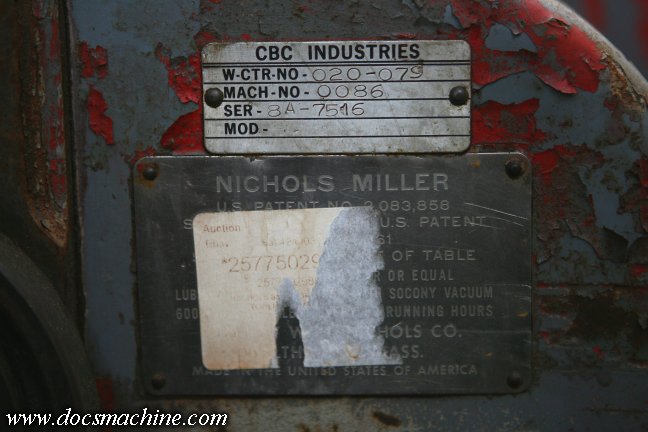 As noted, the machine spent virtually its entire life in at least two or more factories. As received, it had the
factory description and oiling tag (the larger plate shown) along with a second riveted tag from one
"CBC Industries". (There was also a paper tag, a leftover from an eBay auction sale.)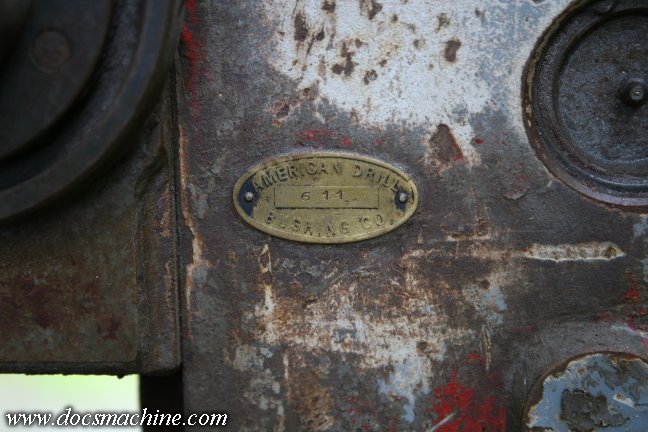 In addition to the CBC tag, was this riveted brass tag from "American Drill Bushing Co.",
a company that still exists, although they only make lifting rings today. So this machine
was important enough to at least two separate manufacturers, that they produced and
riveted on company ID tags.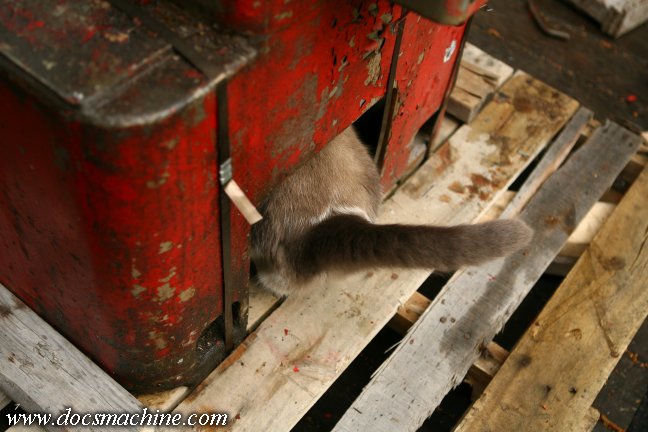 And finally, ShopCat
®
had to give it her own personal inspection, and certify it fit for use. :)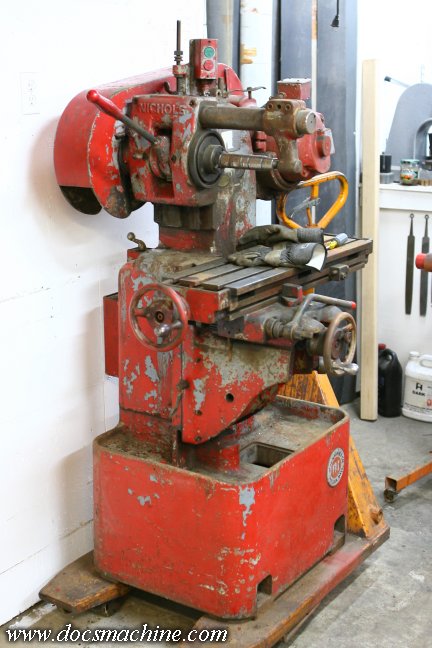 Once we were able to unload it from the truck, careful use of a pallet
jack got it moved into the shop, where it could be properly inspected
and carefully disassembled.

All text, photos and graphics Copyright 1998- 2017, Doc's Machine & Airsmith Services. All Rights Reserved.
Information contained in these pages is for reference and entertainment purposes only. Our methods are not always the best,
quickest, safest, or even the correct ones. It's up to you to know how to use your own machines and tools.
Keep your fingers away from the spinny blades o' death and you should be all right.