[
Return to Main Page
] [
Return to Projects Index
] [
Doc's Machine & TWB Store
] [
Contact Us
] [
The Whiteboard Webcomic
]
Refurbishing a Christensen 40 Ton Hydraulic Shop Press, part 2:


Refurbishing the chassis was easy- a quick pressure wash, a touch of sanding, a quick replacement
of the bent cross-brace, and a couple coats of machine-grey alkyd enamel. One thing that I regret
not thinking of before I slathered on the paint, was that cross-brace. Instead of the one, I should have
had two, each reaching across the outer ends of the "feet", and high enough I could roll my pallet jack
under them to lift and carry the press around, if need be.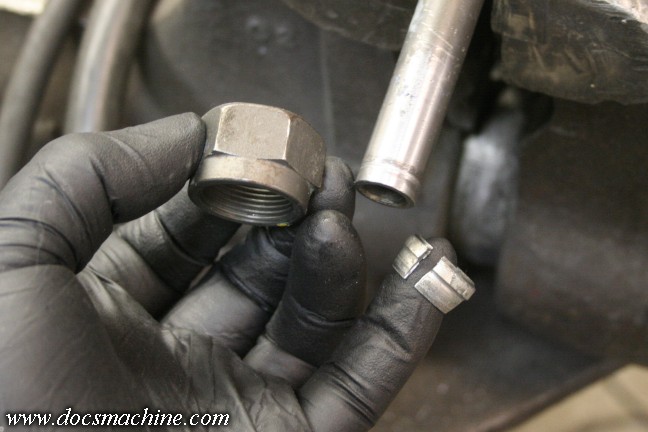 Moving on to the rest of the build, one of the first bits to hold me up was the hydraulic
line from the pump assembly up to the ram. It was a very heavy wall steel tube, already
bent to fit the press and pump, but had an oddball metric compression fitting. The previous
owner had misplaced the upper elbow fitting on the ram, and this was either old enough or
obscure enough I couldn't locate a replacement. Fortunately, although the tubing was 16mm,
a 5/8" Swagelok would probably fit, so I very gently grooved the old compression ring,
making darn sure not to cut the tubing, and cracked it off with a cold chisel.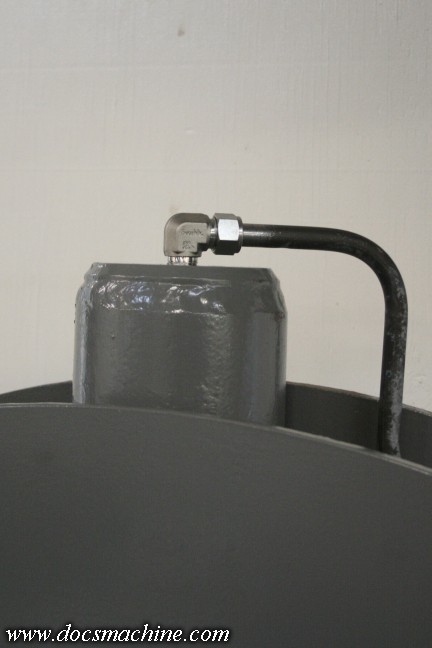 After that, the tubing needed just a light sanding and fit right
in to the new stainless Swagelok elbow.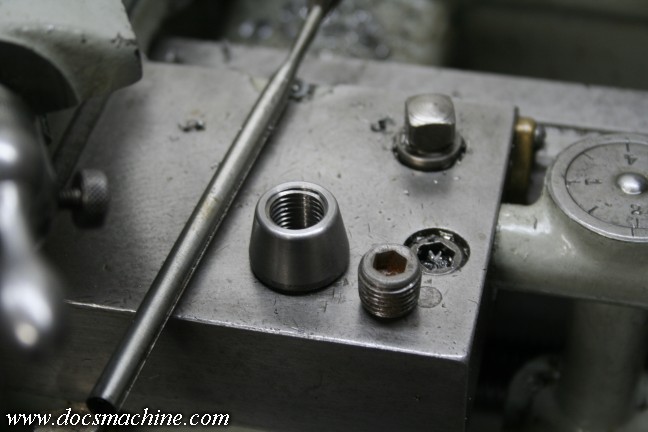 Getting back to the pump assembly, the oil reservoir had a drain hole that I suspect
was added later- just a drilled hole, a screw and a plastic washer to seal. I didn't like that,
but I did want a drain if necessary, so I turned a new threaded bung to replace it.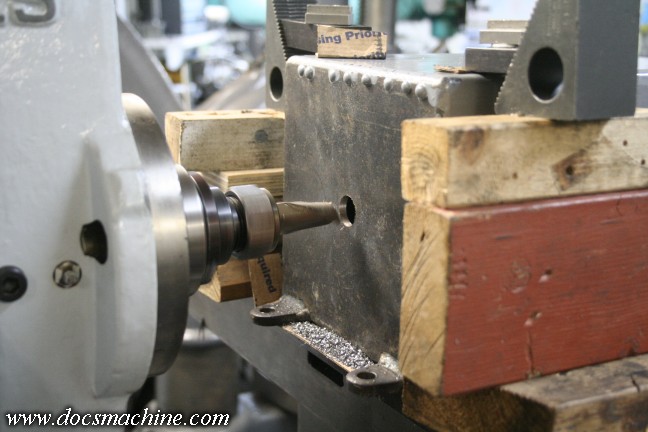 Using my Nichols horizontal mill, I bored out the old hole to take the new bung...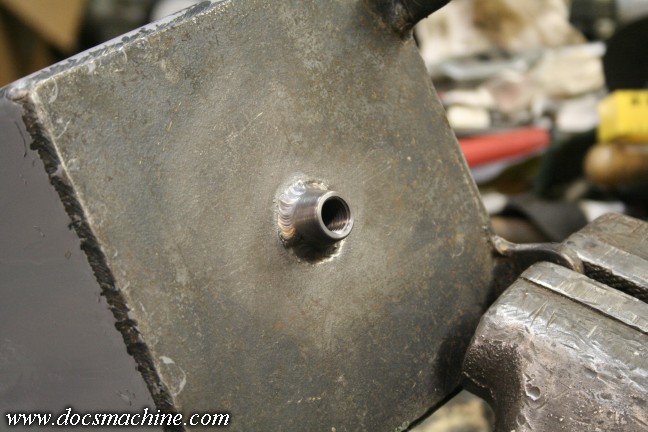 And TIG welded it in place. Now it just needs a typical 1/8" NPT plug to seal.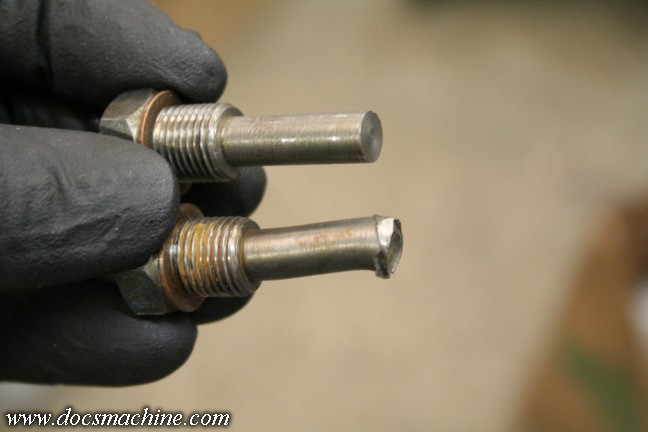 Next up were these plugs. All they do is seal a "check ball well" in the valve on the
pump assembly- the rod simply keeps the ball from coming up too far out of the
well, and thus letting pressure bleed off briefly 'til it settles again.
I'm not sure how the one was damaged, other than somebody probably tried to put
both balls in one well, and then tried to tighten the plug down on top of it.
Normally I'd have just turned an entirely new plug, but upon inspection I found
ot these have a Whitworth thread- 19TPI. None of my three lathes (at the time)
could do 19TPI, so I had to fix the one by other means.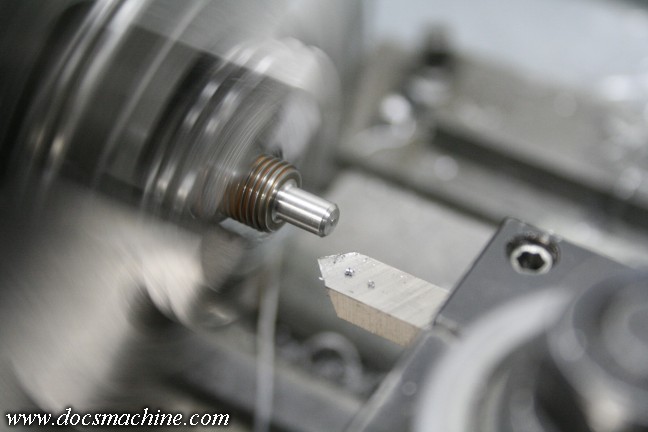 I started by turning the old, bent rod off and turning the stub down to 1/4".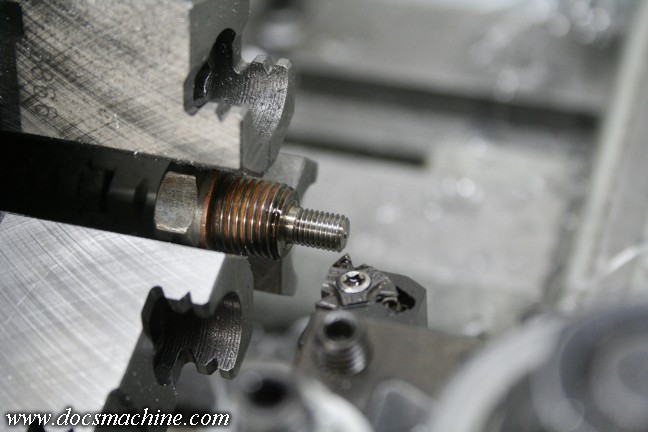 That stub got threaded to 1/4"-28...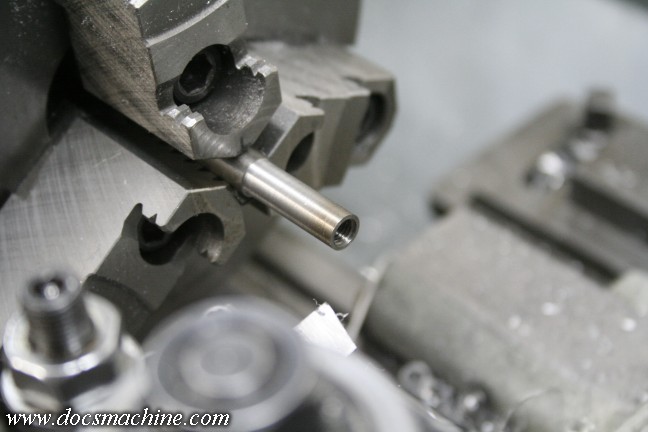 Then, using a new piece of steel rod, I bored and threaded it to match.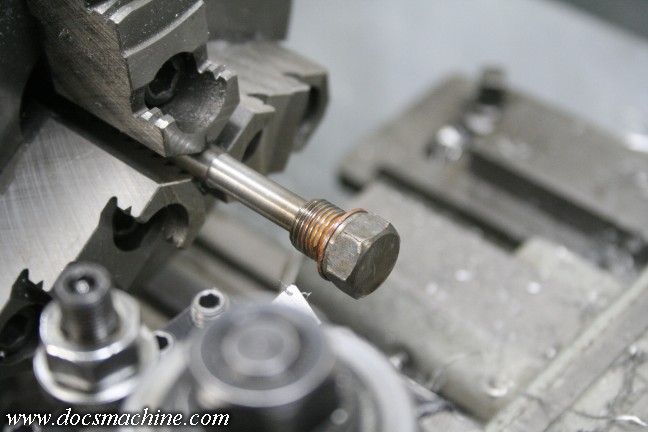 Dabbed on a touch of blue LocTite and screwed on the old plug.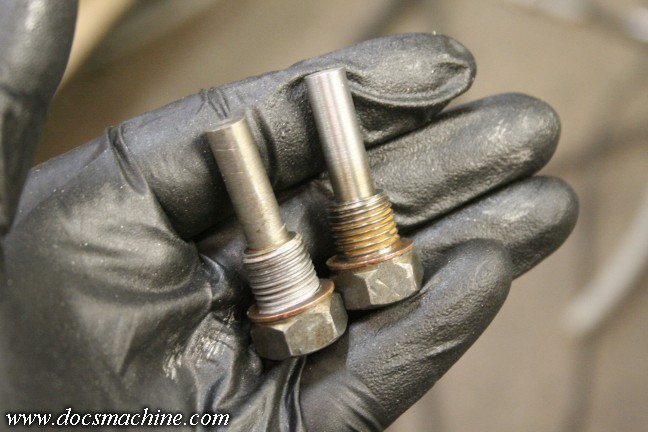 Parted off to length, and voila`! A match that you can't really even tell was repaired.





All text, photos and graphics Copyright 1998- 2017, Doc's Machine & Airsmith Services. All Rights Reserved.
Information contained in these pages is for reference and entertainment purposes only. Our methods are not always the best,
quickest, safest, or even the correct ones. It's up to you to know how to use your own machines and tools.
Keep your fingers away from the spinny blades o' death and you should be all right.