[
Return to Main Page
] [
Return to Projects Index
] [
Doc's Machine & TWB Store
] [
Contact Us
] [
The Whiteboard Webcomic
]
Tuning Up and Tweaking a 1956 Sheldon EXL-56 Lathe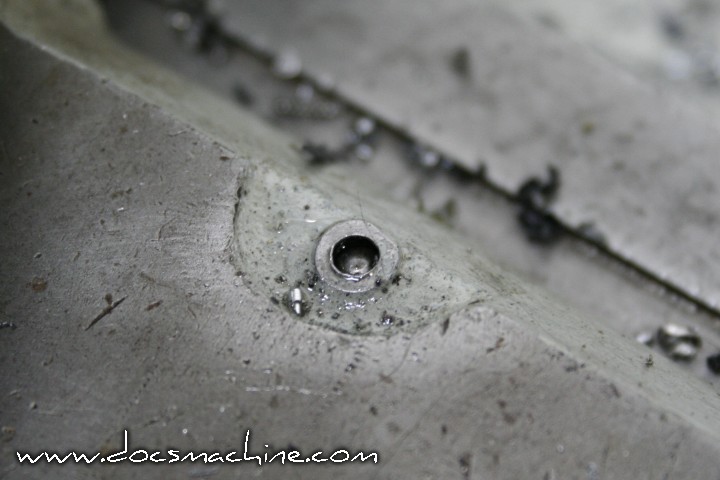 One nagging problem with the Sheldon was that the two small ball-oilers on the carriage are clogged, and have
been since I got the machine. I added some replacements to a recent order ($40 in parts, $35 in shipping-
I hate UPS) though I kind of took a chance with the proper sizing.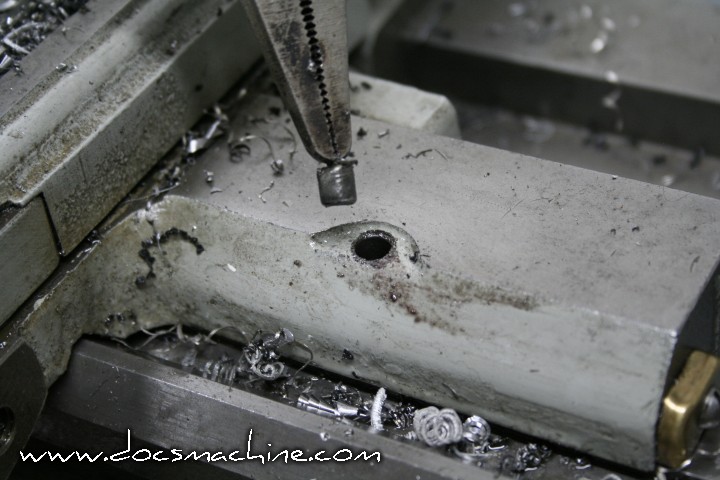 To get them out without drilling, or removing the carriage, I gave 'em a good whack with a cold
chisel, hoping they'd at least pop up enough to get a grip on 'em. No dice, I just mangled it.
But there was enough of a mangled edge to grab with some needle-nose Vise-Grips.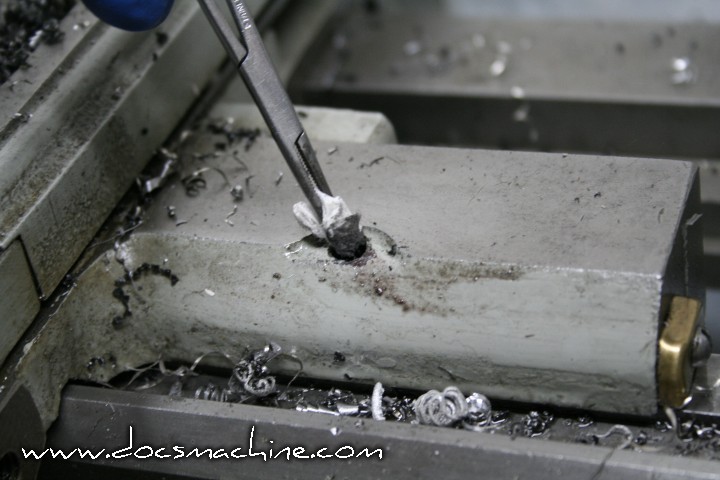 Then it was just a matter of mopping out the grunge with some handy TP and a forceps.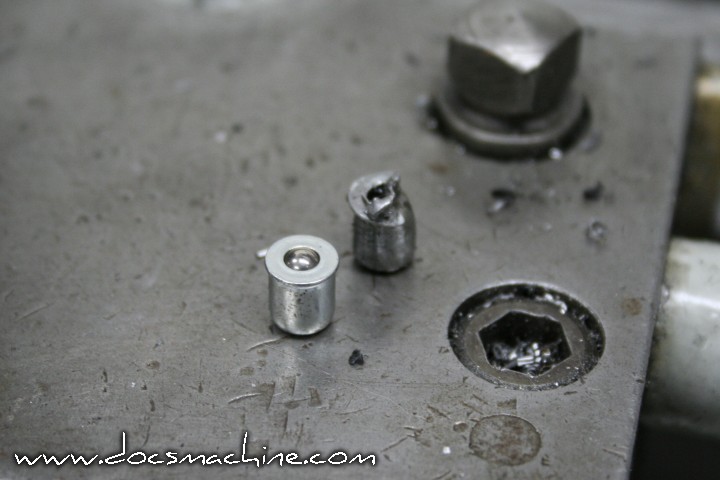 Luckily I'd guessed exactly right on the size.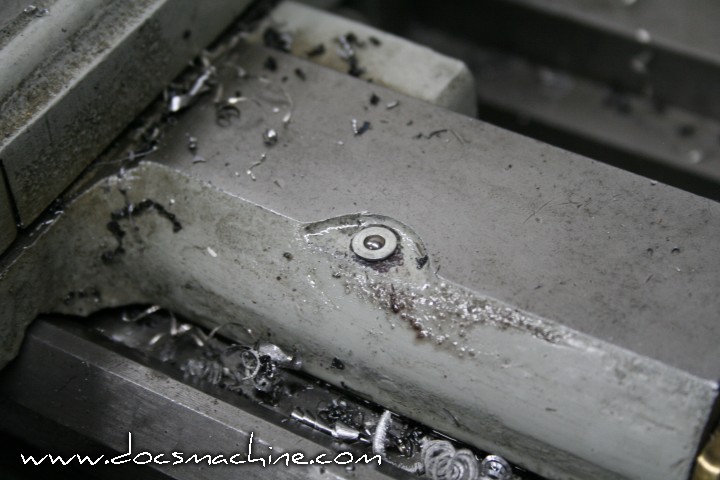 And just drive the new one in using a small bit of wood dowel as a driver. Works great now. The oil under
the ways had gotten blackish with crud, which wouldn't flush out since I couldn't pump any new in.
As I was working the rest of the weekend (lotsa lathe work- as we'll see in a moment) I kept pumping
oil in, and flushing the crud out. I'll eventually pull the way wipers and rinse those out too.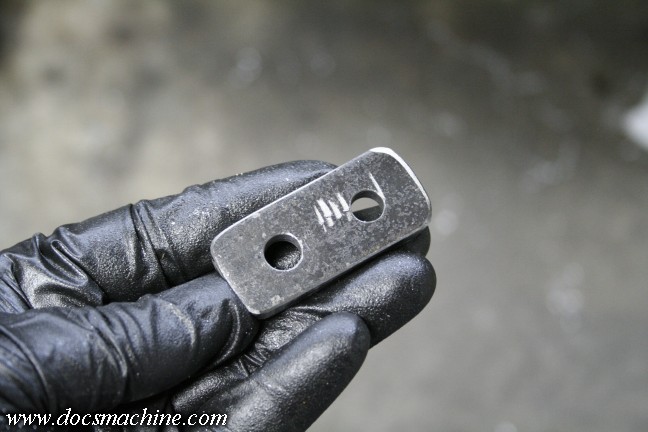 Another little side project was a cross-slide stop. Not many people today know about these, but they were
surprisingly common back then. It's basically a "hook" that folds up on the carrige, that engages a rod that can
be mounted to the cross-slide, and a nut threaded onto the rod, to act as a depth stop. The Sheldon has a
threaded bolt hole next to the cross slide handwheel (on the left on the Sheldon) with a matching rod hole in
the cross slide itself. So one day, while I had the rotary table set up for another project, I took a moment
and at least got the hook made: Chunk o' scrap bar stock from the bin, drilled, and ground a bit.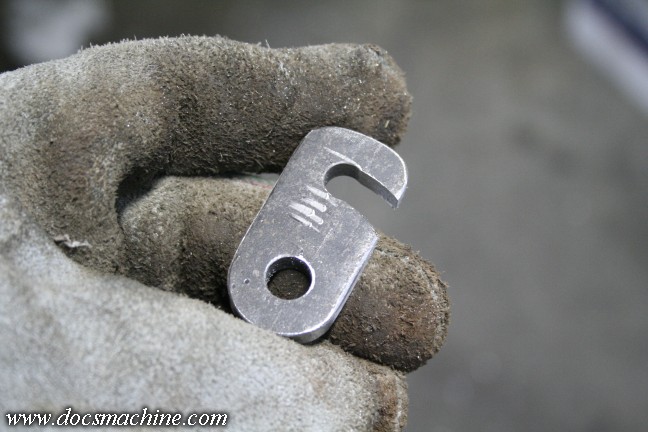 Set up on the rotary table and milled somewhat to shape...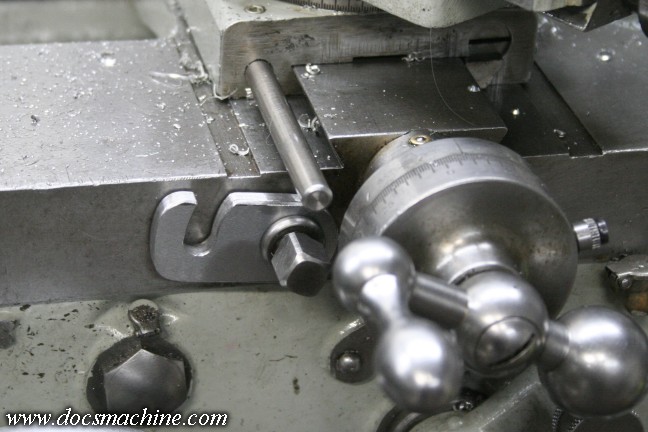 Surface ground on both sides, deburred and reshaped a bit, and test-installed. Now, you see why the parts are
usually missing: The rod on the carriage, at certain points, will interfere with the handwheel, so it's all fully removable.
And, of course, we all know that if the parts aren't firmly attached to the machine, at some point they will get lost-
And this Sheldon was made in 1956. It's damn hard to keep track of parts from year-to-year, let alone
decade-to-decade. :) I'll probably have to make threaded rods of a couple of different lengths, and the "nut"
will actually be graduated so you can adjust the stop depth, like a carriage stop, to micrometer-ish precision.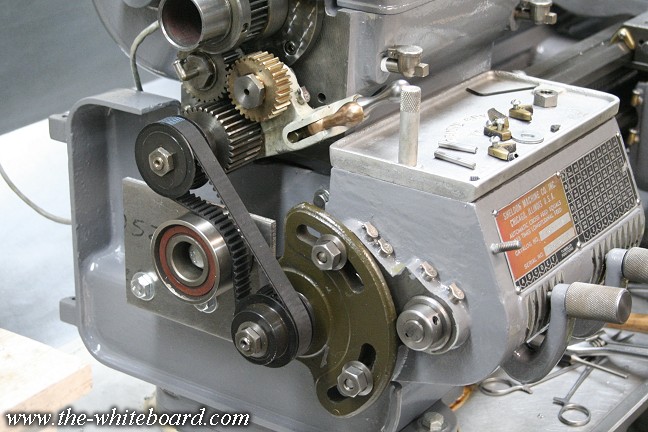 And one more: I do a great deal of short-run production work, so I might be standing at this machine running
fifty or eighty parts at a time. The steel and iron straight-cut gears, unfortunately, tend to "ring" pretty constantly
while it's running, which can grate on ones nerves after a few hours. A fix that's becoming more and more
common these days is to replace some of those gears with a toothed timing type belt, so with the help of
a forum member, I found suitable pulleys and a proper belt. That let me replace three gears with a much
quieter belt,
and
reduced the need for messy open-gear lubes.
I had to fab a quick plate to the old idler gear arm, and to that, mounted an automotive timing belt
idler in order to tension the belt. I've been using it for a year or two as of this writing, and it
works quite well. There's still some noise from the tumbler gears, and of course the
quickchange gearbox, but overall it's much quieter and far less "ringy".

All text, photos and graphics Copyright 1998- 2017, Doc's Machine & Airsmith Services. All Rights Reserved.
Information contained in these pages is for reference and entertainment purposes only. Our methods are not always the best,
quickest, safest, or even the correct ones. It's up to you to know how to use your own machines and tools.
Keep your fingers away from the spinny blades o' death and you should be all right.