[
Return to Main Page
] [
Return to Projects Index
] [
Doc's Machine & TWB Store
] [
Contact Us
] [
The Whiteboard Webcomic
]
Saving a 1943 Springfield Engine Lathe, Part 6:
After painting the headstock I decided to tackle the oil pump. As noted earlier, the pump has been replaced
at some point- the stock pumps are a flat, pancake style, with an eccentric type rotor. Mine has an aluminum-
bodied gear pump,mounted to an adapter plate that had clearly been turned round from a square shape.
But, as factory replacements are virtually unobtainable, and this pump appeared to be working fine,
I saw no reason to change it.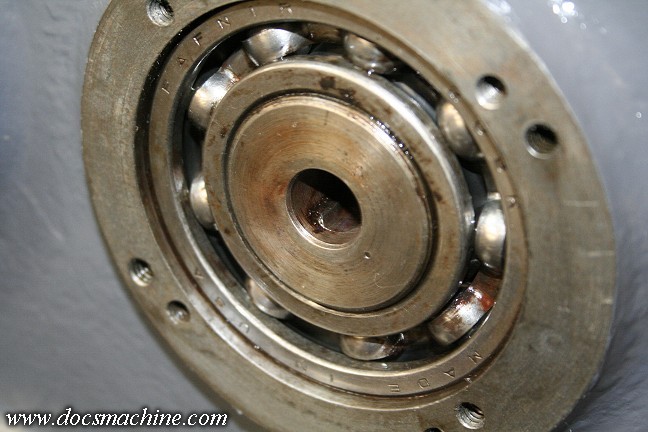 Unbolting it reveals the end of the headstock input shaft and its bearing, and the socket for the pump shaft,
with a drive key. The key, however, is worn, or possibly has been filed to shape.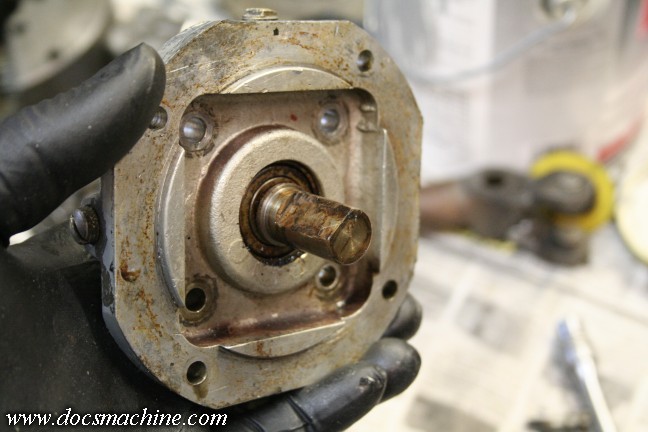 The end of the pump shaft doesn't have a proper keyway, it just has a flat. Again, it appears to work, so
for the moment I'm not going to alter anything- especially considering that to replace that key, I'd have to
remove the shaft and all it's associated gears, dogs and shifters. Not a project I want to take on just now.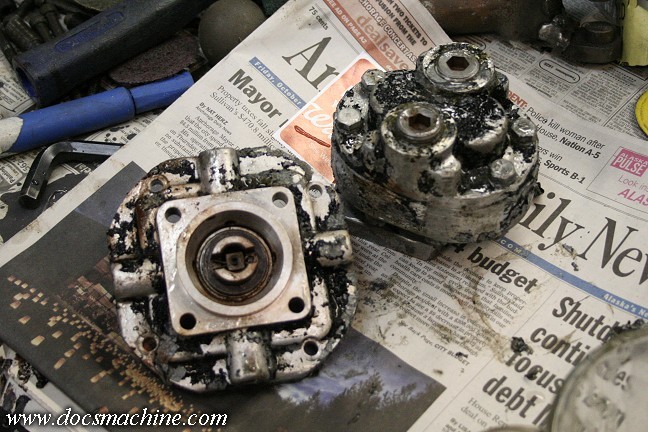 The pump was clean enough inside, so I just stripped the paint and scrubbed it back to bare aluminum.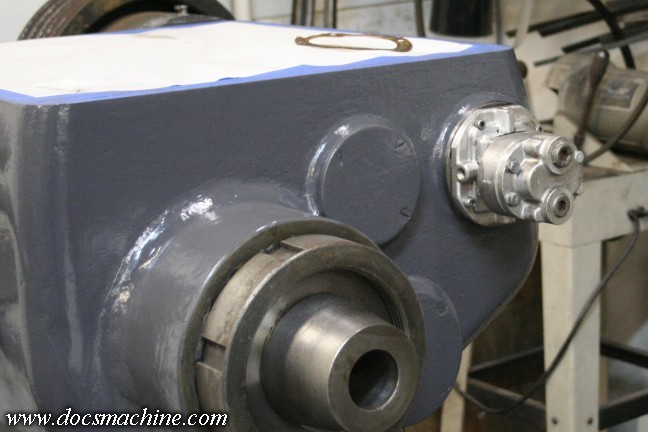 Cut a quick gasket and reinstall.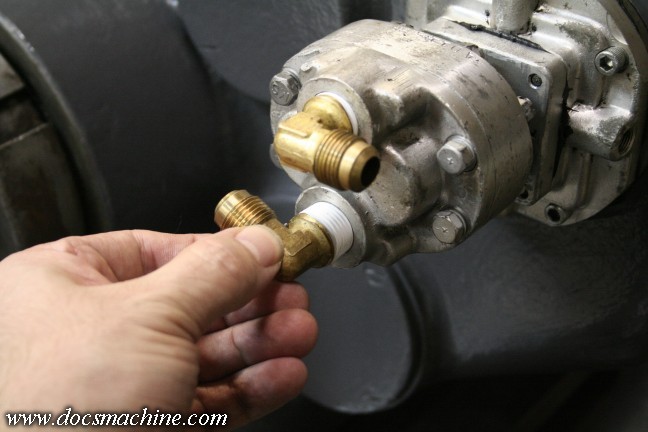 Factory Springfield oil lines are threaded black iron, but on this one, all but a short section had been replaced
with flared soft copper. I could have replaced the old, badly-installed and slapdash copper with black iron,
but fresh copper would be easier to fit and install- and since it's all either suction or negligible pressure,
it should be strong enough. I may eventually replace it with stainless instrument tubing for a little
more protection against swarf, but for now this'll get the Monster up and running.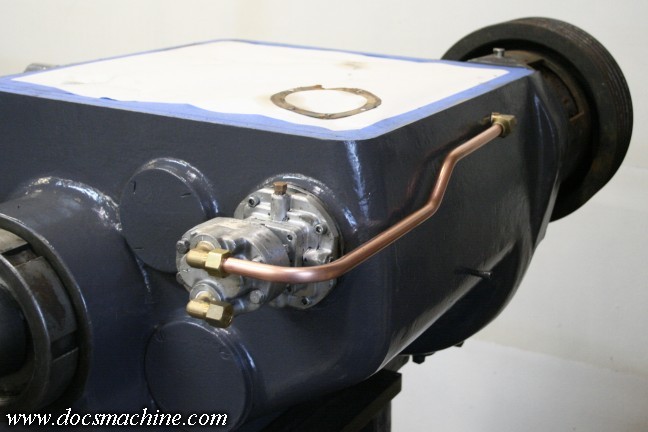 The first section was easy enough, but the suction line is going to be a bit more trouble.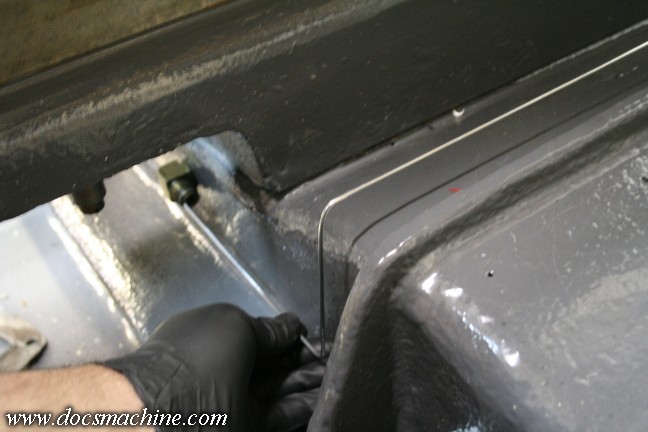 So here's a trick for bending tubing into a complex shape- aluminum TIG rod.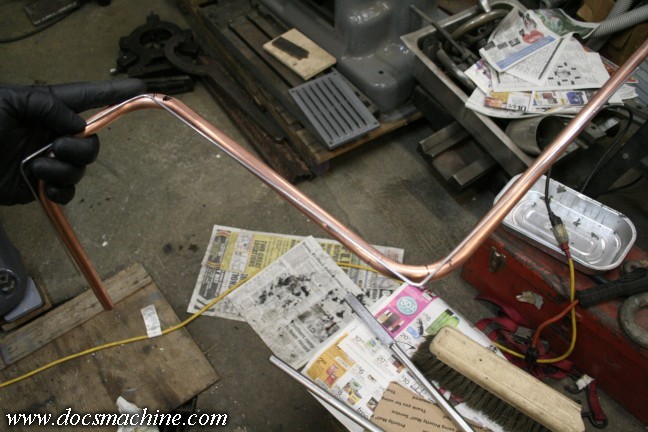 Just bend it by hand to conform to where you want the tubing, and then transfer those dimensions to your tubing.
With a little hand-adjusting and a good bit of cursing,
voila`!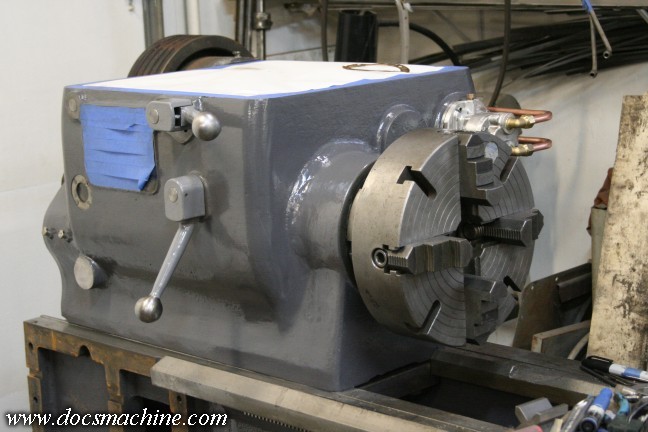 Throw the chuck back on for a quick check to be sure nothing interferes with
the pump or lines, and hey, it's starting to look like a lathe again! :)

All text, photos and graphics Copyright 1998- 2017, Doc's Machine & Airsmith Services. All Rights Reserved.
Information contained in these pages is for reference and entertainment purposes only. Our methods are not always the best,
quickest, safest, or even the correct ones. It's up to you to know how to use your own machines and tools.
Keep your fingers away from the spinny blades o' death and you should be all right.