[
Return to Main Page
] [
Return to Projects Index
] [
Doc's Machine & TWB Store
] [
Contact Us
] [
The Whiteboard Webcomic
]
Saving a 1943 Springfield Engine Lathe, Part 20: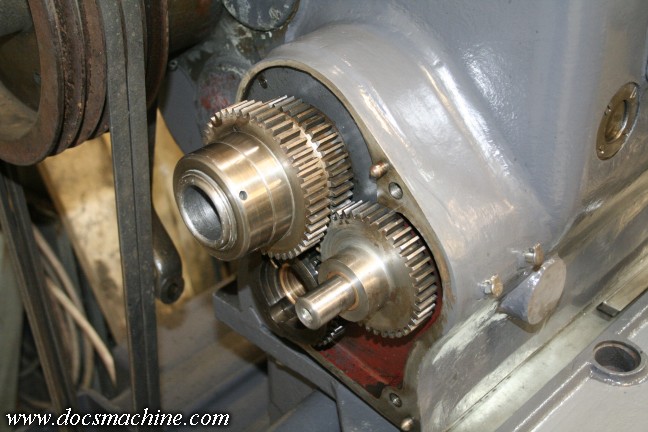 Fortunately, a lot of this machine is in good shape, needing only a good cleaning, a touch of paint,
and reassembly. The next one up on the list is the leadscrew reversing gearbox. I didn't want to completely
disassemble everything, since doing so plays with the spindle bearing preload, but fortunately, being enclosed,
it was only dirty with old oil and grease. As I showed with the QCGB, some moron had tried lubing
it with grease, so the worst part of the deal was trying to sludge out the oil drip tubes.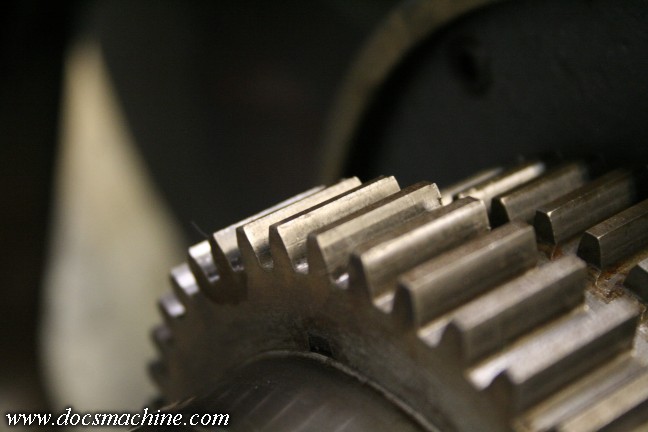 Fortunately, I don't think it was run long with the grease- if, indeed, at all- so there's minimal wear to the bushings.
Point in fact, the gears look cherry. No nicks, no dings, no appreciable wear. The only bit of any concern is the
reversing dog itself, whose corners are nicely rounded.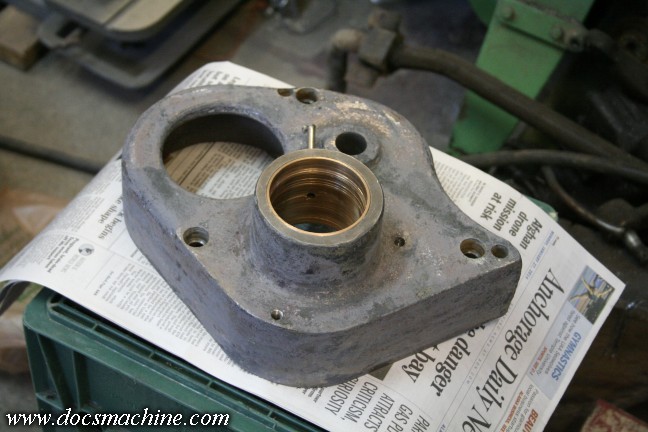 The cover, as usual, got Hotsy-rinsed, stripped and repainted. The bushing looks bad, but the "grooves" are
just bright rings, not actual removed material.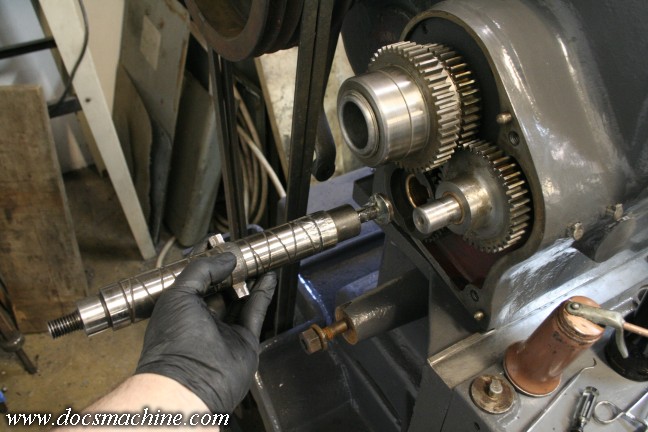 So the first of the removable parts to go back in, is the reversing dog itself. A dab of heavy grease where the
shift fork goes, oil on the rest, just slide it in. Slop is essentially undetectable.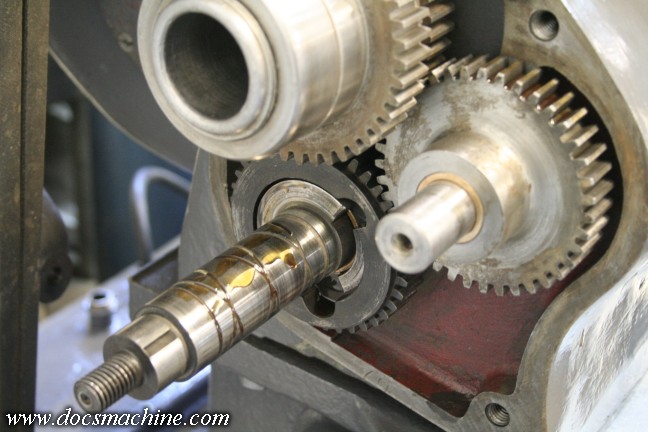 You can kind of see how the corners of the dog are a bit rounded. I think it'll be okay for now,
though we'll see how she behaves under power.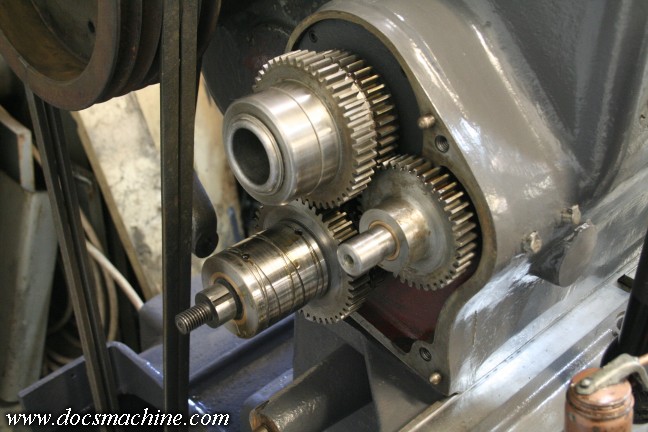 Then the outer bushing...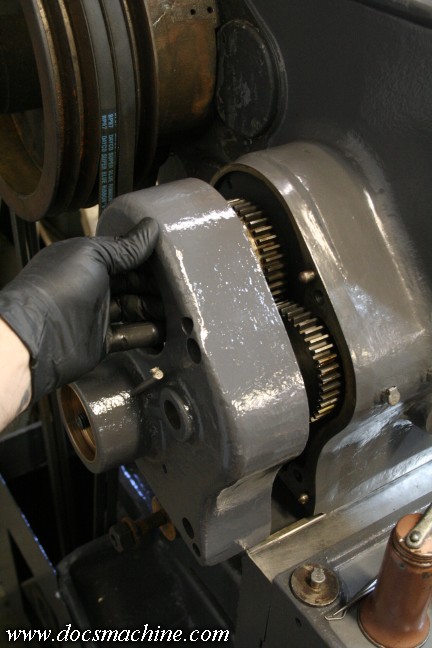 And finally, the cover.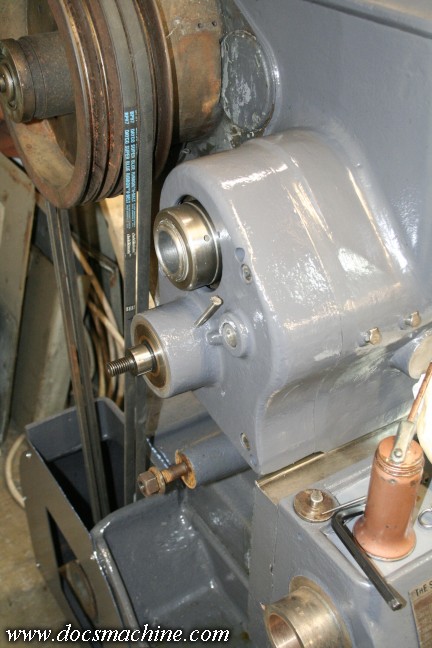 I was kind of surprised that this gearbox didn't run in it's own little reservoir of oil, but I saw no
evidence the cover was or was supposed to be sealed. Each shaft has it's own oil tube, so clearly
it's an "oil regularly" thing, and not a splash-lube. Kinda wondered what would happen if I
sealed the cover with a thin wipe of RTV and put a pint or two of oil in there, but it
got this far on the old way so I'll leave it for now.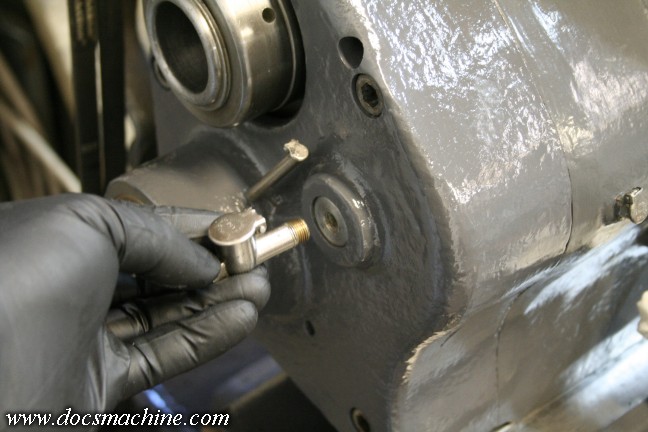 Final touch, reinstall the idler shaft oil cup.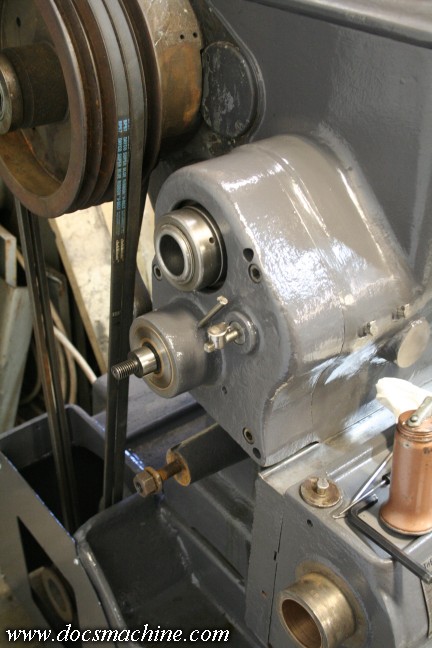 And done! The motor, as you can see, is in, and I've had it running. Oil pump works great,
all the shifters are fine, and the reverse box (which I have to shift by hand when it's off)
sounds smooth and quiet. (Well, as quiet as one might expect a batch of straight-cut gears to be.)
I am continually impressed at how most of this machine is in such excellent shape,
despite how obviously badly mistreated it's been over its long career.

All text, photos and graphics Copyright 1998- 2018, Doc's Machine & Airsmith Services. All Rights Reserved.
Information contained in these pages is for reference and entertainment purposes only. Our methods are not always the best,
quickest, safest, or even the correct ones. It's up to you to know how to use your own machines and tools.
Keep your fingers away from the spinny blades o' death and you should be all right.