[
Return to Main Page
] [
Return to Projects Index
] [
Doc's Machine & TWB Store
] [
Contact Us
] [
The Whiteboard Webcomic
]
Saving a 1943 Springfield Engine Lathe, Part 22: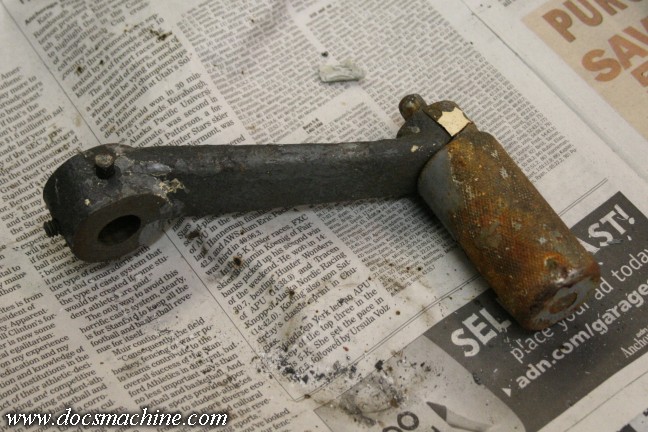 When I got this monster, there were four broken levers and a fifth bent. I fixed the two on the headstock
early on, so that I could test the gears before tearing anything apart, but the two for the quick-change
gearbox weren't as important. After I got the box apart, though, it was time to start repairs. Both the tumbler
and the range-selector levers were broken, but fortunately- in all four cases, actually- I still had all the pieces.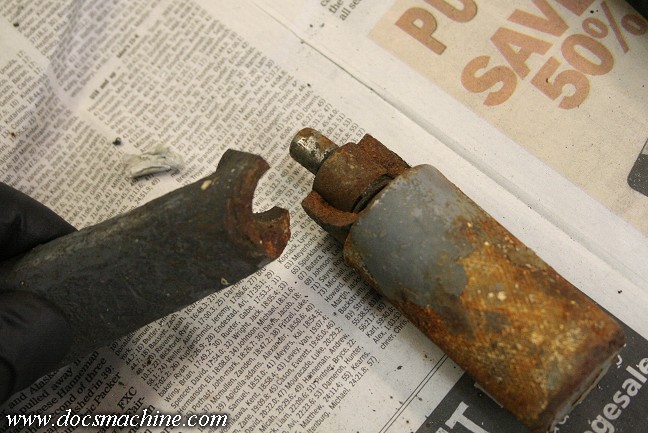 Doesn't look to bad? Look again. :)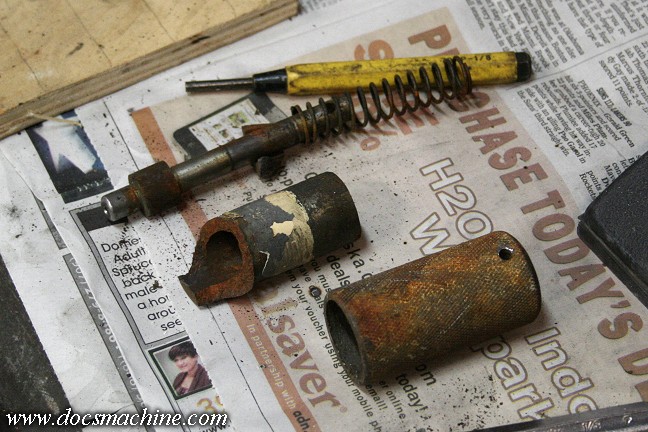 First thing to do was drive the pin out, so the locking pin assembly could be removed.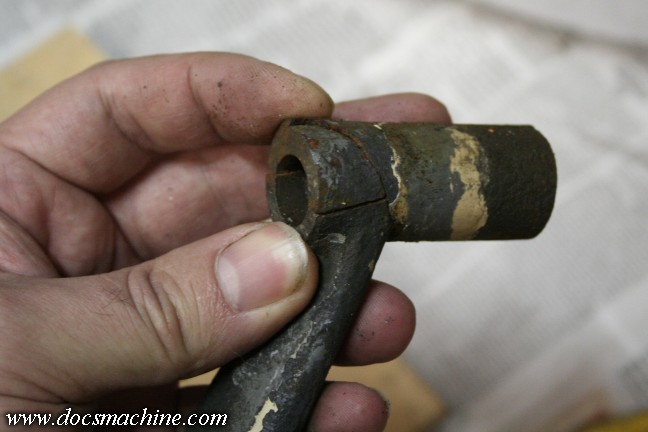 That left me with three pieces of the mainh casting, all of which fit together nicely, with no missing sections.
You can see how, at one point, the controls had been painted white or cream color,
and then later covered over in more grey.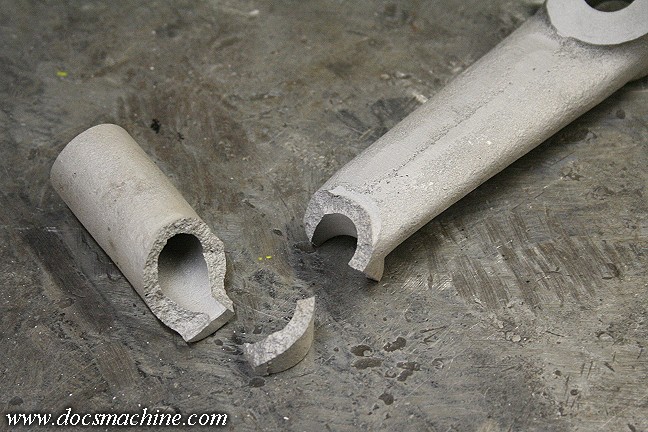 Repairs were actually fairly straightforward: First a trip through the bead-blaster cabinet...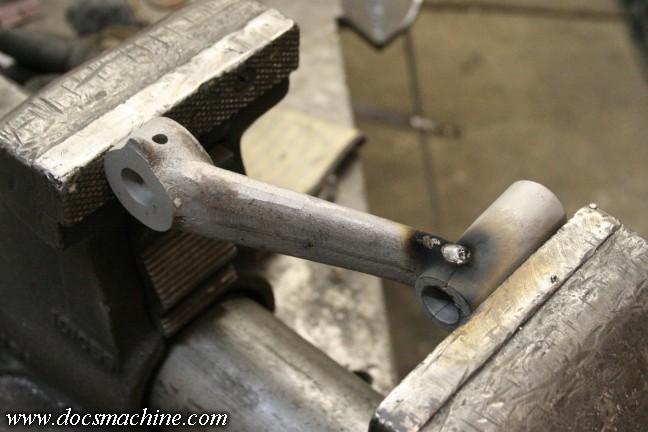 Then
gently
held together in the vise and tacked with more Muggyweld rod...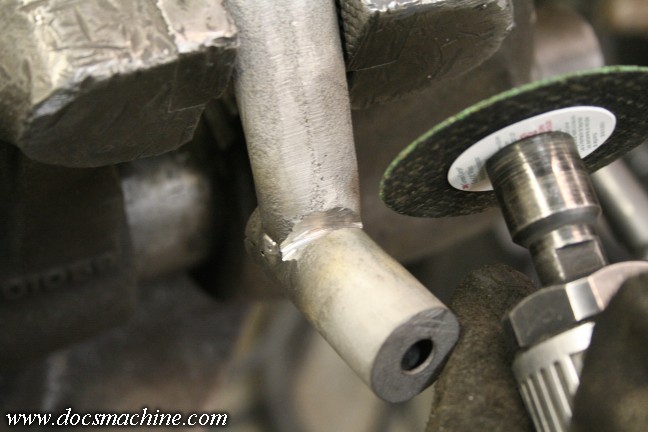 And once held together, the seams could be properly veed out with a cut-off wheel.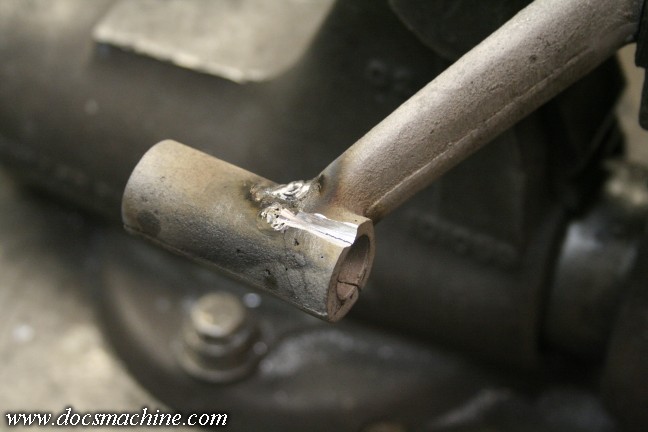 Weld, vee, weld some more, vee again. That way the full cracked surfaces are retained
to locate and lock the pieces together.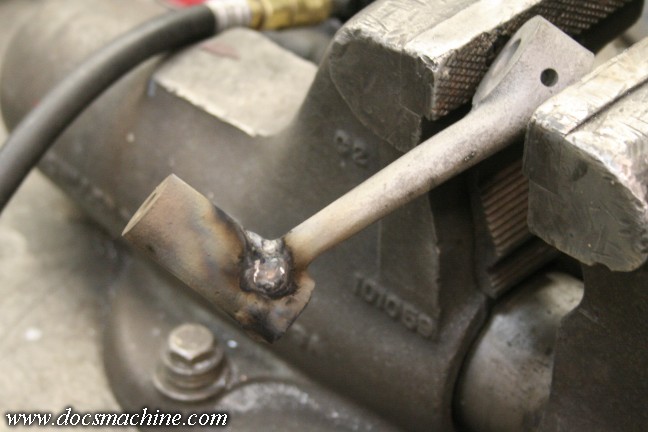 On a part this size and shape, using the Muggy rod, you could almost just treat it like any normal mild-steel part.
I did, however, try to control the heat, and had a piece of fiberglass insulation to cover the part as it cooled-
whether I needed to or not, it came out great.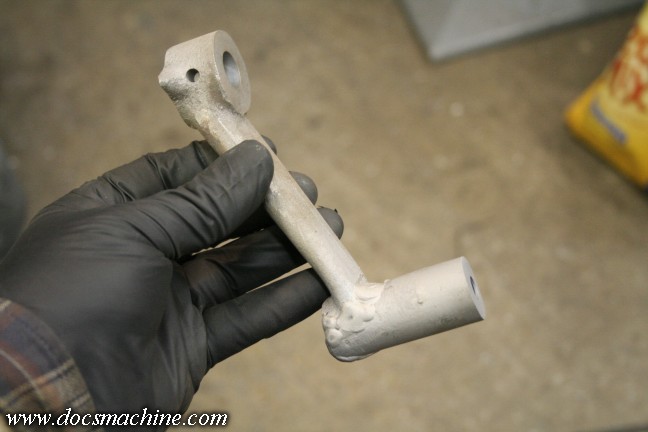 Another pass through the beadblaster...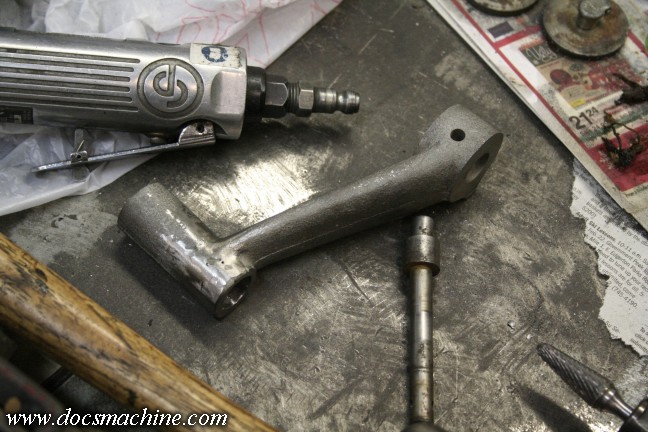 And a bit of careful dressing of the welds, using a small grinder and a rotary file. Once painted,
you can hardly tell it was ever broken. That only leaves one more lever to do...

All text, photos and graphics Copyright 1998- 2018, Doc's Machine & Airsmith Services. All Rights Reserved.
Information contained in these pages is for reference and entertainment purposes only. Our methods are not always the best,
quickest, safest, or even the correct ones. It's up to you to know how to use your own machines and tools.
Keep your fingers away from the spinny blades o' death and you should be all right.