[
Return to Main Page
] [
Return to Projects Index
] [
Doc's Machine & TWB Store
] [
Contact Us
] [
The Whiteboard Webcomic
]
Saving a 1943 Springfield Engine Lathe, Part 23: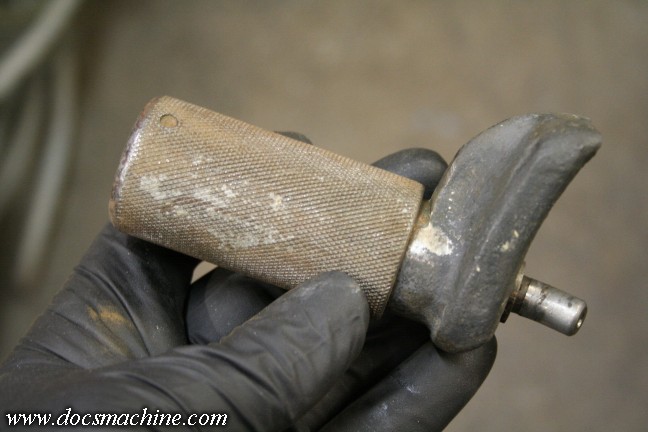 And now, the QCGB tumbler lever. This one, as is common to damaged lathes, snapped off at the
bottom of the "U" bend as it curves up and around to the row of locking pins.
I'd bet one of the most common parts to break on a lathe...
The force of the impact also bent the pin itself, which is odd as none of the holes in the
gearbox casting showed any signs of damage.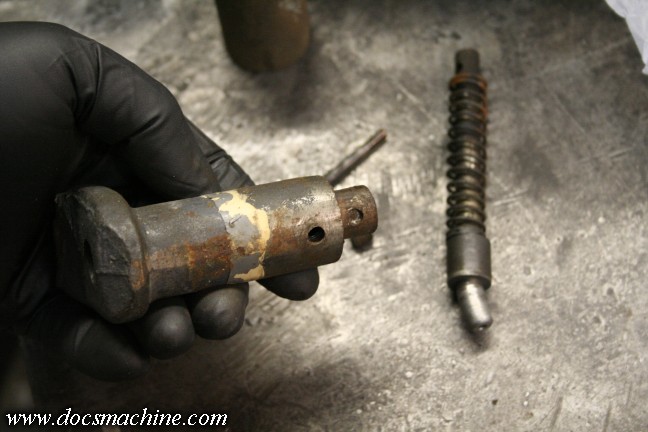 Again, it's a fairly simple fix, and again starts by driving out the taper pin.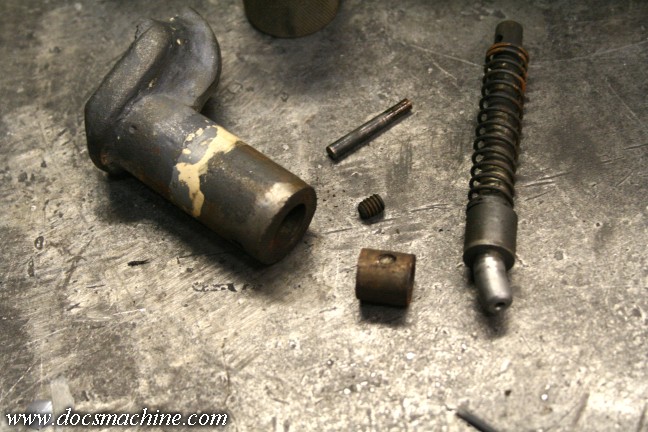 This one had an extra part, a collar to retain the spring.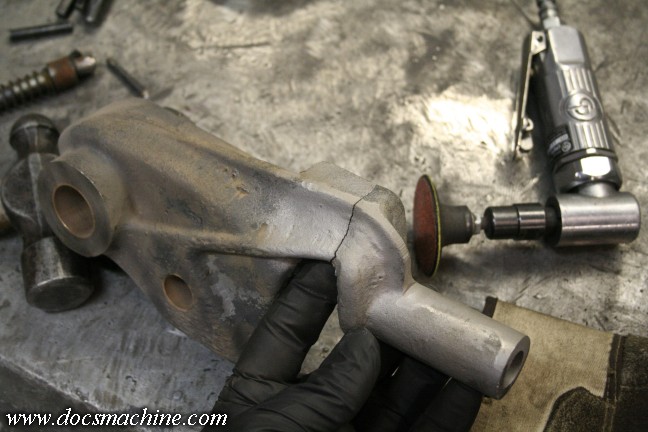 And again, the break was clean, and lined itself back up nicely.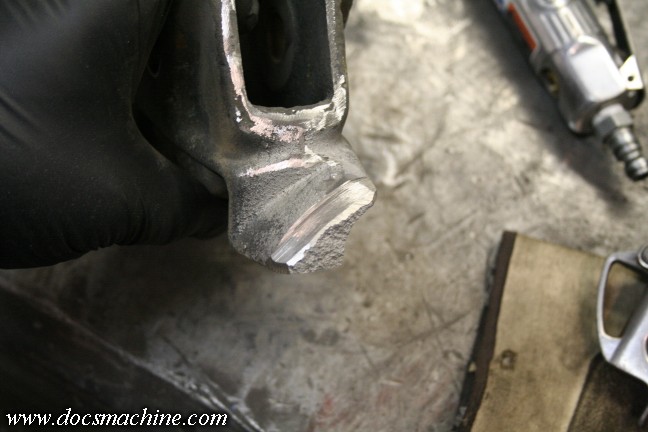 This time, though, due to access inside the "U" shape, I veed part of it out beforehand,
trying to save as much as I could of the broken surface as a locator.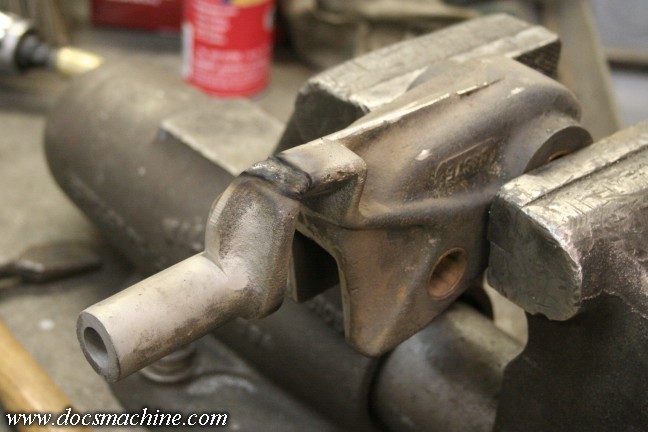 Again, carefully welded with the cast-iron Muggy rod.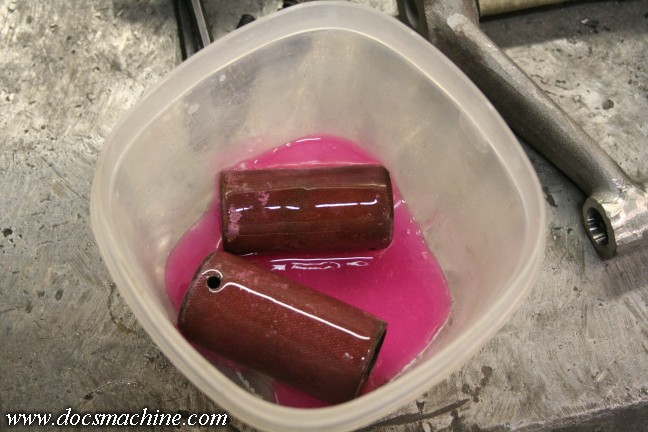 In the meantime, I'd thrown the two knobs into some naval jelly. I didn't want to beadblast them, in order
to try and preserve the somewhat shiny original machined finish, and I didn't want to wire-brush
them and round off all the knurling. So into the chemical they went.
The welding again worked great, and seems as strong as the original.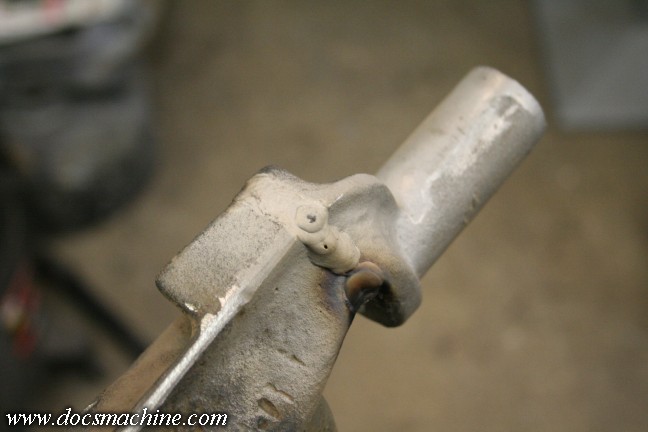 Another run through the sandblaster revealed a bit of porosity, so I ground that
out and filled it in with fresh weld.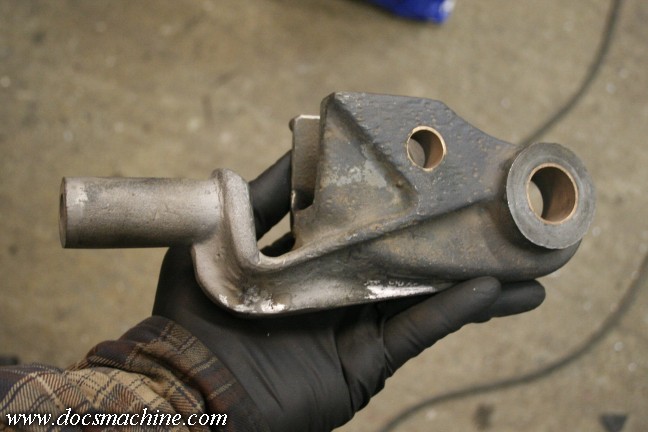 And again, a little dressing of the welds hides the injury nicely.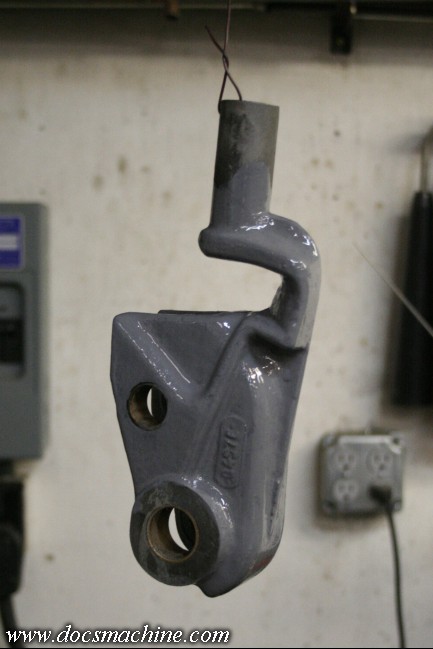 And finally, paint! I still haven't had time to make the gears for the gearbox,
so both freshly-repaired levers got set aside to wait patiently.

All text, photos and graphics Copyright 1998- 2018, Doc's Machine & Airsmith Services. All Rights Reserved.
Information contained in these pages is for reference and entertainment purposes only. Our methods are not always the best,
quickest, safest, or even the correct ones. It's up to you to know how to use your own machines and tools.
Keep your fingers away from the spinny blades o' death and you should be all right.