[
Return to Main Page
] [
Return to Photos Index
] [
Doc's Machine & TWB Store
] [
Contact Us
] [
The Whiteboard Webcomic
]
Kalifornsky Christian Center field, Kenai, Alaska. Rec game, June 2012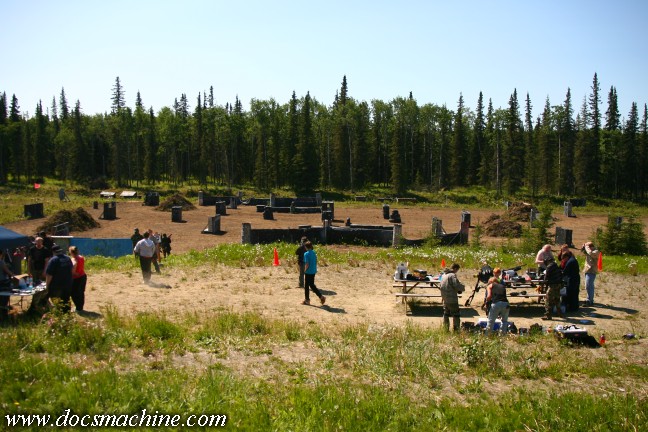 By pure accident, I found out on Friday afternoon about a game that was going to take place the following day.
I managed to throw together some gear and made it out in time, to a field that turned out to be owned by a
local church. They'd put it together to give the parishoners' kids some good clean fun, and some guys had
basically rented it for the weekend. They'd even done some significant dirt work and bunker building,
and made a pretty decent field out of it.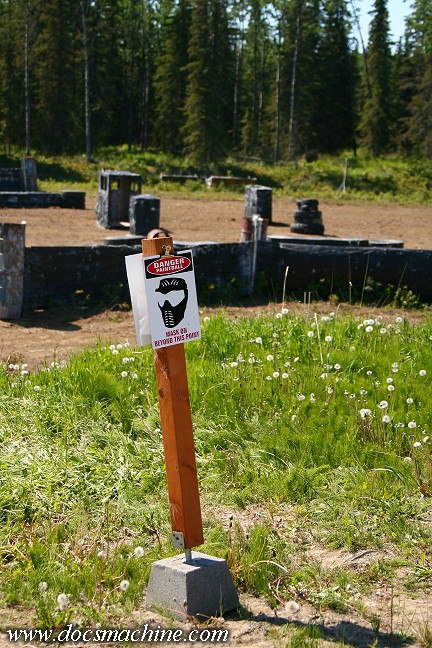 Nice and flat, I'd have liked to see the "safety" zone a little further away (the pic is deceptive,
the goggles off area is 50-70 feet from the edge of the game field) but it worked. Barricades are pretty well laid out,
kind of wide for a speedball field, close for a scenario game, just right for plain ol' day-to-day play.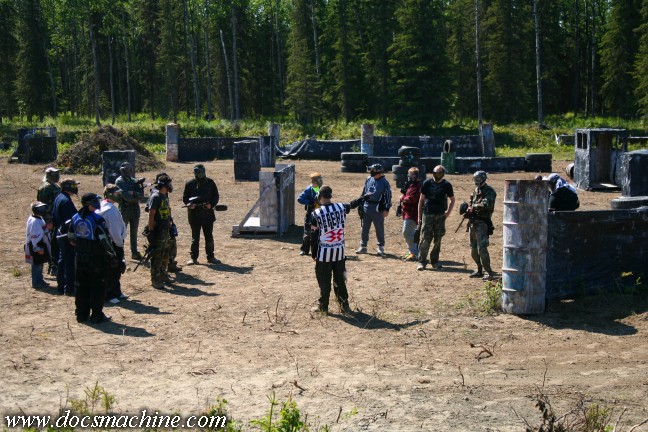 About 20-25 people showed up, plus a couple of guys acting as referees.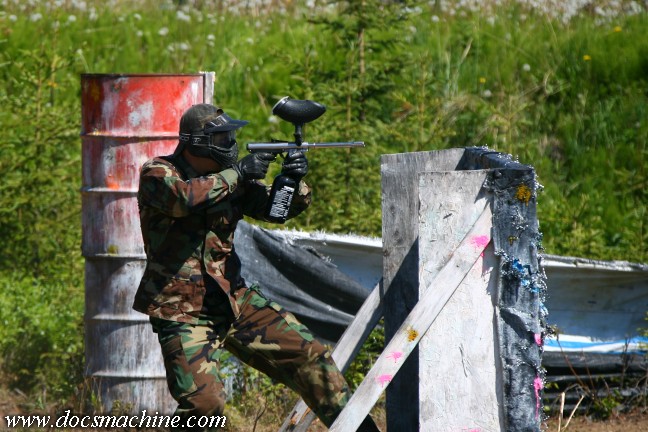 Don't recognize it? It's an old Tippmann Carbine, stripped and polished, running a vertical 20-ounce and a DYE barrel.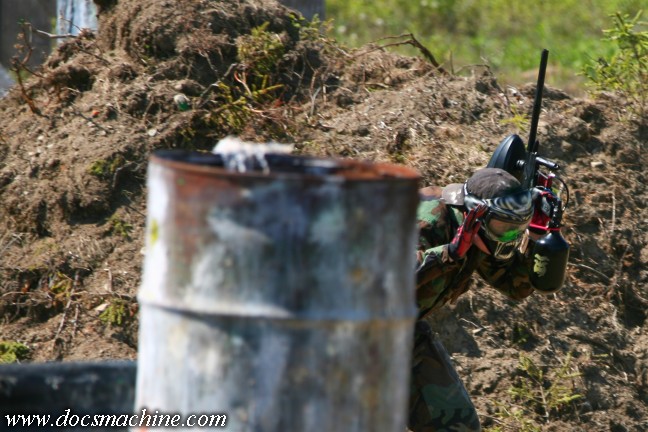 The field was very long and had some great bunkers. Players had everything from Wal-Mart specials to high-end electros.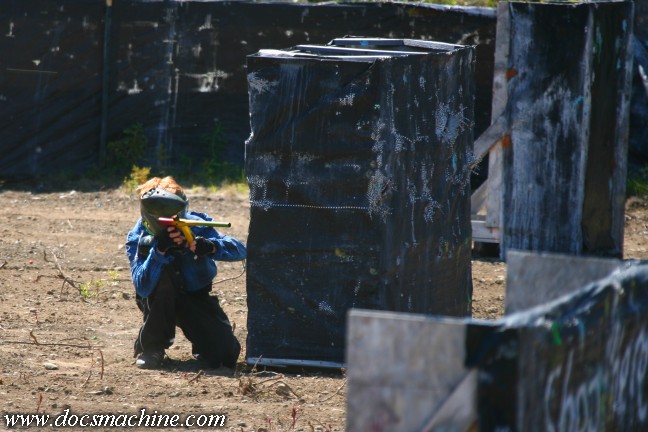 A lot of the bunkers had been made from 2x4 frames with "Typar", a heavy plastic landscaping fabric.
By this time they'd been badly weathered, but were holding up well.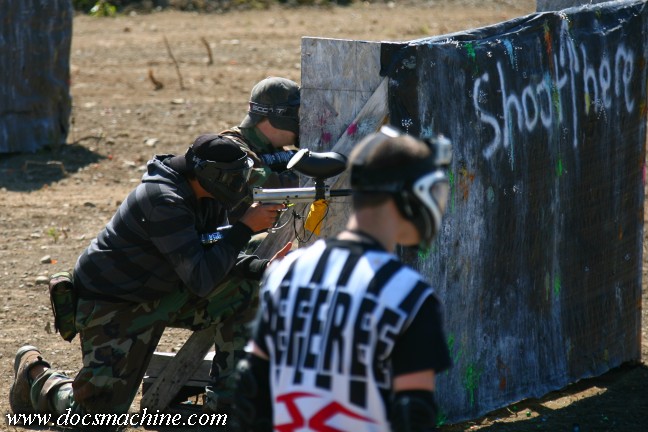 The refs kept good order, and I was happy to see basically everyone was voluntarily using barrel bags
and keeping good track of their goggles.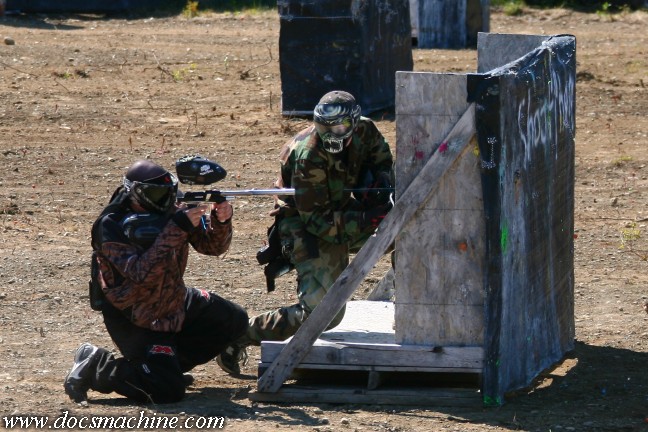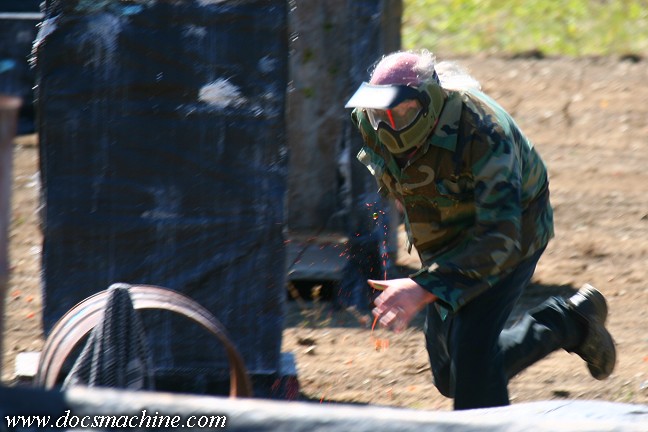 Bob takes on on the flag run!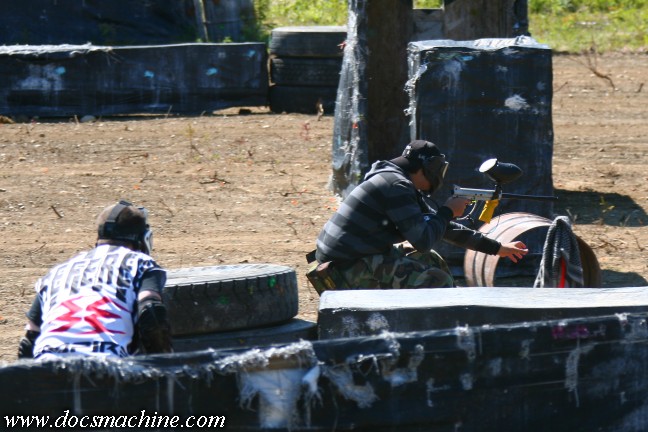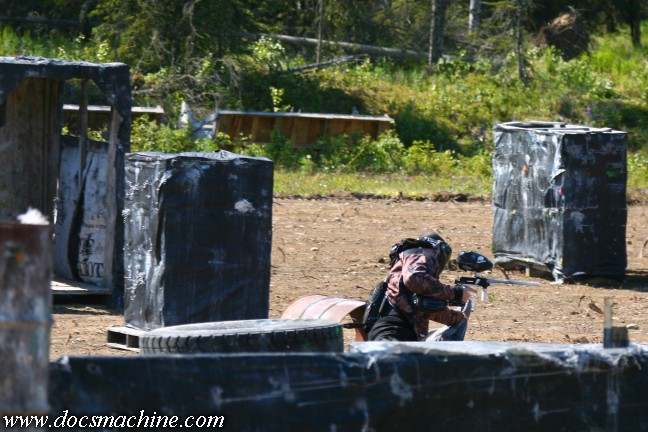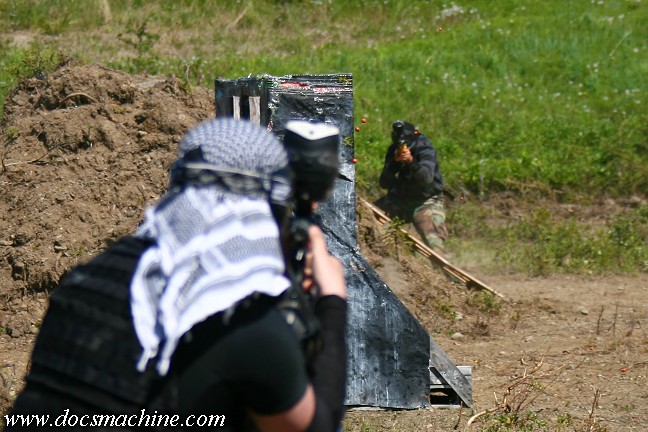 Tradin' paint!
I had a lot of fun, using a parts'box 'Cocker and- get this-
eight year old
Draxxus paint,
which I'd bought off a field that had
closed back in 2004
. It worked great, broke just
fine, and I even made more than a few longball, corner-to-corner cross-field hits.
One of the best days of play I'd had in a long time.


All text, photos and graphics Copyright 1998- 2015, Doc's Machine & Airsmith Services. All Rights Reserved.
Farcical names, jokes about players and jokes about players' mothers are all in good fun. No harm intended.