[
Return to Main Page
] [
Return to Projects Index
] [
Doc's Machine & TWB Store
] [
Contact Us
] [
The Whiteboard Webcomic
]
The Duke: Developing an all-new Lever-Action Paintball Gun
Part 5: Building a Functional Mark II Prototype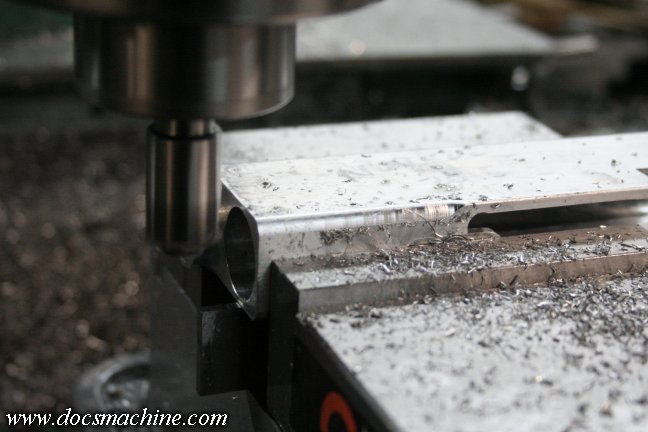 With the marker tested and the preliminary design reasonably well proven, I just wanted to do a little detail
work to the prototype. Some were simply cosmetic, like this light rounding at the bottom of the receiver.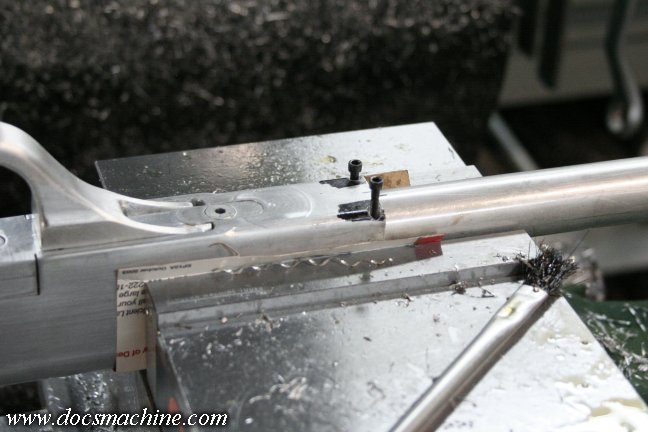 While others were things like adding these retaining screws to hold the feed tube in place.
The production versions will be threaded into the body, but for this prototype, I added
two little Allen-head screws that lock the tube to the body.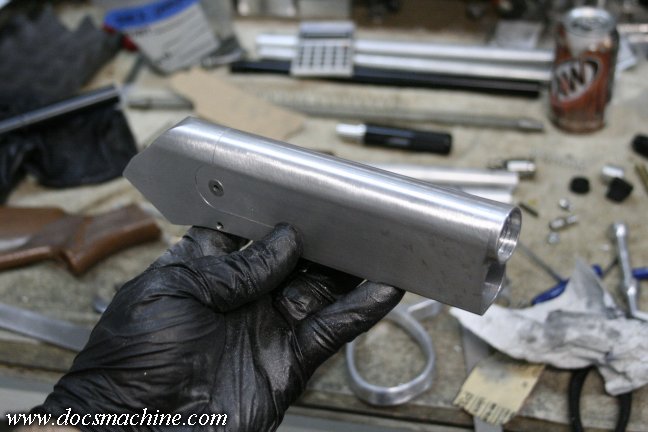 On the upper receiver, I filed and sanded down the tool marks, and gave it a smooth finish.
I also reshaped the back of the body to round things off a bit. I didn't get too carried away,
as this is just a prototype, but I at least wanted it to feel better as it's held.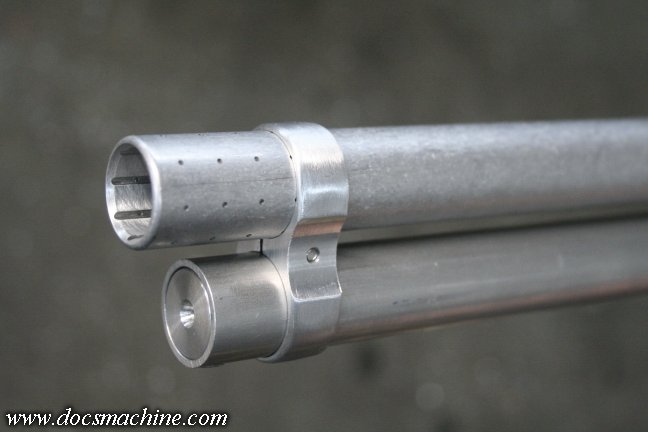 No particular reason to except for looks, but I also smoothed up the barrel band a touch.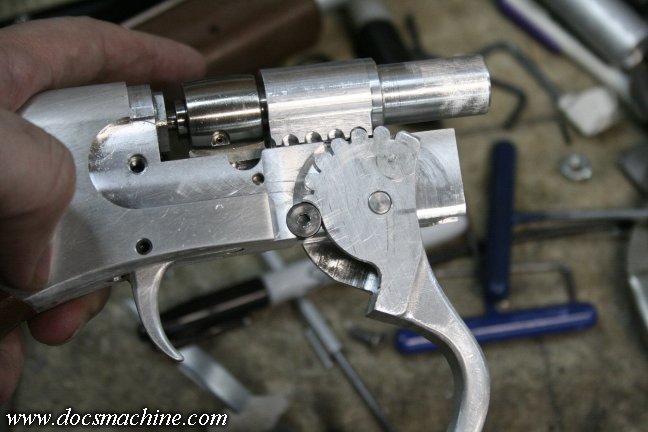 Mechanically, I didn't like how the lever could overtravel the hammer, and "pop" the valve as you're
cocking it, so I added this delrin internal stop. It's not bad for a fix on a prototype, but the finished
versions will need to be somewhat more properly designed.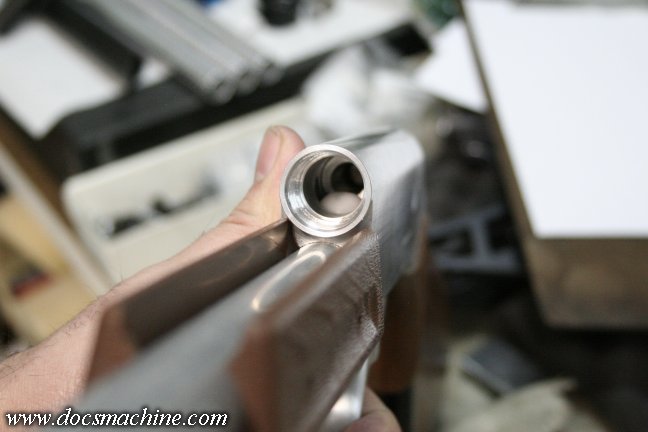 And getting back to the feed mechanism, you can see how the "tethered ball" follower
can rise up too high and jam the bolt.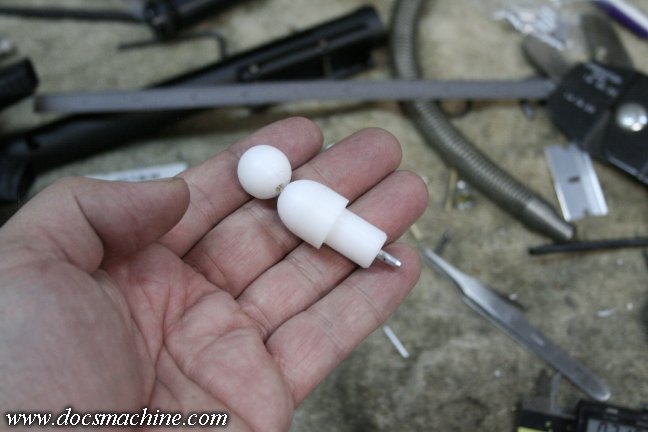 The simple solution there is to shorten the tether. I also replaced the white cotton string with some
heavy-duty outdoor-rated nylon line, which is held in place by a crimped collar rather than a knot.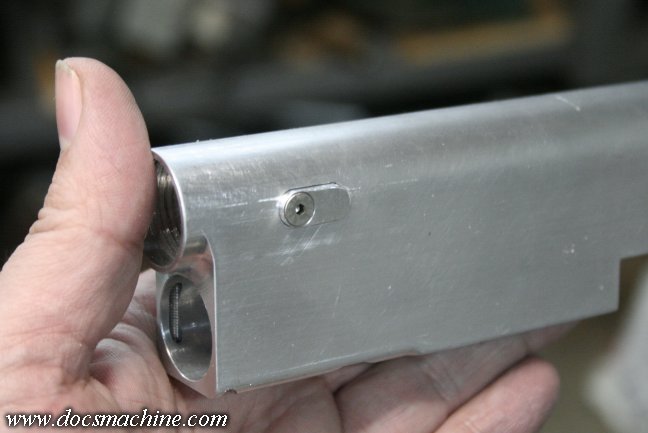 And finally, a ball detent. While I'm hoping for something more low-profile, if not entirely internal,
for the production run, for this prototype it was simple enough to drill it for Spyder/Intimidator
style detents, especially since I'm maufacturing those in-house now. :)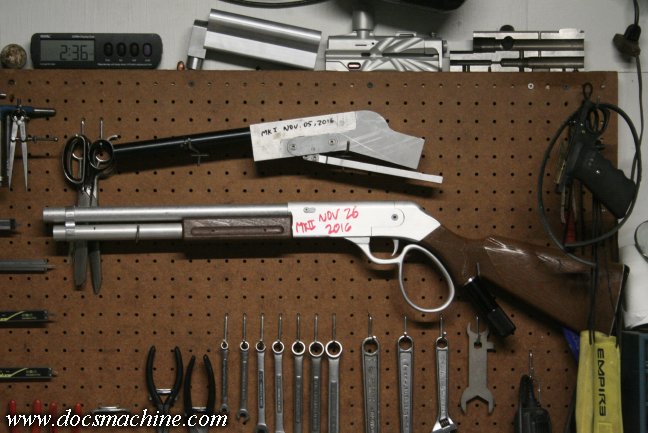 A few more test runs, and I'm happy. It's damn near 100% reliable, gets about 30 rounds
per 12-gram (it is, after all, a Phantom valvetrain) it's smooth to cycle, accurate and quiet.
It's fun as hell to flip-cock, and after many hundreds of both live shots and dry-fires,
there is little detectable wear and nothing's getting loose or wobbly.
I was considering polishing it up and having it anodized, and at some point in the future
I still might. But for now, I need to focus my energy into applying all the upgrades and
changes to a third generation prototype. Let's get started...

All text, photos and graphics Copyright 1998- 2017, Doc's Machine & Airsmith Services. All Rights Reserved.
Information contained in these pages is for reference and entertainment purposes only. Our methods are not always the best,
quickest, safest, or even the correct ones. It's up to you to know how to use your own machines and tools.
Keep your fingers away from the spinny blades o' death and you should be all right.