[
Return to Main Page
] [
Return to Projects Index
] [
Doc's Machine & TWB Store
] [
Contact Us
] [
The Whiteboard Webcomic
]
The Duke: Developing an all-new Lever-Action Paintball Gun
Part 1: Developing the Proof-of-Concept Prototype

Like a lot of other paintball players who like having something a little different on the field, I've always throught a good
lever-action would be a lot of fun. No manufacturer has ever stepped up to that particular plate, however, leaving
us with only home-brew and custom conversions- some of which are pretty darn good, but many of which give
bubble gum and baling wire a bad name. And worse, the part that always kind of annoyed me, was none of
them
look
like a proper "Old West" lever action.
So, over the years, I've sketched up various notes and ideas about possible ways to build what I considered a
"proper" lever action, but lack of time and funds made it difficult to proceed- I wasn't looking for a
conversion
,
I didn't want to just tack a make-do lever onto an existing marker, I wanted to build a from-the-ground-up,
all-new gun, made specifically
as
a lever action, and designed from the start to
look
like a proper lever action.
While I knew it was never going to look completely authentic, the goal was to keep it as close as possible to
to the classic Winchester Model 1892 or Model 1894, the iconic lever-action rifles seen in virtually every
old Western movie like
True Grit, El Dorado, A Fistful of Dollars
, and literally hundreds of others.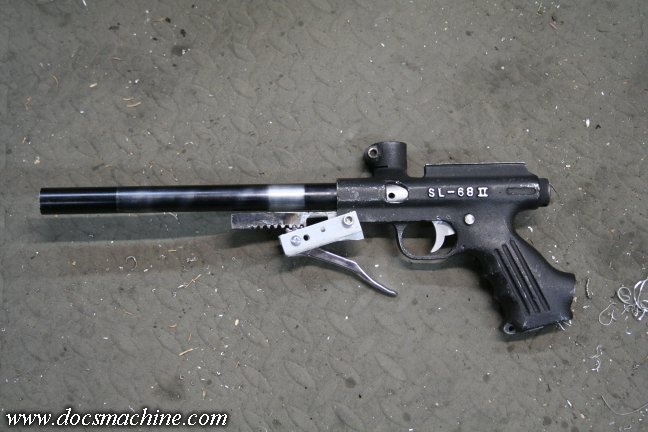 Now, as regular readers may know, I generally have a lot on my plate at any given time. Between
machine rebuilds
,
customer work
,
production parts
,
my webcomic
, doing R&D for other companies and other pastimes, my usual day
is pretty darn full. I also, perhaps unfortunately, also probably have a touch of the ADD, and can get easily distracted
by new and shiny things. :) In this case, I'd been discussing the lever action project with a buddy of mine, and we
tossed a few ideas back and forth- one of which was my desire to try a "gear drive" mechanism to operate the bolt.
I'd apparently put a bug in
his
ear about it, and a few days later he showed me this, above. He'd taken his Tippmann
SL-68II pump, and roughly carved and filed a new linkage to connect to the bolt. To operate that linkage, he'd found
the arm of an old wine-bottle opener, and cut matching gear teeth into it. The arm of the bottle opener was his lever
and gear, the new linkage was a "rack". And despite the cobbled and ugly mount to hold the whole mess toegther,
it all worked surprisingly well and smoothly.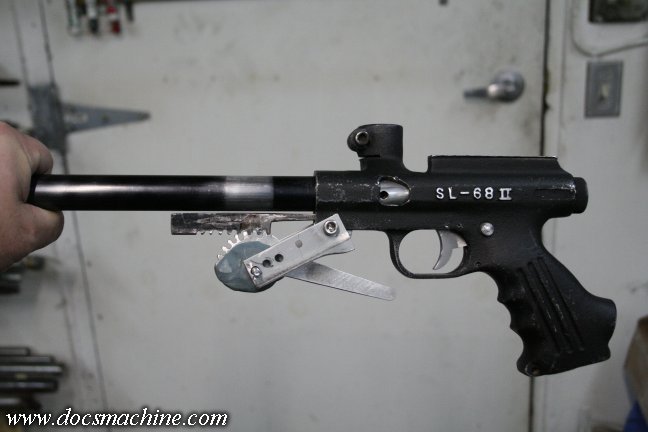 The only problem being that since the "gear" portion of the wine-bottle opener was such a small diameter that the "lever"
had to rotate nearly 160 degrees to make a full stroke on the linkage. So shortly thereafter, he sawed up a chunk of
aluminum to form a shorter lever, with with a considerably larger diameter 'gear' portion. This reduced the throw to
more like 60 degrees, but the shorter arm and increased leverage also made it harder to cock.
But, this in turn got the bug buzzing for me, and as luck would have it, I'd gotten largely caught up with customer
work, and I figured I could spare a few minutes here and there to maybe start working up a prototype.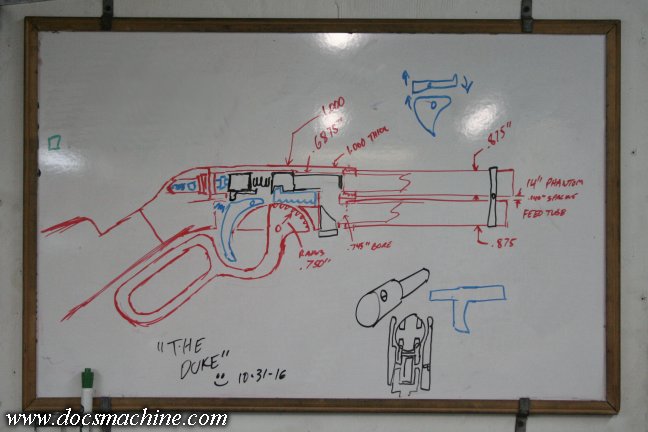 I have a file full of notes and drawings, as I said, and so I sketched up a rendition of what I thought was the most
promising, workable design out of all the variations I'd doodled. Basically a Nelson-based pump, using Phantom
internals, with a "gear drive" bolt. To keep the proper look of a classic lever rifle, naturally I inverted the feed
tube, so the lower tube would feed
up
into the barrel. A few quick measurements gave me a place to start.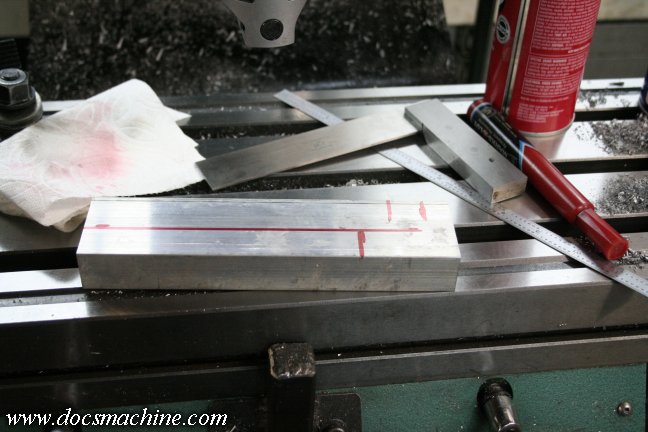 On November 1st, 2016, I started the first rough "proof of concept" prototype. I knew this one would be ugly,
but it would give me a physical model that I could analyze and measure, and from which I could improve.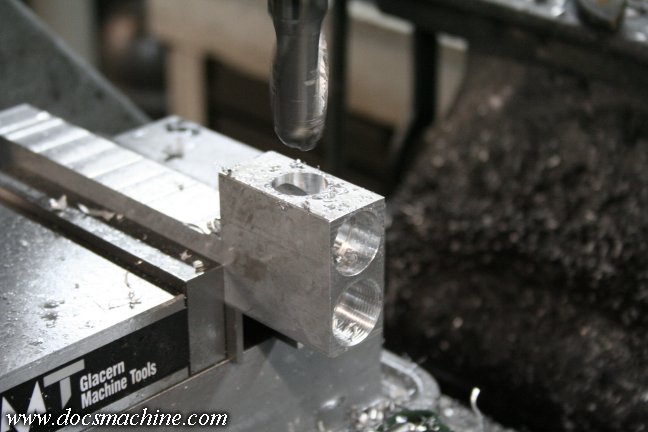 Those few starting measurements dictated where later features needed to go, and soon I had a vaguely
workable upper receiver.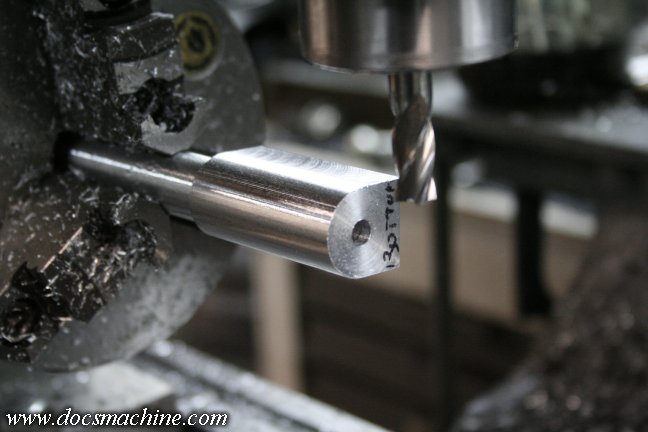 The dimensions of the newly-made receiver, and the CCI Phantom hammer and valve I'd planned to use, then
dictated the size and shape of the bolt, which I'd made extra long on both sections so it could be trimmed
to length later, when more of the assembly gets finalized.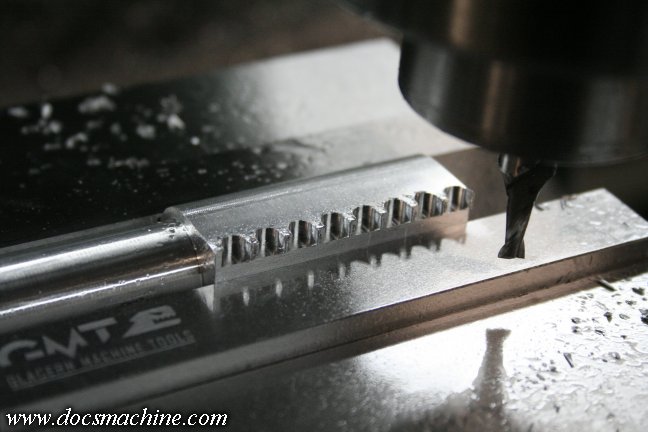 To make it work, I invented an arbitrary gear spacing, that I hoped would be strong enough to withstand
many thousands of shots.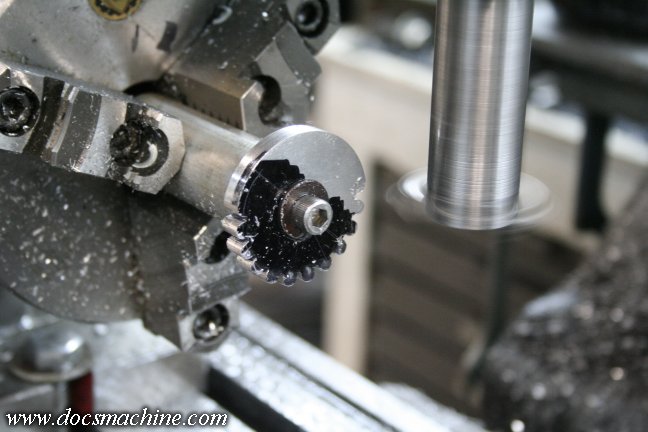 Going from
that
tooth spacing, I had to get out the math books and determine a workable (if a bit faked)
diametrical pitch for my new gear- only took two tries to get it right. :)
Those partial gears (there were two plates in that earlier photo) were cut down, drilled and bolted to a
makeshift lever for testing. Now, on to part 2...

All text, photos and graphics Copyright 1998- 2017, Doc's Machine & Airsmith Services. All Rights Reserved.
Information contained in these pages is for reference and entertainment purposes only. Our methods are not always the best,
quickest, safest, or even the correct ones. It's up to you to know how to use your own machines and tools.
Keep your fingers away from the spinny blades o' death and you should be all right.