[
Return to Main Page
] [
Return to Projects Index
] [
Doc's Machine & TWB Store
] [
Contact Us
] [
The Whiteboard Webcomic
]
Converting a Logan 11" x 32" Lathe over to full CNC, Part 6: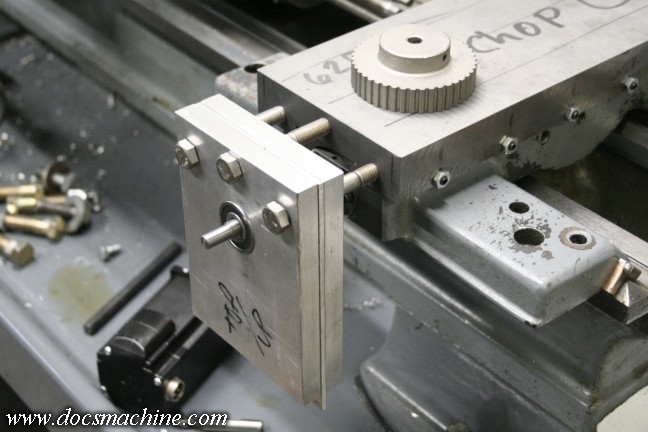 The bearing block was (more or less) mounted, but I didn't want to mount it directly to the end of the slide.
I wanted the slide to travel slightly past (rearward) the end of the dovetail, to help maximize the overall slide travel.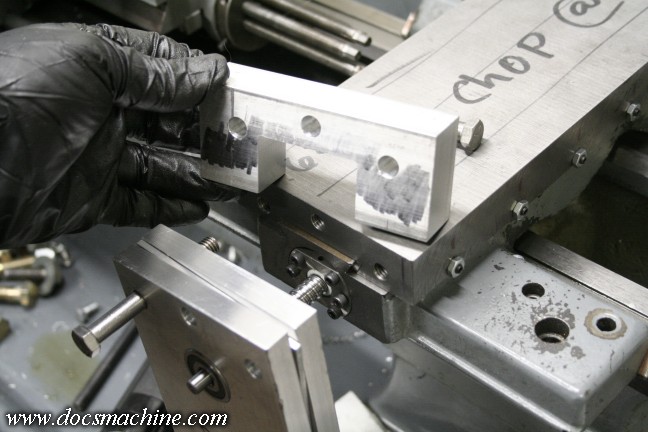 For that, I made a quick-and-dirty spacer from 1" bar stock. I still need to clearance the dovetail.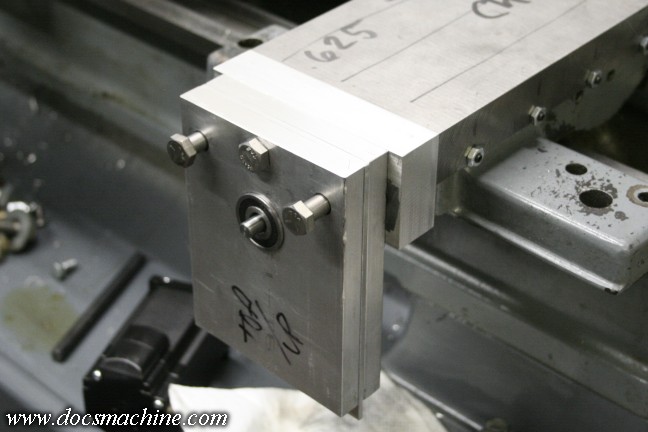 Clearanced and bolted to the stack. Since I drilled the bolt holes slightly oversize, the bearings were able to float
slightly to find the center, so everything's fairly well aligned.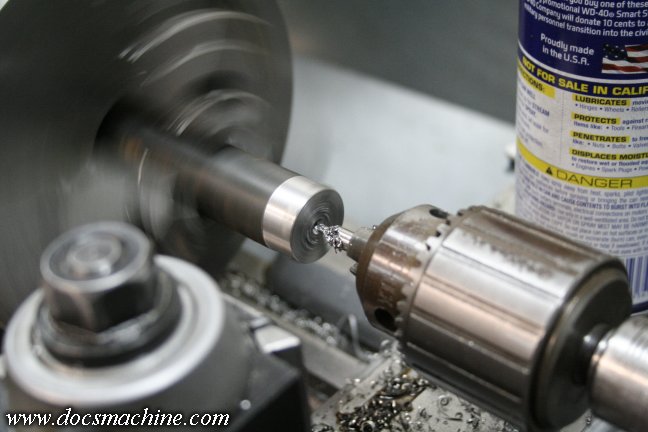 Now, this particular ballscrew didn't come with a locking nut, and even when they do, they use a tiny setscrew to
lock to the threads, which usually damages them. I decided to make my own, and so got out a bit of 1" hot-rolled
out of the scrap bin, and drilled and tapped it to 10mm 1.0.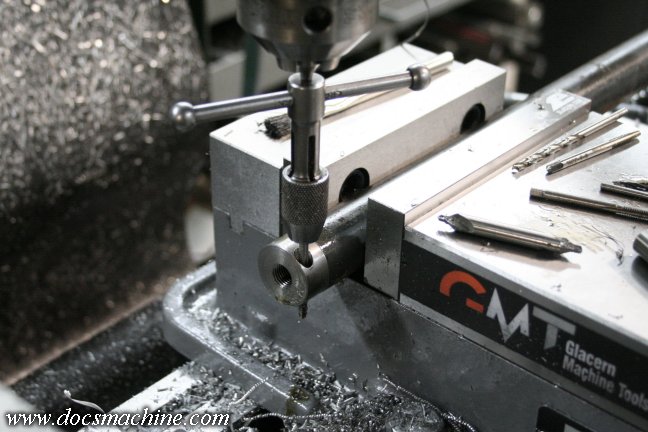 After that, I drilled and tapped it for a 6-32 pinch bolt...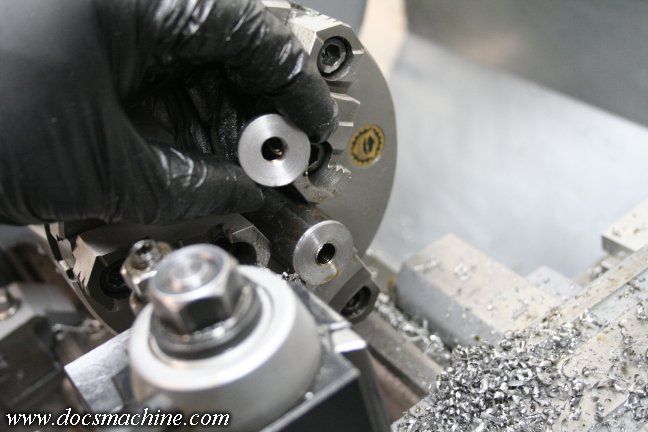 And parted it off at about 1/4" thickness.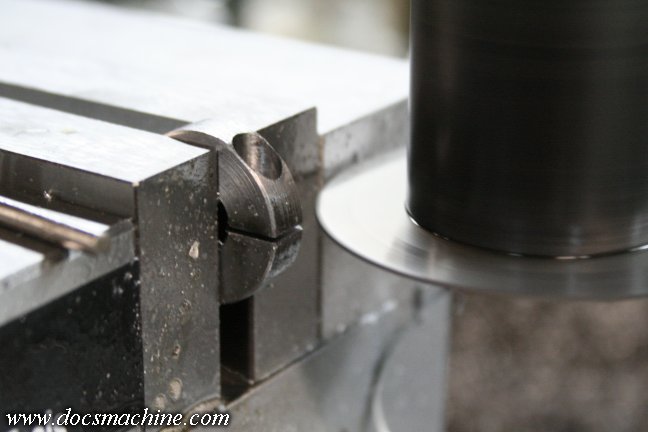 The parted side got faced, and then I slit it with a saw.
And done. A clamping, non-thread-marring locknut.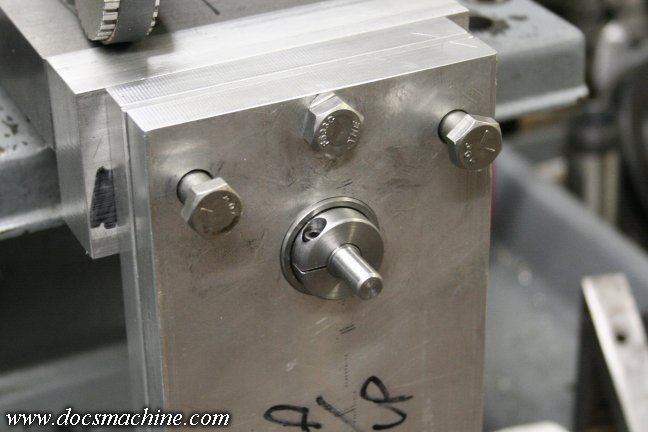 Which installs like so. I was going to add some wrench flats, but it tightens easily by hand.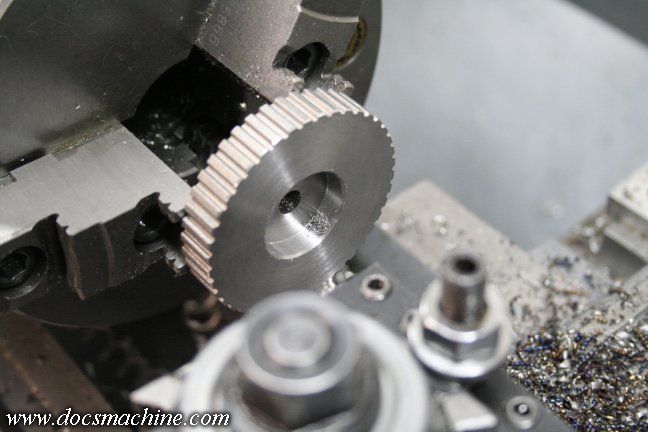 Now, to keep the reduction belt pulley from sticking out too far, I thinned it up quite a bit,
and counterbored the backside to clear the new nut.
Last, I ground two setscrew flats on the end of the ballscrew shaft, slid the pulley on, and locked 'er in place.

All text, photos and graphics Copyright 1998- 2016, Doc's Machine & Airsmith Services. All Rights Reserved.
Information contained in these pages is for reference and entertainment purposes only. Our methods are not always the best,
quickest, safest, or even the correct ones. It's up to you to know how to use your own machines and tools.
Keep your fingers away from the spinny blades o' death and you should be all right.